How to Handle Inflation-Tips and Strategies
If inflation is so low, then why are my bills and household expenses skyrocketing?
The news is filled with information about the low inflation rate. In fact, the Federal Reserve officials would like the target inflation rate to go up a bit. But there's some sort of disconnect here. Why are my phone, cable, gas and electric, and grocery store expenses higher than ever if inflation is so low?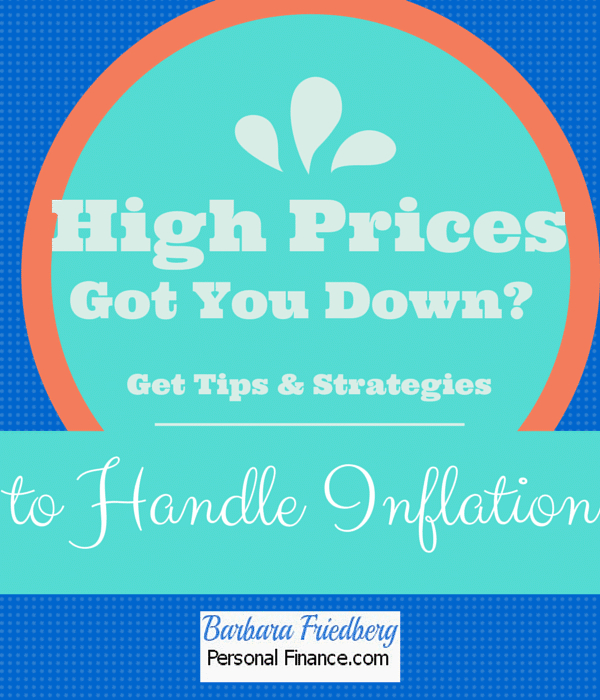 Maybe this WSJ.com article by Kathleen Madigan, "Inflation is Low, but U.S Consumers Feel a Pinch" has the answer. Apparently, in spite of the fact that the overall inflation rate is below 2%, the price of services is rising while the price of goods is falling.
So you can buy a suit on the cheap, but pay a bundle to get it dry cleaned! Madigan goes on to explain that the inflation in the price of services is caused by increasing rents. But that's not the whole of it, could it be that there's greater demand for services and that's driving up prices? If so, the Fed may be the last to know about it.
Start NOW investing in the stock market to build long term wealth. It's so much easier than you think!
Either way, if you're not feeling inflation now, you will be soon. So, here's my personal inflation confession with tips about how to handle inflation and save money.
How to Handle Inflation Inspired By a Visit to Target
I made the deliberate decision to get a Target credit card because they automatically give you a 5% discount on everything you purchase in the store. Add that to the fact that I like the trendy Target merchandise and the grocery items. Sounds like a great plan, right? Target isn't known as a high end retailer, so why did I have a panic during a recent visit to Target?
Prices are Skyrocketing on Many Consumer Products
I pride myself in being an economically savvy consumer. I know the shopping tricks; buy in season fruits and veggies, check out the per unit cost, buy in bulk, shop with a list, and avoid impulse purchases. But when I got to the bathroom cleaner and saw the $3.49 price on an item I am certain recently cost $2.50 recently, panic began to emerge. Then I went to the grocery section and couldn't find a box of cereal for less than $4.49. Yikes, what happened to the $2.99 generic brands? And the price shock continued from section to section.
I am certain price inflation is here. I lived through periods last century of tremendous inflation and remember the effect. It's like you are getting a salary cut.
Tips & Strategies to Handle Inflation
Fortunately, since inflation is a common occurrence, there are reliable coping strategies. Following are some of my inflation busting strategies, for consumers and investors, as well as tips from across the web.
Shopping Tips
The main premise of shopping in an inflationary environment is to buy in bulk when costs are reasonable. 
Stock up on sale commodity items. With cotton prices sure to rise, clean out the Hanes aisle during their underwear sales.
Paper towels, napkins, toilet products and other non-perishables are other products to stock up on when on sale.
Don't forget the towels and sheets during the annual January white sale.
End of season shopping is a mecca of bargains.
In the grocery, check out the tables of "sale and near expiration date" items.
Plan your meals and make a list. No impulse shopping.
Consider joining a shopping club to save on those items you use most frequently. Make sure not to get distracted by impulse purchases of a 64 pack of skittles candy or other non essentials.
Even if you are not a couponer, consider giving it a try. 
In How to Live With Inflation, Philip Brewer, Wise Bread writer, suggests bartering for goods and services to combat rising prices. There are also some nice investing tips in the article.
Collaborative consumption is another take on the bartering concept. Great way to get what you need and share what you have.
Substitute low cost foods for higher priced ones and use the internet to come up with recipes to fit the ingredients you have on hand. Plug a list of ingredients into the search, and see what comes up.
Consignment, second hand shops, and garage sales, especially in fancy neighborhoods, are great for bargains.
Investing Tips
Avoid buying bond funds now! With interest rates sure to rise, the principal value of the fund will decline as interest rates rise.
Click here to get Invest and Beat the Pros-Create and Manage a Successful Investment Portfolio. Perfect if you're interested in building wealth with investing.
Keep any bond purchases with short maturities, so when rates increase, you will be ready to participate in the higher yields that are certain to come.
Maintain a diversified portfolio, as the future is uncertain. It won't protect you from market declines, but with diversification, when one investment class falls, another may increase.
When inflation increases, stock prices usually follow suit. Don't be afraid to increase those contributions to your stock index mutual funds when you believe inflation is in the wind.
Consider these investments backed by the US Government. These two investment vehicles are specifically designed to protect your capital when from the ravages of inflation; Treasury Inflation Protected Securities (TIPS) and Series I Government Bonds.
Now you're armed with actionable strategies about how to handle inflation. Don't panic, take charge, and start implementing your inflation-beating strategy. You'll be ahead of the financial curve.
What are your strategies for coping with inflation?
A version of this article was previously published.