Buy and Sell Gold with an App
Vaulted Gold is a gold investment app that focuses on simplifying the purchase and holding of physical gold investments. Typically, the process of buying physical gold is intimidating, especially for beginners. Vaulted's goal is to make the purchase of physical gold both easy and transparent. If you are considering delving into the glittery world of gold investing, this Vaulted gold app review explains how to add this inflation fighting commodity to your investments with just $10.
This article may contain affiliate links which means that – at zero cost to you – I might earn a commission if you sign up or buy through the affiliate link.
What is the Vaulted Gold App?
Vaulted allows you to invest in physical gold bullion without the trouble standard in buying actual gold. With a vaulted account, you only need a smartphone to buy and sell gold. The whole idea is to give investors the ability to add gold to your investment portfolio with just a few clicks.
Top Features
Overview
One-stop shop to buy, store, and sell physical gold for a low annual maintenance fee
Features
Gold bullion stored with Vaulted is fully insured
Mobile app's user interface is simple, smooth, and stylish
No need for a large amount of capital; you can buy fractional ownership of a kilo-bar
Minimum
$10
Fees
1.8% per transaction; 0.40% annual maintenance fee
Contact
Phone – Monday – Friday 8am – 5pm MST
Email – 24/7
Trained gold advisors can help with any questions.
Website

Check out Vaulted Now
Vaulted Gold App Features
How Does Vaulted Work?
Vaulted signup is quick and easy. Simply input your email, create a password and provide basic personal information.
Once you confirm your email, you can log in. The next step is to fund your account, either by wire transfer or by Plaid, which is a secure platform that connects your bank account to Vaulted.
Once you have cash in your Vaulted account, you can start buying gold.
Vaulted sells 99.9% pure gold kilo bars. The gold is manufactured by the Royal Canadian Mint and certified as conflict-free. You can take possession of your gold or store it in the Royal Canadian Mint. You can even set up automatic deposits to purchase gold regularly through the VaultPlan.
Vaulted Gold Physical Delivery
You can request physical gold at any time, If you prefer to keep your physical gold in your own possession. Although you'll need to wait 60 days if you paid for your gold with an ACH transfer. Shipping and handling fees also apply.
If you own one or more kilo bars (35.274), call or email your Vaulted advisor to set up the physical delivery. You'll find that the serial number on the bar matches the serial number shown in your Vaulted account.
If you own less than one kilo, then you'll need to have your gold converted from kilo bars into smaller coins or bars.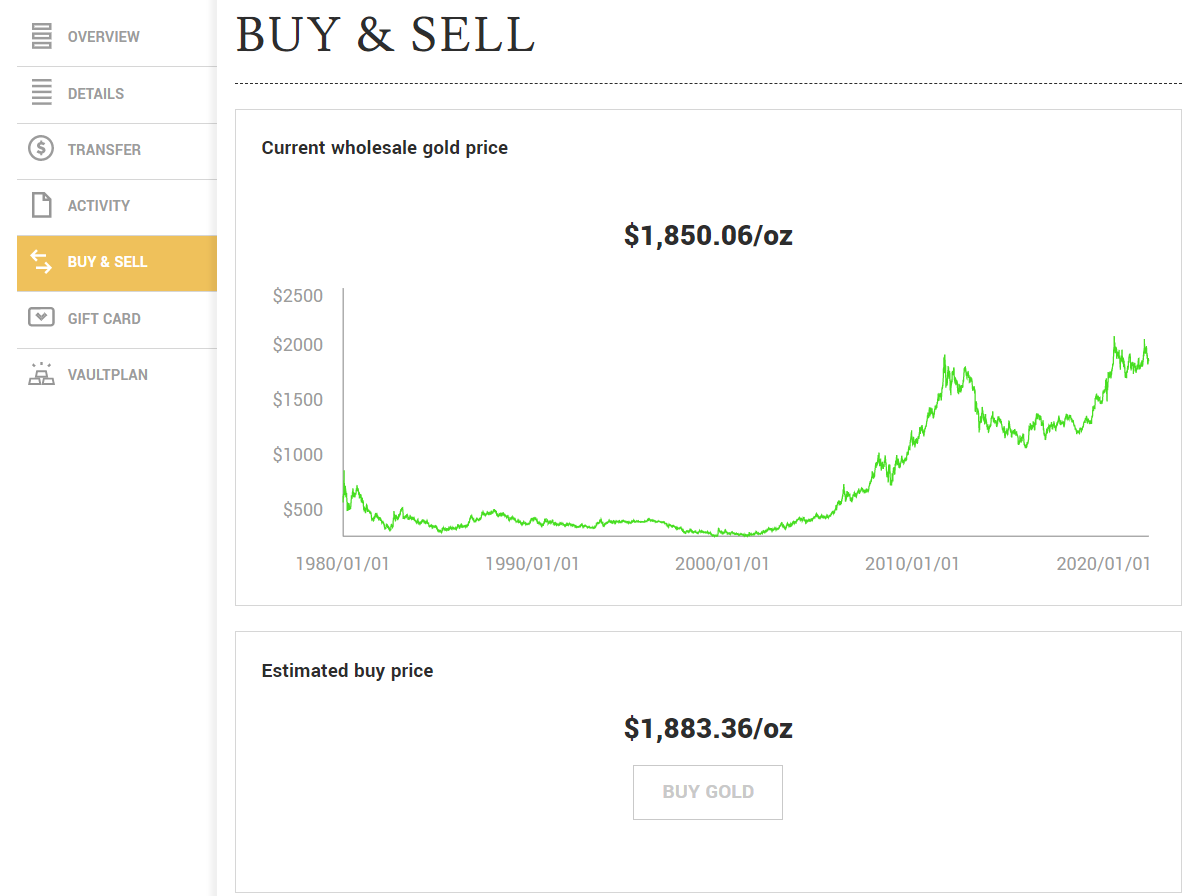 Who is Vaulted Best For?
Most investment platforms are generalists; Vaulted is a specialist. If you only want to buy physical gold, Vaulted is an obvious solution. However, we assume that you want physical gold as just a small portion of a larger portfolio, as otherwise you would betray the investment concept of diversification.
So, assuming that you have other assets besides physical gold, let's briefly discuss why physical gold via Vaulted could be a good investment choice. First, certain economic conditions create a bullish case for physical gold. For example, an inflationary environment, such as the one we are experiencing, devalues cash and creates economic instability, making physical gold appealing as a safe haven storage of wealth.
Second, historical data show that gold tends to maintain its value well over long time periods. Thus, if you are a long-term investor, gold holdings in Vaulted could prove useful in preserving your wealth while fighting against inflationary pressures.
Gold ETF vs S&P 500 – June 2021 to June 2022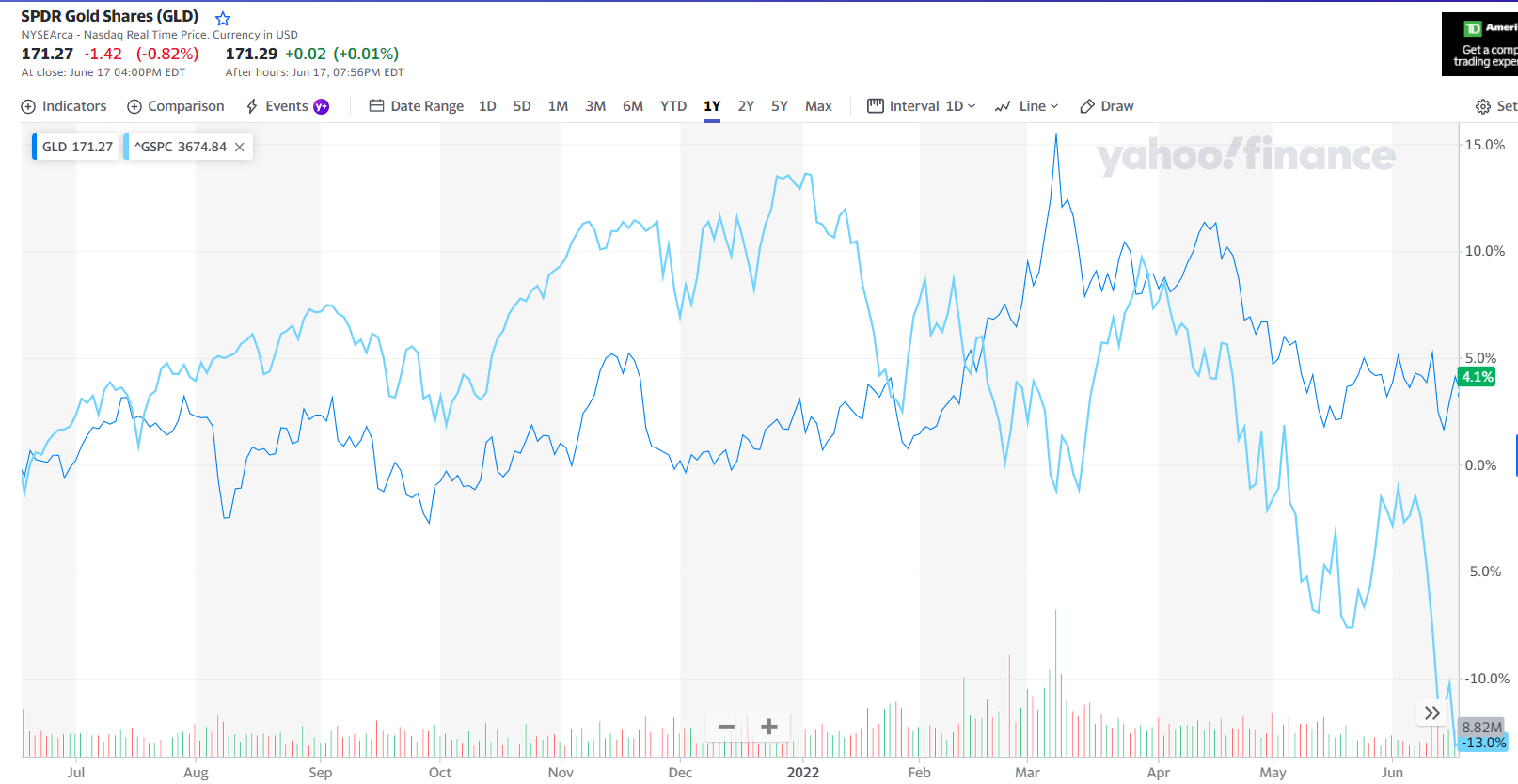 Data source: Finance.Yahoo.com
Should Beginners Buy Gold?
A common question I get from new investors is, "Should beginners buy gold?" Previously, "How do beginners buy gold?" was also a common question, as buying a gold bar required a large minimum investment, pushing investors into gold coins or gold funds instead. But Vaulted is currently the easiest answer due to offering fractional shares of gold bars. So, we'll tackle the first question, specifically.
Investing in gold is an opportunity cost, in general. Most professional financial advice is opposed to holding too much gold in your portfolio due to gold's long-term underperformance against most other assets. Moreover, purchasing gold physically means you're not purchasing gold producers, gold funds, or other precious metals – three other asset classes that often outperform physical gold bullion once you account for the transaction fee and cost of storing gold.
Nevertheless, proper financial planning does not exclude physical gold investments from a diversified portfolio. Precious metals – especially physical gold – can be considered an emergency asset that is accepted by every country and across all time periods as valuable. And perhaps most importantly for the investor looking to diversify, adding gold to your portfolio will add a less correlated asset to a stock portfolio. Gold and stocks tend to move independently of each other. Notice the low, 0.07 percent correlation of the S&P 500 ETF with the GLD ETF.

Notice the chart preceding this section which shows a one year return comparison of the S&P 500 index with the SPDR Gold Shares ETF (GLD). As inflation skyrocketed, the stock market declined -13% during the prior 12 months, while the GLD ETF returned 4.1%.
Overall, gold can be a part of a well-diversified portfolio. During inflationary periods, adding a small allocation of gold to a diversified stock and bond portfolio might work for you. Although, it's useful to understand that there are long periods of time when gold prices remain stagnant.
Vaulted App Fees and Minimum Investment
Vaulted's fees and minimums are transparent and clearly indicated on the website.
Transaction fee: 1.8%
Annual maintenance fee: 0.4%
Investment minimum: $10
First, every trade incurs a 1.8% transaction fee, when buying or selling. Next, secure vault storage costs at the Royal Canadian Mint are 0.4% per year. However, you can opt out of the annual storage fee if you have the gold shipped to you, but you'll need to buy at least one ounce for this option.
The minimum investment is $10, so practically anyone can sign up.
If you just want to buy gold in its physical form and keep it in a safe deposit box, Vaulted transaction fees are among the lowest in the industry.
As for whether the fees at Vaulted are good, compared to standard purchases of physical gold, which can incur commission costs of over 5%, Vaulted's 1.8% transaction fees are considered low. But, if you're an active gold ETF trader, then Vaulted's transaction fees might be considered high, since you can trade a gold ETF, such as the SPDR Gold Trust ETF or the Invesco DB Gold ETF, at a 0% transaction fee through most brokerages.
Is Vaulted Gold Safe?
Vaulted is backed by McAlvany Financial Group, which owns ICA, one of the largest and longest continuously operating full-service gold brokerage firms in the United States.

Vaulted.com/about
Security is clearly important when investing in physical gold. Security itself, low overhead costs and insurance are all important aspects. Fortunately, Vaulted clients have access to all three of these benefits since Vaulted stores its investors' holdings at the Royal Canadian Mint.
The Vaulted app follows best practices industry standards, and encrypts all data, has multiple back up systems in process and secure data access practices.
Unlike cash and financial assets owned through banks or brokerage accounts, Vaulted Gold is not insured by the FDIC or by the SIPC. Although, the Royal Canadian Mint is quite safe for the storage of physical gold.
Where is Vaulted Gold Stored?
All physical gold acquired by Vaulted and its clients is stored at the Royal Canadian Mint, which is highly secure and insurance-backed. Storing your gold in a private vault is the standard method for most physical gold investors, but a private vault is generally incurs higher storage fees and has a lower level of security than a national vault such as the Royal Canadian Mint. The Royal Canadian Mint is a maximum-security vault and is fully insured against damage as well as loss and backed by the Canadian government.
Pros and Cons of Investing in Gold
Pros
Gold maintains value well over time
Gold will likely maintain its worth in the case of a fiat currency collapse or hyperinflation
Vaulted's gold is easy to sell – much easier than jewelry or coins you store yourself
Cons
Buy and sell transactions incur a 1.8% fee, which – while low – it is higher than the 0% fee that most brokerages charge for buying and selling gold ETFs
Gold delivery is expensive
FAQ
Is physical gold worth buying?
Precious metals can play an important rule in portfolio diversification, and gold is among the most liquid of the precious metals. Going with physical gold instead of other gold-exposed instruments (e.g., stocks and funds) will cost you more, but some investors ascribe to the idea that gold without the potential for physical delivery is not equivalent to investing in gold. To buy gold through a vendor is also often time-consuming, requiring research, but Vaulted solves this problem for those investors who insist on buying gold in its physical form.
What is the safest way to invest in gold?
Buying gold can sometimes be risky due to fraud and damage through poor appraisal. Vaulted is a trusted gold vendor that stores your gold in a highly secure, insured vault. Vaulted is among the safest options for investing in gold.
What is the best way to invest in gold?
As with any investment, if there were a "best" way, everyone would be using it exclusively. For gold, you have several good ways to invest, including buying physical gold, buying shares in a company that sells gold, and buying a gold ETF. Each method has its advantages and disadvantages, with physical gold typically being the safest.
Vaulted Alternatives
Vaulted alternatives include investing in gold in a fund.
If you're still adamant about buying physical gold but don't think Vaulted is right for you, consider buying gold bullion or coins from a gold shop, whether brick-and-mortar or online. You'll need to do plenty of research, though, to ensure that the dealer is trustworthy and offers good rates on the retail price. Some major online dealers sell through online services, such as eBay, and you can sometimes get good deals through such methods – just make sure to vet any sellers.
In any case, shop around and know your alternatives before jumping into Vaulted.
Vaulted Review Wrap Up – Is Vaulted Legit?
Vaulted is secure and a good investment platform for gold investors. With low transaction fees and annual maintenance fees (for storage) within the world of gold investing, Vaulted is worth consideration. The company is clearly marketing to younger generations, as evidenced by its technology focus and its low minimum investment. The Vaulted pricing model, with a $10 minimum investment amount, and marketing focus points to younger, cash-strapped, beginner investors. Although, anyone who wants to dip their toe into the gold market, and believes in the value of physical gold might give the app a try.
In this Vaulted review, my quick conclusion is that Vaulted is best suited for someone who wishes to buy gold in its physical form but worried about all the possible untrustworthy dealers and all the administrative duties required in storing, securing, as well as insuring your gold. Moreover, Vaulted is good for those who want to reserve the right for physical delivery or don't have the capital to buy an entire kilo bar themselves. It's also essentially hassle-free, as a linked bank account in the Vaulted app is enough to get you into a reputable gold investment.
Those interested in gold ETFs or gold-related companies, might look elsewhere.
Related
Disclosure: Please note that this article may contain affiliate links which means that – at zero cost to you – I might earn a commission if you sign up or buy through the affiliate link. That said, I never recommend anything I don't personally believe is valuable.