Are you looking for a new investment platform and want to diversify your asset classes? You might consider investing in farmland.
FarmTogether and AcreTrader are two crowdfunding platforms that make investing in farmland more accessible. This diversified agrigultural investment is ideal if you live in an urban area or don't have the hundreds of thousands of dollars it typically takes to invest in farmland.
Is Farmland a Good Investment?
If you're looking to invest, but want to invest in something less volatile than the stock market, you might consider investing in agriculture. Historically, farmland has been less volatile than the stock market, enabling you to ride out down market years with an extra layer of stability.
This article may contain affiliate links which means that – at zero cost to you – I might earn a commission if you sign up or buy through the affiliate link.
There are several ways that farmland gives back in returns. First, due to its limited supply, farmland increases in value. This provides an opportunity for capital appreciation. But also, depending on the platform you use to invest, you might get paid back in crop yields as well as cash. These nontraditional types of dividend payments can increase your passive income.
Overall, farmland is a fairly solid investment to add to your portfolio and increase its diversification.
Also, farmland investing might protect your net worth against inflation.
How to Invest in Farmland?
If you're like most investors, and don't have (or don't want to) spend hundreds of thousands of dollars on a single piece of farmland, you can use farmland crowdfunding platforms to invest in farmland with a smaller purchase point.
According to Investopedia, crowdfunding is "the use of small amounts of capital from a large number of individuals to finance a new business venture." Essentially, it's a way for investors to pool together their money and buy a property together and then split the dividends and appreciation or increase in the farms value.
With farmland crowdfunding, you normally have to be an accredited investor, but there are farm REITs for those who don't fit that investor category. Those tend to have a much lower buy-in point and are more accessible to the average investor.
Liquidity and Diversification
When investing in agriculture you'll need to leave your money invested in the farm for years. The platform will state the expected term of the investment, but five years is typically a minimum. When the property is sold, you'll receive your initial contribution, plus any appreciation.
Although, FarmTogether has plans to introduce a secondary market. If this occurs, it might be easier to redeem your initial investment earlier. And AcreTrader has a marketplace to resell your farm, but offers no guarantees that there will be a buyer for your investment.
AcreTrader also lists the expected term of each deal. They state that five to ten years is the typical lock up period. Although, in the FAQ section, the company said investors should be prepared to invest for at least one year and after that period, might be able to arrange a private sale. Although, I'm not certain how easy it is to set up a private sale, and I wouldn't depend on this option.
In general, farmland investing is illiquid. It's wise not to invest money that you'll need within the next five to ten years in an agriculture investment.
Overview of FarmTogether and Acretrader
FarmTogether and Acretrader are two popular platforms for agriculture investments. They have their similarities – allowing accredited investors to participate in farmland crowdfunding – they also have their distinctions.
Each platform requires a $10,000 to $15,000 minimum investment, and sometimes higher. The minimums vary per farm.
One similarity between the two platforms is that, at present, each serves only accredited investors. To become an accredited investor you must meet certain income and/or knowledge benchmarks.
To be an accredited investor you must meet one criteria:
Individuals must earn more than $200,000 per year or $300,000 as a couple.

Have a net worth of more than $1,000,000.

Posess advanced knowledge of finance and investments like credentialed financial planners and registered stock brokers.
The fees are distinct on each platform as are the number of available offers.
FarmTogether Top Features
FarmTogether is a great platform for long-term, high-income investors. It has several key features that make its platform a good choice if you're starting out in farmland investing.
Easy to use platform for beginners

.

Simple onboarding process

.

Secondary market for investors to sell shares (expected soon).

Sole ownership option if investors want to own a whole property

.
Acretrader Top Features
AcreTrader is great for investors looking to create passive income from U.S. farmland. It has a strong vetting process to instil confidence that you're making a solid investment when you use their platform.
Amazing team with sound underwriting practices

.

Solid 3% – 5% cash yield on investments

.

Flat 0.75% annual servicing fee on all deals.

Over 28 open projects on the platform

.
FarmTogether vs Acretrader – Which Farm Crowdfunding Platform is Best for You
If you're an accredited investor looking to invest in farmland, you'll want to compare the two sites – FarmTogether and Acretrader – to decide which is best for you.
Here's a rundown of the two sites and their pros and cons.
What is FarmTogether and How Does it Work?
Farm together is an online marketplace for US-based agriculture investments. They pride themselves on being easy to use and taking the research out of the investment process because they invest countless professional hours and use state of the art technology to choose only the best farmland to invest in.
FarmTogether also invests in each agricultural investment they select because they believe it's important to the consumer to know they think the investment is so solid, they put money behind it.
We believe it is important for crowdfunding sponsors to have 'skin in the game' and invest alongside the outside investors. If they don't, it's typically a bad sign.
FarmTogether is also a one-stop-shop for all the paperwork as well. Through their secure portal, you select an investment, review all the related documents, and sign. FarmTogether sets up each farm within its own LLC. Each investor owns a percent in that company. Their profits coincide with the percent ownership in the farm. A FarmTogether team member oversees the functioning of the LLC, so it's truly passive income for you.
Fees and Investment Minimums
Fees vary per deal and are stated along with the investment details. According to their website, their fee structure is aimed to be lower than industry standard.
For example, the upfront fee for a recent orchard offer was 2%, with an annual 1.5% management fee. There may be additional fees, stated for each deal. But, to offset the fees, there can also be additional profit opportunities.
Typical investment minimums vary and range from $15,000 to $50,000 depending on which plot of land you invest in.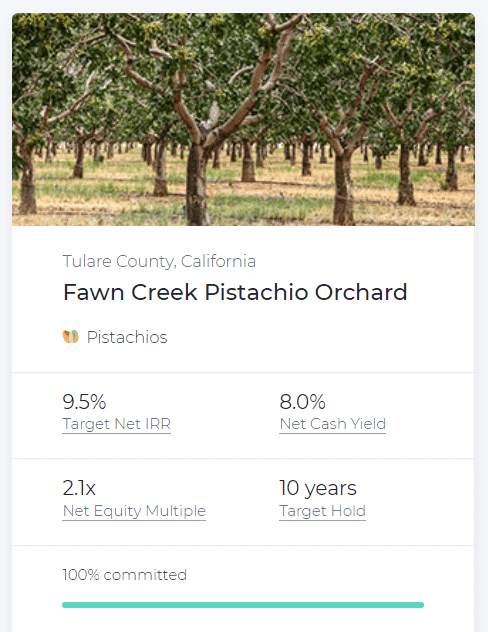 Investment Returns
FarmTogether offers two types of returns: income and appreciation. Because FarmTogether leases out the farmland through their LLC, as an investor, you get a portion of the rent paid. Dividends are paid either quarterly, semi-annually, or annually.
Farmland, just like any other real estate investment is expected to appreciate or increase in value. That value is realized when the land is sold.
Expected FarmTogether returns – net of fees -as stated on the website:
Absolute returns: 7% to 13%

Average cash yields: 3% to 9%
Pros
Experts know their stuff. The management picks good investments – particularly in citrus, grapes, and produce bearing trees – and partners with experienced farmland developers.

Easy to use platform. FarmTogether was developed for first time agricultural investors, and its platform is, complete with a new investor dashboard.

Socially responsible investment platform. They develop carbon-negative farms, and 100 percent of its acreage is enrolled in Sustainable Farmland Management Standard.
Cons
Only accredited investors can participate in FarmTogether, so it's not open to the average investor yet.

New platform with limited track record of long term results. This means that while the returns have been strong, this might not continue to be the case.

Investing in one farm, is less diversified and riskier than owning a portfolio of agricultural investments.

Lacks the liquidity of public invesment markets. Your money might be inaccessible until the farm is sold.
H3 What is Acretrader and How Does it Work?
Acretrader is another investing platform. It has fewer offerings at a time than FarmTogether, and is run by a smaller team, but was BBB accredited in 2019. AcreTrader works to offer only the best farmland purchases and create a seamless online user experience through their portal.
Similar to FarmTogether, everything an accredited investor needs is on the portal – from potential farm offerings to due diligence materials and legal documentation. And it takes only minutes to sign up.
The process is similar to FarmTogether. Acre trader creates LLCs that purchase the farms and then you as an investor buy shares of the LLC equivalent to the purchase price of 1/10th of an acre, but you must invest in a minimum of at least an acre.
After that, Acretrader takes care of the rest. They manage the farmland and collect the rent. You just sit back and let your money work for you.
Fees and Investment Minimums
Acretrader charges 0.75% asset management fees, some of the lowest in the business. The stated minimum investment amount is $10,000, but like FarmTogether the actual minimums vary per specific farm. This will buy you anywhere between one to four acres, depending on which investment property you choose.
Unlike FarmTogether, Acretrader acts as a real estate broker and makes a commission on each property as well. That can help to keep fees low, as the firm also makes money on its brokerage role.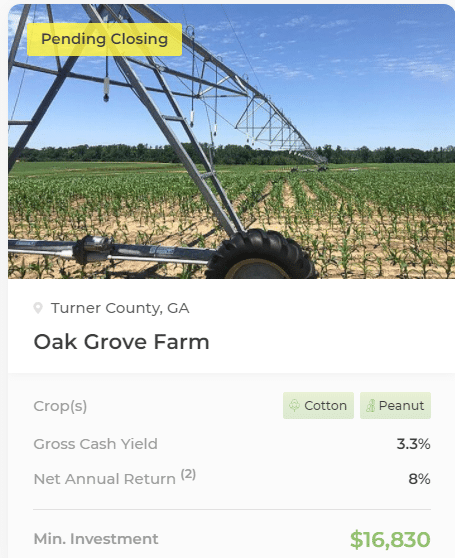 Investment Returns
Acretrader returns seem lower, but always take return information with a grain of salt. Promised returns aren't the same as realized returns. The company breaks out dividend returns and total return. Dividends are expected to be paid out annually. Capital gains aren't received until a farm is sold.
All of the figures are expectations. Despite the upper level of returns at 9% for AcreTrader versus the 13% upper level for FarmTogether, I wouldn't necessrily use this as a deciding factor.
Acretrader returns – net of fees -as stated on the website:
Lower risk properties: 3% to 5%

dividends
Internal rate of return: 7% to 9% (includes dividends and capital appreciation)
Pros
Low investment minimums and low asset management fees.

Excellent user interface and educational materials.

Handpicked farmland pieces.
Cons
Fewer deals because of how they vet their farms.

Newer company means minimal track record.

Marketplace secondary market might enable early exit-no guarantees.
FarmTogether vs Acretrader – Wrap up
Overall, farmland investments are poised for growth because of the limited availability of land. Using a platform like FarmTogether or Acretrader is a great way to get into the market for approximately $10,000 to $15,000.
And, if you're already looking at investing in farmland, one of these platforms might be for you. Both platforms allow you to invest using a self-directed IRA, which means you could use them as tax advantaged investments.
Acretrader has transparent and low fees so you know exactly how much the investment will cost in fees. And since it acts as a brokerage firm, it charges the seller a 5 percent fee, which means you save money.
FarmTogether is socially conscious, has a diverse staff, and is committed to making sure the farms it manages are environmentally friendly. You'll be able to invest in something that's also helping make the world a greener place.
Both platforms have comprehensive features and good user experience. No matter which one you choose, you'll be invested in an alternative investment less correlated with the returns of typical stocks and bonds.
Related
Disclosure: Please note that this article may contain affiliate links which means that – at zero cost to you – I might earn a commission if you sign up or buy through the affiliate link. That said, I never recommend anything I don't personally believe is valuable.
Empower compensates Wealth Media, LLC. for new leads. Wealth Media, LLC is not an investment client of Empower.