EquityMultiple Review – Invest Like the Professionals
EquityMultiple is an online real estate crowdfunding platform committed to bringing high value commercial real estate investment opportunities to the accredited individuals. This EquityMultiple review will help you decide whether this online real estate investing platform is for you by discussing the main features of the company and its pros and cons.
You are looking for an opportunity to diversify your investment portfolio. Real estate sounds good, right? Except for the unpredictability of returns, high initial outlay, and the need to deal with leaking roofs, broken toilets, and icy sidewalks.
And how about commercial real estate? Have you been eyeing great investing opportunities wistfully and bemoaning the prohibitively high entry costs?
Here is the thing. You no longer have to forego investing in real estate, and commercial real estate, because of the prohibitive initial cost, highly unpredictable returns and property management niggles – these matters can be circumvented or outsourced using online real estate crowdfunding platforms such as EquityMultiple.
This EquityMultiple real estate review helps you decide whether this is an investment you wish to pursue and digs into the company's investment opportunities.
After reviewing the key features of EquityMultiple, we spell out the pros and cons, of investing with the company.
What is EquityMultiple?
EquityMultiple is a real estate crowdfunding platform offering smaller investors opportunities to invest in professionally managed commercial real estate. The company is committed to transparency, rigorous underwriting, and investor support.
To date, EquityMultiple has closed more than $80 billion in real estate transactions.
In addition to diverse commercial real estate investment opportunities across the US, EquityMultiple also offers Opportunity Zone investments. These investments in underinvested communities offer multiple tax benefits for investors. 
How Does EquityMultiple Work?
EquityMultiple brings together commercial real estate sponsors and private lenders (e.g., real estate companies operating in thriving primary, secondary, and tertiary markets with a proven record of exceeding return projections) and a growing network of individual investors who co-invest with these firms, through EquityMultiple's platform, at relatively low minimums.
First, sponsors and lenders undergo a strict vetting process to ensure they have a reliable track record.
Second, after vetting the project sponsors, EquityMultiple's rigorous selection process focuses on evaluating markets. Each project, or deal, must pass the company's proprietary due diligence process before moving to the next stage.
Third, the projects that survived the previous selection stages undergo stress testing of under-writing assumptions, scrutiny of their legal documents, and third party reports. Fewer than 10% of the sponsored projects pass this stage of due diligence.
Fourth, successful projects are offered to investors through a streamlined platform, built with bank-grade security protocols.
You can invest in debt, equity, preferred equity, and qualified Opportunity Zone deals, and diversify your portfolio across markets, asset classes, and project types.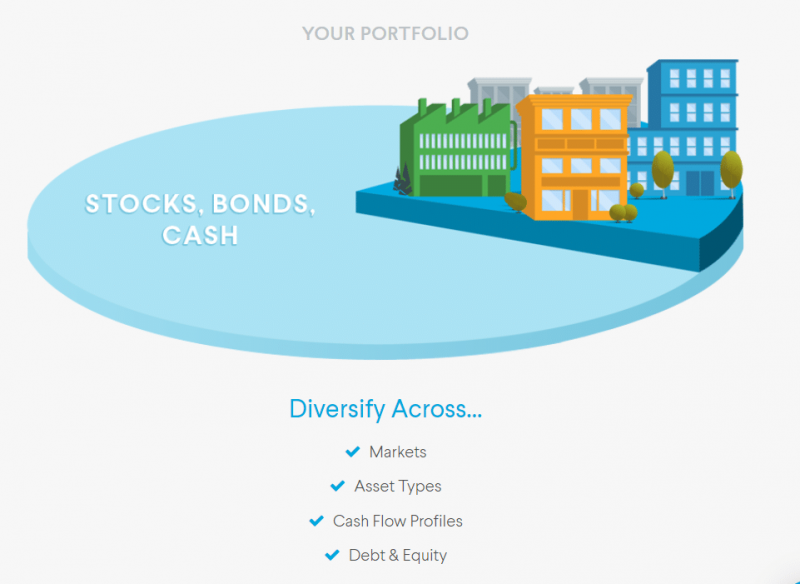 EquityMultiple's Niche in Real Estate Crowdfunding
EquityMultiple is different from other crowdfunding real estate investing online platforms in the following:
* It looks for commercial properties, short-term senior loans, and projects with construction components (these have to meet specific, stringent criteria).
* The company uses a three-stage due diligence process to select fewer than 5% of all submitted projects.
* It focuses firmly on separate projects and, differently to other crowdfunding real estate platforms, doesn't offer REITs or real estate investment trust investment funds. It means that EquityMultiple is for investors seeking greater autonomy in selecting the projects in which they invest. EquityMultiple's in-house diligence measures provide added comfort for investors.
* Each project, or real estate investment opportunity, is kept independent by creating a separate LLC. This is an additional layer of protection for investors.
Less experienced, non-accredited investors may wish to look at real estate crowdfunding platforms like Fundrise and RealtyMogul.
How is investing in EquityMultiple different from investing in real estate stocks and REITs?
When investing in EquityMultiple, you invest in specific projects rather than in real estate companies (stock) or a variety of real estate companies (REITs).
The private-market real estate investments on EquityMultiple therefore may offer returns that correlate less closely with the stock market, thus providing a higher degree of portfolio-level diversification than REITs might offer.
Who Can Invest With EquityMultiple?
EquityMultiple is a company priding itself on selectivity and robust due diligence.
This applies not only to sponsors and projects; it also applies to investors (or lenders).
To invest with EquityMultiple, you must be:
* An accredited investor; and
* Ready to make an initial outlay of a minimum of $5,000 (some projects have a minimum of $10,000).
To be an accredited investor, you must either have an annual income of $200,000 ($300,000 with a partner) or have a net worth of $1,000,000 (this could be shared with a partner but must exclude the value of your primary residence).
This requirement clearly prevents many small investors from investing with EquityMultiple.
Who Should Invest With EquityMultiple?
Provided that you qualify as an accredited investor, you should consider investing with EquityMultiple if you are:
* Looking to diversify your investment portfolio. EquityMultiple offers an opportunity to add institutional-grade real estate to your portfolio.
* Aiming to get into commercial real estate deals that are otherwise inaccessible. Investing in prime commercial real estate was traditionally the domain of the very wealthy. EquityMultiple is changing this and, provided you are an accredited investor, you could access deals previously closed to smaller investors.
* Able to cope with risk. With any investment, there are risks. EquityMultiple investments are illiquid, and, as a rule, it is not your choice when to get out.
* Wish to benefit from a robust due diligence process without having to carry it out yourself. Often success in real estate investing hangs on robust due diligence; still, few of us have the time, skill, dedication, and will to carry it properly.
* Seeking a passive investment. Investing with EquityMultiple is, apart from the initial selection, largely passive.
EquityMultiple Review: Key Features
Here is an overview of the key features of the company to help you decide whether EquityMultiple is the right investment for you.
Ways to invest with EquityMultiple: Syndicated Debt, Preferred Equity Real Estate and Equity Real Estate
There are three ways to invest with EquityMultiple:
* Syndicated debt investments where you lend your money to the project for a period of 6 to 24 months. During this period or term, you will receive interest on the loan, and at the end of the term you will recover the money you lent (or your principal).
* Preferred equity real estate where you own a piece of the project, your return is fixed, and the share of profit is capped (with a priority of payment). These deals have a term of 1-3 years.
* Common equity real estate where you own a piece of the project, your returns, and share of profits, depending on the success of the project. Equity deals have a typical term of 2-5 years.
Debt investments carry lower risk, and common equity real estate deals are the highest risk.
You can hedge the investment risk by selecting several projects and diversifying across the type of investment and projects.
EquityMultiple Investment Returns
Here are the target investment returns for the three types of investments EquityMultiple offers:
* Syndicated debt: target rate of 7-12%
* Preferred equity real estate: current return 7-12% and preferred return of up to 17%
* Equity real estate: target annual cash return 6-12% and target internal rate of return 14%+
While it is too early to judge whether the company has achieved these returns on equity investments, syndicated debt has been returning approximately 9% a year. In aggregate, EquityMultiple's fully-realized investments have yielded a net 17.3% IRR.
EquityMultiple Review of Fees
Fees on debt and preferred equity investments are fairly straightforward: typically a single percentage point, assessed annually.
EquityMultiple charges two types of fees for equity investments: a management fee and a fee on investment returns.
The management fee is 0.5%-1.5% of your investment, assessed annually – after all, there is a considerable effort in administering your investment, maintaining ongoing asset management and reporting, and selecting the real estate deals on offer.
The 10% carry on investment returns is a bit more controversial. However, this fee is charged only after the investors have recovered their investments, which means that if the projects, and you, don't make a profit, there is no fee.
Put like that, the 10% carry on equity investment returns becomes a powerful incentive for the company to select potentially profitable projects. The more profitable the project, the greater returns for both the investor and the EquityMultiple firm.
EquityMultiple Data Security
EquityMultiple collects information about you, your investment preferences, and your financial situation. It is necessary: the information helps technology decisions regarding the investment opportunities in which you may be interested.
This naturally raises questions about the security of this information. Rest assured that investor information security is a top priority for the company and the provisions that have been made match, and even exceed, the ones in the banking sector. All information is encrypted, and the company uses bank-grade protocols to store and transmit data.
EquityMultiple Review of Customer Service
Outstanding customer service is one of EquityMultiple top features. Members of the team are helpful and available to answer general and specific questions from investors using the handy dialog box, via email and by phone.
The quality of customer service cannot be overlooked when deciding whether to invest with a company; and EquityMultiple has excellent customer care.
EquityMultiple Investment Risks
Investing in EquityMultiple presents the following risks:
* You have a very low level of control over your investments, beyond the initial selection, when crowdfunding.
* EquityMultiple is a start-up company and comes with the risks of start-up companies.
* Investments in EquityMultiple are illiquid, and you can't sell your securities; you must hold them until the end of the term.
* Selecting deals can carry risks, as well.
These risks may be different from the risk other investments present, but they are not unusual.
How to Sign up for EquityMultiple
To start investing with EquityMultiple you must register on the online platform. It is a very efficient process that took me 6 minutes (yes, I timed it, and at least a minute was taken by verifying my email address).
First, you are asked to provide your contact details, including address, and to verify your email address. After that, you must be prepared to answer questions aiming to establish your accredited investor status, employment situation, investing experience, and investment objectives.
Once this has been done, you are either accepted or not on the platform. If you are approved, you are invited to create an investment account (I suspect this will take a bit longer), and you can view the project offerings.
This is all efficient, smooth, and at any sign of trouble, you can get assistance from the customer support team.
EquityMultiple Real Estate Review Summary
This is a summary of the key features of EquityMultiple to help you decide whether this is an investment opportunity you may consider adding to your investment portfolio.
| | | | |
| --- | --- | --- | --- |
| | Syndicated Debt | Preferred Equity Real Estate | Equity Real Estate |
| Accredited investor | yes | yes | yes |
| Minimum investment | $5,000 | $5,000 – $10,000 | $5,000 – $10,000 |
| Term of investment | 6-24 months | 1-3 years | 2-5 years |
| Expected returns | 7-12% | 7-12%/up to 17% | 6-12%/over 14% |
| Fees | 1% | 1% | 0.5-1.5% plus 10% of profit |
| Risk estimate | Low | Low to Medium | Medium |
Pros and Cons – Is Real Estate Crowdfunding With EquityMultiple for You?
EquityMultiple Pros
* EquityMultiple offers commercial real estate investment opportunities that were previously unavailable to the mass affluent investors.
* EquityMultiple is a versatile commercial real estate platform offering opportunities for diversification across investing instruments, classes, markets, and, most importantly, projects.
* EquityMultiple allows investing in commercial real estate without the onus of management, liability, and other concerns.
* Syndicated debt investments have collateral: loan default will lead to foreclosure on the property, which will pay your loan. Although full return of principal isn't guaranteed.
* EquityMultiple de facto doesn't get paid before you recover your initial investment. This is a powerful incentive for even more careful scrutiny of projects.
* The company is very transparent about fees, expected returns, and risks. There is a very comprehensive section on FAQ on the website, and I'd urge you to read it before making up your mind.
* EquityMultiple has exceedingly helpful, and accessible, customer support and care arrangements.
* Signing up for EquityMultiple is fast and easy.
* Their website is informative, clean, and easy to navigate.
EquityMultiple Cons
Just in case you think that according to this EquityMultiple review, the company is too good to be true, here are some of the cons:
* The requirement to be an accredited investor in order to invest with EquityMultiple prevents a large proportion of smaller investors from benefiting. EquityMultiple is transforming institutional-quality commercial real estate investing, but it is not bringing it to the small investor; it is changing it from the domain of the very wealthy to the habitus of the moderately affluent.
* Investments with EquityMultiple are illiquid, and securities cannot be sold before term (except in exceptional circumstances).
* Investing with EquityMultiple means that you have a low level of control over your investments.
Is EquityMultiple the right real estate crowdfunding investment for you?
Evaluate your existing investment portfolio, goals and timeline. Then consider the opportunities and drawbacks of EquityMultiple to make the best real estate investment decision for you.
To learn more, visit the EquityMultiple Website.
This is a sponsored post. All views are my own.