5 Retirement Mistakes to Avoid for a Glorious Future
By, Douglas Keller
Often, people imagine their golden years to be among the most relaxing and enjoyable of their lives, with exciting getaways abroad and peaceful sunsets out on the porch. And while these are wonderful dreams to have, far too often people make retirement mistakes that cost them the freedom that they spent a lifetime working towards. One positive thing that comes from these blunders is that it gives those preparing for retirement the opportunity to learn from others. All too often, the same mistakes are made, but that changes now. Below are five of the biggest mistakes that individuals make during retirement. Learn from them so that you can make the years following your career everything you imagine.
Your Savings Account Stinks – Here are 5 Places to Keep Your Money Instead
1. Retirement Mistake – Increase Spending
When the time to stop working finally rolls around, it is common for retirees to actually increase their spending even though they are no longer bringing in the income that they had before. Most often, this stems from the desire to fully dive into retirement and do everything they've been dreaming of all at once. Unfortunately, by the time many people look up, they have gone over budget.
To avoid overspending in retirement, create a long-term budget and stick with it.
If you must indulge in some of your hedonistic inclinations, be sure to space them out accordingly so that you can have the fun you desire within a feasible and appropriate time frame, without destroying your wealth. While that may mean an exotic trip every few years instead of every summer, something as subtle as that will go a long way.
Sticking to a budget can also help you to identify places that you are overspending or under-spending, allowing you to further optimize the allowance you give yourself.
Bonus; Retirement Planning Tips for 50 Year Olds
2. Retirement Mistake – Moving Too Soon
There are almost always unexpected costs that stem from moving and for retirees, and the desire to relocate or downsize can have a significant effect on budgets.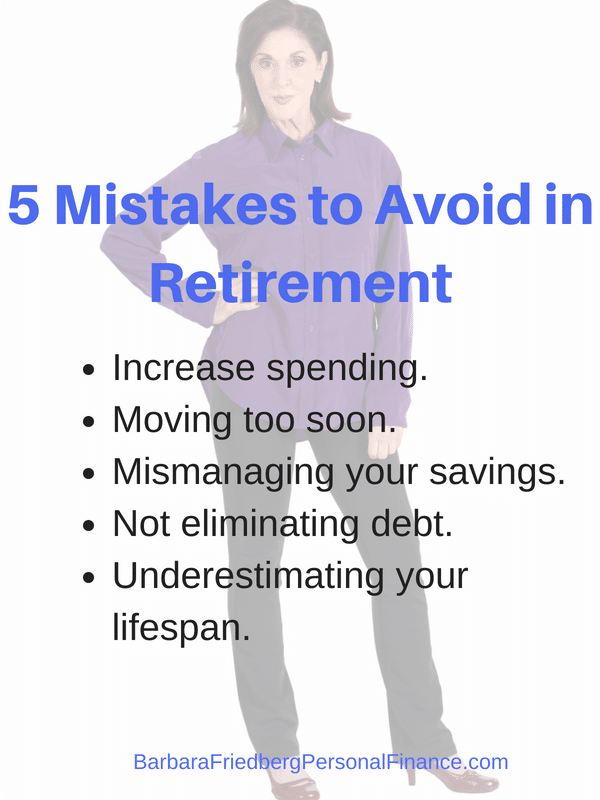 Whether it is higher property taxes, utility costs, or even the increased cost of goods like food in new areas, it is important to do your research when considering a move. Even more critical, understand what your budget and savings allow for and always give yourself some wiggle room because it will act as a buffer for the unexpected. Also, be sure to look into things you may not even think of normally such as public transportation options, proximity to places like the grocery store or airport, and the direction the community is heading. Especially in this day and age, many people will move to an area hoping for a slower pace only to find that the places they move are being built up.
And, if you commit to buying real estate in lieu of renting, make sure that you'll stay in the same location for at least five years. Otherwise, you'll likely lose money if you buy a home and then turn around and sell it within a few years. Real estate appreciation can be slow and transaction costs high. 
3. Retirement Mistake – Mismanaging Your Savings
Especially for those rapidly approaching retirement, there is a fear that sets in about the fate of the money they have saved up. Risky opportunities, like the stock market, cause many people to instead focus on putting their retirement savings in what are considered to be more dependable places that provide smaller, but guaranteed returns such as bank savings accounts and CDs. The problem with that is that some of those accounts are not able to keep up with inflation rates and can actually lose value.
On the other end, there are individuals who take on riskier investing opportunities to ensure they have what they need for retirement or to make up for beginning to save for it later on in life. Especially for younger people, it is critical that you begin saving early and often. Moreover, by diversifying your assets you'll help to protect yourself from the volatility of the market. Earlier on you'll want to be riskier, but as time goes by your approach should become more conservative. Just how much will depend on your savings goals and your age.
Retirees should have a year or so of expenses saved up in cash. After that, don't be afraid to invest some of your net worth in the stock market, for long term growth. 
4. Retirement Mistake – Not Eliminating Debt
Even for people who are working and years away from retirement, having debts that need to be paid off can be onerous. Among other things, the money required for repayment prevents individuals from achieving the kind of financial flexibility they may be hoping for otherwise. For retirees living on a fixed income, debt can cause financial difficulty and put a serious strain on the freedoms that retirement offers.
As the time for retirement approaches, it is important for people to consider the amount of debt they have and its sources. Most notably, the things you should be considering are credit card debt, medical debt, and above all else, paying off your mortgage. Eradicating debt before retirement will free you up to go about your retirement without the pain of repayments. High debt payments can hold you back from discovering all that the post-career phase of your life has to offer.
5. Retirement Mistake – Underestimating Your Lifespan
Though it is typical of most to refrain from thinking about death, when it comes to retirement there is a natural inclination for many to suddenly underestimate just how long they will live.
Read; 6 Steps to Avoid Outliving Your Money in Retirement
The problem with that is because retirement savings are more or less fixed, spending with the expectation of passing at one point but outliving that age will inadvertently leave many in a tight spot. To prevent underestimation, it's useful in your retirement calculations to assume that you'll live to be 100 years old. That number may change however, given the quality of medical treatment and the constant breakthroughs being made everyday. Medical advances are pushing up our longevity. So, you will need to stay on top of your savings to ensure that you woun't outlive your money.
Douglas Keller has been a financial expert for 20 years, helping people reach financial stability. He now provides personal finance tips on his blog Peak Personal Finance, where he helps people save money on their bills every month.