5 Saving Money Tips From Warren Buffett
5 Money Saving Strategies Inspired By Warren Buffett
"Long ago, Ben Graham taught me that 'Price is what you pay; value is what you get.' Whether we're talking about socks or stocks, I like buying quality merchandise when it is marked down." Warren Buffet~Letter to shareholders, 2008
Buying on sale saves money, only if you use those savings towards investing for the future.
The Power of Saving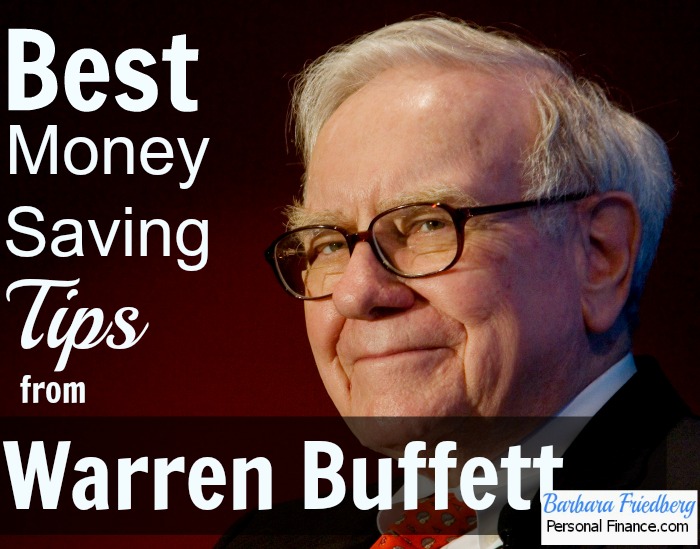 If you want to become wealthy, you must allocate some of your current earnings towards the future.
Carol and I became friends during my 20's. She had a tough time of it in her early adult life. She got pregnant in high school, married her high school beau, had a beautiful daughter and soon after divorced.
As young adults, we enjoyed shopping at the outlet malls, TJ Max, Marshall's, and the shops with great values on top quality, out of season clothing. To this day, I continue shopping this way.
Over the years Carol got her Bachelors and Masters degrees. She worked hard, supported her daughter and made a good life for herself.
Fast forward several decades and Carol  married  a wonderful man. They had a son who is off to college this year.
Oh, and did I mention that her current husband is a brilliant entrepreneur who patented some of the most important inventions of our day. And he is extremely wealthy.
I ran into Carol recently and our conversation turned to shopping. Since Carol is quite wealthy, I expected that she would be shopping at high priced designer shops.
When I asked where she got her sweater, she mentioned one of the outlet stores that we frequented in our earlier days. Carol remarked, "I'm still a bargain shopper".
What do Carol and Warren Buffet have in common?
Both Carol and Warren Buffet understand how to spot quality and conserve resources. Buffet uses his money to multiply his resources through investing and compounding of those investment returns.
In order to amass funds for investing and building wealth, you can't spend all of your money today.
Bonus content; 5 Inspiring Warren Buffett Investing Quotes>>>
Why Save and Invest?
Invest first, next reinvest the dividends and capital gains back into the financial markets.
"The wonder of compounding (sometimes called "compound interest") transforms your working money into a state-of-the-art, highly powerful income-generating tool. Compounding is the process of generating earnings on an asset's reinvested earnings. To work, it requires two things: the re-investment of earnings and time. The more time you give your investments, the more you are able to accelerate the income potential of your original investment, which takes the pressure off of you." Investopedia.com 
In order for the magic of compounding and saving to turn into financial security and long term wealth, you must take the first step and save. Without saving, you have no money to invest. And if you do not begin saving and investing, you're depriving yourself of the opportunity for your money to make more money. These money saving tips From Warren Buffett are simple, not easy.
Warren Buffett suggests index funds for most people. Find out how to invest.
5 Super Savings Strategies to Grow Long Term Wealth
Currently, Warren Buffett is number 2 (after Bill Gates) on the  "Forbes 400 – Richest People In America". His net worth clocks in at $585.5 billion. Who better to listen to for saving tips and advice?
Clearly, Buffett's money tips are worth following. These gems are sourced from "10 Warren Buffett Money Tips Everyone Should Follow", by Danielle Warchol of SavingsAdvice.com.
1. Spend Wisely
Think, wait, and ponder before spending. Consider, as you rip out your Visa card whether the $75 pair of shoes or new headphones today are worth  sacrificing $1,123 at retirement?
If you invested that $75 in a diversified stock market index mutual fund today and that $75 grew 7% per year until retirement 40 years later, the original $75 would be worth $1,123. (That's the power of compound returns)
2. Save For the Unexpected
Emergencies happen… to everyone. This year, we had a small fender bender. This set us back $1,000 for the auto insurance deductible, and our premium went up a few hundred bucks.
If you lack enough savings for emergencies, when that unexpected bill comes along you may be forced to take on credit card debt in order to pay for the unexpected expense. Next, find out why you don't want to pay for emergencies with a credit card (unless you pay off the bill in full at the end of the month).
If you pay $1,000 to repair your car and don't pay the bill immediately, here's how much you'll end up paying the credit card company.
Charge $1,000 on your credit card for an emergency car repair.
If you charge $1,000 on your credit card, which charges 18% interest, and you pay 2% of the remaining balance ($20 the first month), it will take you 151 months to pay off the $1,000. At the end of 151 months or over 12 years, charges will amount to $2,397 for an additional $1,397 in interest charges on top of the original $1,000.
Pay the minimum and you end up more than doubling the initial charge.
3. Think Long Term
It's very easy to get consumed with the day to day concerns. Yet if you avoid saving and planning for the future, you're likely to have a stressful retirement.
Money saving tips from Warren Buffett reminds us that money doesn't grow overnight but takes a long time to build up. Be patient and understand that the magic of compounding takes time. Invest for the long term.
Start investing a small amount every pay period and over the long term, the money will grow exponentially.
The chart shows how an investment of $100 compounds at a return of 50% (very unlikely) per year. At the end of year one, you earn $50. Add that $50 to the $100 and your investment is worth $150. Compound by 50% again and at the end of year two, you have $225 (($150 * 50%) + ($150)). At the end of year three, your initial $100 grows to $337.50.
The easiest way to invest is to automate saving. Have a portion of your paycheck transferred immediately to a retirement or investment account. If you don't see the money, you won't miss it.
So you see, with more time, your money makes more money on top of more money.
4. Limit What You Borrow
When buying a  home or a car, you may need to borrow money. Understand how too much debt limits your chance to save money and become financially wealthy. Every dollar you put towards interest payments is one dollar that is not invested and growing your wealth.
Borrowed money compounds the initial price paid for an item.
Make a plan to get rid of credit card debt now to move towards wealth and prosperity.
 5. Keep a Modest Lifestyle
If Warren Buffett can live in the same modest home for decades, why do you feel you need to live above your means? We live in a middle class neighborhood in a condominium in the midst of a large housing development.
I continue to be amazed at the apartment dwellers in the next building  over driving BMWs and Cadillacs when they could be putting that monthly payment towards purchasing a home and building long term equity and wealth.
Live within your means and contribute to an investment account every pay period. Even if you don't become as wealthy as Warren Buffett, you'll be a lot richer than if you spent all the money that you earned.
Action Steps
Save money by deciding where to scrimp and where to splurge.
Start diverting part of your income into an investment account.
Make a record of income and expenses and create a spending plan.
What are your top saving strategies?