Make Money Buying and Selling Websites
"Flipping" is a well-known term in most side hustles. Flipping means buying and then reselling for a profit. From flipping small items like thrift store finds to flipping real estate, there is a market for flipping no matter your niche. Websites are no different: with an eye for potential, you can make money flipping websites.
This article may contain affiliate links which means that – at zero cost to you – I might earn a commission if you sign up or buy through the affiliate link.
What is Website Flipping?
Website flipping is straightforward in theory. To flip a website, you purchase a website someone else has already created, build it up to increase readership and profitability, and then sell the website again for more than your original purchase price.
It sounds easy, but website flipping does require a lot of work: most blogs need at least a few months to increase readership to a profitable level, making site flipping good for those who have some time, know-how, and a bit of patience.
Is Website Flipping Profitable?
Yes, it most certainly can be! It isn't a quick way to profit, though; flipping websites should be treated like a business strategy, with a careful plan for monetization and audience engagement that will appeal to future buyers.
What's the Difference Between Website Flipping and Website Building?
Website flipping can be done with either a website that you have created from scatch or one that you purchased and improved.
The difference between flipping websites and building one from scratch depends on what you do with the site.
Can't wait to get started?
Website Building
When you build your own site, you make every decision in those early days: the carefully selected domain name, the niche, the layout, and all the early content. Website building can be a lucrative way to make money online – but it takes awhile to see progress.
You can buy a website, improve it, and reap the financial rewards. It's typically a faster route than building one from scratch. You don't have to flip or sell it, although you can.
Website Flipping
You can flip a website you've built from the ground up or one that you bought.
When you purchase a website to flip, you're going to be stuck with at least one thing: the domain name. Sometimes, that's enough to encourage you to purchase the website. Think of Toys 'R' Us, which purchased Toys.com for $5.1 million in 2009!
Other times, you might buy a site to flip because it is in a profitable niche and have quality content, but is inactive or updated sporadically. In these cases, the website might have a fairly engaged audience but may not have taken steps to monetize. Alternately, you may see untapped potential in the website at present.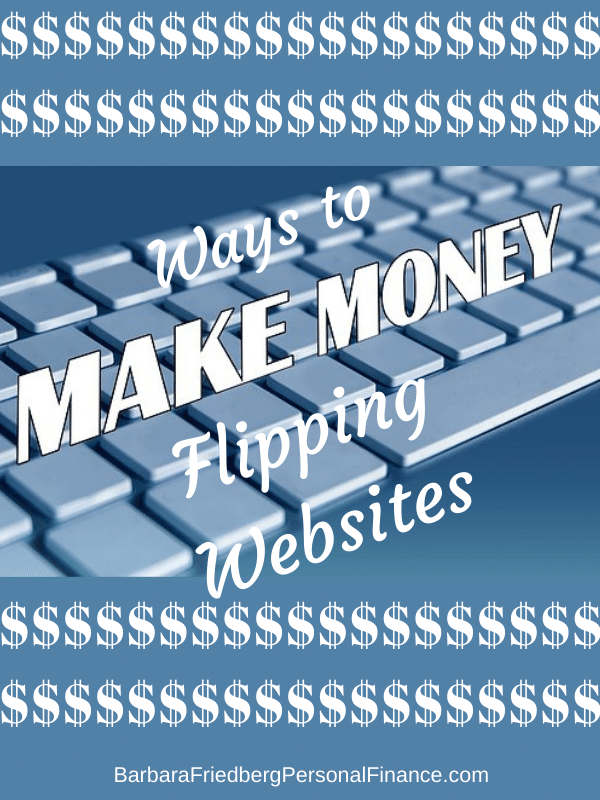 Site Flipping Basics
Like any good business, site flipping requires basic knowledge before diving in. This includes knowledge about Search Engine Optimization (SEO), the niche in which you're considering purchasing a site, and monetization options for that niche. Without a basic knowledge in these areas, you run a greater risk of failing to optimize the site and make it appealing to future buyers.
There are also other considerations for flipping websites. Before taking the plunge, ensure that the website you're planning to buy has the following qualities:
1. Good and Unique Traffic
While your flipping efforts should focus on building greater traffic than the site started with, you also want to ensure that site you're eyeing has a good foundation. The website you plan to flip should have a decent number of unique visitors each month, as well as repeat viewers who frequent the site. Sites with a high bounce rate may indicate that viewers are struggling to remain engaged with the site for long, signaling a need for improved content.
Of course, you don't want to buy a site solely for traffic. Buy a site that you can leverage to make money! This leads us to our next consideration.
2. Aligns with Your Interest or Your Existing Business
Investing in sites where the visitors can be potential customers for your existing products or services is one approach. For example, if you have a janitorial company, buy a website that sells cleaning products. You can direct people to both your sites to drive traffic and sales. This informs users of your other products and services too. The site can be used effectively as a promotional platform for your business by running ads and attract more and more customers.
Another benefit to buying a site that aligns with your interests is that you will be a knowledgeable and trustworthy source of information. For example, if you're a fitness guru, you'll be able to enter the diet, health, and/or fitness niches easily. Likewise, if you can't stop reading about the newest home décor trends, you'll find the DIY or home improvement niches to be easy for you to build.
Ultimately, before you flip the site, you will enjoy working on it.
3. No Google Penalties or Problems
Google's search algorithms have changed over the years, and they take seriously sketchy attempts to grow search engine results. Google Analytics is one way to see how a site is doing, as sudden drops in traffic may be the result of a penalty. Sites may also receive a penalty if they do keyword stuffing, contain spam, or scrape together content from other websites.
While you can certainly fix some content issues after buying a site, it's risky to purchase a site that has already been penalized and has had organic views reduced due to reduced visibility on Google.
4. Good Niche with Low Competition
If you're a trend-follower, you might buy a website focused on a popular theme. Popular keywords can be a great way to drive traffic to a site. If you can catch a trend early, you'll be able to capitalize on traffic to your niche site.
Some niche markets are over-saturated. Parenting blogs, for example, are very popular. If you're targeting a niche with higher competition, you'll want to ensure there's something unique that makes this site stand out from the crowd.
If you uncover a website for sale that lends itself to a niche keyword, you can optimize the site and drive traffic. Once on site, there are a variety of ways to make money, from affiliate sales to advertising and product sales.
It may be faster and easier to build up a niche website to sell.
5. Easy to Monetize
This one is important if you're going to make a profit from the flipped website. In order to demonstrate to future buyers that your site can make them money, your site first needs to earn money.
There are a few different ways to monetize a website. Some of the top options include:
Affiliate marketing. Becoming an affiliate for a product or service relevant to your website's niche is easy to do, with myriad options available from individual companies to full-scale affiliate networks.
Yes, people will pay you to feature an ad for their business on your site! In addition to individualized ads from private sellers, there are also ad networks to better expand the quality of the ads present on your site.
Sponsored posts. If your niche is narrow enough, you might even score sponsored posts. In these posts, you are paid to write a review of a product or service. Demonstrating that companies are willing to work with your website's brand will be appealing to a potential buyer.
6. Respectable Seller
This is a big one to ensure your investment is protected: vet your seller! Your seller should be able to answer your questions and provide tangible evidence to support any claims they make about the website.
While you can take on vetting the seller yourself, there are companies out there that help you with this process. Flippa, for instance, provides reviews and prior sale records of their sellers. Empire Flippers has an entire vetting team!
7. Verifiable Income
This goes hand-in-hand with advice on vetting your seller: make sure you have tangible proof of income before purchasing a website. Anyone can claim to make $1 mil on their website, but can they prove it?
8. High Quality Inbound Links
Is the website you're considering being acknowledged by reputable, high-quality sources? All inbound links have the potential to drive traffic, but Google's search algorithms differentiate between links from highly ranked websites and those originating from more spammy, link-farm sites.
9. Good Domain Name
In general, seek out a domain name that makes sense, is easy to remember and not too long.
If you are good at gauging the future value and scope of online business propositions, you might choose a website based solely upon the domain name. Here you are less concerned about the type of site and content, and more concerned about the domain name. With a popular domain name, and a little work optimizing a site, you can create a profitable website.
Where to Find Websites to Flip
The good news is, you don't need to cold call website owners to see if they're willing to part with their .com: instead, let some professionals handle the process.
There are multiple companies dedicated to helping individuals buy and sell websites. Most of these companies provide a vetting service in addition to helping clients make smart purchases by demonstrating popularity of various niches.
Purchasing Existing Websites or Businesses
One of the most popular website flipping firms is Flippa. We like that Flippa shares the URL for the websites they're selling. They also make information such as the type and age of website, number of bids, and country of origin clear on the front page. If a site hasn't yet received a bid, the asking price is visible. Flippa doesn't share traffic or earnings histories or seller notes with viewers unless they're registered, however.
Empire Flippers is similar to Flippa, although they don't reveal the URL addresses for the sites on the marketplace. Updated every Monday, Empire Flippers makes it clear exactly what you're buying: they list the niche, monetization method, and monthly net profit of each site. They also estimate the monthly gross income multiplier, which helps clients know how much potential a site has. Unfortunately, the URL of the website in question is not readily available until you register on the site. However, you will be able to see assets included in the sale and a detailed breakdown of the site's earnings and traffic over time.
FE International is an additional website broker worthy of mention. Their listings are more minimalistic than those of Flippa or Empire Flippers: FE International only quickly lists the monetization method, niche or industry, and yearly revenue and net profit, followed by a quick summary of the website. More information is available on request.
Purchasing Domain Names
If you're more interested in buying a specific domain, Afternic might be the right company to work with. Because of their affiliation with GoDaddy, Afternic has high reviews for quick turnaround time for domain name transfer. This is a good option if you are looking for a domain in a particular niche and are ready to build the website up from the beginning.
Ways to Improve the Website – Before Selling
You secured a website with a catchy domain, in a profitable niche, with verifiable income… now what? It's important to implement flipping website strategies to improve the property and ready it for another sale. There are four areas you want to focus on in particular:
Link building.
Quality inbound links from reputable websites are essential for growing the reputation, searchability, and profitability of your new website. This might include guest posting on highly ranked websites or earning a mention through other means (like writing noteworthy content!). You can also build inbound links by commenting on websites or blogs, though you'll want to make sure your comments add value to the post.
You'll want to avoid any link building that is potentially seen as spammy by Google.
SEO and Keyword Rich Articles
Your newly acquired website might have some preexisting content. How does that content stack up against current SEO trends? Are the keywords still relevant and unique enough to drive organic traffic to the site? If not, you'll want to spend some time revising the content to ensure it will be favored by search algorithms.
Of course, some of your time flipping this website should be spent generating new content. Be sure to research keywords in your niche so that you can create useful, SEO articles.
Advertising
If the website you're flipping isn't already making use of ad space, seek out relevant ad networks for the niche. Some ad networks will pay you simply for the number of visitors your site has; others are pay per click (PPC) ads, which require your viewer to click on the ad itself before you are paid. For PPC ads, the most lucrative are those that are well-placed and relevant to your readers.
Affiliates
Affiliate marketing is popular among bloggers and other online business owners for one good reason: it works. Depending on the niche your flipping site is in, you may want to join a more generalized affiliate network; you may also find that for a very narrow niche, it makes good business sense to become an affiliate for a specific company.
Sell a Website
It can take at least six months, but once your new website is generating income and attracting sizeable traffic, you may be ready to flip! But how do you go about flipping?
Some website flippers like to return to the businesses listed above: website brokers like Flippa or Empire Flippers, who can provide a middleman to the business of flipping websites. These companies do take a cut of the sale in payment for their services, but the price can certainly be worth it for the benefit of having someone else manage the bidding and transfer of funds and ownership process.
As you've spent many hours optimizing your website, it's also likely you're aware of individuals or businesses in your niche that might be interested in acquiring a well-built website. These businesses may even reach out to you directly if your site garners enough attention. In these cases, you'll want to be sure to vet your buyer carefully to ensure everyone understands what's included in the sale, when the transfer is to be made, and so on.
FAQ
Is Website Flipping Profitable?
Yes, it can be. Site flipping is not a get-rich-quick scheme, though, and should be treated like a business. The good news is, you can start with a new website or buy one, improve it, and then resell the site for more than you paid.
What is Domain Flipping?
Though similar to site flipping, domain flipping focuses more on the website URL than any other factor. Some people are exceptionally good at identifying up and coming trends, and they can quickly buy up a domain name for a trendy niche and sit on it! You might be one of those people, in which case your quick thinking and ability to recognize a trend will pay off. You may also purchase an existing domain based on a niche you believe to be profitable and build the website from there – and then flip it!
How do You Flip a Website on Flippa?
Flippa makes buying and selling websites very easy. Websites that are for sale have an overview of the pertinent information available immediately: domain name, monetization type, niche, age, and net profit. You can also register to receive more information, such as the traffic and financial history of the site. Once you decide to buy, you enter a bid with other buyers.
Website Flipping Wrap Up
Website flipping is a legitimate business, though it takes time and some industry know-how to do it right. Fortunately, your efforts can be well rewarded in this industry; a quick look at the bids on Flippa or Empire Flippers makes it clear that people are willing to pay a lot for a well-established, profitable website.
Much like real estate flipping, site flipping does follow the adage "you have to spend money to make money." You might find yourself shelling out a surprising amount for the website itself, and may need to outsource content creation, website design, and/or virtual assistant work to help optimize the site in a reasonable amount of time. These factors should all be considered as you decide on a promising site to flip.
However, for a savvy website builder – one with the patience to optimize a site over the course of a few months – website flipping can be lucrative and, if you're lucky, fun.
Related
9 Ways to Make Extra Cash on the Week-Ends
How to Become a Virtual Assistant
10 Low-Cost Ways to Market and Scale Up Your Side Gig Income
10 Unique Small Business Ideas for Micro-Entrepreneurs
SoFi Relay Review – Get Financial Insights
Guest contributor, Mohit Tater with additional content by Alexandra DeLuis
Mohit Tater is the founder and CEO of BlackBook Investments where he helps people invest in online businesses and digital assets. Apart from advising clients on SEO and marketing he also blogs at mohittater.com.
*Disclosure: Please note that this article contains affiliate links which means that – at zero cost to you – I might earn a commission if you sign up or buy through the affiliate link. That said, I never recommend anything I don't believe is valuable.