Learn how to amass wealth – the right way, for you.
Hello! I'm Barbara Friedberg, your money guide at Barbara Friedberg Personal Finance. Barbara Friedberg Personal Finance is an online resource to teach you how to save, invest, and build wealth using proven investing strategies.
I've reached my financial goals and I want to help you reach yours.
To learn my story, visit the About Page. 
Consider me the money savvy sister you wish you had.
Investing Cheat Sheet and Wealth Tips
For a quick and dirty investing cheat sheet, along with a personal story download this Free micro book: How We Grew our Retirement Account 965% + 14 Investing Rules for Wealth  (BONUS: Includes FREE subscription to the Wealth Tips Newsletter)
Investment Tracking and Budgeting Tools That I Use
These are two of my favorite resources, that help with investing and money management.
Personal Capital
The FREE investment management software is great for an overview of all of my financial accounts. Excellent dashboard, investment analysis, and charts. The retirement planning tool is my fav!
Cost: FREE
Quicken
This subscription service is good for tracking income, expenses and budgeting. The software contains scores of downloadable investment, tax, and other financial reports. I use this to manage my budget and track spending.
Cost: Varies per product level. I use the Home and Business which costs $103 per year.
Free Investing Microbook
Would you like to learn How to Invest, Grow Your Wealth and Outperform Fund Managers? Read this free ($11.99 value) micro book.
This book will provide Investing 101 basics in a handy microbook format.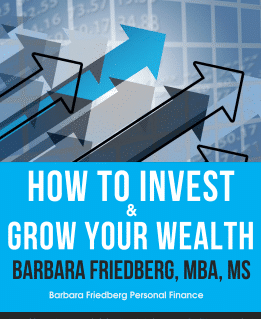 Money + Investing Information by Category
Barbara Friedberg Personal Finance offers more than 500 articles about investing, finance, real estate, saving, and money topics.
The site focuses on wealth-building topics, only.
Listed under each major category, are a few of my favorite articles.
Click on the title to go directly to the category or specific articles-listed below:
Stay in Touch
Subscribe to my YouTube Channel for more investing related content.
Follow me on Twitter, Facebook, and LinkedIn.
Listen to me on the Money Tree Investing Podcast
Finally, I like to stay in touch with my readers and learn more about you. Please send me an email to say hello or ask a question.