Robo-advisors have been making headlines lately as a great substitute for traditional personal financial advisors. But is robo investment advice worth the hype?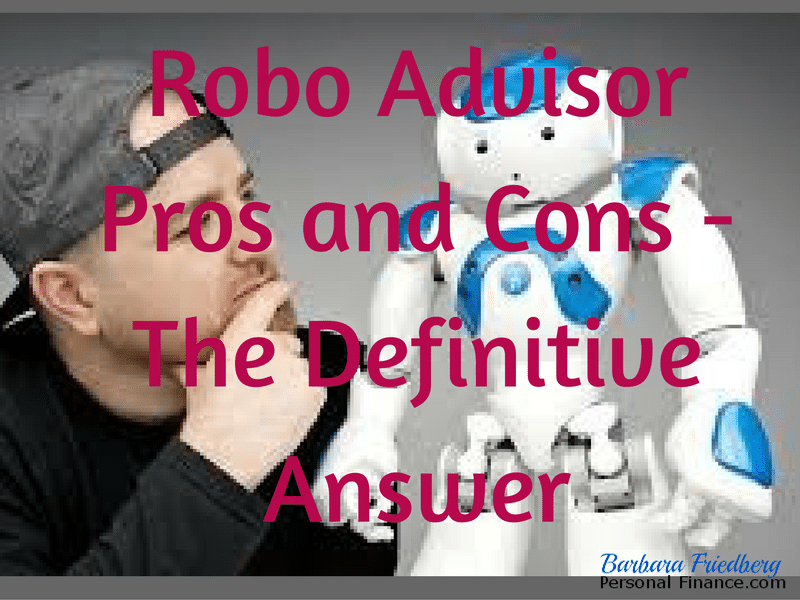 As with any decision regarding your money, it is essential to consider the pros and cons of robo advice before investing with a digital advisor. In particular, you should consider how robo investment advice stacks up against a financial advisor and which works better for your lifestyle.
What is Robo Investment Advice?
Robo advisors vary, depending on which platform you choose. Some robo-advisors are exactly what they sound like: based primarily on algorithms, these automated advisors use pre-programmed methods to determine what investments you should be making.
Although these robo-advisors are programmed to be as accurate as possible, some people might be worried about entrusting their investments to something that lacks a personality. For these individuals, a robo-advisor platform that offers a human connection may be a great alternative. This may be primarily an algorithm-based advisor with human customer service support, or a human who depends heavily on a computer to make investment recommendations.
Of course, no matter what robo-advisor you choose, customer service should be available to help you get started and to troubleshoot if problems arise.
Overall, robo-advisors are becoming strong competitors in the personal finance field. Yet, their limitations have been called into question by some who cite the lack of personal touch as a reason for distrusting the algorithms. Some are concerned about the extent to which the robo-advisors can really put their customers' interests first.
Robo investment advice can be confusing. If you are undecided about whether or not to use a robo-advisor, consider these robo-advisor pros and cons.
Robo-Advisor Pros and Cons
Cost: How Robo-Advisors Stack Up
Robo-advisors tend to be cheaper than the competition. Since financial advisors have to make a living and cover the costs of their place of business, their employees, and other miscellaneous expenses that come from owning a brick and mortar business, their fees are often higher than those of robo-advisors with minimal overhead.
It is not uncommon to see annual fees for robo-advisors of about 1/3 the cost of other financial advisors. These robo-advisory management fees are in addition to exchange traded fund or ETF fees. For clarification, every mutual or exchange traded fund has an underlying management fee. Index fund ETFs, used by most robo-advisors, have rock bottom fees ranging from 0.05% of assets under management (AUM) to approximately 0.52%.
Additionally, once the robo-advisor's platform is set up, the company can serve thousands of clients with the same overhead. As long as there are sufficient customer service representatives to meet client demand, the per client cost is much lower for a robo-advisor than for a human advisor – and that is another reason why you get top level investment advice at a low price with a robo-advisor.
Really, there isn't much of a con here – what's better than saving 66-80% of the normal fees charged by financial planners? Still, you will want to watch for hidden fees. As with most disclaimers on the internet, it is easy to bypass the small print. Take care to read all the information from your robo-advisor.
Bonus; Robo-advisors offer specialty services such as smart asset location to lower taxes>>>
Investing Minimums for Robo Investment Advice
Low investment minimums are another tic in the "pro" column for robo-advisors. The great thing about robo investment advice is that you can benefit from top level investment management with a small initial investment. Again, the idea of overhead comes into play: physical businesses need to make money in order to pay for their staff, electricity, and so on. High fees and high minimum investments go hand in hand to make sure that financial planners can stay in business.
Since robo-advisors have fewer expenses, they can afford to take on smaller investor accounts. This is great news for millennials and people on tight budgets who cannot ordinarily afford to invest. The robo-advisors enable small investors to make as great a return on their money as possible, no matter what amount the client begins with.
Although there are some financial planners who also offer low minimum investment requirements they aren't as plentiful as the robo-advisors willing to take on the small investing guy or gal. For small investors, robo-advisors come out on top.
Bonus; 6 Best Portfolio Management Tools for Investors>>>
Personalized Investing Advice-Can Robo-Advisors Compete?
When it comes to the robo advisor pros and cons, this is one area that people can't seem to agree on. Is the robo investment advice really as good as the investment advice of a financial professional?