How Does Real Estate Crowdfunding Work? DiversyFund Review
DiversyFund is a no-fee real estate crowdfunding platform, operating from San Diego and aiming to democratize investing and bring equal investment opportunities to all. In this DiversyFund review, we share the pros and cons of investing with this crowd funded real estate platform, making it easier for you to decide whether it DiversyFund is a good fit for your investment portfolio.
This article may contain affiliate links which means that – at zero cost to you – I might earn a commission if you sign up or buy through the affiliate link.
Do you dream about investing like the top investors?
Do you hope to build an investment portfolio, large enough to provide a secure future for you and your family?
In that case, according to the successful investors, you aim to emulate, you must build an investment portfolio extending beyond equities and bonds and including real estate.
Yes, I know that real estate is expensive to access and bothersome to manage. Just like you, I feel anxious when thinking about problematic tenants, broken toilets, and leaking roofs. And when considering the exceedingly large initial outlay necessary to get into the lucrative end of real estate investing, I feel a bit anxious.
What if I told you there is a way to invest in real estate without the hassle of property maintenance and the need for high capital investment? Would you consider including real estate in your investment portfolio?
Lately, real estate crowdfunding investment platforms disrupted real estate investing, making it accessible to the ordinary investor. Our DiversyFund review, will help you discriminate between DiversyFund and the rest, and ultimately, help you decide whether to include crowdfunded real estate investing in your portfolio.
After reviewing the key features of DiversyFund, we set out the pros and cons, of investing with the company.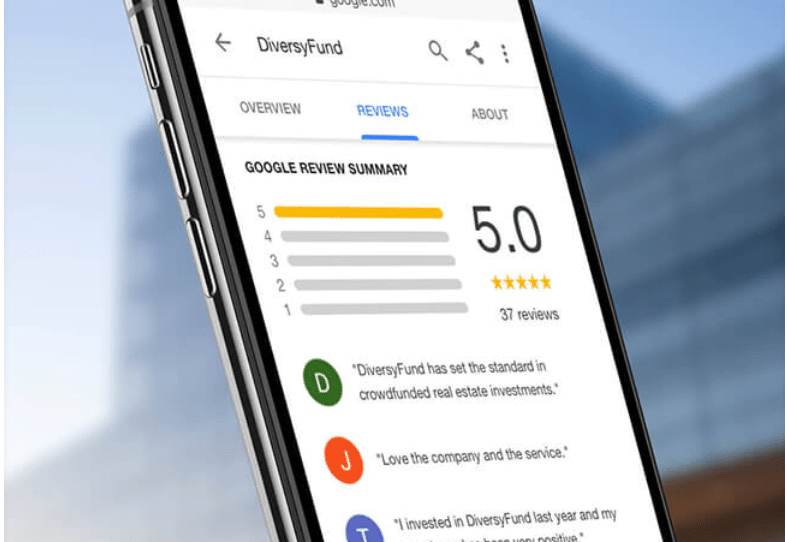 What is DiversyFund?
Diversyfund is a crowd funded real estate portal with three offerings for accredited and non-accredited investors. To date, the company has received two rounds of funding totaling $4.3 million, according to Crunchbase.
The company owns, maintains and manages the real estate forming the REIT. (In essence, this makes DiversyFund different from other REIT stocks.)
When it comes to the properties that DiversyFund owns and manages the real estate team uses a three-step strategy.
First, the fund acquires multifamily apartment buildings already generating revenue, but in need of improvements. Every investment decision is backed by data, tech, and the competence of a very experienced team of real estate professionals.
Second, the fund adds value to these buildings by making much-needed renovations. It promptly increases the value of the buildings as well as the rents charged.
And third, riding the cash flow generated by the properties the real estate team waits until the assets appreciate further to sell at maximum profit.
DiversyFund makes money through forced appreciation; e.g., all apartment buildings in the portfolio are renovated in the first year after purchase thus increasing the value of the property and the cash flow from rents.
Read: Best Way to Play the Lottery – You're not Going to Like it
The 3 DiversyFund offers are:
DiversyFund Growth REIT – $500 minimum and open to all investors.
DiversyFund Income Fund – $100,0000 minimum and open to accredited investors.
Series A Round – $25,000 minimum – This investment opportunity is 97% funded and offers accredited investors the opportunity to invest in the actual DiversyFund platform.
The DiversyFund Niche in Real Estate Crowdfunding
DiversyFund is among the few real estate crowdfunding platforms with opportunities for both non accredited and accredited real estate investors.
DiversyFund is a vertically integrated real estate investing platform; e.g., the fund owns, maintains and manages the properties. DiversyFund Growth REIT builds wealth by investing in cash-flowing apartment buildings, renovating them and increasing their market value. It is a long-term investment relying on capital appreciation.
DiversyFund is accessible to all US investors, not only those who are accredited, in accord with its core mission to democratize real estate investing.
It is also a passive investment that needs little if any, experience with real estate investing.
The approach of buying real estate in need of repairs, distinguishes this real estate crowdfunding platform from competitors and nearly insures capital appreciation.
How does DiversyFund Work?
Following are descriptions of each of the DiversyFund offers.
DiversyFund Growth REIT
Open to all investors, the DiversyFund Growth REIT is a SEC-qualified Real Estate Investment Trust (REIT) that builds wealth by investing in cash-flowing apartment buildings. The DiversyFund's Growth REIT focuses on long-term capital appreciation from the renovation and repositioning of these multifamily properties. In fact, the firm suggests that investors can expect 12% annual returns.
"…to disrupt traditional alternative asset investing and empower the average investor by giving them the same wealth-building opportunities available to the 1%." ~Diversyfund mission.
Hence, while DiversyFund has been operating in San Diego and Southern California for approximately a decade, they made their Growth REIT available to all US investors and fully launched their investment platform in April 2019.
Individuals invest by purchasing shares in the DiversyFund Growth REIT.
Income from rents is distributed every month as dividends and re-invested. Distribution puts investors first, meaning that the company doesn't take profit until investor return has reached 7% per year. Once this return is achieved, profits are divided between investors and the company at 65% – 35% ratio until the investor return reaches 12% per year; after that, profit is split at 50% – 50%.
Properties are sold after five years, and new properties bought and renovated.
Unlike publicly traded REITs the shares are semi liquid and must be held for several years before redemption.
In sum, DiversyFund generates profits from rents and property value growth.
That's the beauty of purchasing real estate that needs renovating. You have built in appreciation and aren't waiting for the market to expand.
DiversyFund Income Fund
Open to accredited investors, those with high earnings and/or high net worth, the income fund is a debt fund that invests in the loans that go to fund multifamily and residential properties. In other words. your funds are helping DiversyFund purchase the real estate properties.
The fund was launched in March 2013 and eaned 10.5% averaged annualized investor returns. The fund has never lost any principal and makes quarterly income distributions to investors.
The current annualized return is 7.2% and requires a $100,000 minimum investment and a 1 year lock-up. Which means you can't redeem your shares for at least one year.
DiversyFund Series A Round
In this investment, which is 97% fulfilled, accredited investors become part owners in the DiversyFund platform, before their expected initial public offering or IPO, expected within 2 to 4 years. The required minimmum investment is $25,000. The full investment offering is $6,000,0000.
For more information or to sign up, visit the Diversyfund website.
Who Can Invest with DiversyFund?
DiversyFund is available to US residents, those on a visa with a valid Social Security Number or those with an Individual Taxpayer Identification Number.
The Growth REIT is open to anyone falling in these groups and over 18 years old.
The Income Fund and Series A funding investors must be accredited which means that they meet at least one of the following conditions:
Earn at least $200,000 or $300,000 with a spouse.
Have a net worth of at least $1,000,000 excluding a primary residence.
Who might benefit from investing with DiversyFund?
You should consider investing with DiversyFund if you are:
Looking to diversify your investment portfolio. DiversyFund is an opportunity to add real estate to your investment portfolio.
Wanting to invest in real estate but don't want to own the properties. Investing in real estate is problematic for the average investor on two counts: a) outstanding properties yielding healthy returns are usually prohibitively expensive; b) managing properties is cumbersome. Investing with DiversyFund bypasses both problems.
Able to cope with risk. With any investment, there are risks. Investing in DiversyFund Growth REIT is illiquid, and you won't be able to liquidate your investment for approximately five years (no premature withdrawals).
Seeking a passive investment. Investing with DiversyFund is largely passive.

DiversyFund Review: Key Features
Here are the key features of DiversyFund to help you to decide whether this is an investment that sits well with you and your portfolio:
3 Ways to Invest with DiversyFund
Currently, there three way to invest with DiversyFund:
You can invest by purchasing shares in the DiversyFund Growth REIT, which is SEC-qualified and universally accessible. This REIT invests in cash-flowing investment buildings and its focus is on long-term capital appreciation. You will need a minimum investment of $500.
There is a temporary opportunity to invest in the DiversyFund platform itself before its IPO by purchasing Series A Round convertible note. (The investment offering is $6 million, and it is currently 97% fulfilled.) The minimum investment is $25,000 and you must be an certified investor.
The DiversyFund Income Fund, is available for accredited investors with a minimum of $100,000 to invest.
DiversyFund Returns
Growth REIT Investment Returns
DiversyFund claims it is for 'people who refuse to settle for average returns'.
While it is too early for the Growth REIT returns, remember the REIT was launched to the public in April 2019, DiversyFund boasts investment returns in the double digits for 2017 and 2018 (over 17% annualized return).
Income Investment Returns
Since inception, the Income Fund has returned 10.5% and currently expects a 6.97% return.
Please remember that past performance is no guarantee for the future and investing always carries risks.
DiversyFund fees
One of the most beautiful features of DiversyFund is that there are no fees. Nothing, zero, zilch.
It is so unusual that you'd be justified to wonder how the company makes a profit. The answer is easy – the profit for the company comes from the profit distribution structure. Remember, DiversyFund takes nothing before the investor return of 7%. Then, its profit is 35% of the total until investor returns reach 12% and 50% after that. Incidentally, this profit distribution arrangement is a powerful incentive to ensure high performance.
DiversyFund App
Coming soon to Google Play and the iOS store.
DiversyFund Learn Center
DiversyFund offers helpful information for beginner to advanced real estate investors on many relevant topics. Well worth checking it out.
A few recent articles include; "How to Get Rich in a Bear Market," "Three Factors to Investigate Before Investing in a Dividend Stock," and "Equity REITs and Debt REITs-What's the Difference?"
How to Sign up for DiversyFund
Getting started with DiversyFund is easy and consists of four steps:
Create an account. There is a relatively simple form that you can either fill in or use your Facebook or LinkedIn accounts to populate.
Select your investment. Please make sure that you check out the details about each of the investments before committing to it.
Make your investment. You need to fill in another simple form stating how much you will be investing, the investment form of ownership, and other relevant information.
Monitor your investment. Use the handy dashboard to monitor the value of your investment. You'll receive a quarterly investment statement.
For questions, there are specialists whom you can speak with. 
DiversyFund Real Estate Investment Overview
Here is a summary of the key features of DiversyFund investing to help you decide whether this investment opportunity is for you:
| | DiversyFund Growth REIT | DiversyFund Income Fund | Series A Round (97% fulfilled) |
| --- | --- | --- | --- |
| Accredited Investor | No | Yes | Yes |
| Minimum Investment | $500 | $100,000 | $25,000 |
| Approximate Terms of Investment | 5 Years | 1 Year | 2-4 Years |
| Expected Returns | 12% | 7% | Minimum 12% - Target 5 times return |
| Management Fees | $0 - Profit sharing | $0 - Profit sharing | $0 - Profit sharing |
Pros and Cons – Is DiversyFund for You?
Now that the review of DiversyFund is complete let's see what the pros and cons of investing with them are.
Advantages of Investing with DiversyFund
DiversyFund allows you to invest in commercial real estate without the onus of management, liability, and other concerns.
Investing in the DiversyFund Growth REIT is passive and appropriate for beginners.
One can start investing in the DiversyFund Growth REIT at $500, which is not prohibitive by any stretch of the imagination.
One doesn't need to be an accredited investor to invest in commercial real estate with DiversyFund.
Zero fees and protected 7% return on investment are very attractive propositions.
There are a helpful learning resources and a comprehensive FAQ section on the website, and I'd urge you to read these before making up your mind.
Signing up is fast and straight forward.
Disadvantages of Investing with DiversyFund
Investments with DiversyFund are illiquid and can't be liquidated before the term has expired. Approximately five years for the DiversyFund Growth Fund and one year for the Income Fund.
DiversyFund de facto offers only one investment option for non-accredited investors – the Growth REIT.
Investing with DiversyFund means that you have a very low level of control over your investments – you enter a 'blind pool' and can't opt-out of certain properties.
As with any new private investment or new real estate crowdfunding platform, the investment lacks a long history of historical returns and business practice. This investment is speculative.
Is Investing with DiversyFund Right for You?
It is decision time – do you find DiversyFund to be an appealing investing option that will enable you to diversify your portfolio and achieve potentially healthy investment returns? DiversyFund offers the potential for higher returns than comparable publicly traded REITs, with the caveat that your money will be tied up for roughly 5 years.
It is a decision only you can make.
All we can say is that DiversyFund appears to be a good option for the beginner investor, accredited investor, or a hands-off one, who aims to include real estate in their investment portfolio. The small minimum investment amount makes it a viable real estate option for speculative investors of all types.
Visit the DiversyFund site to learn more.
By, Maria Nedeva, PhD, University Professor and owner of The Money Principle
Disclosure: The returns are estimates and not guaranteed.
Disclosure: Please note that this article may contain affiliate links which means that – at zero cost to you – I might earn a commission if you sign up or buy through the affiliate link. That said, I never recommend anything I don't believe is valuable.