*Please read affiliate disclosure below.
Students, Teachers & Adults-Have Fun Making Money This Summer
By staff columnist, Alexandra Deluise
Making money in the summer time is always good – the days are longer, people seem to be in better moods, and there are some excellent seasonal places to apply for. Before signing yourself up for a seasonal restaurant job, though, try one of these 29 fun ways to make money this summer!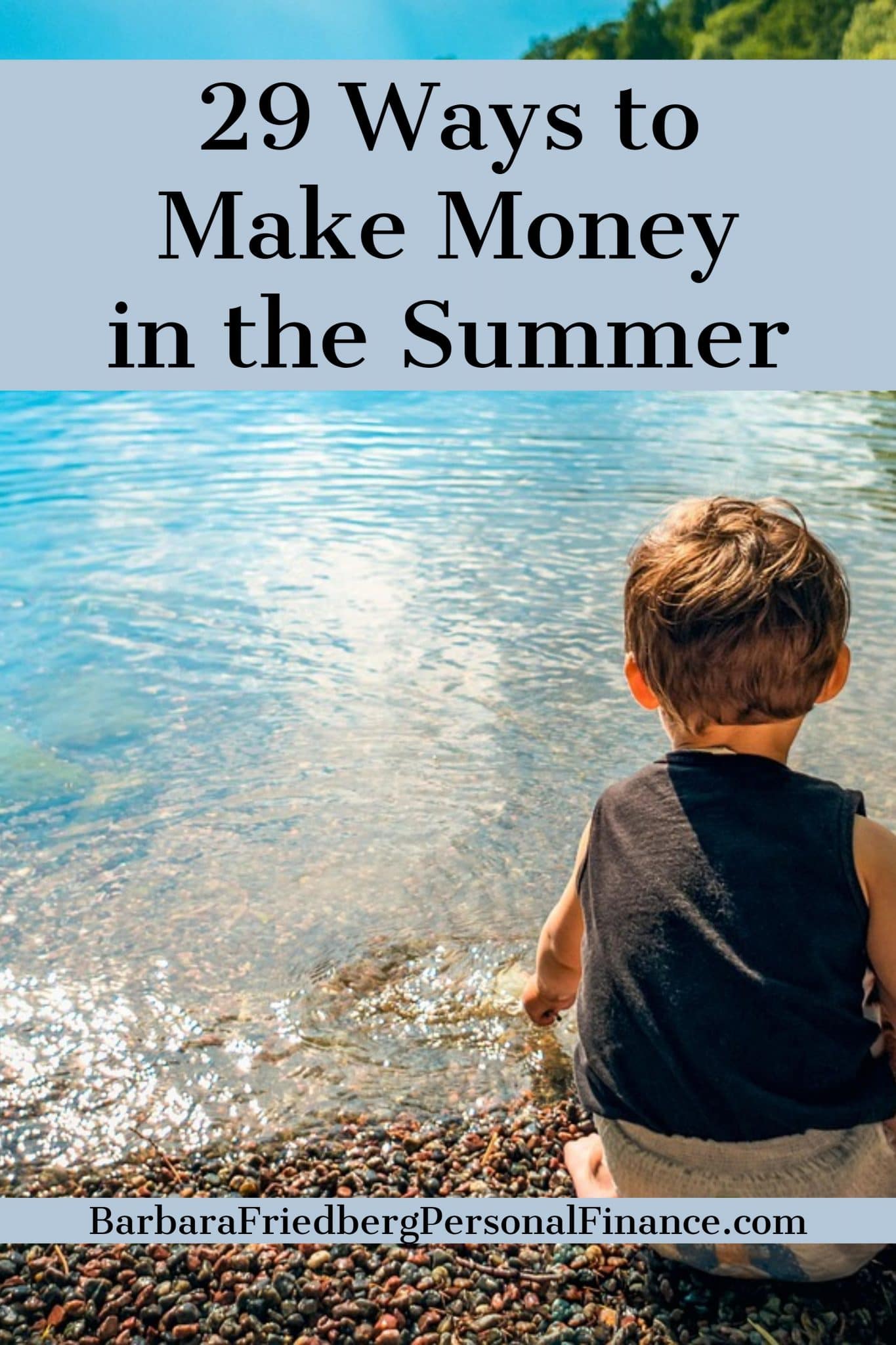 Sell the fruits (or veggies!) of your labor. If you have a garden, you can make extra money by selling produce from your land. You can also get a head start on the market and sell seedlings for people to plant their own gardens. You can charge extra for organic produce and seedlings as well.
Officiate weddings. Become a justice of the peace, and be a part of someone's happiest memories. Bonus: you might get to stay for the reception, so enjoy that buffet! Get certified online to implement this fun way to make money. 
DJ a party. This one might cost some money upfront, unless you work as an independent contractor for an already established DJ company. The best record players at Huppin's, for example, may set you back quite a bit initially but could become a good investment. Since weddings are common during the warmer months, you may be able to land a gig working per diem at a company when they need backup DJs to handle the extra work load.  
 Easiest way ever to make cash! Get paid when you do stuff online with Swagbucks. My readers love to watch videos, take surveys, play games, and earn free stuff just by hanging out online. And for a limited time you get a free $5.00 sign up bonus!
Work at an amusement park. Bonus: you can probably ride that rollercoaster for free on your lunch break.
Sell photographs. With the push for websites to be Pinterest friendly, the demand for quality photographs has never been higher. Sell photos online to blog owners of digital photo websites, or go the more traditional route and offer your services for family, newborn, and wedding photography.
Get paid to be a movie extra or model. Casting360 is a legit company that offers television and movie jobs. They use all types of people across the U.S. for jobs as movie and television actors, extras and models.
Or, if you have artistic talent, draw caricatures. Trust me on this one – people love exaggerated pictures of themselves.
Be a tour guide. Who knows your city better than you? Well, maybe a few people do, but are they offering tours? No – but you are.
Bonus-lazy make money idea! Be surveyed. Marketers are clamoring for your opinion. My favorite place for online surveys is InboxDollars. There's even a $5.00 sign up bonus now. Sign up here and start earning while you're watching tv.
Lead an outdoor exercise class and soak up some vitamin D. Your clients will feel double the positive results.
Resell things from estate sales. I'm thinking American Pickers here: if you have an eye for resale value, visit estate sales and freshen up some antiques. You could make bank if you know what to look for.
Bonus read: Summer is a great time to build wealth, too. Don't forget to make your existing money work for you.>>>
Lifeguard at a pool or beach. Our local mini-putt has a water slide and lifeguards receive on-the-job training.
Write a book and self-publish for Kindle. Check out How to Get Rich Without Winning the Lottery.
Be a grill master at someone's party. Give the hosts time to socialize, and take care of the food preparation.
Golf caddy. You can make a surprising amount of money if you're able to get a job!
Invent a product that fits a unique need. No, seriously, you won't believe what people need. For example, Buckettees.com are t-shirts with big pockets in front, and the founders are making it. 
Play with puppies. Puppies are just like human babies: they need attention, entertainment, and an outlet for their energy – never mind someone to clean up after them! Help a new fur-parent out by walking their dog, offering training services, pet sitting overnight, or just visiting the new fur baby during the workday.
Create an educational program. This one's my favorite, since it's what I do all year long. If you have a teachable skill, market it! I guarantee you, you know something that others would pay to know.
More ideas: In addition to this, there are plenty of other ways for educators to make money in the summer without tutoring!>>>
Redesign clothes bought from a thrift shop. Old is the new trendy. Bring new life to vintage clothes and resell them for a profit. (Or keep them – save money on a unique, stylish new wardrobe!)
Rent out party supplies. Here's where you can make some serious money. Rent out tents, tables and chairs, or bounce houses and pocket some serious cash. Bonus: You get to use these supplies for your own parties. Win-win!
Sell refreshments on the beach. You're going to be there anyway, right?
Plan someone else's vacation. Go through a travel agency, or freelance for family and friends.
Go on vacation as a nanny for a family who wants some childcare support.
Go abroad and teach. GoOverseas.com has a ton of options for short-term teaching programs and various countries.
If you're going to be away from home, list your place on Air BNB.
Sell virtual gold and supplies. Seriously. I love that this is a thing – the (pre-baby) gamer in me thinks it's fantastic that you can sell your hard-earned virtual goods for real cash.
Create a smartphone app, because why shouldn't you be the one who makes the next Angry Birds? There are entrepreneurs out there to help with the technical aspects.
Create infographics. I love easy to follow infographics, but I just don't have the patience or know-how to make captivating ones for myself. Try Canva, PicMonkey or the new Adobe Spark to get started. Who knows – maybe I'll be your first customer.
Organize outings for groups. Planning a group outing can be a nightmare for corporations, and, frankly, sometimes the ones they do plan are awful. If you are the go-to person when your friends ask "what should we do today?" then this job might be perfect for you.
Interior design. Or, since it's summer, you could even land some exterior design gigs. Boost the visual appeal and functionality of someone's backyard entertainment space, and you could get some great word-of-mouth clients.
Sell your electronics. While purging and organizing, we came across old laptops and other electronics. You can sell these items online or donate for a tax deduction, both options equal real money!
There are so many great ways to make money in the summer, but these 29 ideas will get you places fast. Many of them work well together, too. Who's to say you can't successfully rent party equipment (#19) for the wedding you're going to both officiate (#2) and DJ (#3)?
What if you went abroad to teach (#23), while simultaneously writing an ebook (#12) on the experience?
Click here to read all of our money making articles>>>
Staff columnist Alexandra DeLuise combines her banking experience with real-world financial advice to provide simple money tips to everyday people.
What are some of your favorite ways to make money in the summer?
A version of this article was previously published.
Disclosure: Please note that this article may contain affiliate links which means that – at zero cost to you – I might earn a commission if you sign up or buy through the affiliate link. That said, I never recommend anything I don't believe is valuable.