Ways for Seniors to Make Money
More and more seniors are keen to find out how to make money in retirement. Either by choice or necessity, the idea of retiring to a life of complete leisure is becoming a distant memory.
This article may contain affiliate links which means that – at zero cost to you – I might earn a commission if you sign up or buy through the affiliate link.
According to a recent United Income report, nearly 20 percent of Americans age 65 or older are either working or looking for work. As a solopreneur, working with my laptop – wherever – I appreciate the desire to learn about more retirement income ideas. With basic computer skills, the opportunity to earn from home is easier than you might think.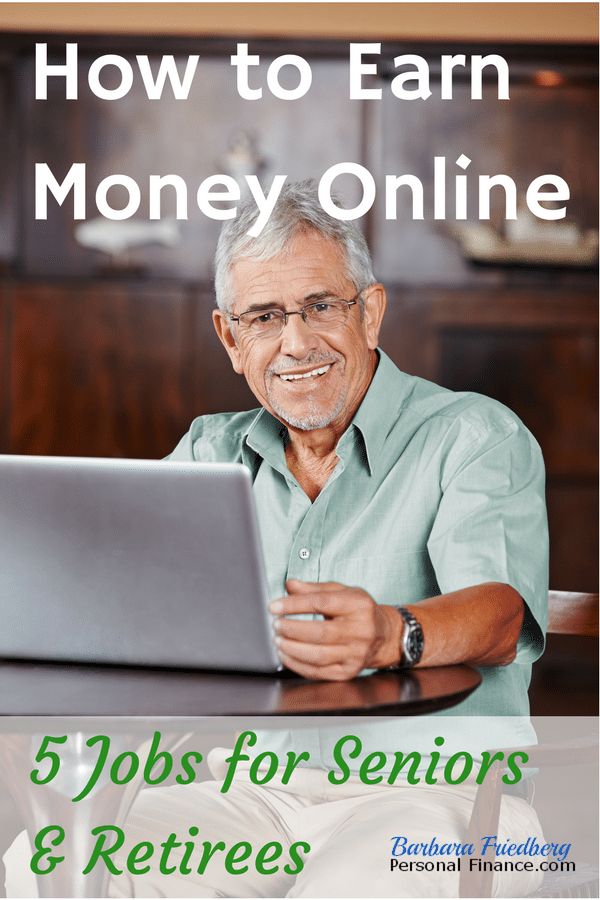 Even if you must work in retirement, to pay the bills, there's a silver lining for seniors and retirees building their online businesses. The National Institute of Health claims that you'll benefit both physically and mentally from keeping your mind and body active in your later years.
Anyone can earn a few bucks surfing the net filling out surveys and watching videos with Inbox Dollars. You earn real cash, not points. (There's even a sign-up bonus.) This is a great sideline, but to really make a dent in that retirement budget, there are additional ways to keep the cash flowing in retirement.
If you're feeling a little shaky about your skills, Fiverr offers online courses in many areas like, graphic design, marketing, business, video, photography, digital marketing, freelancing and more. Most prices range from zero to less than $50 per course. These short online courses with boost your skills and credibility preparing you to market your abilities.
Online Jobs for Seniors
If you're wondering how to make money in retirement, you're in luck. There are so many ways to pad your pocket in retirement. Regardless of your skill area, there are many ways for seniors to make extra income in retirement. If you need money immediately, then you probably want to sell stuff on eBay or Craigslist or sign up to work for on the Steady app, Uber, or Task Rabbit.
If you're willing and interested in learning and planning, it's possible to create a viable online business from home. Following are ways to earn money online for seniors, retirees or others.
1. Become a Virtual Assistant
A virtual assistant is someone who performs work online for someone else. The work varies, depending upon your skill set.
A virtual assistant (VA) is an online office or personal assistant who performs various tasks similar to a manager or an office administrator. Your duties can encompass a variety of services, such as administrative support, sales, marketing, accounting, writing, editing, proofreading, graphics design, website development, and desktop publishing services. A virtual assistant works remotely from her home-office using her own computer, licensed software applications, phone, and internet connection.
If you're a whiz at Facebook, twitter, Instagram and Linkedin you can market yourself as a social media manager. There's high demand for these jobs and you won't need to leave your couch to do your job.
Read our 3 part series about: How to Become a Virtual Assistant >>>
The best places to find virtual assistant jobs are through upwork, Fiverr or through a virtual assistant network.
2. Sell Your Skills Through an Online Marketplace
Searching for work from home jobs for seniors? The internet has your back. 
Upwork, Freelancer and Fiverr are amazing portals for the solopreneur. First, look at the sites to find out what customers want. For example, check out Fiverr, where payment starts at $5 but easily goes up, depending upon the services.
We have used Fiverr frequently and have been very satisfied with the quality of freelance workers. Most of the jobs will ultimately pay much more than five dollars too.
On Fiverr you can sell your talents in these categories:
Graphics and design
Digital marketing
Writing and translation
Video and animation
Music and audio
Programming and tech
Business
Fun and lifestyle
I peeked into the fun and lifestyle category and found folks selling in these categories; relationship advice, online classes, arts & crafts, health nutrition and fitness, family and genealogy, collectibles and more. In the health and fitness category, there were entrepreneurs with meal planning offerings and article-writing in the health and fitness area. The beauty of working through an online marketplace is that the platform and customers are already there. All you need to do is set up your compelling profile.
The most important tip for working in an online marketplace is to garner some 5-star reviews. So, when starting out you might want to keep rates low until the reviews come in and then raise rates when you have the bargaining power of higher reviews.
3. Create Your Own Store
There are multiple ways to sell online with a store and the sales platforms for your online store are already set up. If you want to hunt down bargains on Craigslist, local garage sales or have an attic filled with collectibles you can market those treasures with a nice profit. Selling on Craigslist is as easy as posting a few pictures and waiting for the buyers to call or email. Some savvy folks take the free items from Craigslist, fix them up a bit and then resell.
Offerup, the new local sales app has everything from makeup to cars for sale on their platform. The pictures on the home page jump out and encourage buyers to pounce.
Fulfillment by Amazon has everything you need for your online store including picking, packing and shipping the orders. All you do is sell.
" You sell it, we ship it. Amazon has created one of the most advanced fulfillment networks in the world, and your business can benefit from our expertise. With Fulfillment by Amazon (FBA), you store your products in Amazon's fulfillment centers, and we pick, pack, ship, and provide customer service for these products. Best of all, FBA can help you scale your business and reach more customers." ~Fullfillment by Amazon
If you're collecting payments, there are many online payment platforms ready to help such as Paypal or Paysafe. Fiverr even offers complete business services to help with invoicing and recordkeeping.
4. Create a Website as a Springboard for Your Business
Once you have a website, there are multiple ways to make money. In fact, every online entrepreneur should have a website to build and promote their brand. Whether you have an online virtual store, a blog within a website, or simply a website with a portfolio of your work – to make money online, you need a website.
Your own website can be a cornerstone for your online selling business. Fortunately, it's cheap and easy to set up your own website. I recommend Blue Host and can offer you a special $3.95 per month hosting opportunity. (Just click on the link for the offer) The company is well respected and your monthly fee includes:
A free domain
A free site builder
A one click WordPress installation
24/7 customer service
Or you can go online and hire someone to set up a website for you. Regardless of how you proceed, search around and save the online addresses of sites that you like. That way you'll have inspiration for your own site.
5. Sell Affiliate Products on Your Own Website
You can participate in affiliate programs where you sell others products and keep a percentage of the sales price. This is one of the funding sources for this website.
Here are a few strategies and programs for selling affiliate products on your website:
Amazon Associates – You can sell anything from Amazon with your own affiliate sign up link and even if someone visits Amazon to look at the product you're selling and ends up buying another item, you get a commission. The Amazon affiliate commissions are low, although there are folks that sell in volume and make a nice income.
There are other affiliate programs that offer more generous commissions. CJ Affiliate, formerly called Commission Junction is one of the more popular affiliate sites on which to find products to sell.
In order to make money, you need to drive traffic to your website and the affiliate products. There are many ways to do this. One strategy is to write honest reviews or discuss certain products, include your own personal affiliate link and when someone buys, you get a percentage of the sales price.
When selling affiliate products, the golden rule is to promote only those items you believe in. If you sell junk then your reputation will suffer.
6. Pet Sitting for Cash and Exercise
Staying active in retirement is one of the most important ways to improve health and longevity. In our neighborhood, the dog walkers with their furry charges seem to be having fun, while they make money. Pet sitting and dog walking provides extra cash and fun for animal lovers.
In the San Francisco Bay area, pet sitting is an in demand and high paying side gig. The pet sitters may offer ancillary services as well, for extra fees. Pet sitters can stay and play with the pet for a longer period of time or visit multiple times per day, for additional compensation.
Pet sitters can advertise their services through Yelp reviews, a website, and apps. The Steady app is one of our favs and offers links to pet sitting as well as many other types of jobs.
7. Watch Videos and Take Surveys
If you're already surfing the internet, then why not get paid to do so. There are many companies that are interested in your opinion and will pay you to watch videos and take surveys as well al complete other online tasks.
One of our favorite sites for making money online, especially for those who've hit their retirement age and want to supplement their Social Security checks is InBox Dollars. There's even a sign up bonus for an extra income boost. You probably won't make a windfall of extra income with this approach alone, but every little bit helps.
Best Ways for Seniors to Make Money Online Wrap Up
Allow yourself some time to investigate money-making options. Choose a route that fits in with your skill set and personality. Get creative, there's always someone that wants to learn what you know or buy what you're selling. Find your niche, build your website and start your own online money making business.
Related
Disclosure: Please note that this article may contain affiliate links which means that – at zero cost to you – I might earn a commission if you sign up or buy through the affiliate link. That said, I never recommend anything I don't believe is valuable.