Money Doesn't Buy Happiness, But…..
Money is  one of the most important commodities in the world. And rightly so.
Unless you live off the grid, grow our own food and make what you need, then you need money to live. 
When I was a teen, I used to berate my parents for their materialism and consumerism. Not a day went by when money wasn't mentioned. As I grew up, I realized that while money doesn't buy happiness, it's extremely helpful in solving financial problems like:
Paying the rent
Buying a car
Putting food on the table
Buying clothes
Enjoying leisure
Paying for retirement
Giving to charities and others  
Before I realized it, I was nearly as interested in accumulating wealth as my parents!
Flash forward many years. After living under my means for decades, saving and investing, I've learned a thing or two about why money can't buy happiness and what else goes into creating a happy life. 
Can Money Buy Happiness – Pros and Cons
Can Money Buy You Happiness?
Money can't buy happiness, but it can make your misery more comfortable. 
On occasion, money can buy happiness, while there are other problems money can't fix. 
Don't miss; Warren Buffett's Best Personal Finance Tips
Understand when money can buy happiness and the situations where all the money in the world won't create joy. 
The Reasons Why Money Can Buy Happiness 
If you think shopping isn't a way to buy happiness, you might be wrong. 
If done correctly, shopping or spending money can buy happiness.
Are you one of those people that likes to shop to reward yourself, or to drown your sorrows and make you feel better? (I go this route, in moderation. I typically splurge at Macy's "Last Act" discount rack!) Or, I might visit the dollar store and pick up a few items on the cheap.
If so, don't beat yourself up or feel guilty due to excess consumerism!
Research shows that spending, if done correctly, can cause joy, according to Jan Bowen in a recent Psychcentral.com blog post. 
Buy experiences. You've probably heard this one. If you spend on travel you get a three-fer. First you get the joy of planning and anticipating the trip. Then you experience the travel, new places and exciting experiences. Finally, you get to relive the fun in your memory and your pictures.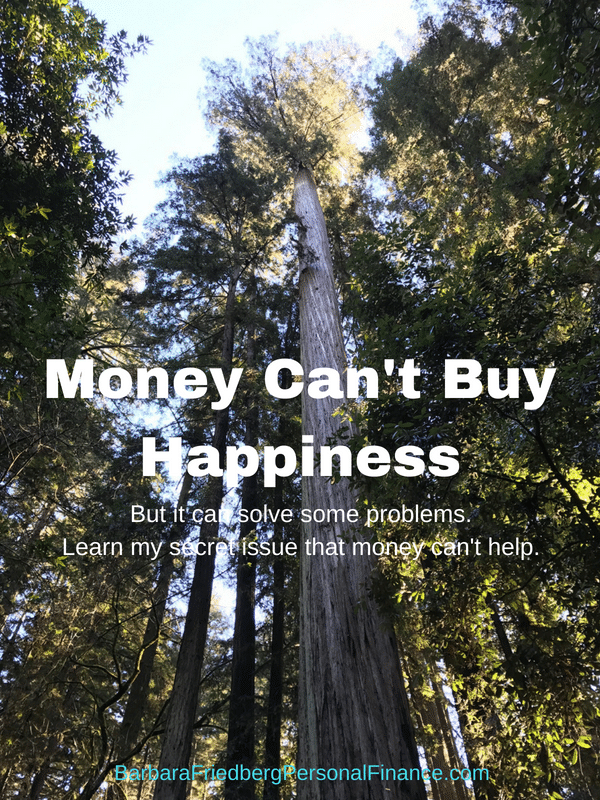 Travel is one way our family splurges. Our recent trip to Jackson Hole Wyoming was so much fun. I got to pretend I was a cow-girl – my secret ambition – go on a wagon train ride and enjoy a cowboy dinner and show! It doesn't get much better than that! 
Spend to give you more time. Tim Ferris of The 4-Hour Work Week fame, proclaimed the beauty of outsourcing. I hire a house cleaner, take my car to the car wash and buy tools and virtual assistants to help with my business. If I did everything myself, I wouldn't have much time for fun. 
Shopping can make you happy. When I score a designer pair of $90 jeans for $20, I'm happy when I buy them and happy when I wear them. The pleasure continues when I look in my closet and I've got something nice to wear, and I know it didn't break the bank! In this case, money can buy happiness. 
Money can buy freedom. There's an entire movement around the idea of financial independence and early retirement (FIRE). Many of these early retirement sites focus on living austerly and aggressive saving. The idea of the FIRE movement, which I think has it's pros and cons, is that if you have enough money, you have control over your life and your time. 
Retirees that have enough oney to last and handle emergencies will remove one major life stressors. 
Bonus; FIRE Financial Independence, Retire Early is a Bad Idea 
Money can help others. Some of the best advice for sadness is to focus on helping someone else. If you take your mind off yourself and give to others, that gives you happiness. I read to elementary school children during the school year. Despite the fact that it takes me away from work, I always come home so happy and fulfilled. The kids hug me, thank me and ask me to come back! And, donating cash, can boost your happiness quotient too. 
Money can reduce stress. The future is uncertain. Unexpected situations, like the Corona Virus pandemic can turn your life upside down emotionally and financially. Buy having an emergency fund equal to six to nine months of living expenses can significantly reduce the misery of financial unknowns. In this scenario, money buys happiness. 
The Reasons Why Money Can't Buy Happiness
Recently, I've been thinking about the reasons why money can't buy happiness.
I'm updating this article in the midst of the biggest health scare of my lifetime, the global Corona Virus pandemic. Coupled with this public health scare are recommendations to stay in your home and only go out for essential needs. 
Combined with the health scare is a tumultuous stock market with huge drops in stock and bond market valuations. 
No matter how much money you have, if you have an emotional or physical problem, money can buy care but it can't guarantee remediation. 
How many wealthy people have you seen going to jail for white collar crimes or worse? Consider the recent indictments of wealthy hollywood mogul Harvey Weinstein for sex trafficing and rape. The there is Michael Cohen and Richard Stone, wealthy associatiates of President Trump, in prison. Mney can't buy happiness for these wealthy public figures.  
I've hit my financial goal and I still have issues, worries, fears, anxiety, stress, envy and more! What gives?
Several years ago researchers found that once you hit $75,000 in income, more money doesn't necessarily equate to greater happiness. "Emotional well-being also rises with income, but there is no further progress beyond an annual income of ~$75,000," reported researchers Daniel Kahneman and Angus Deaton in 2010. Of course, you should probably increase $75,000 to $90,000 today, to account for inflation (source; calculator.net).
This data should also be adjusted for those of us living in the high-rent east and west coastal areas. In San Francisco, a family earning up to $117,400 in San Francisco is considered low-income!
So if you want to be happy, having enough income to live well is important. But uber-wealth won't catapult you into bliss!
Money can't buy good health. Although money can buy top-notch medical care, it can't buy perfect health or freedom from disease. Look at Steve Jobs, the founder of Apple. At the time of his death at age 56, he was worth $10.2 billion.
Read; Go Beyond Keeping Up With the Jones'
Money can't buy sobriety. The media is awash with news of drug and alcohol addicted Hollywood movie stars. From Drew Barrymore, Dennis Quaid, Deryck Whibley, Demi Lovato, and more, there are hoards of substance abusing wealthy. Although money can buy you a trip to rehab, it can't buy freedom from substance abuse. 
Money can't buy freedom from worry. This is my Achilles heel. I've been a worrier – forever. I wonder; Am I working hard enough? Did I leave the garage door open? Am I going to get sick? and more. Famous actors worry, will this role be my last? Business owners worry if Amazon will steal their customers. Robo-advisors worry if the field will become too competitive. 
Money can't buy perfect families. In fact, money has nothing to do with whether your kids will act out, skip school, do drugs or get in with the 'wrong' crowd. In fact, one of the biggest secrets and worries of the super rich is that they won't be good parents. 
Money can create problems, too. I know it's hard to fathom, but having wealth creates worries and fears. The rich have to manage their money or their financial planners. Wealth folks worry about losing it all. The rich can overspend, go into debt and bankruptcy, just like anyone else. The wealthy can get swindled. Remember the Bernie Madoff swindle? 
Money Doesn't Buy Happiness Takeaway
You can't buy happiness and the end, we're all going to end up in the same place.
Why money can't buy happiness is because happiness is an emotional state which waxes and wanes. One of the wealthiest and most famous musicians, Bruce Springsteen wrote in his autobiography about being overcome with depression.  
While low income folks with a huge loving family can experience joy during a picnic in the park. 
Why can't money buy happiness? Because happiness comes from being content with oneself, appreciating your worth as a person and how you contribute to society.
Put money in it's proper place, or reaching a certain number on your net worth spreadsheet likely won't make you any happier. 
Look for ways to both increase your financial situation and be happy with what you have. These two goals aren't incongruous, but can live happily side-by-side. In the end, money can't buy happiness but it can buy a certain level of financial security. 
Disclosure: Please note that this article may contain affiliate links which means that – at zero cost to you – I might earn a commission if you sign up or buy through the affiliate link. That said, I never recommend anything I don't believe is valuable.