The one thing that every successful person does is properly manage their finances. To help you make the best financial management software choice, read this Quicken vs. Personal Capital review. You'll get an in depth look at the features of the free Personal Capital Dashboard and the paid Quicken program, along with pros and cons of both.
I've used Quicken for decades and Personal Capital for five years. When I was introduced to Personal Capital, I quickly, linked up my accounts and was impressed with the free investment, retirement, and cash flow features.
I continue to use both Quicken and the free Personal Capital reports and money management tools.
It's important that the financial management software program you choose can accommodate your accounting needs and expectations so read this Quicken v.s. Personal Capital comparison to decide which one (or both) is for you.
This article may contain affiliate links which means that – at zero cost to you – I might earn a commission if you sign up or buy through the affiliate link.
What is Quicken?
Quicken is money management software that's been around for 30 years.
Quicken has various plans and charges an annual subscription fee.
Here's what Quicken offers:
Banking, credit card, investment, and debt tracking.
Scores of customizable reports
Free credit monitoring
Budgeting
Retirement planning
Small business and real estate tracking
Bill pay
What is Personal Capital?
Personal Capital is actually two services. The first is outstanding FREE money, retirement and investment management reports, tracking, and planning tools.
While Personal Capital Advisors is a financial planning and investment management service. The Personal Capital Wealth Management platform is a comprehensive planning firm with financial advisors, cash management and digital investment management.
Read: Personal Capital Review
This review will focus on the free Personal Capital Money Management tools including:
Net worth tracker
Savings planner
Budgeting tools
Cash flow management
Retirement planner
Education planner
Investment check up
Fee analyzer
Quicken vs. Personal Capital – Uploading Data
Winner: Personal Capital wins, but Quicken is improving.
Linking and syncing accounts is fast and accurate with Personal Capital. The platform updates automatically.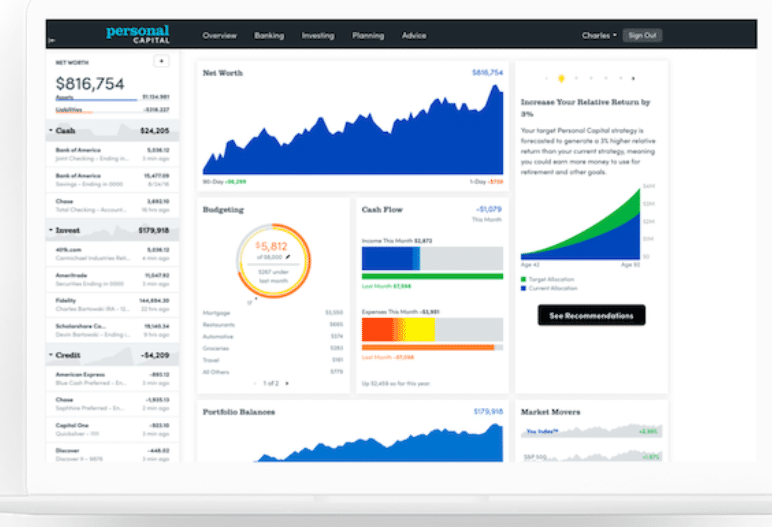 Quicken is improving their account synch. On occasion, users must initiate updates. Sometimes, I'll need to download my banking transactions to a spreadsheet, in the Quicken format, and then upload them to the Quicken program.
Quicken vs. Personal Capital – Dashboard Home Screen
Winner: Personal Capital is stronger on the investment related information and their investment and money management dashboards are better than Quicken's.
Both the Quicken and Personal Capital dashboard's show all account listings on the dashboard. That includes bank, investment, credit card, debt and asset (like your home) values.
Personal Capital's account values are automatically updated. On Quicken, to get current account values, you need to click the "update" icon.
Both platforms show your net worth figure, although Personal Capital also shows a 90-day net worth graph.
Both platforms show cash flow information – monthly income vs. expenses.
Both platforms show 30-day spending by account.
Next, here's where the dash boards vary.
Personal Capital Dashboard Information:
Graphs cash balances
Graphs 90-day investment portfolio growth
Graphs retirement savings
Graphs monthly emergency fund amount
Compares your investment returns – You Index – with those of major market indexes in market movers section.
Quicken Dashboard Information:
Bills and income reminders
Top Spending Categories
Budgeting data is accessed from the budget that you input. You can customize to show budget categories vs. actual spending.
Calendar view of income and expenses.
Quicken's dashboard is more comprehensive on the spending and budgeting items, while Personal Capital includes more investment-related data. We especially like the "You Index" that compares your returns with major benchmarks.
Quicken vs. Personal Capital – Apps Flexibility / User-Friendliness
Winner: It's a tie.
Both programs have their mobile application counterparts that will let you access your financial information on the go. While Quicken sends user control alerts, Personal Capital gives real time financial updates.
Quicken vs. Personal Capital -Investment Tracking
Winner: It's a tie.
Personal Capital is better at automatic updating of accounts. Personal Capital investment tracking is quite good.
After the signing up for Personal Capital you gain access to the following investing-related reports:
Net Worth and Account Balances
Cash Flow Analysis
Investment Returns
Asset Allocation View
Retirement Fee Analyzer
Investment Check-up
Withdrawal Planner
With Personal Capital you receive a picture of your current financial situation, help managing your investments and how your investing can be improved. Quicken doesn't offer this type of feedback.
Quicken offers more reports and the ability to customize those documents. Although, after pushing the "icon" to update accounts, Quicken investment tracking is quite good. And the customizable Quicken investment tracking reports are excellent. You can calculate internal rate of return,
For example, in Quicken you can create specific tax reports for various time periods. You can also create reports to compare your spending with various times and other metrics.
Quicken is more cumbersome when it comes to tracking investment values. The lack of an automatic investment value feature adds time to the analysis process. Quicken provides a variety of customizable investment reports. You can customize by assets, payor/payee, time period and more.
Quicken investment tracking reports:
Asset Allocation
Investment income
Investment Performance
Investment Transactions
Investment Values vs. Cost Basis
Quicken vs. Personal Capital – Advice and Planning
Winner: Personal Capital
For a fee, Personal Capital Advisors provides access to Certified Financial Planners and wealth management.
Personal Capital's free tools offer investment fee analysis and a comprehensive investment checkup. While Quicken offers in-depth debt management.
Both, Quicken and Personal Capital offer Retirement planning tools:
Personal Capital analyzes your portfolio and determines how you're set up for retirement. You get a likelihood of reaching retirement financial goals along with planning tools and recommendations.
Quicken has a "Lifetime Planner" that allows you to input data and determine how various scenarios will affect your ultimate retirement. This feature includes income, tax rate, inflation, savings, investments, and expenses details.
Quicken's planner feature is more interactive than Personal Capital's retirement planner.
OnTrajectory also offers in depth retirement planning tools as well.
Investment Check up – Personal Capital analyzes your portfolio and makes investment recommendations. The analysis of my personal portfolio showed that it was too conservative. Personal Capital made specific investment recommendations.
Fee Analysis – Personal Capital analyzes your investment fees and compares them to an average benchmark. Quicken lacks this feature.
Savings Goals – Quicken helps you save for future goals such as a summer vacation or college and "hides" these funds from view.
Debt Reduction – Quicken has a Debt Reduction Planner to help you create a plan to eliminate debt. Personal Capital does not.
Quicken Financial Planner – This in depth online financial planner is a tool to help you create your own financial plan. The Quicken financial planner considers your personal situation, income, tax rate, expected inflation, projected saving and investing, assets, liabilities and expenses. You can change the assumptions, explore what if scenarios, and determine whether you're on track to meet your retirement goals and other financial goals.
Quicken vs. Personal Capital – Budgeting
Winner: Quicken is better suited to budgeting than Personal Capital.
Quicken allows you to create a budget by category and compares your actual income and expenses with your budget.
Tracking Income and Expenses
Both platforms provide views of income and expenses.
Personal Capital allows you to view income vs. expenses, but doesn't have a feature to create a budget.
In Quicken you can create and assign budget categories, but not in Personal Capital.
In Quicken you can also view reports and income by categories. This is very handy if you're running a small business or at tax time.
These are Personal Capital's Budget Reports:
Cash Flow Analysis
Income Report
Spending Report
These are Quicken's Budget Reports:
Current or Historical Budget or Graph
Itemized Categories
Itemized Payees
Spending by Category – Report or Graph
Spending by Payee – Report or Graph
Current Spending vs. Average Spending by Category and Payee – Report or Graph
Current Income and Expense by Category and Payee – Report or Graph
If you're not ready to pay up for Quicken, Mint allows you to create a budget for free. And they're both owned by Intuit.
Quicken vs. Personal Capital – Fees
Winner: Personal Capital
The Personal Capital Dashboard and reports are free. So, there is every reason to sign up, link your accounts and make use of their features.
I use both Personal Capital and Quicken. Quicken is invaluable for the customizability of of report categories as well as customizable spending, expense, and tax reports. If you have more than the simplest financial situation, we suggest paying up for Quicken and using the FREE Personal Capital tools.
Quicken has several versions as well as a subscription model (prices are subject to change).
Quicken vs. Personal Capital – Security
Winner: It is a tie. Both have high level security.
Quicken is a desktop program and information is stored locally, although you can upload it to the cloud. I personally have a dedicated desktop computer upon which I store my Quicken data and don't use the cloud option. I also don't access Quicken from my laptop or phone.
Quicken has 256-bit encryption to protect data transfer from your financial institution. There's also a "password vault" that protects your institutional passwords.
Personal Capital requires two factor authentication to enter the site. The data is encrypted with military grade AES-256. Employees don't have access to any password type information.
Finally, both sites have vigorous firewalls to protect their servers.
Quicken vs. Personal Capital – Customer Service
Winner: It is a tie.
Both Personal Capital and Quicken offer decent customer service options.
Quicken has an active forum and a detailed FAQ page. Quicken also has live chat. There is als phone support from 5:00 AM to 5:00 PM Pacific time. For an extra fee, you can purchase premium phone support. I've found with synching issues, my financial institutions can usually help. I've also had successful customer service phone calls with Quicken reps.
Personal Capital offers technical help from the "help" icon on the bottom right corner of the screen. You can also contact the firm via email and phone. Although, premium Personal Capital Advisors wealth management will have access to their own Financial Advisors for investment related questions.
FAQ
Are there Quicken alternatives?
Besides Personal Capital, Mint is a decent alternative for someone without many investments. Other Quicken alternatives include programs specific to budgeting like YNAB, or for investment tracking like Master Investor 6.
Can I reconcile accounts in Personal Capital?
No, that's one of the disadvantages of Personal Capital. Quicken does allow account reconciling.
Which is better Personal Capital or Mint?
If you have a lot of investments, then Personal Capital is best. Mint is better for budgeting.
Is Personal Capital worth the fee?
If you're considering hiring Personal Capital to manage your investments, we suggest interviewing one of their financial advisors. Their investment methodology is sound and we've received positive reader responses from satisfied Personal Capital customers. Their fees are lower than most financial planners.
Can Personal Capital replace Quicken?
I don't believe that Personal Capital can replace Quicken, unless you have a very simple financial situation. Otherwise the advanced and customizable reporting and tracking available at Quicken, make it worth the fee.
Can Personal Capital import Quicken data?
Unfortunately, Personal Capital can't import Quicken data You'll need to link your financial accounts directly into the Personal Capital platform, to get an up to date financial picture. Fortunately, it doesn't take long to input your financial institution log ins into Personal Capital account.
Quicken vs. Personal Capital – Final Wrap up
There is no clear winner in the Personal Capital vs Quicken contest. Both platforms are comprehensive investments and money management platforms. Each offers excellent retirement planning, net worth tracking, and income vs spending analyses.
We like the new Withdrawal Planner, investment check up and fee analyzer at Personal Capital.
If you need to customize reports, input your own and manipulate data, then Quicken is superior. But whether you opt for quicken or not, Personal Capital's free tools are worth signing up for.
Each of the financial management programs have their advantages and disadvantages.
If you're seeking an in depth money management tool with help slashing debt and tracking individual budgeting item then Quicken wins. Quicken also offers a credit score, although so does Credit Karma and many other free websites.
Personal Capital is good if you don't need in-depth budgeting but want to view, track and analyze your investments.
You do need to be prepared to field a call from a Personal Capital representative, if you use their free tools. The rep will discuss their paid advisory tools with you. I didn't find this too cumbersome and actually received an impressive financial overview from a financial planner, even though I did not sign up for the paid tools.
If you want it all, for free, go with the free Personal Capital dashboard and free Mint.com.
But if you like the in-depth budgeting and financial reports and planning, then pony up for one of the Quicken versions.
I'm content using both Quicken and Personal Capital.
Related
Disclosure: I use both Quicken and Personal Capital.
*Disclosure: Please note that this article contains affiliate links which means that – at zero cost to you – I might earn a commission if you sign up or buy through the affiliate link. That said, I never recommend anything I don't believe is valuable.
Personal Capital Advisors Corporation ("PCAC") compensates Wealth Media, LLC. ("Company") for new leads. ("Company") is not an investment client of PCAC.