10 Unique Small Business Ideas
By staff columnist, Alexandra Deluise
Do you wish you could make extra money on the side, but feel like starting your own business is too much work? I have good news: micro-entrepreneurship is incredibly easy and quickly becoming the new norm. Unique small business ideas are everywhere.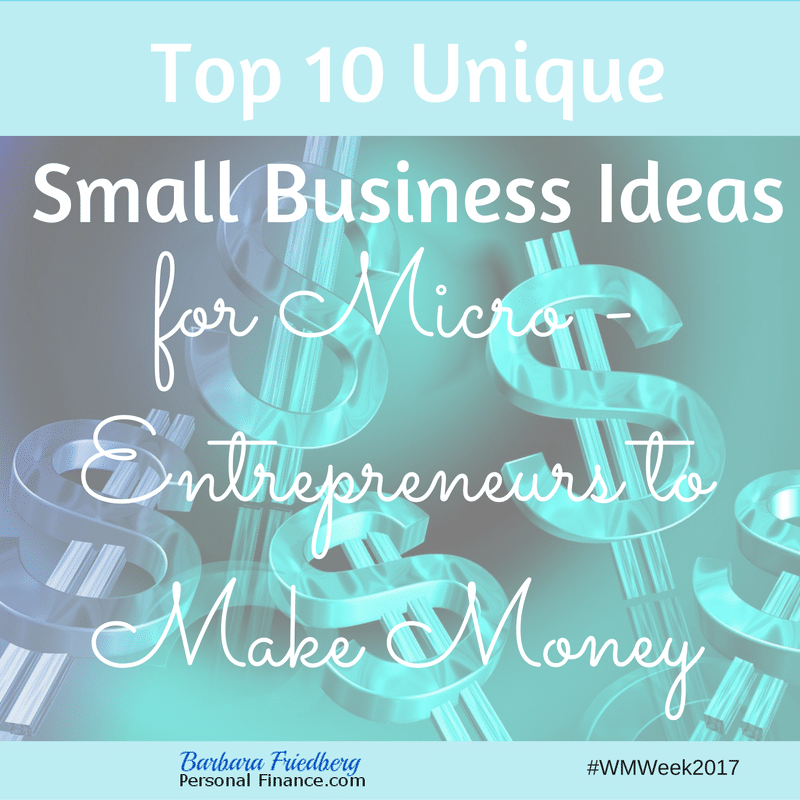 A micro-entrepreneur is someone who works for him or herself on a small basis (read: manageable, workable around your 9-5, and possibly fun!). For millennials, often called the "side-hustle generation," the micro-entrepreneur lifestyle is familiar. It's often the only way to get ahead. Likewise, teenagers might try out a unique small business idea for micro-entrepreneurship to supplement their allowance. That's right – taking on a small side job around your studies is a form of entrepreneurship, too.
On top of all that, established business professionals can become micro-entrepreneurs around busy work schedules, family time, and hobbies. The ways of earning money are nearly limitless, but here are the top 10 ways micro-entrepreneurs can earn money.
Visit our Make Money Resource Center
Earn Money Through the Web
Sell your know-how as a freelance consultant.
What is your area of expertise? Chances are there is someone out there willing to pay for your knowledge. A micro-entrepreneur with a financial background might choose to become a Certified Financial Planner and work extra during tax season. If you already plan out monthly meals for your family down to the weekly shopping list, why make these menus available online for a small fee?
You might also help brand or re-brand businesses if your background is in development or marketing. Fitness-conscious individuals, one unique small business idea is to start an inspirational Instagram account and work with affiliate marketing programs to push products that help users become their best. The options truly are limited only by your imagination.
Create an online store.
Selling a product online is incredibly easy now, due to the vast number of platforms out there.
You can use an extremely specific website, such as Etsy for crafts and homemade goods, to focus on a specific niche. You could also turn to a site like eBay to set up a store "front" that specializes in more general items. Finally, you might also decide to start a self-hosted website to sell anything while maintaining full control of your store.
A friend of Barbara's earns thousands selling specialty mugs on Amazon! The key to this micro-entrepreneurial venture is to find a specialty niche.
Odd jobs, part one.
Fiverr and Upwork are just a few of the sites where you can find virtual work that is easily completed for quick cash.
On Fiverr, you set up "gigs" for anything you can think of. When you start off, you can only change $5 for these gigs. However, as you sell more and create happy customers, you level up and are able to create add-ons for gigs that earn you more than $5, making this a potentially lucrative micro job. I have seen some popular sellers charging as much as $50 for priority delivery!
Upwork functions differently. While you do make a profile to showcase your skills and people can contact you directly, more commonly you will be bidding for jobs. That is, you will see a description of the job and maximum amount of money the client is willing to pay. You will then write a brief cover letter and state how much money you would charge to perform the job.
In some fields, particularly in writing, this can be problematic; often the focus is on quantity of work performed for low rates, rather than higher quality work which costs more. I have seen many ads for jobs offering to pay $10 for 10 articles of 1,000 words. However, if you are a quick worker you can increase your ranking and have a better chance of scoring better paying jobs.
Earn Money Around Your Schedule
Get free gift cards and cash – while surfing the net! Click here to sign up for SwagBucks and get started. Get an extra $5 just for signing up.
Odd jobs, part two.
If online hustling isn't your thing, check out a website like TaskRabbit, CraigsList, or the newspaper classifieds in your area to see what jobs people need help with. Depending on your availability, physical strength, and interests, you could do anything from picking up groceries for the elderly, to helping move a piano. Trust me – the latter is hard.
Rent out your home or apartment.
AirBNB is such a neat invention. Instead of booking a hotel, travelers can search for homes and apartments in any city in the world and find a place to stay. In turn, homeowners can easily become micro landlords, and make money off short-term rentals.
This is a great way to become a micro-entrepreneur around your already existing schedule. Have an extra room? Take on a long-term stay. Going on vacation? Make money to fund your trip and ensure that your home is still lived in while you are away.
Drive people around.
If your car meets certain safety and cleanliness standards, you can work for a company like Uber and drive people around for cash. This is excellent for micro-entrepreneurs, because you can set your own hours and work around whatever else you have going on that day. Although it's impossible to plan when and where you will be driving people, you might even be pleasantly surprised to find that you wanted to visit that side of town anyway.
A great Uber and Lyft driver tip is to find out when events and festivals are being held and get ready to drive people to and fro. 
Make Money and Inspire Others With Unique Small Business Ideas
Motivational speaker.
If you have passion and a way with words, you might consider taking on some motivational speaking gigs. Whether you have a personal story that inspires others, a new method for increasing employee morale, or simply have contagious excitement, people will pay for you to come and talk.
This can really be geared toward your interests. If you are a business guru but have a soft spot for children, you can prepare a talk that teaches middle and high schoolers how to become micro-entrepreneurs around their studies. If you have overcome health or weight related issues, speaking to groups struggling in these areas gives you a unique insight and helps you reach your audience in a more convincing way.
Tutor.
Tutoring is now extremely flexible with the development of online tutoring sites. The best part about tutoring is that, in my opinion, it offers seriously good compensation for your time. Websites such as Care.com and Wyzant make meeting potential tutoring students easy, and you can even be paid through the websites.
Of course tutoring is not limited to face-to-face, after school sessions any more. You can tutor online, over the phone, or even on your lunch break.
Make Money Working After Hours
Custodial work.
If you are looking for a straightforward micro-entrepreneurship, consider taking on custodial work after business hours. This is a particularly good opportunity for entrepreneurs who have children who can be free labor need to learn the value of hard work.
As a bonus, if the company you work for has multiple buildings this could easily become a full-time job.
Direct sales.
From books to makeup, jewelry to scented candles, you can own your own business as an independent sales consultant at many different companies. What makes these sorts of micro businesses so appealing is that they really are extremely flexible. You can work a full 40-hour workweek if you want, or you could make a living doing online-only parties. Forbes has a good article about the pros and cons of direct sales.
Micro-entrepreneurs are everywhere working their unique small business ideas.
There are so many ways to make money as a micro-entrepreneur, and these 10 ways only scratch the surface. Regardless as to which form of entrepreneurship you choose to pursue, just make sure you get paid what you deserve.
Staff columnist Alexandra DeLuise combines her banking experience with real-world financial advice to provide simple money tips to everyday people.
Disclosure: Please note that this article may contain affiliate links which means that – at zero cost to you – I might earn a commission if you sign up or buy through the affiliate link. That said, I never recommend anything I don't personally believe is valuable.
A version of this article was previously published.