Make Extra Cash on the Weekends
By staff columnist,  Alexandra Deluise
9 Ways to Make Extra Money While Working a Full-Time Job
It's a much-repeated idea throughout the personal finance community: if you want to make positive changes in your financial situation, you need to spend less than you earn. A simple way to do this is to make extra cash on the weekends. After all, smart financial progress means not stealing from yourself by saving money where you can. 
Make extra cash on the weekends for investing and other expenses and you're on your way to building long-term wealth.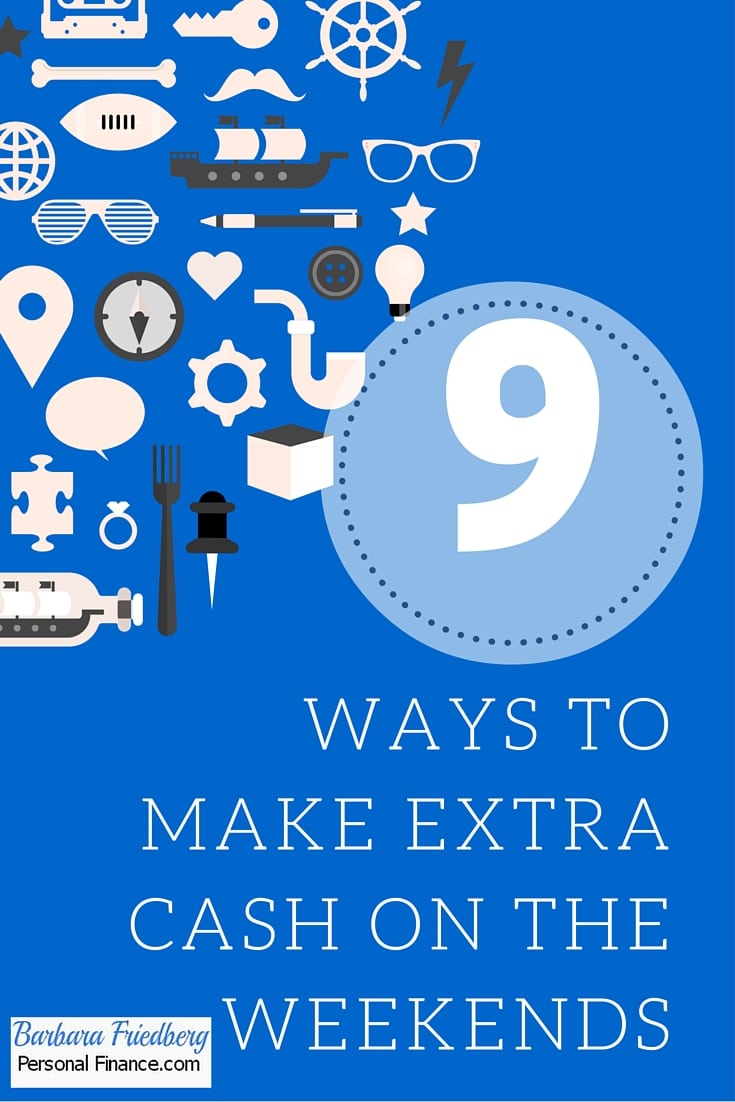 There are many different ways to make extra money, ranging from the fun and creative to more traditional "side hustles," such as tutoring. When working a full-time job during the week, however, it takes careful planning and thoughtfulness to make extra cash on the weekends.
Bonus read; 29 Creative Ways to Make Money Fast>>>
Before investigating ways to make extra cash on the weekends, be sure to consider a few things:
What hours are you willing to devote to earning more money? For example, if you work Monday through Friday, are you willing to give up your weekends, or are you looking for something that can be done before or after work, or even during your lunch break ?
Do you want something predictable, or do you need more flexibility?
Are you interested in doing something that complements your day job, or do you want to branch out completely?
Once you answer these questions you are ready to begin pursuing your options and to make extra cash on the weekends!
Make sure to stay in your area of expertise!
Working a side hustle in your area of expertise can be the easiest option. Although you run the risk of becoming bored, keeping your mind focused on your specialty for a few hours after work can make it easier for you to earn extra money without too much stress. Be sure to check your company policies to avoid breaking any rules or causing a conflict of interest.
1. Freelance your skill.
Maybe you're a marketing manager for your company. If you have the know-how that drives customers in the door, offering your services to small companies who do not have a dedicated marketing department can earn you extra money.
Are you good with numbers? Accountants and bookkeepers could benefit from taking a small course in tax preparation and offering their services to friends and family during tax season. Word-of-mouth referrals in this department would go a long way.
2. Be a consultant.
Whatever your specialty, it's likely that you have know-how that someone else wants. Consult businesses or individuals on the side for some extra cash. Consultation topics might include business management, legal issues, employee training, and more.
If you want to earn money driving for Uber, on your own terms, click on the image and get started.
3. Create a product.
If you have the skill to be a consultant but no time, create an educational product that you can sell over and over again. This method may offer the greatest return on the time invested, as after you finish the task of creating and marketing your product you have the potential of earning passive income for some time afterward.
Work at work.
I am not suggesting ripping off your 9-5 here. But if you're thoughtful, there are ways to make the best of your work day while still keeping your boss happy. Work on your own side hustle during your lunch break!
4. Direct sales.
Hosting a catalog party at work is a straightforward way to make extra money while on the clock. Catalogs are easily passed around through interoffice mail, and can be left in the break room to reach a wide audience. Offer your coworkers an incentive for ordering as a group by covering their shipping fees yourself if you reach a certain order amount. Your coworkers would appreciate the discount, and you can encourage more sales. Hosting a sales party can also be a fun way to get coworkers together after hours.
Bonus: Should I Drive for Uber or Uber Eats?
5. Combine your lunch break with small tasks.
Whether you have 30 minutes or a full hour, a lot of side hustling can be done on your lunch break. Don't underestimate the value of a focused 15 minutes, whether it be spent working on a new investing course for your website, or designing a logo for a small business. If you start a gig on Fiverr that only takes you a few minutes to complete you could potentially fill your lunch break with quick tasks at $5 a gig (remember: Fiverr takes a small cut).
If you surf the net during lunch, you might make a few bucks taking surveys or watching videos. Swagbucks rewards you (you earn points called SB) for taking surveys, watching videos and even playing games. (There's even a $5.00 sign up now). 
Make the most of your commute.
6. Be a car-for-hire.
Taxis are becoming ancient history; people who need a ride are now likely to hire an individual through a service like Uber. Since you can set your own schedule, you can easily work on your commute to and from work, or on the weekends around soccer games or family events. Drive for Uber or Uber Eats on your own schedule on the week-ends, by the airport or local events to boost your earnings!
7. Early-morning childcare.
Many parents need childcare for the few hours between when they leave in the morning, and when the children need to be at school. Even a two-hour gig four days a week could easily earn you $80 per week (or more!) and still have you on time for your 9am.
Use what you already have.
8. Do some research, and make some good investments.
Why add an extra side-gig on top of your 9-5 when you can earn more money with your regular salary? If you work with a computer, downtime can easily be spent researching the market to figure out why your investments s*ck, and whether or not you should sell. Making wise investments is one of the best ways to earn more money while you're working, so use your time between customers or projects to boost your investment know-how.
In fact, by using your extra cash and know how to make extra cash on the weekends and then invest that money in the stock markets you can create a long term income stream.
Bonus read: Lazy Investors Asset Allocation Guide to Amass $787, 355>>>
9. Invest in someone else.
Starting a business on your own might be difficult around a full-time job, but if you have a bit of money to invest and know someone with skills or a product to market you might consider funding that person.
Do you have a friend with serious construction skills? If you can cover the cost of purchasing a foreclosed home, draw up a proposal: your friend does the manual labor to flip the home, and you both split the profit after your original investment is returned.
Got a friend with a truck. One of our favorites is the junk hauling way to make extra cash on the weekends.
Investing and side businesses come with risk, of course. Research and professional advice can help you make a good decision that might minimize risks, but loss is still possible.
The Takeaway: Keep it Simple
You already have a substantial demand on your time. If you want to make extra cash on the weekends, it's important that you don't shortchange your day job while pursuing a side gig. You can find something that works around your schedule if you focus on what you're good at, make the most of your hours at work or commute, or grow the resources you already have.
Although you may need some of your side hustle money for regular expenses, any amount you can sock away in your investment account will pay a lifetime of financial dividends.
Click here to find out How to Get Rich-Without Winning the Lottery
Staff columnist Alexandra DeLuise combines her banking experience with real-world financial advice to provide simple money tips to everyday people.
Disclosure: Please note that this article may contain affiliate links which means that – at zero cost to you – I might earn a commission if you sign up or buy through the affiliate link. That said, I never recommend anything I don't believe is valuable.