Easy Jobs to Get Now
Do you need more money fast?
Are you facing the holidays without enough savings?
Are you considering borrowing or taking a quick payday loan?
Instead of going for a payday loan, or racking up credit card debt, earn extra cash. Avoid the January financial hangover, by shoring up your finances now. You will thank yourself all year if you earn more money, now instead of going into debt over the holidays. You might be surprised how easy it is to make money fast. 
Some of these ideas may work for you, others may not, but in addition to earning extra money now, you might develop a side business to keep those extra funds rolling in.
Some of these jobs are manual and you may think they're beneath you. But is being in debt a better alternative? Kick that mindset to the curb, as it leads to missed money making opportunities. The dirtier or less appealing a job is, the greater likelihood that someone will pay you to get that job done!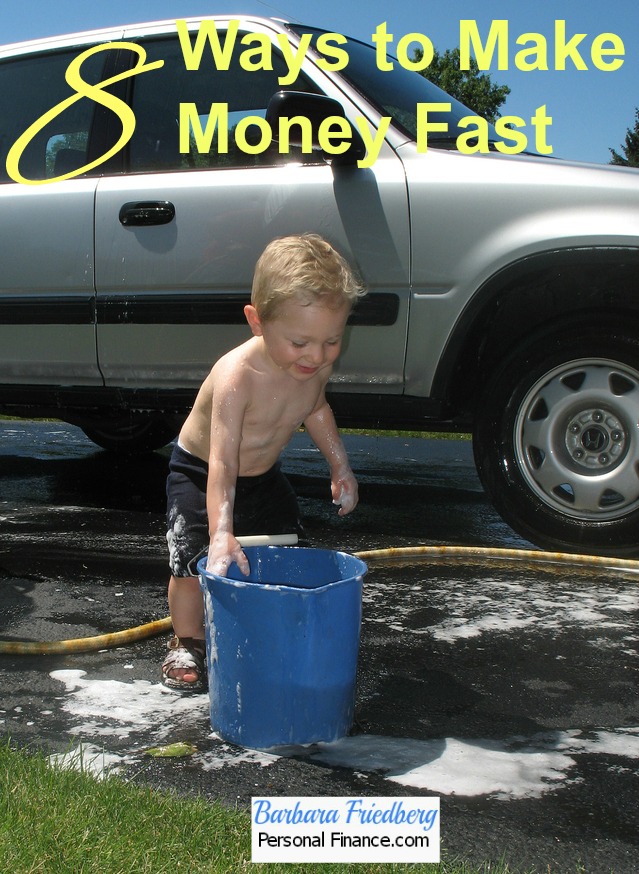 Before you begin, assess your assets.
Are you strong and healthy?
Can you do physical work?
Are you skilled at painting or carpentry?
Do you have access to a truck or van?
Do you own special skills that someone might pay for?
You get the idea. Think about what you have to offer that someone might pay for.
8 Ways to Make Money Fast That Really Work
Here are 8 ways to make money fast, dig in and choose the ones for you.
1. Pick up free stuff on Craigslist; clean and repair the items. Then resell the finds. This offers 100% profit. All that's required is to stay connected to Craigslist so that you can call as soon as a listing is posted. I know for a fact that this strategy works. After several attempts to sell an old couch and bookcase on Craigslist I decided to give it away so that I could get rid of our "money pit" storage unit and avoid the $100 per month charge. One guy I spoke with (he called minutes after the posting went live) had 4 loads of free stuff scheduled for pick up the following day. Clearly, he had a business! (I chose to give the furniture to a financially strapped family after he no-showed for our scheduled pick up)
2. Drive for Uber or Lyft. If you like driving, and live in or near a busy region, the demand for Uber drivers continues to grow. A friend in San Diego just gave up his car and hires Uber to get around. I use Uber all the time and love it. The drivers are punctual and the cars are clean. If you're ambitious, learn some Uber strategies, you can make decent money driving for Uber, Uber Eats or Lyft. 
3. Sell stuff, particularly electronics, on EBay or Craigslist. Check out comparable items to get a guide to pricing. Price your items a bit below market. Take detailed photographs and write a compelling description. List your phone number for easy availability and be accommodating. This is a fast way to make extra cash. I listed a loft bed for sale on Craigslist and sold it the next day. 
8. Sit on your butt, surf the net, and make money.
You can even get paid to read magazines at InboxDollars. They also pay you to take surveys, and some of their survey payouts are quite generous. You also get paid to redeem coupons, play games, and shop. InboxDollars rewards you with real cash, not gift cards so make sure to sign up now for the $5.00 bonus.
4. Provide personalized car washing service. Offer to come to the vehicle owners home or place of business. Print up flyers and distribute in nearby apartment, condominium, and mall parking lots. Place the flyers on the car windshields. The customer provides the water. If you charge $20 per car and wash 2 vehicles per hour, in 5 hours on a week-end, you've got an extra $200 bucks. Bring your older kids along to help and teach them responsibility and a work ethic in the process. When we lived in central Pennsylvania, there was one car wash in the entire town. I would gladly have paid to get my car washed at home!
5. Haul junk if you have access to a truck or van. Can you believe that the cheapest bid I got to remove two pickup truckloads of moving boxes was several hundred bucks? One guy wanted $500. I was almost ready to go out, buy a cheap truck and start a junk hauling business myself! There is a lot of money to be made getting rid of other peoples stuff. Check out the going rate, on Craigslist, and price your service a bit lower.
6. Clean out other people's garages and basements. Most people let their stuff build up and hate to clean and organize it. With two earner families, even if one partner wanted to clean out the garage, cleaning the house and hanging out with the family usually takes priority. Write up a detailed list of the services that you offer, and advertise with flyers and on Craigslist. Or sign up for Task Rabbit to get jobs through the app. Think about all the tasks that go by the wayside with busy working families. Many of whom have more money than time and would be happy to pay for household upkeep and maintenance tasks.
7. Clean carpets. True confession; I've always paid to have my carpets cleaned. Although I look at those carpet cleaning machines for rent in the supermarket and think about doing is myself, I've never taken the plunge. Last week I paid close to $200 to have our carpets cleaned. It took the guy about 2 hours. That's $100 per hour. Of course you have to subtract the cost of equipment and transportation, but this is another labor intensive business. As with the other strategies, price yourself below market and advertise. Oh, and don't forget to try this on your own home first, don't practice on your customers.
8. House cleaning is another labor intensive job. Work for 4 hours on a Saturday morning and make up to $100. At my first job, one of the company sales representatives also cleaned the office (along with his family) after hours to earn extra cash. Or specialize, window washing is always in demand, and you can make $7 to $10 per window. Work fast and your hourly rate is great!
To build wealth, avoid consumer debt and increase your income. Start today, with your make money fast side-hustle. Your future self will thank you.
You can make money watching videos with Inbox Dollars. Sign up with this link and get FREE money.  
Disclosure: Please note that this article may contain affiliate links which means that – at zero cost to you – I might earn a commission if you sign up or buy through the affiliate link. That said, I never recommend anything I don't believe is valuable.