& Side Hustle Round up
I was inspired by this vintage  CNNMoney Side Hustle Series to discuss ways folks are adding to their income. In addition to ways to make extra cash, it seems my readers are really interested in "How to Get Rich," as illustrated by the popularity of this Secrets of the Super Rich article.
The ways to make extra cash are only limited by your imagination. People that amass wealth over their lives are regularly thinking about creative ways to make more money.
Spend some time brainstorming and I'm sure you will come up with a few yourself.
Find out:  How to Invest and Make Money Daily
To help you get started making right now, sign up for one of my favorite money making hacks, and you can do it from your couch!  Swagbucks rewards you (you earn points called SB) for taking surveys, watching videos and even playing games online. (There's even a $5.00 sign up now). The cool thing about Swagbucks is that you get rewarded for surfing the net.
Another lazy way to earn some real money is with Inbox Dollars . Although you can earn by playing games, shopping, redeeming coupons, and reading magazines, my favorite is taking surveys. Do it now to get the $5.00 sign up bonus.
Another one of our fav apps is Steady. The app connects job seekers with all sorts of jobs.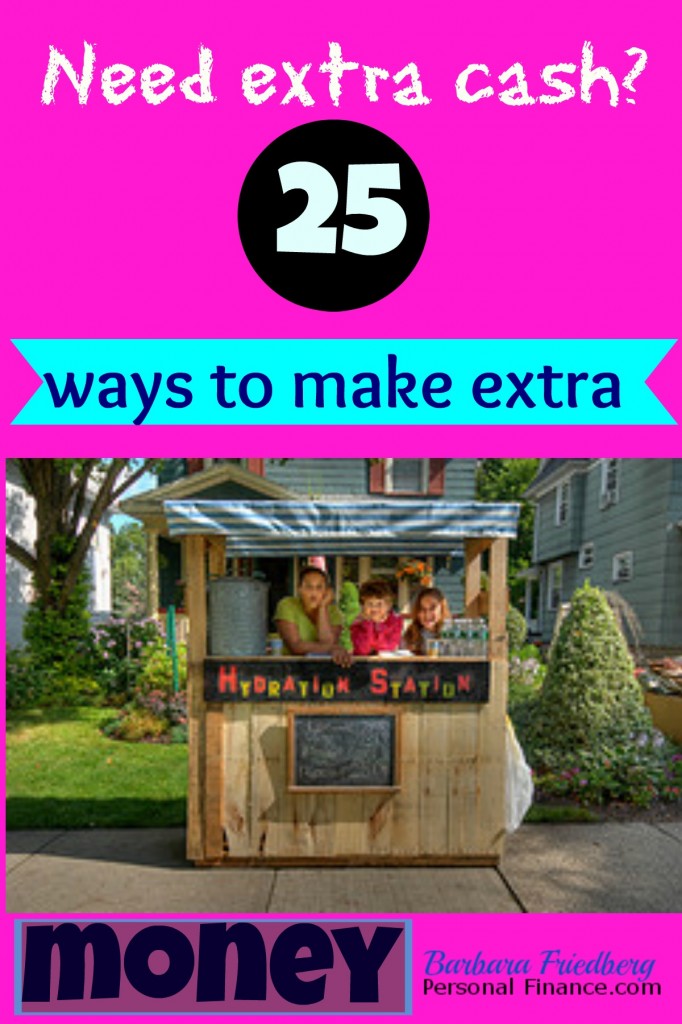 Here are some of the ways I've made some extra cash over the years:
Sold Avon
Sold books
Invested in real estate
Lemonade stand (haven't tried this one in a few years 🙂 )
Career Counselor
Blogger
Held garage sale's
Write books
Sold on Craig's list
Taught English in Spain
Made and sold hippy shirts (back in college)
Invested in dividend paying assets
Vintage Side Hustle Ideas From Across the Web
Christian Personal Finance-5 Legitimate Work-From-Home Jobs
Sustainable Personal Finance-Making Money Online – 4 Decades of Deals
Creative Ideas from Kyle-Make Money the Penny Hoarder Way
Daily Finance-25 Unusual Ways to Make Money
Life and My Finances-10 Great Side Jobs That Anyone Can Do
Mom's Plans-My Experience as a Virtual Assistant
Frugal Confessions-Free Oil Changes for Life: My Experience with Mystery Shopping
My Personal Finance Journey-Ebay versus Amazon-part 1
PT Money-52 Ways to Make Extra Money

Addicted2Success-10 Creative Ways to Make Money Online
Modest Money-9 Ways You Can Make Money From Blogging?
Barbara Friedberg Personal Finance-Where to Get a High Return on My Cash? Be a Banker
Miranda Marquit-Confessions of a Professional Blogger-How I Make Money As An Online Writer
Steve Gillman-101 Weird Ways to Make Money: Cricket Farming, Repossessing Cars, and Other Jobs With Big Upside and Not Much Competition
Now, go on and count up the number of money making strategies & links, there really are 25 (+ a bonus)!
Add to the conversation, how have you made extra cash?
A version of this article was previously published (comments remain)
original image credit; dan olean