Non-Retail Jobs for High School and College Students
By contributing columnist,  Alexandra Deluise
You're broke and you need extra money this year. But you want to find a job that can be flexible around your studies. While there are many easy jobs for students such as babysitting or child care (positions which usually pay around $10 per hour), we'll explore other opportunities that can use your talents more effectively.
Are You Wondering How to Make Money in High School and College?
You may be feeling frustrated as you ponder how to make money at school. Are you worried that the mall, fast food, or neighbors kid is your only outlet for extra cash. Learn how to make money above minimum wage with your specialized skills.
Make Money Surfing the Net
This is one of my favorites, because you can get paid for doing stuff you might do already, like filling out surveys, watching videos or playing a game.
Easiest side gig ever – sign up for InBox Dollars.
With InBox Dollars you can earn cash for your everyday online activities!
Get paid to take online surveys
Get paid to read email
Get paid to watch videos
Get rewarded for playing games
What have you got to lose? sign up for InBox Dollars.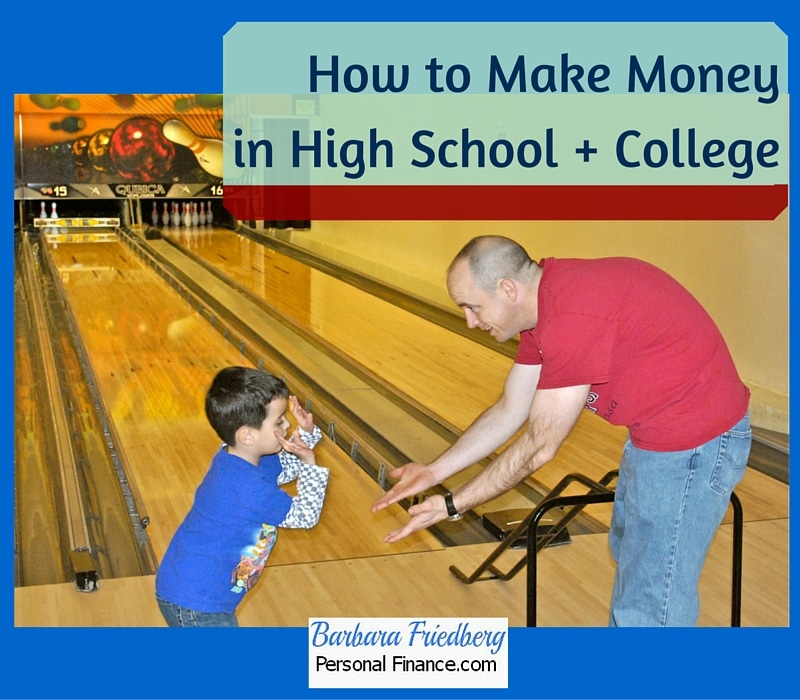 InboxDollars offers lots of ways to make money online; play games, shop, surf the net, redeem coupons, read magazines, and my favorite, take surveys. InboxDollars rewards you with real cash, not gift cards. Sign up here and start earning while you're watching tv. Sign up now for $5.00 sign up bonus.
>>>Check out InboxDollars and earn cash taking quick surveys. Make money during your free time.>>>>
Kick-Ass with Your Tech Skills
If you are tech savvy, you can stop worrying about making money in high school and college.
If you are currently in high school or college, chances are you grew up with technology at your fingertips. This gives you a huge advantage; use your knowledge of social media and marketing trends to start a small freelance web support business. Helping small businesses set up Facebook pages, create Pinterest-worthy images, or reach potential customers on Twitter can net you a sizeable paycheck just for doing something you're already good at. 
Web design is another field Millennials may find it easy to break into, and working as a freelance web designer is flexible enough to work around almost any school schedule.
In order to succeed in this business, make sure to have a strong online portfolio. Use your own Twitter followers or Pinterest success to showcase your work to future employers. If you've successfully built websites, have the URLs and a detailed description of your work available to quickly pull out whenever you are asked. Remember to base your prices on your experience; college students studying web design and programming will be able to charge more and land bigger projects than high school students.
All it takes is some ingenuity to make money in school with your tech skills. 
Wow With Your Creativity
People always want to pay other people for their creativity. If you have an idea for a unique product, sell it! A friend of mine took to sewing when she was young, and by the time she was 18 she was creating wedding dresses, costumes for Cosplay events, and Steampunk-themed outfits. Her individualized style made her products stand out that much more.
Sewing not your thing? You're in a great test market for anything creative you can design; by using friends and classmates to test, wear or promote your products, you can make great headway. For instance, a prior student of mine designed a specialty line of clothing. Not only did he wear it each day to class, but he mentioned it to other students and they began wearing his clothing! With the logo emblazoned on the front of each article of clothing, my student was sure to get attention just from walking down the hall.
Have Fun + Make Money
There are many fun ways to make money out there. Some of the best, most flexible jobs for students are those that take place on the weekends or late afternoon – just like fairs, children's activities, and carnivals!
Instead of spending your money to get into a carnival, get hired to run an arcade game or a ride. You still get to experience the carnival atmosphere, but get paid to do so.
Fairs always need people to run booths, concession stands, or ticket events. Though many function on a volunteer basis, there are ways to get paid to work here, too. When in doubt, set up your own booth for face painting, or to sell your handiwork.
Finally, parents almost always need some backup help. Give them some time to get errands done, have a date night, or just have a break from the kids for a while. If you have a skill that you can teach, market yourself as a weekend camp-style activity for children. Host an after-school chess club or bowling outing for kids. Organize an arts and crafts group one evening a week. Just make sure to factor the cost of any supplies into your fees!
Use this 'how to make money in high school or college idea' is as springboard to have fun and make money! 
Sell Your Stuff
Having a garage sale can be lucrative, sometimes. While not everyone is successful, some people enjoy the process and can end up making a lot of money. Make sure you weigh the costs with the potential benefits before jumping in. It helps to make sure you are selling items people want to buy, such as collectibles or furniture in good condition.
Bonus: Is Holding a Garage Sale Worth It?>>>
Selling things online through Craigslist and eBay are also viable options, particularly, again, if you have things of value to collectors. While everyday items can and do sell on these sites, you will have better luck earning some real money if your items stand out from the crowd.
Work At School!
This is an easy one for college students. Why not get paid in the same building you complete your studies? Colleges are always in need of student workers, and the jobs are many: overseeing a residential dorm, tutoring or working in a writing center, administrative assistant, marketing, computer lab assistant, and assistant teaching are just a few of the possibilities.
While not directly a financial benefit, some colleges even give special perks to students who volunteer in the disability resource center on campus. If a student in your class needs a note taker, your school may offer you enrollment benefits, such as priority registration.
Help others get money for school.
Were you successful in achieving scholarships or grant money for school? Share the wealth – literally! Charge an hourly rate to help other students organize and create scholarship application documents, or even charge a per-lead fee if you do most of the legwork in finding scholarships for others to apply for.
While a job like this is very much in demand, it is important to remember to protect yourself; don't make promises you cannot keep. The scholarship industry is extremely competitive, so your clients should be aware that, much like in the stock market, they may not see a return on their investments. As long as you are upfront with what you can and cannot deliver, your clients should understand.
Read All Our Money Making Articles>>>>
How to Make Money In High School and College – Closing Thoughts
School is demanding, and students looking to make extra money need to factor these demands into their schedules. When choosing a job, make sure that it has the flexibility to work around your schedule. My rule was always that school came first, and my job would need to respect that. Choosing a career where you are the boss, or at least can design your own hours, will ensure you are giving both your wallet and your school career a chance to grow.
Lazy Way to Make Money:  Swagbucks rewards you (you earn points called SB) for taking surveys, watching videos and even playing games.
Staff columnist Alexandra DeLuise combines her banking experience with real-world financial advice to provide simple money tips to everyday people.