8 Fun Ways to Make Money and Enjoy It, Too!
By, Alexandra Deluise
With the New Year beginning, and enthusiasm flowing, why not set a goal to to learn fun ways to make money this year. The more money you make, save and invest, the sooner you'll pay off debt and reach your financial goals. These fun and easy ways to make money offer ideas for anyone to make cash in their spare time.
Making more money doesn't need to be a drag. While typically people imagine "make more money" being another way of saying "get a second job, work 80 hours a week, and forget about having any fun," that isn't the best way to earn a little extra.
As the saying goes, do something you enjoy and you'll never work a day in your life.
While there are many, many ways to make more money quickly (I can think of 26 ways right now!), I'm a big fan of making money off of my talents. Since I know what I'm good at and what I enjoy, it only makes sense that I try to market these talents to people who need them!
Here are 8 fun ways to make money.
1. Be a Party Planner
A friend of mine just threw her son the most creative first birthday party I have ever seen. Every detail was meticulously thought out, and her DIY projects put Pinterest to shame. If you are creative, organized and have an eye for detail, consider planning other people's parties for them!
One of the best parts about being a paid party planner is that you don't need to worry about the expense, the guests, or the cleanup (unless that's part of your paycheck). Planning parties for other people means you get to ignore the difficult or expensive parts of throwing a party, but can enjoy going all out on decorations, securing the best food and desserts, and organizing the games or activities.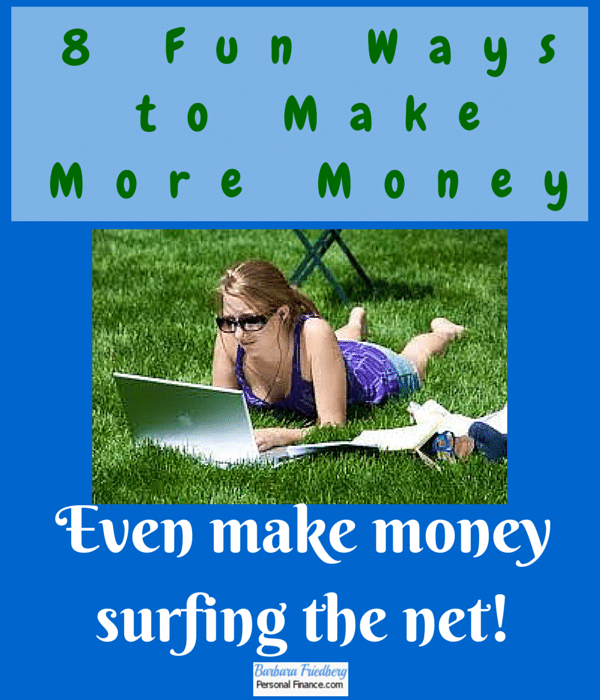 2. Bonus: Make the Cake, Too!
You will have to check with your state to be sure that you can legally sell baked goods out of your home. If your state allows it, and you have a taste for culinary creativity, baking cakes for themed parties can be serious fun, and is an excellent addition to your party planning business.
My husband has been asked to make cakes in all shapes and styles, including a gigantic Xbox 360 cake for his best friend's groom cake. These cakes are fun to make, but are also very time intensive, so be sure you have the time to set aside.
3. Use the Internet to Your Advantage
The internet is full of people who make money in creative and different ways, like Kyle from The Penny Hoarder. What these successful bloggers and business people have learned is that they can take their skills and interests, and make a living by pursuing these interests. You can do it, too!
Are you opinionated? I actually love filling out opinion surveys, and getting paid to do so is a bonus! While you won't get rich from filling out surveys, you can still make some extra money on the side for giving opinions on your usual shopping. Do your research before jumping in to any survey company, as you want to make sure that they are well-liked and have a good history of paying what you deserve.
One of my favorite survey companies for extra cash is InboxDollars. InboxDollars offers lots of ways to make money online; play games, shop, surf the net, redeem coupons, read magazines, and my favorite, take surveys. There are new offers daily. InboxDollars rewards you with real cash, not gift cards. Sign up and start earning while you're watching tv. Right now there's a $5.00 sign up bonus.
>>>Check out InboxDollars and earn cash taking quick surveys. Make money during your free time.>>>>
The great thing about the internet is that you can make money doing almost anything you enjoy.
Read more: Make More Money + 21 Side Hustle Gigs>>>
4. Do You Enjoy Designing Business Logos or Websites?
People (like me) who lack artistic talent desperately need creative individuals who will pour passion into their designs. If you're just getting started, advertising your work on a website like Fiverr.com can help you get started. While in the beginning you can only charge $5 for your work, making extra sales enables you to charge more for "gigs" and create add-ons, such as express delivery and tips for you, for all of your sales.
Bonus: Get Wealthy by Giving
If you have some creativity, you may want to add this idea to your fun ways to make more money; learn to create logos on canva.com or picmonkey.com. They have great tutorials and resources. Once you've developed some skill, you can hire out and create logos and artwork for others!
5. Create Your Own Website for Fun Ways to Make Money Online
Another option for selling your work is to promote yourself through your own website. While there will be upfront costs to doing so, yet in the long run you may make more money, since websites like Fiverr.com take a cut for the middleman.
Make money blogging from your living room couch!
With your own site, you're in control. You can sell your services or products. Your creativity is the only limit.
Running your own website is one of the easiest and most fun ways to make money online. You can set up a website on your own with only a few clicks and experiment with many ways to make money online. Authority Hacker has a great blueprint for making money online in your spare time.
If you don't want to start from scratch. There are many websites available to buy for reasonable prices at Flippa.
6. Creativity Sells!
If you're artistic and enjoy painting, drawing or photography, there is definitely a market for you.
Big events, like weddings, engagements and new babies always need photographers. If you have a good camera and can take control of a situation, consider selling your services at events. This method of making more money can be extremely flexible, as most weddings take place on the weekends, and you can schedule other sessions around your day job.
To be successful, you will need a lot of patience. When taking family photos, kids can sometimes get rowdy. Being patient and quick-moving will aid you in getting great shots around kids' short attention spans!
You will also need to have a bit of a take-charge attitude. My wedding photographer was extremely business-oriented, which made her a huge success in my book! She made sure everyone stayed organized, together, and on schedule.
Feeling a bit tired and lazy? Make cold hard cash surfing the net, taking surveys, playing games, and watching videos at InBoxDollars!
7. Selling Your Artwork Can Be Lucrative
If you enjoy producing art, it can be a very fun way to bring in more money. Doing commissioned pieces may add unwelcome stress to an otherwise enjoyable hobby, but producing work that you enjoy and selling it through a website like Etsy.com or your own site can ensure that you only paint pieces that you have fun designing.
Speaking of Etsy… Have you seen the number of creative pieces that are for sale there? A friend of mine makes her own soap and body care products and sells them on Etsy; other friends have sold goats milk soap, knitted projects, and more! Almost anything you can enjoy creating you can sell on Etsy.
If you're seeking fun ways to make money online, try Etsy, with a side of Instragram and TicTok for promotion! The more eyes on your work, the faster it will sell.
8. Treasure Hunting: Not Just for Pirates
While going on an actual treasure hunt Nicholas Cage-style would be lots of fun, I'm not talking about long-lost riches. Try treasure hunting for antique furniture that just needs some love, old coins, collectibles, or other items that you could find at tag/garage/estate sales, on eBay or Craigslist, or even on Freecycle. If you like the rush of the hunt, and know how to market your items, you can turn an easy project into a resale for extra cash. Get a beat up table for free, refinish it and resell it for $75-$300. You're having fun with the restoration and getting paid as well.
Or, you could specialize in special types of treasures. Buying and selling wedding related items, is a great niche. There's better profit in niche products. For example, buy wedding jewelry and then re-sell it for a profit.
Don't miss: 29 Creative Ways to Make Money Fast>>>
Fun Ways to Make Extra Money – The Takeaway
Before you get started with any extra money venture, take an inventory of your skills and resources. It's very important to know what you're good at, as well as what sort of jobs might fit in your current schedule. Be sure you are being honest with yourself about your time constraints and your abilities!
Staff columnist Alexandra DeLuise combines her banking experience with real-world financial advice to provide simple money tips to everyday people.
Disclosure: Please note that this article may contain affiliate links which means that – at zero cost to you – I might earn a commission if you sign up or buy through the affiliate link. That said, I never recommend anything I don't believe is valuable.