What Should a Freelance Consultant Charge?
Setting a Price on Yourself as an Entrepreneur
By staff columnist,  Alexandra Deluise
We all want to make more money, yet setting a price on yourself as an entrepreneur is not an easy task. One of the most difficult things to do when starting off in entrepreneurship, however, is deciding your worth. Whether you are selling a product, your knowledge, or your time, setting a fair price for your services is essential.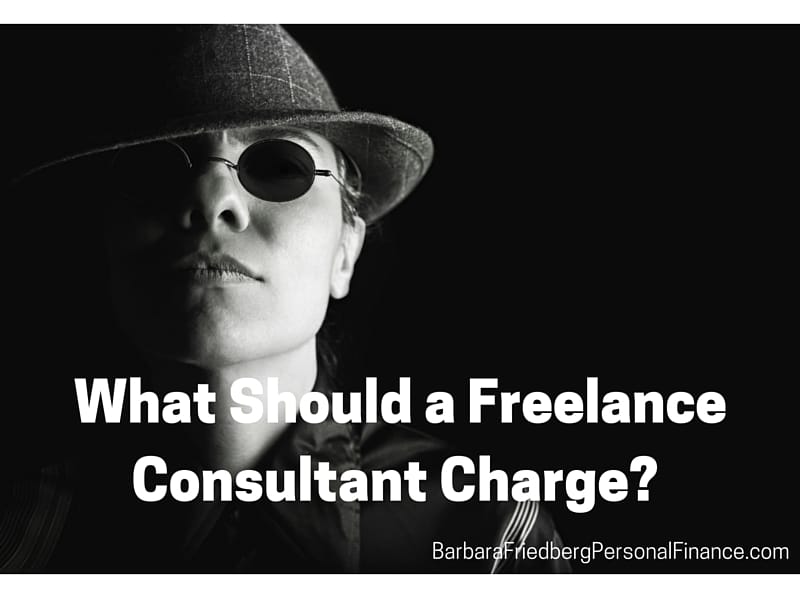 What Should a Freelance Consultant Charge? How to Assess
You might be worth more than you think!
It's natural to shortchange ourselves a little. Imposter syndrome is real: when you begin establishing yourself as an expert in your field you are likely to experience self-doubt. "Am I really an expert?" you may wonder, as you self-consciously lower the cost of your webinar.
The thing about being an expert is that it's impossible to know everything. You can know an awful lot about a certain field, but someone else will always have different knowledge than you do. If you are trying to sell your knowledge through a product, webinar, book or other medium, it's easy to get overwhelmed by all the other information available to your potential customers.
In order to fairly set a price on your services, investigate first in order to determine what a freelance consultant should charge.
Research the market
Evaluate yourself
Find your target audience
What Should a Freelance Consultant Charge? Do Your Research
Before deciding what you should charge for your product or services, look around your field. In some fields, such as personal finance, you'll really have your work cut out for you! Other fields may be less saturated.
Whatever you do, don't think in terms of competition. Just because someone else has published an ebook on your topic does not mean your goal is to steal all this other person's customers. Instead, think of those other experts in your field as long-distance coworkers. Seek to complement the information available to your consumers, not dominate the field entirely.
In addition to finding out just what is available in your field, you should also research the price and value of other products or services in your field. What is the going rate for ebooks on jewelry making? What about the cost of a webinar on college planning (think The College Investor)?
What Should a Freelance Consultant Charge? Evaluate Yourself Fairly
Once you get a strong idea of what information or products are available to your future consumers, you can begin to evaluate what makes you different from the competition. What credentials do you have that they don't? Are these credentials worth extra money, or do they allow you to approach a unique or specific audience?
Someone with a degree in business may look qualified to teach courses in business, and consumers may willing to pay this person more than they would want to pay someone without a degree – at least, at first. However, tangible achievements speak volumes. Whether or not you hold a degree will matter very little if you have successfully developed a multi-million dollar corporation.
For best results, showcase credentials that demonstrate your abilities. Show, don't tell.
What Should a Freelance Consultant Charge? Establish Who Your Customers Are
Finally, you will need to decide who you are selling to. There are thousands of courses on using social media for marketing, for instance, so making yet another would blend in. However, if you particularly address the ways freelance writers can use automated social networking tools to promote their blog posts you've hit a specific enough market to make yourself stand out.
Another benefit of targeting a specific audience is that you really can establish yourself as an expert in this field. For instance, if you are selling animal behavior classes it may be best to set yourself up as an expert on training one species first. Consider Cesar Milan: while the theory of behavior modification is the same across the board, Milan is known as the Dog Whisperer, not the Animal Whisperer. By being specific about what he does, Milan is an expert in his field and complements the careers of other animal behavior specialists without attempting to dominate the field entirely.
Other examples of general topics turned specific:
Love children? Focus on what makes you more than the average caretaker: do you have experience with learning disabilities? Caring for twins or triplets? Behaviorally challenged teens?
If your house is one big DIY project, take a specific angle when selling tutorials. Possible niches are DIYers on a tight budget, creating beach cottage charm in the big city, or creating glamorous nurseries for little ones.
What Should a Freelance Consultant Charge? Final Considerations
Finally, consider your hourly rate before publishing any prices for your goods or services. If you are doing hourly work on the weekends, this might be easy: if you hold a Master's degree you may be able to charge $10 more per hour than tutors in your field with a Bachelors, or give a better price to your dog walking customers if you can walk multiple dogs at once. In this case, you goal is to make your time – both the time spent working and the time commuting – worth it.
If you are designing a one-time product that can be sold to multiple people you have a few different things to consider:
Creation/start-up fees: how much money will it take to get your product up and running?
Time spent creating your product.
Marketing fees.
Delivery fees: are these rolled into the price of the product? Will you offer "green" discounts to customers who purchase e-versions of your product?
Possible number of consumers needed to make this product worthwhile.
This post is part of Women's Money Week 2016 #WMW2016
What other factors do you consider when going into business for yourself?
Staff columnist Alexandra DeLuise combines her banking experience with real-world financial advice to provide simple money tips to everyday people.