SoFi Weekly (WKLY) Dividend EFT Review
Dividend payments are a great form of hassle-free income: Just buy a stock that pays a dividend, sit back, and collect your "rent." But some investors think that dividends come too infrequently. After all, most companies pay dividends on a quarterly basis. Before we get to the SoFi WKLY Dividend ETF review, consider how weekly dividends would work.
This article may contain affiliate links which means that – at zero cost to you – I might earn a commission if you sign up or buy through the affiliate link.
How to Get Weekly Dividends
What if I told you that you could get dividends every week? It's actually quite simple. All you have to do is buy 12 or more different dividend stocks and ensure that every company pays its dividends staggered exactly one week apart from one another.
Of course, I'm joking. Finding such a set of dividend stocks – and performing the due diligence for those companies (doing the research to ensure the companies are financially sound and able to provide dividend sustainability – i.e., ensuring the companies won't suddenly cut their dividends due to fundamental business issues) – is a monumental task even for the experienced individual.
Fortunately, you have an easier way to create a fixed income via weekly dividends, you might buy the Sofi Weekly Dividend ETF (WKLY).
About the SoFi Weekly Dividend ETF
A common complaint from dividend investors – especially those using dividends as a significant source of income – is that the time between dividend payments is unrealistically long, considering that most people have monthly, not quarterly, bills. The SoFi Weekly Dividend ETF was created to address this complaint. The SoFi Weekly dividend ETF lives up to its name by making weekly dividend payments to investors.
How Does SoFi WKLY Work?
WKLY is a passively managed fund, which means that it is meant to mirror an index. Here, the index is the SoFi Sustainable Dividend Index, which is defined and tracked – according to the fund's SEC filing – as follows:
The Index follows a rules-based methodology (described generally below) that tracks the performance of the equity securities of publicly-traded, large- and mid-capitalization U.S. and non-U.S. companies in developed markets that are selected based on a set of sustainable dividend filters. The Index is owned and administered by Solactive AG (the "Index Provider"), and the Index Provider partnered with Social Finance, Inc. ("SoFi") to co-develop the methodology used by the Index to determine the securities included in the Index. SoFi is not involved in the ongoing maintenance of the Index or any discretionary decisions relating to its application, and does not act in the capacity of an index provider. SoFi has licensed certain of its trademarks to the Index Provider for use in connection with the Index.

SoFi Weekly (WKLY) Prospectus – SEC Document
Thus, WKLY buys and holds the stocks in the SoFi sustainable dividend index, collects those stocks' dividends, and distributes the dividends on a weekly basis.
What is the SoFi Sustainable Dividend Index?
The official description of the SoFi Sustainable Dividend index is a bit convoluted. In layperson's terms, the SoFi Sustainable Dividend index is a set of companies that have successfully paid their dividends for the past twelve months and are expected to continue making dividend payments over the coming twelve months. In addition, the index is weighted by market capitalization and rebalanced quarterly, according to SoFi. Thus, WLKY is a collection of dividend-paying companies that have been screened to have a high probability of continuing their dividend payments in the future.
WKLY Details
WKLY indeed distributes dividends to shareholders every week, on Thursday. WKLY has an expense ratio of 0.49%, which is rather high. Although, the expense ratio is justified by the weekly dividend payments.
The current weekly dividend payment is two cents per share. At the time of writing WKLY is trading at $51.36. All together, you are paying $51.36 for one share of WKLY, producing $0.02 (per share)*52 worth of dividend payments per year. As companies raise their dividend payments, your payouts should also increase.
At present, WKLY's annual dividend yield is 2.02%. Subtracting the 0.49% expense ratio leaves you with an annual yield of 1.53%. Currently, the S&P 500 dividend yield is 1.38%. So, WKLY provides weekly dividend payments that are a bit higher than the dividends paid by the aggregate of all companies in the S&P 500.
It's useful to understand, that the dividend payment percent varies based upon the value of a stock, or fund. All other factors remaining constant, when a stock price declines, the dividend payout percent will increase, and vice versa.
What are the SoFi Weekly (WKLY) Dividend ETF Holdings?
If you take a look through either the SoFi Sustainable Dividend Index or at WKLY's actual holdings, you'll find a basket of companies that have a number of commonalities. These companies have the following characteristics:
Liquid: Heavily traded in the stock market (and thus easy to buy and sell)
Mature: Most sustainable dividend companies have long histories
Mid-cap or larger: The minimum market cap for inclusion in the index is $1B
Reasonable payout ratio: Dividend payment sizes are a percent of the company's earnings
Low debt: A low debt-to-equity ratio reduces the risk of a dividend cut
Are not in selling off: Stocks that greatly underperform are excluded from the index
In addition, the fund adheres to a couple more rules to reduce risk:
No individual company comprises more than 5% of the fund.
No individual sector comprises more than 30% of the fund.
The end result is a balanced portfolio of dividend stocks. I must admit, this basket of stocks is not very exciting – in fact, it looks outright boring to anyone seeking growth. However, it is a relatively safe selection of stocks likely to continue producing dividend income, which is exactly what WKLY is meant to do.
Bonus: SoFi Automated Investing Review
WKLY's top 25 current holdings: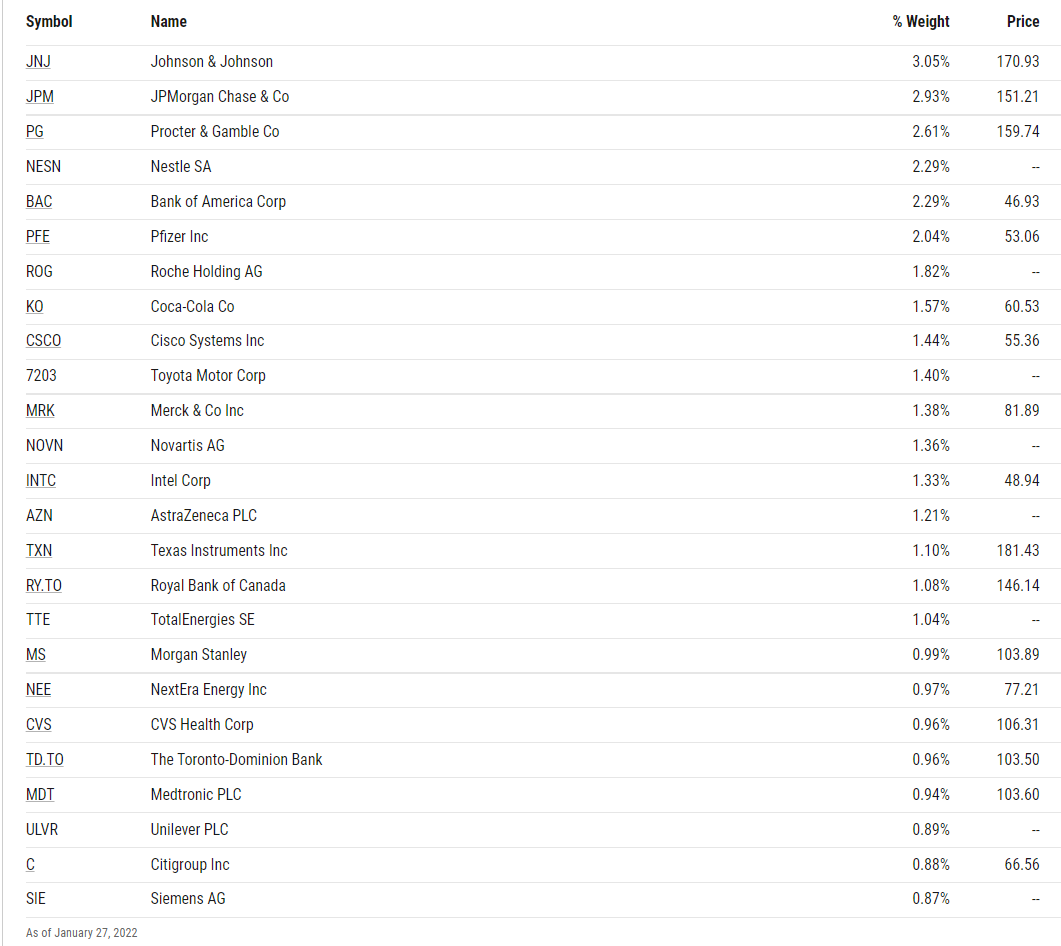 For a full list of WLKY's holdings, see this spreadsheet.
What is the Geographic Breakdown of SoFi WKLY Holdings?
If you look closely at the symbols of the WKLY holdings above, you should notice the tickers "7203" and "RY.TO." These are not normal ticker formats for the average American investor, and that's because these are ticker formats for foreign developed markets – Japan and Canada, respectively. Indeed, WKLY gives the dividend investor a bit of extra diversification by holding geographically varied companies.
At the time of writing, 57% of WKLY's holdings are US companies; 28% are European; and 15% are Asian.
What is the SoFi Weekly (WKLY) Dividend History?
Since its inception in May, 2021, the WKLY ETF has paid dividends every week, amounting to 2 cents per share: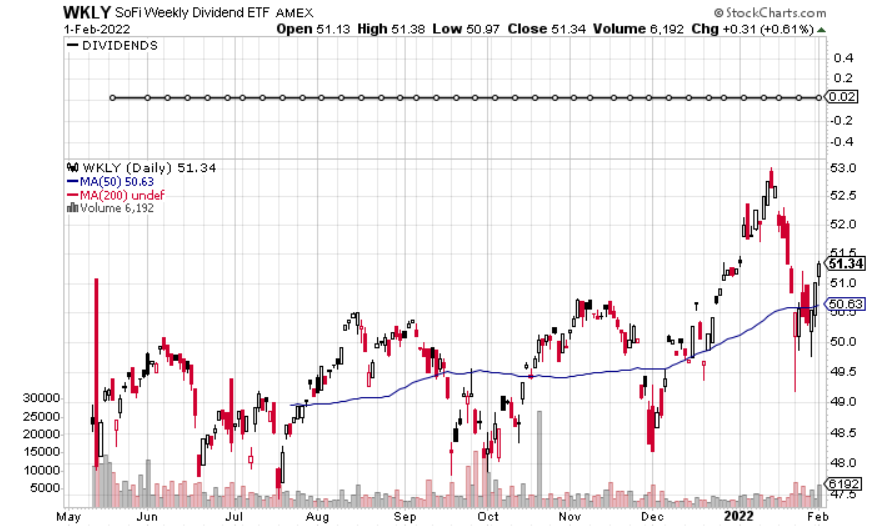 SoFi Weekly (WKLY) Dividend ETF Pros and Cons
If your goal is weekly dividends, WKLY is probably on your investment watchlist. But before you pull the trigger, let's review some of the pros and cons that are likely to influence your satisfaction with this fund.
Pros
Weekly dividends. A fund that pays dividends at this frequency is almost nonexistent. This is likely the number one competitive advantage of this fund over other choices.
Compounding potential. Smart lottery winners typically take a lump sum because they know that money now can be put to good use. The weekly dividends can be re-invested and compounded, allowing you to realistically earn more than the ~1.5% ROI that WKLY produces on paper.
Passive. While some investors like actively managed funds, the fact that WKLY is passively managed saves you the time of performing due diligence on the management team. The fact that WKLY tracks an index gives the fund transparency.
Cons
Low yield. A 1.5% yield is not impressive. Other dividend-based funds offer better yields and are likely better choices if your goal is return on investment or ROI, not frequency of dividend payments.
High fees. A 0.49% expense ratio eats a chunk of your potential dividend earnings. While I was joking earlier about buying a bunch of dividend stocks and staggering them to create weekly payments, you could probably actually do something similar, get near-weekly dividend income, and avoid the 25% pay cut on a 2% yield. Granted, WKLY holds about 450 companies in its portfolio, but you could buy, say, the top 25 holdings and achieve something similar.
Quarterly rebalancing. This is often a personal preference, but quarterly rebalancing seems a bit slow. A lot can happen in a quarter, from changing market conditions to individual company news. WKLY can potentially react late to such conditions – up to three months late! WLKY is not a nimble fund by any measure.
SoFi Weekly (WKLY) Dividend ETF Alternatives
WKLY is not the only game in town. I suggest you look at the two following alternatives – one paying weekly income but not financed by dividends; and another with a basket of stocks similar to those in WKLY, a better yield, but at the cost of dividend frequency.
TGIF: The SoFi Weekly Income ETF. In practice, this fund acts a lot like WKLY. The main difference is that the weekly payouts are not financed by dividends but by bonds. Moreover, TGIF is an actively managed fund and a bit more expensive than WLKY, with an expense ratio of 0.59%.
GCOW: Pacer Global Cash Cows Dividend ETF. As with WKLY, GCOW is passively managed, meaning it mirrors an index. The benchmark index for GCOW is the Pacer Global Cash Cows High Dividends 100 Index, which essentially ensures that GCOW's holdings will all be dividend-paying companies with large free cash flows. In this way, GCOW is another fund with a basket of safe dividend payers, though it does not pay at a weekly rate.
FAQ
What is the best SoFi ETF?
Of course, "best" is subjective, and in the world of investing, "best" really just means most suitable for you given your financial goals and risk tolerance. At the time of writing, SoFi has six ETFs:



Each of these ETFs has its own purpose. SFY is the most popular, having a zero expense ratio and claiming to mirror the S&P 500. WKLY is the least volatile and unique in its weekly payments. GIGE has the most growth potential, focusing on the gig economy.
Are Dividend ETFs worth it?
Again, the answer depends on your goals and lifestyle. The existence of an expense ratio is often a determining factor: If you are willing to trade time (in researching individual companies and rebalancing your portfolio) for money (the fees required by the fund), building your own portfolio of dividend stocks might be preferable to dividend ETFs. Then again, not every investor has the experience or knowledge to select good dividend stocks.
Ultimately, it all comes down to whether you are willing and able to build your own portfolio and whether the effort involved is worth doing so. The easy alternative to becoming a dividend investor is to just buy dividend ETFs.

SoFi Weekly (WKLY) Dividend ETF Wrap-up
WKLY is a passively managed ETF with quality screening to ensure that the dividend stocks within fund are financially sound. The holdings are also quite diversified, both in terms of sector and geography. Of course, the main draw is the weekly dividend, which currently yields $0.02 cents per share.
The main question here is whether you can put that weekly dividend to use. You both need a large amount of capital and a weekly need for income to justify an investment in WLKY. For example, you would need to invest $500,000 into WKLY for a $200 weekly dividend payment.
And then again, if you have enough capital so that your weekly dividend is large enough to matter, you are arguably losing significant ROI via WKLY's relatively low yield. Perhaps a happy balance is a financial instrument such as a REIT or another bond fund that pays monthly dividends. Overall, WKLY is a niche product.
Learn more about SoFi Weekly Dividend, stock ETF, as well as the company's other stock, ETF, crypto and automated investing investment products here:
Related
Disclosure: Please note that this article may contain affiliate links which means that – at zero cost to you – I might earn a commission if you sign up or buy through the affiliate link. That said, I never recommend anything I don't personally believe is valuable.