Passive Income Strategies That Work
Is There Really Such a Thing as Passive Income?
Passive income investments are touted as a way to keep the money flowing without the work. In other words, with passive income streams your passive income investments are set up once to deliver regular cash flow. You'll learn whether investing in real estate, stocks, bonds, websites and cryptoming are true passive income opportunities and ways to create that future income stream. You'll also find out the complete answer to the question, "Is there really such a thing as passive income?"
This article may contain affiliate links which means that – at zero cost to you – I might earn a commission if you sign up or buy through the affiliate link.
My Passive Income Investments History
Is real estate a road to passive income?
When I first started out, I bought a rundown piece of real estate, made some repairs, and rented out the property. With the help of my dad, I assessed the property to find out what needed repairing. Then I found workers, monitored them daily, found tenants, screened them, fix repairs when the tenants called, followed up when they were late on the rent, and found new tenants when they moved out (usually after leaving a big mess).
Don't think all this work can be farmed out to a property manager, while you collect the checks. The property manager must be monitored and paid. So, the real estate you buy must have enough cash flow to pay you and the property manager. This isn't an easy task.
Owning rental real estate is a lot of work, and not a passive income opportunity.
I ultimately created two affiliate websites, invested in stocks, bonds and funds. I've written books, too. You'll learn how "passive" these activities really are and whether you can make a living from passive income activities.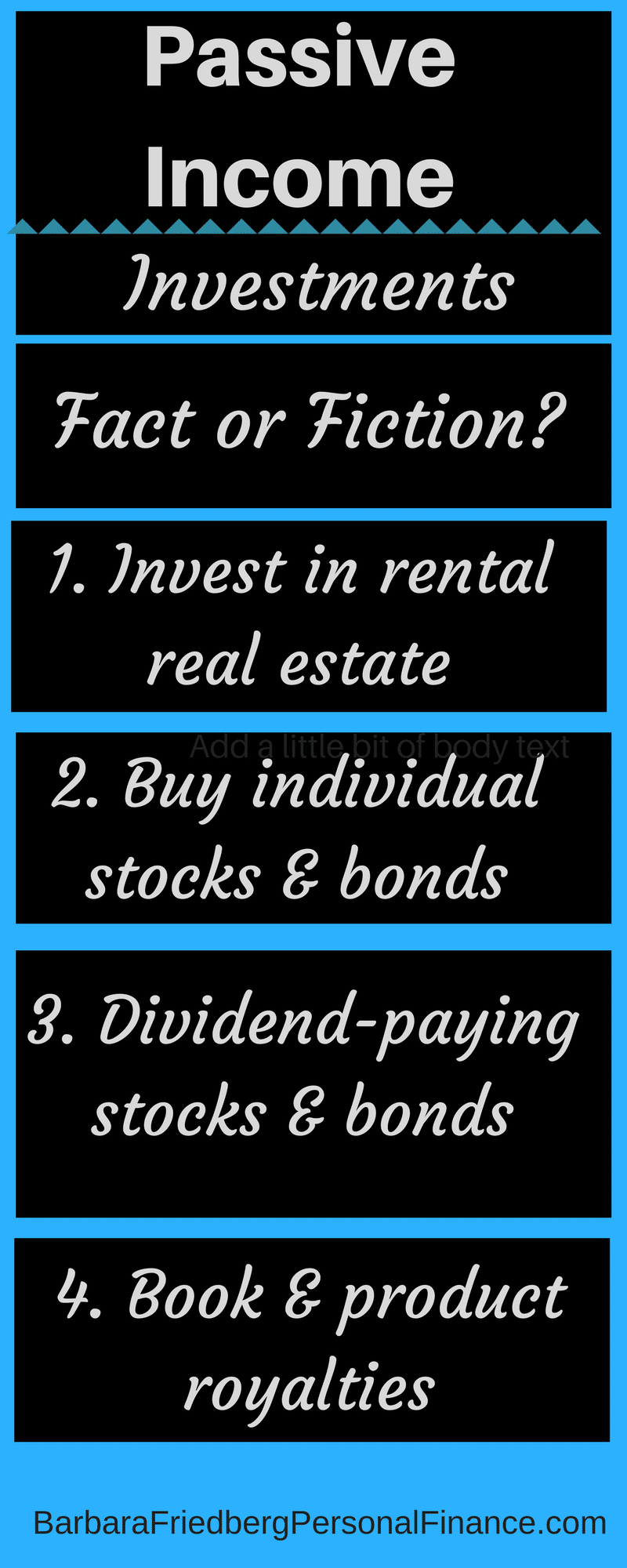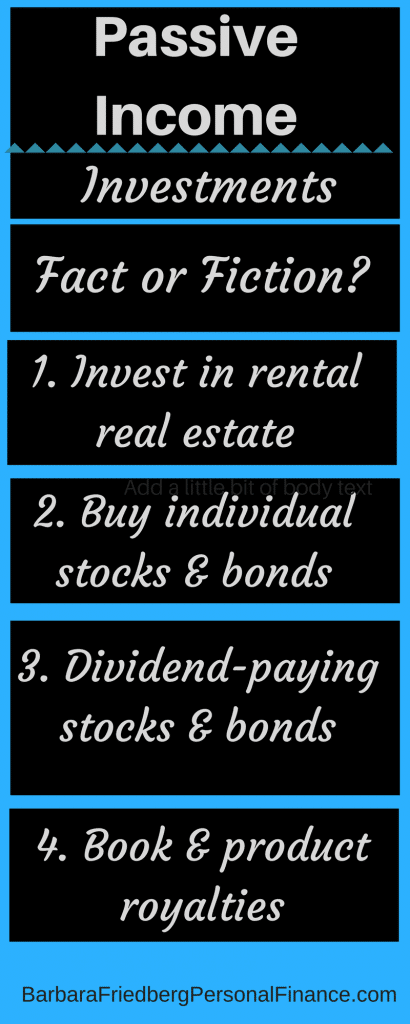 Passive Income Definition
If you were to ask a financial institution, such as the IRS, to define passive income, the key point in the definition will involve distance from the income-generating activity, thereby making you a passive participant. The tax man's definition of passive activity is like owning a REIT or real estate investment trust, where you don't manage the properties.
Examples of passive income sources, according to the IRS that adhere to this definition include the following.
For this article, the passive income definition is a bit different. We'll also talk about passive income ideas where you not only set up the investment, but also might be involved in ongoing maintenance.
Why Passive Income Is a Myth
As hinted above, many people believe that passive income is a myth. In many ways, passive income is a myth, as "passive income" doesn't actually mean "income without work." Passive income is actually a system that requires work to set up, but once the system starts cranking its gears, you're able to make money passively, e.g., while you sleep. But that doesn't mean that you'll never attend to that income stream again. Here are some common passive income myths, to thwart.
Passive Income Myths
Passive income is effortless. In fact, passive income requires much effort at the beginning and still requires some effort after the initial set up. This could be evaluating dividend investments or updating content on an affiliate website.
Passive income is risky. In fact, passive income is agnostic toward risk. You can find a passive income strategy that is low risk, just as you can find one that is high risk. For example, it's unlikely you'll lose money over the long term, from rental property investing, unless you overpaid initially.
Passive income is a scam. In fact,passive income is a common form of income generation. But just as with any form of income generation, you will encounter some snake-oil salespeople spinning it into a scam – just be wary of promises that sound too good to be true (because they aren't). For example, if you're promised a lot of income from minimal work, it's probably a scam.
Is Passive Income a Pyramid Scheme?
Passive income isn't a pyramid scheme. But on occasion pyramid schemes are marketed as "passive income" – which they are not.
Be wary if an overly friendly stranger approaches you with small talk. If the conversation becomes a "Passive Income Opportunity," the offer is typically not true passive income but a job in their pyramid scheme or multilevel marketing (MLM) business.
These people are trained by their companies to use the term "passive income" when in fact, it's likely a multilevel or pyramid scheme that you're being offered. If you're presented with a money making scheme, ask the one making the offer, how he or she is getting paid. If they get paid from your work, it's probably a pyramid scheme, not a passive income stream.
Can You Make a Living from Passive Income?
Plenty of people generate passive income to a degree that supports their lifestyles. For some people, generating passive income is a natural progression from generating active income.
For example, an active investment trader or successful entrepreneur, after making enough capital, might put all of his earnings into dividend stocks, living off the passive income into retirement. Rental income can also be passive income when a landlord outsources all of her day-to-day tasks to a management company. But, these aren't one and done activities. You'll still need to oversee your dividend stocks to make sure that the companies remain strong and monitor the rental properties for management and maintenance issues.
As long as you have a large enough upfront investment, you can make a living from passive income streams. The question for those who want to make a living from passive income is which passive income sources to choose. Generally, the more income streams you can build, the more secure your financial future will be.
5 Passive Income Investment Ideas
Review these passive income ideas to uncover which are truly passive and which ones resonate with you.
1. Investing in Rental Real Estate
What is it? Buy an apartment building, house, or condo. Rent it out, and collect the income. At a later date, sell the rental property at a profit.
Pro: If you buy at the right price, maintain the property, keep it rented and invest in a growth area, you can make a nice profit over time. While you own the property, you might receive a cash flow.
Con: Investing in real estate is not for the faint-hearted. Before you start ask yourself if you have the free time to search, manage and maintain the property? Do you have cash for a down payment and good credit to get a loan? Math skills are required to determine the price to pay so that after expenses (planned and unplanned), mortgage payment, taxes, etc. you have a positive cash flow. Can you afford the payments for a couple of months when the tenant moves out or is evicted? There's a lot of work and money involved in owning real estate
Is investing in rental real estate a passive income investment?
Unless you have the perfect tenant who stays in the property for a long time and doesn't make demands, managing real estate is not a passive income investment.
Successful real estate investing requires enough time to devote to this endeavor, buying at the correct price, and maintaining sufficient cash for unexpected costs. Presently, real estate is richly valued across the country making it difficult to find true bargains. If you want to invest in real estate, do your research first, seek out a lower cost of living area and go in with your eyes open. A mentor is helpful in real estate investing as investing in rental real estate is not a true passive income strategy.
2. Investing in Individual Stocks and Bonds
What is it? Take your money and buy financial assets such as individual stocks or bonds. The stock investment is buying part ownership in a company. The bond investment is lending money to a company that pays you dividends or interest and returns your initial investment at the bond's maturity.
Pros: Research suggests that most stock investments increase in value over the long term (+10 years). A diversified mix of stocks and bonds will temper the volatility of your the individual investments. If you buy at the right price and hold your investments for the long term, you are likely to make a decent return. Plus, some stocks and bonds yield high dividends. The high dividends can provide a long term income stream, without too much oversight.
Cons: Individual stock and bond investing require hours of research and maintenance. You need a large amount of cash for a diversified portfolio of stocks and bonds. The value of these investments will go up and down and if you paid too high a price you will likely lose money.
Is investing in individual stocks and bonds passive income investing?
In general, active stock pickers spend a fair amount of time reviewing their investments to ensure that they continue to grow and pay dividends over the long term. If you buy blue chip stocks and investment grade bonds, these individual investments require less oversight than investing in rental real estate.
Although not completely passive, you can create a semi-passive income stream by investing in stocks and bonds.
And if you're interested in getting help with your individual stock investing, you might consider robo investing with a company like Betterment or M1 Finance. There are even robo advisor firms with access to human financial advisors.
3. Investing in High Dividend Paying ETFs and Mutual Funds
What is it? Exchange traded funds (ETFs) and mutual funds are a type of investment that owns many individual stocks, bonds or other financial assets. They come in a multitude of varieties including actively managed and passively managed index funds. High dividend paying funds and ETFs own stocks and/or bonds that pay dividends.
Pros: Your investments are diversified with many holdings within the ETF or mutual fund. Funds are easy and economical to own. You don't have to pick and choose the individual securities. You can target certain sectors of the investment world with one fund. REITs or real estate investment trusts are an easy way to invest in the real estate markets.
Cons: The underlying value of your investment may fluctuate. If the share price declines, your dividend payments might be offset by losses in the value of the fund. These funds charge management fees, so seek out lower fee ETFs and mutual funds before investing.
Is investing in ETFs and mutual funds passive income investing?
Yes, this is one of the more passive income strategies as the fund management is handled by professionals. You buy the fund and reap the dividends and capital gains.
This doesn't mean that you will never suffer a loss. Ultimately, you're responsible for keeping an eye on your investments, even if they are in a fund, to make sure they continue to meet your investment criteria. You'll also want to review your funds periodically to make sure they are meeting your financial goals.
Here are several examples of high dividend paying funds:
| | | |
| --- | --- | --- |
| Fund Name | Fund Symbol | Dividend Yield |
| Vanguard High Dividend Yield Index Fund | VHDYX | 2.80% |
| Wisdom Tree International LargeCap Dividend Fund | DOL | 3.18% |
| Fidelity Real Estate Income Fund | FRIFX | 3.41% |
| Schwab Dividend Equity Fund | SWDSX | 1.88% |
| iShares Core U.S. Aggregate Bond ETF | AGG | 1.95% |
| iShares TIPS Bond ETF | TIP | 1.87% |
Yield data 3/13/2022
4. Running a Website or Blog
What is it? Buy or create an online website or blog. You can earn passive income by writing articles and providing quality content, products and/or services. Most websites today generate income via advertising. Advertising is truly passive income when you run ads on the site. Selling your mailing list, courses, products and services along with affiliate marketing are other ways to generate income.
Pros: Once the website is set up, content written, products and the affiliate links embedded, you can receive ongoing passive income. More website visitors will yield greater revenue through advertisements, affiliate commissions and other financial opportunities.
Cons: Updating the website and creating new content is time consuming. Building up traffic is time consuming and challenging. Small websites will be competing with larger online brands and news, information sites for website traffic.
Is running a website or blog passive income investing?
Running a website or blog can be lucrative and passive commissions can be expected. But creating and updating content is not passive and requires a large time commitment.
The following strategies can increase your chances of making money with a website or blog.
You can collect readers email addresses and create a mailing list via your website. This is another way to market your affiliate products and you can get paid by companies to advertise their services to your readers.
Affiliate marketing offers your readers products and services. When these products and services sell, their respective companies give you a cut of the profits. Most bloggers find affiliate marketing more profitable than the standard advertising service (e.g., Google Adsense) as you can promote offers that best serve your readers (e.g., a recipe website can promote blenders to their readers instead of hoping Google will put a relevant ad in front of the audience). This form of earning passive income also has the additional benefit of making your website ad-free (affiliate marketing is usually embedded in the content itself), which improves the readers experience.
Today, creating a website is easier than ever, with tools such as WordPress and cheap website hosting services. But you can also buy an existing website through a site such as Flippa (and get help with services like content, marketing and website creation via outsourcing to freelancers). When buying an existing website make sure that you check the financial metrics of the site, past performance, and monthly earning income before making the purchase.
5. Cryptomining
What is it? Cryptominers set up a "mining rig," which is essentially one or more graphics processing units (GPUs) – and in some cases CPUs – hooked up to your computer. In cryptomining, you trade your GPU's processing power and the electricity required for the underlying computations for cryptocurrency tokens. Your goal is either to ensure that your mined tokens are worth more than your electricity bill or to speculate that your targeted cryptocoin to rise in value in the future and surpass the electricity charges.
Pros: It can be straightforward to set up your mining rig, which could be as simple as a desktop computer with coin mining software, connected it to your cryptocurrency wallet and start mining. After that, earn passive income just by letting your computer run.
Cons: Cryptomining requires a tremendous amount of electricity, which can be very expensive. The carbon dioxide emissions is detrimental to the environment. You also need specialized skills to become a cryptominer.
Is cryptomining a passive income activity?
Cryptomining is one of the trending passive income ideas of this decade. This is considered passive in the true sense of the word, as you only need to keep your computer running to earn income. The key is to make sure that the income surpasses the electricity costs.
At the moment, Bitcoin and Ethereum are popular coins to mine (soon, Ethereum will move to a "proof of stake" structure and become unmineable) for generating passive income, but you have many other options. If you find a hot coin on the rise and mine it, you might earn returns higher than those offered in the stock market.
Bonus; How to Turn Freelance Income Into a Robust Passive Income Stream
Passive Income Investments Takeaway
My husband has written 12 books and now receives royalties for those books. Now, that income is truly passive. But the amount of time it took to write the books was monumental. And some books sell exceptionally well with generous royalties, while others less so.
I've written 3 books and also earn passive income from those book sales. Many online entrepreneurs create courses to create passive income. Once the course is created, the minimal maintenance includes updates and promotion. After that, the income is passive.
Previously, I invested in rental real estate with positive rewards. Why aren't I doing it now? It is time consuming and also quite difficult to uncover real estate investment opportunities with positive cash flow. Also, I became annoyed with middle of the night phone calls and tenants tearing up the rental property.
I've invested in stocks and bonds for many years and generated wealth over the long term. My constitution and knowledge of investment markets is well suited to handle the volatility of the stock market. Beware; a reactionary disposition can lead to impulsive missteps.
In summary, passive income is real. But the term "passive" is a misnomer. The only truly passive income is "gift income." When someone gives you money, now that is "passive." But for additional income with varying amounts of additional effort, these and other approaches might lead to diversified income streams.
Approach these money making strategies with your eyes open and a commitment to devoting extra time and financial resources to oversee your passive income investments.
Related
Sources:
Disclosure: Please note that this article may contain affiliate links which means that – at zero cost to you – I might earn a commission if you sign up or buy through the affiliate link. That said, I never recommend anything I don't personally believe is valuable.