What Is SoFi Relay Financial Insights?
SoFi, short for "social finance," was created in 2011 by four college students looking to fund their tuition payments. SoFi's original goal was to offer cheaper loans than the federal student loans, so that college would be more affordable. The company is now a huge player in digital finance, offering loans, credit cards, insurance, investing and money management services to its customers. It is so big today that it went public and is a traded company on the stock market.
This article may contain affiliate links which means that – at zero cost to you – I might earn a commission if you sign up or buy through the affiliate link.
SoFi Relay is a free product offered by SoFi created to keep you on-track to meet your financial goals. Relay allows you to gain a broad understanding of your financial situation by managing all your financial accounts, from retirement accounts to investments – from loans to physical assets – in one place. The more complex your financial situation and the larger your net worth, the more difficult it is to see the forest from the trees – and SoFi is designed to solve this problem.


Features at a Glance
Overview
SoFi Relay is a free service that allows you to see a complete view of your entire financial situation. After linking all of your financial accounts including debt, banking, and investing to the Relay application, the dashboard shows your net worth, spending, saving, investment performance, credit score, and debt to easily grasp your financial well-being.
Top Features:

Credit score monitoring and debt monitoring, including credit score tracking, and a free credit report
Easy-to-understand summary of your entire financial situation
Expenditure tracking for all your financial transactions, including the ability to create customized spending tracking
Monitoring of investments, including your portfolio and real assets

Fees:
Other SoFi Features:

Cash and stock rewards for signups and referrals
Ability to talk to a financial specialist
Insight into raising your credit score
Stock, ETF, and automated investing including IPOs and fractional shares.
SoFi Relay Features Drill Down
Sofi Relay keeps track of your entire financial situation in one place. Here's why you might try SoFi Relay in your financial planning.
Reasons to Use SoFi Relay
Free credit score monitoring, with weekly updates
Rewards, such as cash, stock, and loan payments
Track all monthly expenses, including credit card payments, spending and net worth
Get digital financial advice based on your current finances
Everything is linked via Plaid, so you can track all your connected accounts securely in a single place
Complimentary half hour meeting with a financial advisor
How SoFi Relay works
Sign up online or on the SoFi app. Once you are registered, link your bank, investment, retirement, credit card and loan accounts to SoFi Relay via the secure software. You can even link up your car and home, and SoFi Relay calculates the value, and it shows up on the dashboard. This gives you a 360 degree view of your net worth and complete financial picture. The secure Plaid interface keeps your information secure.
SoFi Relay's financial information and insights are ideal if you're seeking a site to view your entire financial picture including credit score monitoring. You will even receive a complimentary half hour session with a financial advisor after you sign up.
SoFi Relay financial insights summary:
Access to your Vantage Credit score and ongoing credit monitoring
Monthly spending
Spending categories (e.g., bills, utilities)
Monthly savings
Transaction history
Investment summary
Property and insurance summary
Updated net worth
Targeted suggestions to help improve your financial situation (along with product recommendations)
Easy to access to comprehensive dashboard
Complimentary half hour video chat with a licensed financial advisor.
SoFi's website and the SoFi mobile app are well-designed, with a user experience or UI that makes everything really easy the whole way through – from initial account sync to actually using the platform. The UI for investing is likely to be even better than your brokerage's. SoFi Relay helps you get a bird's eye view of your financial situation.
Other SoFi Features
In addition to the features mentioned above, once you have a SoFi account you can access the following extra features:
SoFi Invest – Track your investments, get stock picks, and invest directly via SoFi (stocks, ETFs, and crypto). SoFi Invest also has an automated robo advisor investment manager and access to free financial advisors for all it's users.
Banking: Start banking with SoFi savings and SoFi checking accounts if you so choose. Key features include early paycheck access and cash bonuses with a deposit.
Credit card: Apply for and manage your SoFi credit card, which gives 2% cash back on purchases.
SoFi Loans: Apply for a loan or use SoFi's tools, such as its mortgage calculator. SoFi offers most loan types including small business loans, student loan refinancing, personal loans, mortgages and private loans-most with no fees.
SoFi Protect, offering auto insurance, life insurance, homeowner's insurance and more.
Pros and Cons of SoFi Relay
Pros
Helps you reach your financial goals with digital financial advice to meet your needs
Keeps all of your account values in one place to foster greater awareness and decision-making
Completely free with updated financial information
Includes credit score and monitoring
Complimentary meeting with a financial advisor
Cons
Some users have reported problems connecting all their accounts
Credit score measurements are via the Vantage standard and might deviate from other platform's credit scores.
Is SoFi Relay Right for You? Wrap up
Access to SoFi Relay is free, so there's little downside to signing up. In fact, the complimentary half hour financial advisory meeting is a big allure. If you already use SoFi, SoFi relay is a no-brainer because it will let view your total financial situation external accounts – all within your SoFi account. If you're not a SoFi user, SoFi Relay might be worth it by providing information about the inflow and outflow of capital, day after day and month after month.
SoFi Relay emphasizes security. The platform doesn't directly draw account information from your other accounts but uses Plaid as a middle-man. So you needn't worry that you're consolidating all your security risks into one account.
Some SoFi Relay users don't like the platform due to technical issues and difficulty connecting their financial accounts. Although, these types of issues can be found on many financial sites with the opportunity to link accounts.
In short, Relay is worth a try if you want a complete view of your financial picture with the opportunity to drill down into your spending, saving and investing.
SoFi Relay vs Mint
Both SoFi Relay and Mint allow you to track your net worth. Both offer credit monitoring, budgeting, and spending analysis. Both have a mobile app.
Despite their similarities, each platform has its pros and cons. Some stand out, as Mint offers bill negotiation to help you reduce your monthly expenditures. Others are less obvious, as a newcomer, Relay might be more likely to offer more novel features, and a better UI.
The older Mint has a few features that are more fleshed-out than SoFi Relay tools. For example, Mint's budgeting feature is more detailed than Relay's. You can still create a budget in Relay, but you need to do some fudging about, such as budgeting by category with the "vaults" system. Then you can attribute a monthly amount from your paycheck to each vault, thereby creating a budget, which is tracked in Relay along with spending. Ultimately, most everything you can do in Mint you can also do in Relay.
Mint was acquired by Intuit in 2009 and might be a bit aggressive with advertisements. Relay is a cleaner, more straightforward platform.
Overall, we prefer Relay's user experience and recommend it over Mint, provided all your bank accounts connect well to the platform.
Other SoFi Relay Alternatives
FAQ
Is SoFi Relay Secure?
All your accounts are connected through Plaid, which encrypts all your data while it's being transferred to SoFi Relay. If you trust your own online banking security, you can logically trust SoFi as well since Plaid uses the same level of encryption that most financial institutions employ.
Is SoFi a trusted site?
AEtrustscore gives SoFi a 99/100 rating: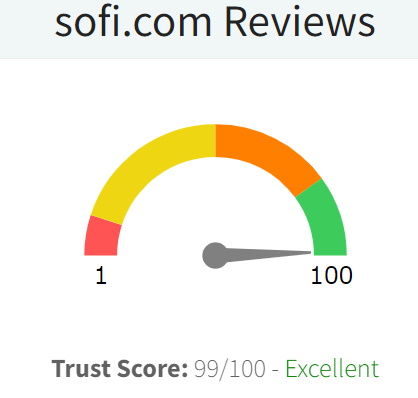 SoFi also has an A+ standing with the Better Business Bureau.
The site itself is trustworthy. You needn't worry about falling prey to a scam if you use Sofi Relay or its other services.
The least trustworthy things about SoFi seem to be the service claims, which are unrelated to Relay. For example, SoFi claims that its banking service implements "AI, machine learning, deep learning, to help you save money," which are just fancy words for "we have an automatic saving service." SoFi once got in trouble with the SEC for making large claims about how much money SoFi members are saving from their loans.
Ultimately, SoFi and its Relay application are trustworthy; just be wary of some of the marketing claims.
Is SoFi Relay free?
Relay is 100% free. SoFi makes its money via upselling its other services, similar to other financial institutions and money management apps. Relay is a sort of a "loss leader," meant to get new customers into the SoFi ecosystem. If you only want to use Relay to track your budget, credit score, net worth and finances you can use the service entirely at no cost.
Related
Disclosure: Please note that this article may contain affiliate links which means that – at zero cost to you – I might earn a commission if you sign up or buy through the affiliate link. That said, I never recommend anything I don't personally believe is valuable.
Empower compensates Wealth Media, LLC. for new leads. Wealth Media, LLC is not an investment client of Empower.