2016 Investing Fuel-15 Best Money and Investing Articles
2015 Investment Wrap Up
The DOW lost -2.2%
The S+P 500 lost -0.70%
The Nasdaq fell -1.15%
The U.S. Treasury 10-Year Bond slipped -0.877%
The Fed Funds Rate rose in December for the first time since 2007.  Although there are many predictions for 2016, no one can promise a clear view of the future. There is one certainty, 2016 is unlikely to be the same as 2015. That said, let's look at some of the best money and investing articles of 2015.
2015 has been a tumultuous year for world citizens and investors. The year closed out with the first U.S. stock market loss since 2008. The 10 year treasury bonds also posted a -0.877% loss for 2015. The one flickering bright light in investment markets was Barclays Capital aggregate bond index which eked out a 0.546% gain. After 3 years of double digit gains, last year was predominantly a reversal in the financial markets. Although 2015 was no where near as catastrophic as the -36.66% stock market (S&P 500) drop of 2008, it didn't add much to your investment portfolio. Start out 2016 with the 15 Best Money and Investing Articles from 2015.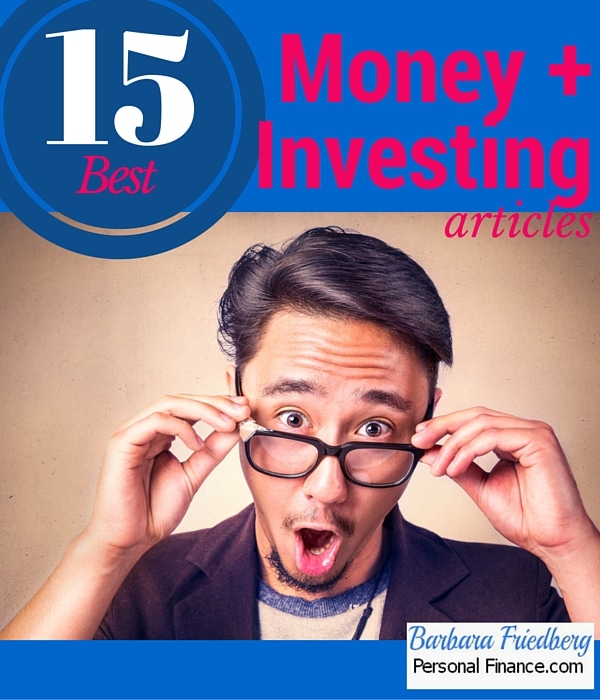 My favorite article is Number 1, by Burton Malkiel. Malkiel is a master at clearly laying out the most important investing tenets. It's refreshing to be reminded of tried and true investing basics. In number 3, Rick Ferri walks you through a very sensible investment portfolio. A Wealth of Common Sense, Ben Carlson's blog does a service to investor's looking for a 'lazy-ish portfolio' to copy. Number 6 is my go-to reference for citing historical stock, bonds and cash returns. It's refreshing to peak at the past whenever you feel like selling after a market drop. This data makes it clear that the historical stock and bond market trends are up. Now's the time for portfolio rebalancing. Check out Wohler's number 10, rebalancing tips for a quick reminder.
Begin 2016 with the best money and investing articles to set your financial path straight for 2016.
Best Money and Investing Articles of 2015
1. A 2015 'Rebalancing' Act for Investors, Burton G. Malkiel-The Wall Street Journal
2. The Best Investing Blogs, Robert Farrington, The College Investor
3. The Rick Ferri 60/40 Portfolio, Ben Carlson, A Wealth of Common Sense 
4. 3 Investment Gurus Share Their Model Portfolios, Chris Arnold, NPR.org
5. Cheap or Expensive? The One Thing About Equity Valuation That Few Talk About, Cam Hui, Humble Student of the Markets
6. Annual Returns on Stock, T. Bonds and T. Bills: 1928 to Current, Aswath Damodaran, Stern Business School at NYU.edu – This isn't an article but a superb investment resource of historical market data. 
7. How to Start Investing, And Why Now is a Good Time to Do It, Jeremy Biberdorf, DailyFinance.com
8. How the Super-Rich Plan to Invest in 2016, Jenny Cosgrave, CNBC.com
9. Try This Simple Savings Plan to Keep More Money In Your Pocket, Rick Jaffe, Marketwatch.com
10. 8 Portfolio Rebalancing Tips, Rober Wohlner, The Chicago Financial Planner
11. Social Security Decision Framework: When Should You Claim Social Security? Mike Piper, Oblivious Investor
12. Vanguard's Gain Is Wall Street's Pain as Billions Leave the Financial Industry, Eric Balchunas, Bloomberg Business
13. Congress Is Killing The File-And-Suspend And Restricted Application Social Security Strategies, Michael Kitces, Nerds Eye View
14. Making Sense Out of Variable Spending Strategies for Retirees, Wade Pfau, Retirement Researcher (originally published in Journal of Financial Planning)
15. Why You Should Disregard Those 2016 Predictions and Focus on What Really Matters, Walter Updegrave, Real Deal Retirement
Click here for free trial-online investing courses to grow your wealth, money and investing knowledge.