5 Personal Finance Habits to Help You Achieve Financial Freedom
Guest Contributor, Tina Roth
Developing 'good habits' has become an industry. From Charles Duhigg of The Power of Habit to Gretchen Rubin's, Better Than Before: What I Learned About Making and Breaking Habits–to Sleep More, Quit Sugar, Procrastinate Less, and Generally Build a Happier Life, creating good habits is important across the spectrum or our lives. This guest article will show you how a few simple habits, started early, can help you achieve financial freedom.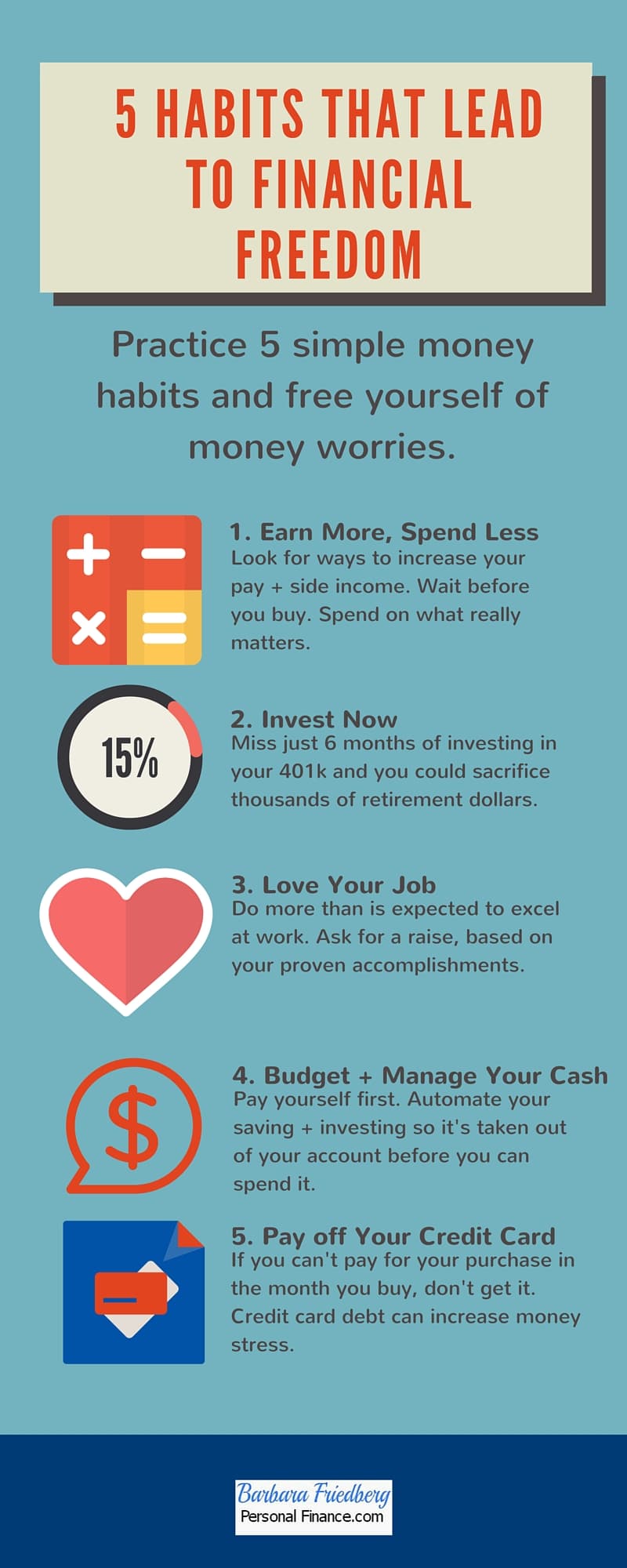 We don't make our habits. Our habits make us. Getting rid of habits is a herculean task, or maybe it's even more difficult because Hercules fought with external forces but the 'habit fight' is with yourself. Habits to help you achieve financial freedom are no more difficult than habits that lead you down the path of ruin. They're simply a string of good money decisions added together and repeated.
If achieving financial freedom is your objective, then winning the fight is not an option. You must strangulate the bad habits, the ones that make you spend extra, and replace them with good habits to help you obtain financial freedom. 
How to win the fight and achieve financial freedom?
My advice, develop good habits. I know the good and bad binary is a reductionist idea. But I have tried this myself and it worked. It can work for you too. Below, are the good habits that can rebuild your personal finance.
1. Earn More, Spend Less
There should be a proportion. If you are making $4K a month, don't spend more than $2K. Your friends might call you stingy, but who cares. Many people whose life stories resemble the rags-to-riches-esque fairy tales said they got habituated with the penniless lifestyle and continued to live frugally even after becoming millionaires. You can find here tips to increase your income.
They were wise. They had the realization that there's no relationship between earning more and spending more. Earning money is a result of financial success, which requires hard work and diligence. Spending extravagantly, on the other hand, shows a person with little control over his spending.
Bonus: 26 Ways to Make Money Now>>>
2. Don't Wait to Invest
And let your hair become grey. Invest when you are young. You have an entire life ahead of you. Even if you fail, you can still get up and invest again. In the strong likelihood that you will succeed, you won't have to look back.
Although, investment involves risk, not investing when you're young is riskier. Loosing those early years in which your money has the time to grow and compound is the riskiest path of all. The younger you are, the more time your money has to make up any early losses. Investors who've stayed in the market through ups and downs and not pulled their money out, haven't lost investment dollars during any 20 year period.
As you age, you have families to look after and growing financial obligations. Getting started early gets you in the habit of putting yourself and your financial future first.
3. Love Your Job
When passion and profession go hand in hand, attaining success becomes easy. Loving your job may not be easy for you but when you love doing what you are doing, you step onto the first stair of financial success. You take the work seriously, face no work pressure, and don't complain about being neck-deep in work.
In short, you dedicate more time to your work. It may not lead to earning money instantaneously, but you develop skill and over the time, you become good at what you are doing. This leads to financial success. You don't have to be an investment banker or a rocket scientist. Whatever you are doing, make sure you love doing it.
4. Budget and Manage Money Right
Saving money is the prerequisite to financial success. True, a few lucky people realize overnight success, but the percentage of such people is so small that they need not be considered. An average person cannot be financially free if she doesn't make a budget.
Budgeting is especially important when you are in your 30s and 40s. If you start stashing money away earlier, you'll need fewer actual dollars to realize your retirement dreams. Unless there's a system preventing the cash outflow, your financial situation can never be better. Budgeting is a part of money management.
To turn money management into a habit, track all your spending. Use your online resources to save money. When you make a budget, cover your needs first; saving, investing, rent, food and the necessities. Your wants and desires come last.
5. Avoid Borrowing Money
Sometimes, a debt is unavoidable. A student loan qualifies as the type of debt that may be necessary. In many cases, if you don't take out a student loan, you won't be able to continue your studies. But not all debts are like this. Credit card debts are almost always unnecessary.
There's a remedy that you can follow in order to stop credit card debt. The remedy is spending only 10% of the credit limit. If your credit limit is $5,000, don't spend more than $500. Make this a habit. It might be difficult if you are a shopaholic, but with time, you'll get accustomed to it.
If you have an auto loan, pay it down as quickly as possible. If you haven't started paying off your debts, now is the time to begin.
The Takeaway
The financial habits mentioned in this article can help you attain financial freedom. Put these 5 habits into action today and you're on your way to financial freedom.
Click here and find out how we grew our retirement account 538% and get the 14 Rules of Investing.
Written by, Tina Roth from Pro Finance Blog