Step by Step Plan to Create a Side Business and Make More Money
In reviewing the site visits to Barbara Friedberg Personal Finance over the past month, the How to Make Money articles are among the most popular. 
It makes sense, the more money you have, the more control, freedom and opportunity you have in life.
This article will give you a plan to create a viable side business or income, from start to finish. If you're looking for a get rich quick scheme, stop right now. There is no viable get rich quick strategy. And if someone promises you one, walk away.
This article offers several steps to get you on the path to a viable side business or job to increase your income.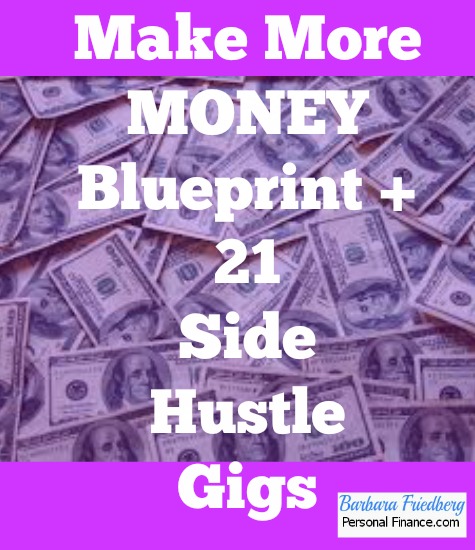 Step 1: Before Looking For Ways to Make More Money
Take a few minutes and write down your  marketable resources, skills and abilities? Brainstorm first. Be creative and put every idea on the table.
Think about what you can sell, how you can help others, services you can provide. These are starter questions to get your brain to come up with ideas. Answer these questions to get you thinking about make more money ideas.
Click here to get How to Get Rich; Without Winning the Lottery
Self Assessment Questions
Do you have a truck?
Do you have computer coding skills?
Are you good at fixing things?
Can you clean windows?
Do you have a car?
Are you good with children?
Do you like the elderly?
Are you detail oriented?
Can you handle website related tasks?
Do you know how to paint?
Are you good with pets?
Can you play a musical instrument?
Can you shovel snow?
Can you rake leaves?
Can you assemble furniture?
 Do you have a skill someone will pay for?
Check out Craigslist to jar your thinking and give you ideas about what people will pay for. 
Step 2: Create Your Personal Assets Doc
Open a blank doc or pull out a paper and pen and write out a list of all of your skills, interests, assets, anything that you have or own that could be used to make you money.
Here's an example of Andre's doc:
I have a pick up truck. I'm strong. I like pets. I am good at fixing things and home maintenance jobs. I've got extra time in the evenings and on week-ends.
How simple was that? 
Can you see any types of jobs that Andre could do?
At first glance, he could easily start a "handy man" service, do yard clean up work, or haul junk or furniture. Andre might even be able to assemble furniture. 
To sum up, start by creating a list of what you have to offer and writing it down so you can look at it and think about it. 
It's a good idea to take a quick break, do something else and let the ideas simmer for a bit.
Step 3: Match Your Skills and Abilities with Job Ideas
Following are some ideas for side hustle jobs. Review them and consider which ideas might work for you.
1. Are you hooked on surfing the net? InBoxDollars pays you cold hard cash to take surveys, redeem coupons, play games, shop online, and surf the web.
2. Teach music lessons.
3. Offer child care and special child skills training. Great at crafts or sewing? Market your skills to kids.
4. Live near an Ikea? Offer furniture assembly services.
5. With a pick up truck, there are a variety of hauling and cleaning services you might provide. Find out about dumping regulations for junk and waste and offer to dispose of others stuff.
6. With a car, investigate electronic waste disposal sites and offer to pick up, scrub, and dispose of old tech gadgets. You may even be able to recycle and resell them.
7. With a car, do errands and odd jobs for busy working families. TaskRabbit is an organization which will link you up with jobs. 
8. From home, be a website user tester and earn $10/$15 per test. The catch is your demographics and you have to wait for an email invite.
9. Teach a course on udemy. This online platform creates an opportunity for you to design and sell a course to a ready pool of learners. The average teachers earn $7,000 per course. 
10. Trade in your stuff on Amazon. Amazon will give you a gift card when you trade in your stuff through their platform.
Get paid when you do stuff online with Swagbucks. My readers love to watch videos, take surveys, play games, and earn free stuff just by hanging out online. And for a limited time you get a free $5.00 sign up bonus!
11. Sell your stuff on Ebay, Craigslist, or your own Garage Sale.
12. Start a window cleaning business. All you need are a few supplies, a bit of know how, and a car. $7 per window will yield  more than $100 for a couple of hours work.
13. Dirty jobs cleaning is a great service. Market barbecue, oven, garage, and apartment move out cleaning for a big payout.
14.  Mobile car washing and detailing is a great business for the ambitious mobile side hustler. Low start up costs with high payouts. 
15. Carpet cleaning is another business which doesn't cost much to create.
16. As our population ages, services which care for and assist the elderly are in greater and greater demand. You could do this on your own or seek out an agency to contract with.
17. Indoor and outdoor painting is another in demand side hustle. With a few tools and a bit of marketing you can do this job on the week ends.
18. Pet walking is a great service if you are a work from home person. Take your work breaks and earn extra money by walking your neighbors dogs.
19.Craigslist or Ebay arbitrage is another clever money maker. Buy stuff and resell it at a profit. You may need to make some repairs, but buying and reselling either on line or at a flee market can net an ongoing extra revenue stream.
20. Work with Lyft or Uber in the evenings and pad your income. These sites allow regular folks to use their cars like taxis.
21. Sell your skills on Fiverr or Elance. The internet makes it convenient to match up freelancers with buyers. Like any other money making pursuit, expect to put in some prep time to make your listing stand  out.
22. Offer snow plowing, leaf raking, and yard clean up.
Step 4: Market Your Side Hustle Business
How to Get Clients and Jobs?
Create a killer job listing. Read other postings on Craigslist, Elance, Fiverr, and online.
Highlight what you have to offer, experience, and personal qualities that distinguish you from the pack such as honesty, money back guarantee, punctuality etc.
Don't skimp on this step.
Use multiple marketing platforms.
Post flyers
Create a local Facebook Page
List every day on Craigslist
For certain jobs, such as yard work and car detailing, put flyers in peoples doors. For furniture assembly, stick flyers on the windshields of cars in the Ikea parking lot.
Market every day by leaving flyers around and renewing and/or updating online job posting sites.
Don't forget about word of mouth. Tell your friends, relatives, and others about your side hustle. Don't be shy. Ask if they know anyone who might need your services.
Step 5: Persistence is the Key to Success
It's easy to get disappointed if you don't see immediate results. Don't quit before you begin. Expect that it may take some time before you get your side hustle business going. As you build up happy customers, they'll tell their friends and they'll tell their friends. Over time, you'll have enough  work to keep you going.
Give your side hustle idea several months to pay off. Keep yourself focused on a few ideas. If you attempt to follow too many money making paths, you won't have the time to give any of them a real chance of success.
How to Get Rich; Without Winning the Lottery
Write in with your side hustle money making ideas. What has worked for you?