The Best Ways for Teachers to Make Extra Money in the Summer
By staff columnist, Alexandra Deluise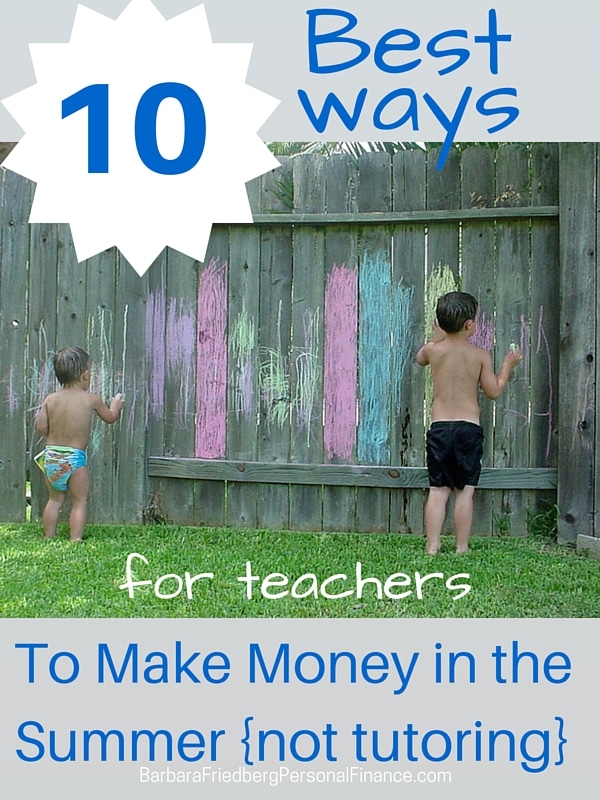 One of my favorite parts of teaching is summer break. After a year-long focus on my students (and all the connected work that comes along with them!), it's nice to take some time to myself to relax. Use these best ways to make extra money in the summer to shore up your bank account or save up for something special.
If you don't get paid during the summer, like some teachers (particularly adjunct college instructors) then take heed. Even with extremely careful financial planning, the summer drought can be painful without an extra source of income. For those teachers who are paid through the summer months, the summer can be an excellent time to get ahead on your financial goals by putting in some extra hours and bringing in new income. Regardless, I think all teachers should make an effort to bring in money during the summer, doing something that is not tutoring!
You may also like: 6 Tips to Increase Your Income
Work at a Seasonal Business
Many restaurants are reluctant to hire summer-only help, but restaurants with primarily outdoor seating or lively summer parties always been seasonal help. Since you both have needs during this specific timeframe, teachers can make money in the summer by filling in as servers and hosts.
Landscaping companies have a lot to do in the summer. If you're handy with outdoor tools, or have an eye for garden design, a landscaping company might be more than happy to gain an extra pair of hands. Of course this can be a very dirty (and sweaty!) job in the hot summer months, but at least you'll be getting your fair share of vitamin D!
 Easiest way ever to make cash! Get paid when you do stuff online with Swagbucks. My readers love to watch videos, take surveys, play games, and earn free stuff just by hanging out online. And for a limited time you get a free $5.00 sign up bonus!
Help Someone Sell a Home
Spring and summer are great times to prepare to sell a home. With the warmer weather coming, people are more willing to go out to look at homes, and may feel a nesting instinct brought on by spring cleaning. There are many ways you can capitalize on people's desires to uproot and move. These ways for teachers to make extra money in the summer, by contacting realtors or FSBO's (for sale by owners) is a great way to get bulk work.
This one connects to idea 2 above: get into landscaping! It's no secret that appealing houses sell faster than homes that look a little run down. A few flowers or well-placed shrubs can liven up a yard nicely. If you have an eye for that sort of thing, or know which plants fill in well, offer your services to realtors and sellers alike.
Likewise, the inside of homes can sometimes need help. The number of times I have passed by a home because of the terrible décor or cluttered rooms is very high – without proper staging, a home's best features can be overlooked entirely. Unless you want this to be a job that continues into the rest of the year, think small: some staging companies bring furniture to sellers, but you will want to avoid making purchasing or taking on supplies that will remain in storage most of the year. Use what the sellers own to accentuate the home.
When all is said and done, homes need pictures in order to sell well. Homeowners who would like to sell without a realtor may be particularly interested in this service. Of course, make sure your rate is fair for the quality of work you will provide. For an added bonus, type up home descriptions for listings!
Bonus-lazy make money idea! Be surveyed. Marketers are clamoring for your opinion. My favorite place for online surveys is InboxDollars. There's even a $5.00 sign up bonus now. Sign up here and start earning while you're watching tv.
Care for Children
As a teacher, my schedule will always coincide with my son's school schedule. Not every parent is so lucky! Many families need nannies and babysitters in the summer. These jobs can range from super easy ("just pick my child up from summer camp, feed him dinner, and we'll be home in 2 hours") to super intense (laundry, dishes, and cleaning may be part of an all-day nanny position). If you have your own children these positions may be difficult, but not impossible – some families may be willing to let your own children come along.
Summer camps are always looking for good, fun leaders to take care of children during the day. From the girl and boy scouts, to the YMCAs around the country, to more private (read: expensive!) camps, there is bound to be something that fits your area of expertise and preferred age range of students. For instance, since I teach college aged students, I find myself both expecting too much from elementary school kids. In small groups they're fine, but in large groups? I'll pass!
Capitalize on What You Already Have
I don't know about you, but I find that I rarely have a moment to sit down and evaluate my financial situation once the school year gets underway. Between essays to grade, readings to prepare, and tests to administer, it is very easy to become stagnant and settle for "good enough." The summer is a great time for teachers to reassess their investment portfolios. Since the money you invest can work for you all year long, spending the time to make the right choices during the summer is one of the most important things you can do.
Not too Fast (or Furious)!
Washing cars isn't just for the pros and kids – if you're willing to add waxing to your repertoire, you'll stand out from the crowd. While you can certainly have people come to you to save travel time (and wear and tear on your own vehicle!), offering your car washing services in the owners' driveways can also make your business pop.
If your own car is nice, clean, and dent-free, you can also sell advertising space on the outside. Businesses will pay for the privilege of sticking a banner on your car, and aside from the appearance of your car changing, you don't need to worry about anything else! This is passive income.
Bonus way for teachers to make money in the summer; Drive for Uber or Lyft. Work when you want and where you want.
Of course, tutoring or teaching during the summer is an option, but for many of us the summer is a time to relax and rest our minds. Burnout is easy to come by when we do too much of something, even if that something is our lifeline! I fully believe that your summer income should, whenever possible, come from doing something that you enjoy and find meaningful.
Staff columnist Alexandra DeLuise combines her banking experience with real-world financial advice to provide simple money tips to everyday people.