Start Building Wealth Now With the Best Investment Advice for Millennial Women
By contributing columnist,  Alexandra Deluise
Millennial women, we have a lot going on right now. We're fighting for equal pay while simultaneously facing difficult employment prospects, crippling student loan debt, and inflation that makes it tricky to afford having a family and homeownership simultaneously.
None of that is a reason to let our investments fall by the wayside, however. If anything, millennial women need to have even more resiliency and financial know-how than former generations. Since many of us graduated college or were in the early stages of our careers during the Great Recession, we are facing challenges the women of prior generations did not.
Bonus; Best Personal Investment Advice for Women
If you're not sure where to start, don't panic. We've compiled the best investment advice for millennial women right here so you can be sure your money is working just as hard as you are.
Read on for 5 tips to become an investor.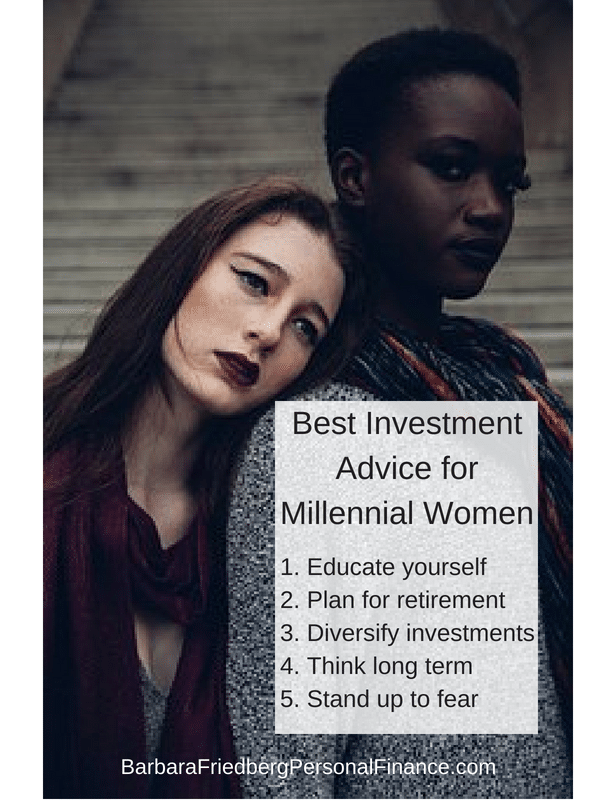 Tip 1: Educate Yourself (It's Easier than You Think!)
If you're worried that learning how to invest is going to be complicated, you're in good company. Lack of knowledge, perceived or actual, is one of the biggest factors keeping millennial women from investing. This puts them at a distinct disadvantage when compared to their male counterparts.
Many women do save money, of course, but they tend to keep their money in liquid or semi-liquid accounts such as money markets and CDs. These accounts have such little growth potential that Time Money estimates women on average have one million dollars less than men do upon retirement.
Shocking, right? To counteract this gap, I give you the best investment advice for millennial women (or anyone, really): educate yourself.
Quick read to get you started wealth building and investing – How to Get Rich; Without Winning the Lottery
A word of caution, though. Don't let the quest for knowledge keep you from actually investing. An afternoon of thoughtful Googling (or staying right here and perusing our blog!) can give you enough information to help you start investing today.
You can start educating yourself right now without even leaving this site. Get more of the best investment advice for millennial women here!
Tip 2: Start Planning for Retirement ASAP
The millennial age range is wide, but no matter where you fall you should be thinking about retirement now. Social Security is in desperate straits and gone are the days when the employer pension would cover all of your retirement needs.
The amount of money a millennial will need a retirement varies depending on where you look, but most credible sources quote around 1.5 million as a good benchmark, especially if you plan to live on roughly $50,000 per year.
There is proof that the earlier you start planning for retirement the better off you will be; however, starting late is much better than not starting at all! Don't let the charts scare or paralyze you into inaction. If you have access to a 401k at work, start maxing out your employer matching. If not, look to other retirement options such as IRAs. Every little bit helps.
Some of the best investment advice for millennial women includes finding a robo-advisor to help you with your retirement investments.
Tip 3: Diversify Your Investments to Balance Risk
Nobody likes to lose money, and sometimes it can seem like investing is just a gigantic gamble. We all know we can't predict the stock market, so why place our hard-earned money in something we can't control?
When I think about my best investment advice for millennial women, I have to include this tip: don't shy away from risk!
It is very safe to leave your money in a CD. It is also very unproductive from a financial standpoint. Even if you left $10,000 in a CD for a year, the current rates would net you somewhere around $250 in interest if you're lucky—many will bring in much less. You can make a lot more than that with other types of investing, but you do need to be open to the idea of risk.
Secret revealed; Warren Buffett's Best Investment Tips
As you learn more about investing, you'll realize that there are all sorts of investment risk options to choose from. A strong investment portfolio is a balanced investment portfolio, so familiarize yourself with some of the basics of investing before choosing a few, varied options.
Tip 4: Think Long-Term
You could get immensely lucky and buy stocks in the next Facebook or Bitcoin. More likely, however, is that you will need to play a bit of a waiting game. On the plus side, as millennials we have time.
Know that the market will fluctuate but having time before retirement will help you ride out these fluctuations. Some of the best investment advice for millennial women (or for others looking to make money on investing) includes taking the slow and steady route to growing wealth.
This is where millennial women definitely have the advantage. Although we are frequently cited as feeling underprepared to invest, we are also, on average, better at riding out the rough times in the market and waiting for the uptick. This patient and calm approach to investing can make a huge difference in our financial success.
Tip 5: Don't Let Fear Stop You
This is a big one. You shouldn't let fear make investing decisions for you.
Now, a healthy dose of skepticism and caution will go a long way in investing. You might not want to buy into the newest Initial Public Offering (IPO) because they have no growth history to research—even if everyone else is getting excited about the product this company sells. This is probably a good investment option to pass on.
Must read; Become a Millionaire in One Step
But don't let full blown fear keep your cash in the bank vault, either. Without some risk, it's unlikely you will see any substantial growth in your finances over your lifetime. Remember tips 3 and 4 as ways to calm your nerves. First, you should aim for a diversified portfolio so that some of your money is in higher risk investments, while other money is invested in low-risk funds. Second, remember that investing is a long-term strategy for building wealth, and don't run screaming after your first loss. Time is on your side.
Recap: The Best Investment Advice for Millennial Women
If you want to see your money grow, you need to try following the tips above: research and learn, start investing now, diversify your income, remember that you are here for the long haul, and avoid letting fear stop you from growing your money. Learn to become Zen with your money!
Let Ellevest – Robo-Advisor for Women – Help You Invest
If you were asked to share the best investment advice for millennial women, what would you add to this list?
Staff columnist Alexandra DeLuise combines her banking experience with real-world financial advice to provide simple money tips to everyday people.
Disclosure: Please note that this article may contain affiliate links which means that – at zero cost to you – I might earn a commission if you sign up or buy through the affiliate link. That said, I never recommend anything I don't believe is valuable.