Will You Have Enough Money to Retire? FinanSavvy Answers
Get the Answer – At What Age Can I Retire?
Are you interested in discovering whether your current lifestyle, savings and spending plans will leave with you enough money today and in retirement? Find out today whether you'll have enough money to retire.
Most of us strive to make better decisions when it comes to money.  "Better" can mean a lot of things. Yet, when it comes down to it, better means acting in a way that balances achieving the long term financial goals you care about the most, against quality of life today, all the while being able to pay the bills.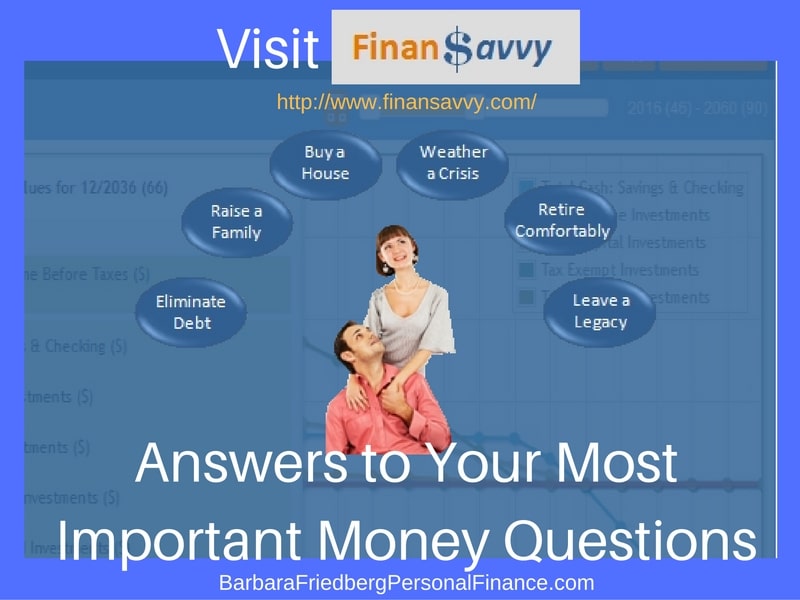 Meet the Jones-An Average American Family 
Jack and Jill Jones both work and have 2 children. The Jones' have a combined income of $140,000 and own their home. Jack and Jill are in their late thirties and the 2 children are 8 and 10. The Jones' want to help their children pay for college and still be able to retire comfortably around age 65.
Although the Jones' have $276,250 saved up in cash, stock and bond funds they don't know whether they're on the right path to meet their future financial goals. Jack and Jill are stressed and overwhelmed about finances. They want help, and don't know where to turn.
The Jones' don't trust expensive financial planners and are seeking a DIY tool to help him plan for tomorrow. We'll walk down a path to help calm their financial nerves with sound financial forecasting.
To break down the money questions let's look at the components of sound financial planning.
Budgeting helps you squeeze the best quality of life out of your spending today. Next, forecasting helps predict the future consequences of your financial choices today.
Create a Budget and Financial Forecast to Find Out if You Can Reach Your Goals
Here's how to create forecasts that will help you meet today's wants and needs along with your long term hopes and dreams. Now if you're an excel wiz, you can create a spreadsheet on your own. If not, you can try an online tool such as Finansavvy. Take a look at how Jack and Jill Jones' are using the free version to project whether their current spending, saving, and investing plans will allow them to help pay for their kids' college costs and retire in comfort.
The Jones' Questions: How much do I need to earn, save and invest to support my family, send my children to college and save for retirement?
The family starts off by looking at some financial projections. First we'll look at their assumptions, then we'll see the financial impact of their forecasts.
Jones' Family Income, Budget & Saving Projection

Jack + Jill combined annual income

$140,000

Annual income raises

2.5%

Annual budgeted spending

$85,000 (budgeted to increase 2.5% annually)

Savings (across various accounts)

14% of earned income
Now, let's take a look at what the Jones family presently has saved and invested.
Jones' Family Investments
 

Balance

Anticipated Annual Returns

Description

Income Investments

$30,000.00

3.50%

Returns Taxed as Income

Capital Investments

$50,000.00

4.00% Appreciation
2.00% Dividends/Income

Appreciation Taxed When Withdrawn. Dividends As Earned

Tax Exempt Investments

$0.00

3.00%

Returns Not Taxed

Tax Deferred Investments

$140,000.00

4.00%

Returns Taxed As Income When Withdrawn
Notice that the Jones' have $140,000 in their tax-deferred 401(k) accounts. They have an $80,000 investment brokerage account as well. Both investment accounts include stock and bond mutual funds.
Their budget looks like this: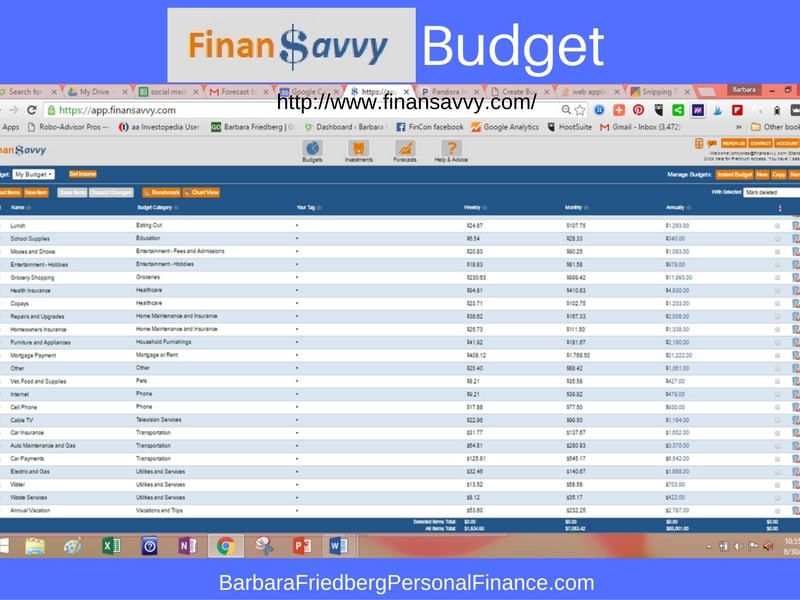 As Jill went through the budget section she consulted the Finansavvy screen that shows what a typical family spent in each category. This handy screen helped her assess whether her budget items were reasonable or not.
Forecasting Adjustments
After Jill created the budget, she went on to project the impact of prospective live events. These events include spending for the kids' college and retirement.
The Kids Go to College
In approximately 2026, the kids will go to college and the Jones remove $100,000 from their accounts to help pay for their college costs. Concurrently, they cut back their own spending, as their expenses drop with the children out of the house.
Jack and Jill Retire
In 2043, the Jones expect to retire. They'll be 65 years old and plan on maintaining their lifestyle. They'll fund their retirement with Social Security, savings and investments.
Finally, here's how their finances will hold up during their lifetime, given our prior assumptions:
At retirement, the Jones projected total assets equal $2,612,698. (While on the Finansavvy platform, just click on any of the points on the lines and you'll get an account value tally.) Notice how the lines representing their cash, income, capital, tax-exempt and tax-deferred investments gradually decline during retirement, as their income declines and they spend from their accounts during retirement.  Their forecast projects that the Jones' can fund their current and future goals until 2072, or well into their 90's.
The Jones family is confident that they can continue working, saving and spending according to plan. According to their forecast, they can help their children with college expenses and successfully retire at age 65.
Of course, during the ensuing decades, changes will occur. Fortunately, the financial forecast can easily be changed.
Your situation may be totally different than the Jones, and after spending a short time inputting your information into the Finansavvy free financial planning tool, you have your own personalized forecast. As your circumstances change, it's easy to modify.
Click here to try Finansavvy and find out if you'll have enough money to retire and meet your goals.
Why Finansavvy?
There are loads of free calculators and tools to help with "what if" planning. Yet, you want a forecast that you can believe in. That means, you want to be able to handle investment accounts, inflation, life changes and taxes. It's a certainty, that your life and finances will change during your life, so you want a tool that can adapt to your fluctuating circumstances.
Here are a few of the questions Finansavvy can help you answer:
Are you on track to meet your financial goals today and tomorrow?
Are you spending the right amount to enable you to meet your goals?
How does your spending match up with the national averages?
How are your investments expected to contribute to your ultimate goals?
How wealthy can you expect to become in the future?
Finally, give the Finansavvy web-based personal financial planning software a try for free. The quick start guides, available after registering on the site, will have you up and running in no time. Ultimately, the tool helps individuals and families make better financial decisions with powerful and easy to use Budgeting and Forecasting capabilities.