Robert Reich Bashes the 'New Sharing Economy'
What is the New Sharing Economy-And Why Should You Care?
After reading Robert Reich's article in the San Francisco Chronicle, "In New Economy, Workers Get Stuck with the Scraps" I felt compelled to dig deeper into "the new sharing economy". 
After a quick google search, I found out that the "new economy" means a lot of different things. In fact, there isn't just one definition of the new economy, but multiple ideas of what this concept means.
The Nation.com describes the new economy in Gail Aperovitz's "The New-Economy Movement" on June 13, 2011 as; 

"the movement seeks an economy that is increasingly green and socially responsible, and one that is based on rethinking the nature of ownership and the growth paradigm that guides conventional policies."

On the other hand, the Businessdictionary.com explains our new economy as;

"The idea that notable advances in information technology in the 1990's and beyond, and specifically the rise of the internet as a business medium, had changed fundamental economic rules. In the new economy, it was thought that former business valuation techniques were invalidated by the resulting fast changing business environment."

Investinganswers.com succinctly weighs in; 

"The new economy refers to the convergence of manufacturing, services and technologies to produce high value-added, technology-enabled, and adaptable industries."
And if those definitions weren't enough, Reich explains the new sharing economy in a different way.
Reich hones in and considers the 'new economy' a version of the 'share' economy.
Specifically he digs into the problems with the new upstarts such as Uber, Instacart, Airbnb, TaskRabbit, UpCounsel, HealthTap, and Mechanical Turks.
This component of the new economy consists of the solo-preneurs who use their own resources to deliver services and products, without the security and umbrella of the corporate structure.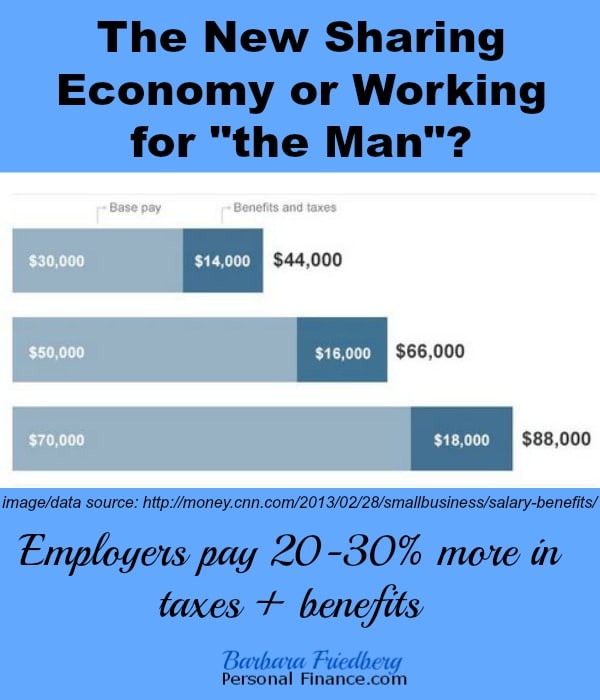 Who are Some of the Players in the New Sharing Economy?
Uber-Individuals use their own car's, as a taxi service.
Instacart-This start up promises grocery delivery service, in an hour.
Airbnb-Going on vacation? You can stay in someone's apartment or home, or you can rent out a room or apartment in your own home.
TaskRabbit-Website where users can outsource their errands to 'fully vetted' individuals, in their neighborhood.
UpCounsel-Online match making between clients and lawyers. Not "dating" match making, but legal services matching between potential clients and attorneys.
HealthTap-Online medical answers, advice, and guidance from real doctors.
Mechanical Turks-According to Amazon, this is "a marketplace for work that requires human intelligence."
Reich sees a scary trend in the new share economy. Instead of a 'share' economy, he calls it the "share the scraps" economy. 
The Dirty Down Side of the New Sharing Economy
Until I read this article, I was all in. How cool is it that you can cut transportation costs and hail an uber cab. Or skip the expensive doctors visit and get advice from a HealthTap doctor. Yet, as a personal finance freelancer, educator, and entrepreneur, I understand the criticisms. With a corporate job, the employer gives the workers a fair wage, benefits and a certain degree of job security.
What happens if the employer finds he or she can hire all workers as independent contractors with no physical work location. Overhead is slashed, costs plummet and profits skyrocket. All the while depriving the worker of a stable and secure living wage.
The workers in the new sharing economy, who are doing this type of work because they desire, but can't get a full time job are becoming shortchanged. They are working hard, "for scraps" as Reich alleges, while the company owners are cashing in. As more jobs are automated through technological advances, many workers are in trouble.
Imagine an uber driver who uses her own car. She has to pay the insurance, maintenance, and fees, all on an irregular income. Recently, Uber instituted a fare rate cut-great for riders, not for drivers. Is she working at this type of position because the administrative assistant job she ordinarily would have performed has disappeared? 
The New Sharing Economy-Good or Bad?
In another San Francisco Chronicle article on this topic by Carolyn Said, "Crafting Protections for Freelance Workers", she quotes Robert Reich,"In effect, on-demand work is a reversion to the piece work of the 19th century – when workers had no power and no legal rights, took all the risks, and worked all hours for almost nothing."
Is that statement too harsh? 
Consider the salaried employee, she receives health insurance benefits, employer paid payroll taxes, 401(k) administration expenses, office space, telephone, internet, low cost insurance and a variety of other benefits. These benefits, many of which the employee takes for granted, add up to real money. In fact, employers kick in an additional 20 to 30 percent of the workers salary for taxes and benefits. If your salary is $50,000, then your employer is probably paying upwards of $66,000 to hire you. And that figure doesn't include the fixed overhead costs to house you in the company digs.
It's tough for a freelancer to beat the salary and perks of a full-time (or even part-time) job.
Even if you make $25 bucks an hour as an uber driver, you still have your car maintenance, gas, insurance etc. to pay. Next, when you fill out your income taxes, you play 100 percent of your self employment income tax. You buy your own health insurance, work out of your own home office and serve as accountant, secretary, and worker.
So how much would it take for your freelance earnings to equal a comparable salaried job? Many numbers are thrown out across the internet. There are even a few calculators that attempt to quantify the comparison. But, there are so many factors to consider that it's a difficult calculation to make.
In general, there's some truth to Reich's claim that this new sharing economy may be a step backward.
Who does this type of sharing economy work benefit?
Students with irrregular schedules who are looking for a part-time job, which typically doesn't pay benefits, can prosper in the sharing economy. What about the stay-at-home mom or dad? This worker wants a side gig to pick up some extra change on the side. This might be a good hustle for them.
For the worker who's looking for a full time income, the new sharing economy has some considerable drawbacks.
Before you leap into the new sharing economy employment, consider whether a salaried job might be a better economic choice.
Now for the consumer, it's nice to be able to take a Lyft cab at a discount, or get someone to do your shopping and errands for you.
Action Tip-Make Money Surfing the Net
Warning-you won't get rich surfing the net but…. 
Swagbucks rewards you (you earn points called SB) for taking surveys, watching videos and even playing games. (There's even a $5.00 sign up bonus now). If you're going to waste time online, why not get paid for it?
You earn real money with InboxDollars. There are lots of ways to make money online; play games, shop, surf the net, redeem coupons, read magazines, and my favorite, take surveys. InboxDollars rewards you with real cash, not gift cards. Sign up here and start earning while you're watching tv. Sign up now for $5.00 sign up bonus.