DOES DRIVING A NEW CAR PREVENT GETTING RICH?
One of the  most popular articles on this website is How Trading in a Car Every 2 Years Makes Good Financial Sense. It's ironic that this is such a popular article, as my husband's "new" car is a 2003 with 90,000 miles on it. My car has almost 120,000 and is still in great condition.
That article talked about a man I met who valued driving a new car. In fact he preferred to drive a new car over taking a vacation, eating out, and almost all other indulgences. He wasn't at all reckless, in fact he owned his own condo, had minimal debt and lived within his means.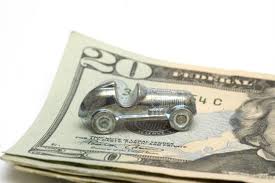 YOU CAN DRIVE A NEW CAR AND STILL BECOME WEALTHY
I heard a woman CEO bluntly state that women can have it all, just not at one time. That statement epitomizes how to live well now and become wealthy later. You must decide what is most important to you. Very few people can afford to buy whatever they want. If you want a new car, it's likely you'll have to cut back somewhere else.
Life is all about choices and trade-offs. Even folks looking for an expensive apartment to buy in NYC, can't get everything they want. If you want to eat dinner out frequently, you may not have the cash to take a Hawaiian vacation. If you value buying season tickets to the pro football team,  you may not have the cash left over for an iPhone. My uncle Joe and his wife bought new cars and traded them in every six or seven years. In order to afford the cars, they ate out infrequently and when they did go to a nice restaurant, they split a meal.
GET WEALTHY BY MAKING TRADE-OFFS
The way to become wealthy is to separate your most important priorities, from items you can give up or buy later. I don't care what I drive. In fact, I'd be content never to buy a new car, I resent paying for the inevitable high priced car insurance coverage that goes along with a new vehicle. By spending the minimum on our vehicle expenses, we can afford to save, invest, and take nice vacations. I also indulge in frequent visits to the salon as my splurge :).
YOU SHOULD TRADE IN YOUR CAR IF:
You value and appreciate the experience of driving a new car.
You are willing to cut back spending in other areas so that you can afford a new car.
You aren't carrying lots of debt and can afford a new car.
You can sell your old car yourself (and get a better price than you would from a dealer).
You can negotiate an excellent price on the new car.
You can afford to save for the future and still purchase the car.
If trading in your car for a newer model makes good financial sense, then enjoy it! If you can't swing it financially right now, save up in other areas so you can buy a new car later.
Make the decision whether to buy a new car rationally and remember, every decision you make involves a trade-off.
What are your thoughts about trading in a car? Do you like to drive a newer car?
image credit; google images adamgoldfein.com
a version of this article was previously published