Top Money Podcasts
 Podcasting is the new radio. Decades ago I searched the radio airwaves for money and investing shows. While working at San Diego State University in the 1990's I hungrily consumed an investing show on my drive home from work. I wished there were more radio shows to listen to. At the time, I was young and hungry for personal finance and investing information. Today, the podcast waves are filled with money, investing, real estate and personal finance shows. Some offer guests, others are topic focused. There's a wealth of great financial content. Today, I'll highlight some of my favorite top money podcasts.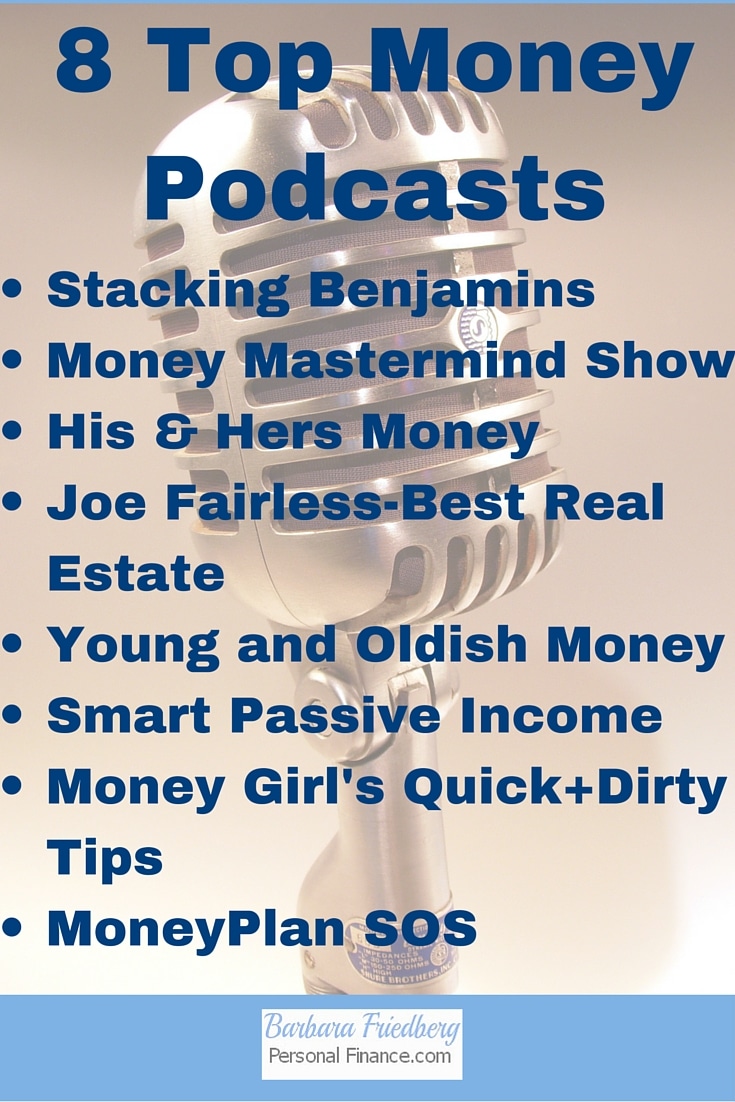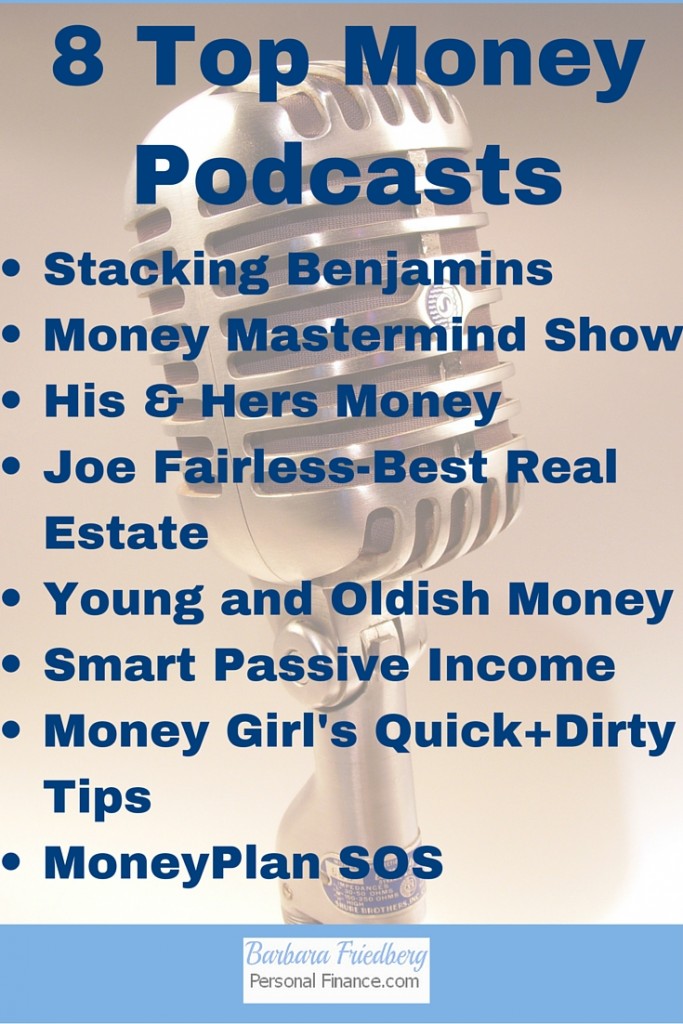 1. Stacking Benjamins 
Stacking Benjamins-Come for the music, laughter, and fun-stay for the superb money, investing, and personal finance content. I've been a periodic guest on this show and in spite of that, I'm still non-biased. Host Joe Saul-Sehy  comes with  top notch guests; Tess Vigeland, Ric Edelman, Michael Kitces, Hal Elrod, Bobby Monks, Justin Jaffee and many more. 
"Live, from their parent's basement….a quirky mix of "A List" guests such as David Bach, Jean Chatzky, Sharon Lechter and Ric Edelman and offbeat ideas you've not yet discovered. Stacking Benjamins discusses current financial trends, statistics and techniques in a magazine-style format. Hosts Joe & OG are joined weekly by award-winning top financial writers." ~iTunes
>>>>Bonus Content: How to Subscribe to a Podcast>>>
2. The Money Mastermind Show
Money Mastermind Show-This show is hosted by a flock of seasoned money writers; Glen Craig, Kyle Prevost, Miranda Marquit, Peter Andersen, and Tom Drake. Not only do they podcast, but they also video chat on google hangouts. Each of the hosts welcomes additional guest to riff on a variety of personal finance topics.
"Interesting takes on the money issues that impact us all. Learn how to manage your money, and listen to lively discussion from experts and special guests on the financial topics of the day."~iTunes
3. His & Hers Money
His & Her Money-Tai and Talaat are top notch podcasting pros. They prep their questions and discuss financial issues that hit us all.
"In this podcast, we equip you to find the balance between managing your money, you marriage and everything in between. We are on the journey to financial independence, and this podcast serves as your ticket to take this ride too. Our goal is to help each one of you to build wealth, and become completely debt free! We discuss numerous personal finance topics such as debt elimination, money saving strategies, budgeting techniques, credit repair, investments, and much more. It's not just about money though, we also tackle topics that are built to build powerful family structures such as, organization skills, time management, faith, and so much more!"~iTunes
4. Joe Fairless-Best Real Estate Investing Advice Ever
Best Real Estate Investing Advice Ever with Joe Fairless– Joe is so generous and warm, I'd listen to him even if you don't care about real estate! Here's what you're in for when you listen:
"Are you ready for the best real estate investing advice EVER? Join Joe Fairless as he talks to successful real estate professionals and they give you their best advice ever with none of the fluff. Joe controls over $21,000,000 in real estate but started with $0 in 2009. He went from buying single family homes worth $35,000 and moved up raising money and buying large apartment communities with investors. He has made mistakes, money and friends along the way. So click play now and see why this is one of the top investing shows in iTunes!"~iTunes
5. Young and Oldish Money
Young and Oldish Money-Okay, please stick with me as I shamelessly promote Bobby Lee and my new finance, investing, economics, and tech podcast.
"Young and Oldish Money is created specifically for you with banter about money, investing, saving, debt, economics, tech and fun! Your young and old-ish hosts, Bobby Lee and Barbara Friedberg, successful financial pros, promise entertaining, hilarious and informative conversation about financial topics. You'll walk away with inspiration and actionable tips to increase your net worth and life satisfaction." 
6. Smart Passive Income
Smart Passive Income-Pat Flynn is the real deal. With millions of downloads and followers he strives (and succeeds) at sharing his money making strategies with the listeners.
"Pat Flynn from The Smart Passive Income Blog reveals all of his online business and blogging strategies, income sources and killer marketing tips and tricks so you can be ahead of the curve with your online business or blog. Discover how you can create multiple passive income streams that work for you so that you can have the time and freedom to do what you love, whether it's traveling the world, or just living comfortably at home. Although Pat confesses he is not a millionaire, he's been supporting his family 100% with passive income generated online, easily earning a six-figure salary while working only a few hours a week."~iTunes
>>>Listen to How to Multiply Your Money Podcast Episode>>>
7. Money Girl's Quick and Dirty Tips
Money Girl's Quick and Dirty Tips for a Richer Life-Laura Adams shares bite sized money, investing, and personal finance tips. I really enjoy these practical tips and there's something here for everyone. Great for a quick listen on the go.
"Money Girl provides short and friendly personal finance, real estate, and investing tips to help you live a richer life. Whether you're just starting out or are already a savvy investor, Money Girl's advice will point you in the right direction."~iTunes
8. MoneyPlan SOS
MoneyPlan SOS -Veteran podcaster Steve Stewart shares his home spun money advice. Steve offers approximately 200 episodes with inspiring interviews and information to make your life richer.
"A podcast devoted to helping the average American who wants to become rich. This podcast is for those who feel they can do better with money but just feel that they are too out of control or just don't know the RIGHT way to pay off debt, save for retirement or kid's college, and life a debt free life. Everyone needs to pay attention to their money and this is the show that will not speak to you in $10 words and injects some entertaining topics and segments that show the host is really just as normal as the listeners. What's that you say? You're too old, middle-age, young, or broke to save money? Learn some of the common-sense financial principles that your grandparents followed, they still apply today."~iTunes
There are many more superb money podcasts with new shows launching every week. Podcasts are a great way to be entertained and learn, while you're exercising, driving, or folding laundry. 
Other Top Money Podcasts Lists:
US News and World Report-Smarter Investor Blog-9 Podcasts That Will Teach You About Investing
GoBankingRates-Best Financial Radio Shows and Podcasts
U.S. News Money-Top 15 Personal Finance Podcasts
Ready for Zero Blogo-Top Financial Podcasts for Millenials
Disclosure; I have been a guest on several of these podcasts.