Can You Benefit from Cyclical Investment Markets?
In today's market, a short term interest rate of 1% is highly coveted and difficult to find. The annualized 10 year total return on the S & P Market index of 7.60% during the last ten years is 2% below the historical returns of the 1928-2014 time period. In spite of the juicy market returns of the past 3 years, you may wonder, where are the average stock market returns of 9%?
What happened during the first decade of the new millennium to bring down returns and can you benefit from cyclical investment markets?
Here's a taste of some of the global events that impacted stock market prices:
Recession
Mortgage Meltdown 
Sub Prime Lending Crisis
European Debt Crisis
911
Wars in the middle east
Growth of China as a major world competitor
There are always outside forces that play on our economy and investment returns. These forces are called systematic or market risk. This risk is unavoidable and plagues all market participants. No matter how diversified your portfolio is, you cannot avoid systematic risk.
Read more; Is Buy and Hold Finished?>>>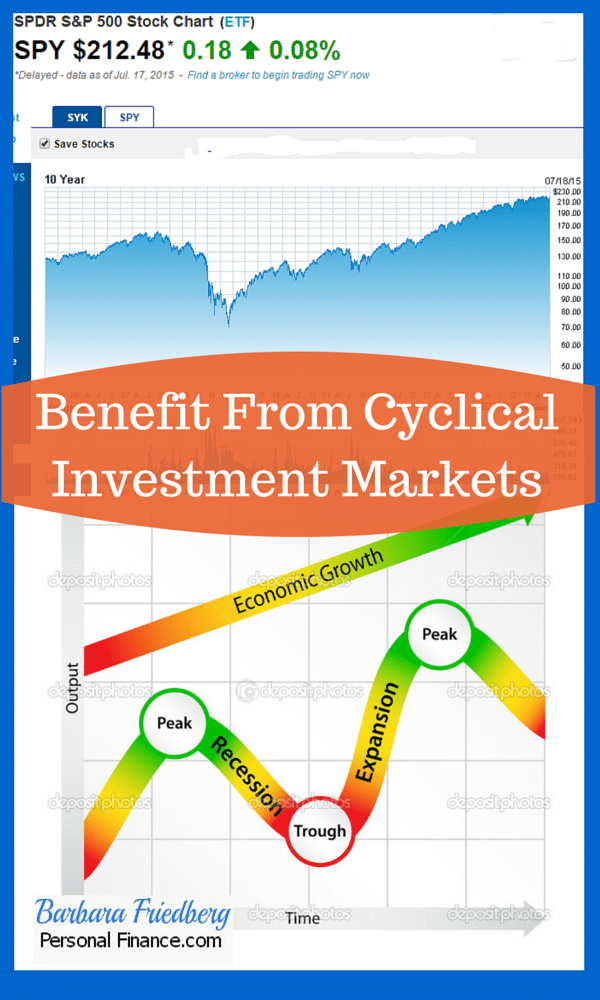 What is an investor to do about the cyclical investment markets?
In reviewing the stock market returns from 1928 to 2014 one could assume that rates went smoothly upward at 9.6% per year. Actually, that average hides a bumpy road. Returns on stocks over that time period ranged from annual double digit losses to annual double digit gains. Growth in investing is fraught with ups and downs. Not unlike life itself.
[button link="http://forms.aweber.com/form/87/2066025387.htm" type="big" newwindow="yes"] Click here for Free micro book-How to Invest and Outperform + Wealth Tips Newsletter [/button]
Is There a Pattern to Economic Growth and What it Means for You?
Economic growth typically follows a path that looks a bit like a roller coaster, with gradual increases, leading to a high point of strong economic growth, followed by slowing GDP and usually a recession. This type of growth is certain, where the mystery comes in is the "when". Cyclical growth is a given; but when the trend changes is unknown. 
 This pattern means several things to investors. Investing is a long term endeavor. Don't even think about investing any money you will need within the next 5 years in the stock markets. Stock market returns are way too volatile for short term investing. Knowledge of market behavior will help you stay the course during market fluctuations.
Once you understand that the ups and downs in economic and investment returns are normal occurrences, you can learn not to be  surprised when the market tanks for a year or so. In fact expect that every few years, there will be a year with negative stock and/or bond returns. Accept the market cycles and you can benefit from cyclical investment markets.
Accept Ups and Downs in the Market as a Reality and Profit
As an investor here is a simple plan to stay the course.
1. Choose an asset allocation you can live with.
2. Select diversified low cost index funds from a range of asset classes for your investment portfolio.
3. Contribute regularly to your investment account during market ups and downs. In fact, contributing assets in a declining market yields the greatest rewards.
4. Look at how much money you can amass over a few decades of regular investing. Invest $4,000 per year from ages 25 to 65 in a diversified stock index fund with an average annual return of 7.5% and retire with close to $1,000,000.00. Regular investing over time yields great rewards. 
[button link="http://amzn.to/1Hh1ZpB" type="big" color="teal" newwindow="yes"] Start NOW investing in the stock market to build long term wealth. It's so much easier than you think![/button]
Following are some of my older and newer investing articles across the blogosphere;
Women's Money Week
The original version of this article was published for the 2012 Women's Money Week. The lessons still hold true today.
Women have historically been laggards when it comes to finances and WomensMoneyWeek.com encourages women to speak up about money, take control of our finances, and reshape our financial future. 
Following are a few of the blogs that participated in Women's Money Week 
Monroe on a Budget
Moola Saving Mom
Mortgage Free By 30
Mrs. Nespy's World
Ms. Money Savvy
Mummy Deals
Musing of an Abstract Aucklander
Musings of a Midlife Mom
My Dollar Plan
My Journey to Eliminate Debt
My Money and My Life
My Open Wallet
My Pretty Pennies
ND Chic's Cents
Newlyweds on a Budget
Next Stage, The: Women and Retirement
No More Sheeple
No More Spending
Northern Cheapskate
Northern Living Allowance
Not a Coupon Queen
Not Made of Money
November Sunflower