Alternative Ways to Make Money At Night & On Week-Ends
Disclosure: Please note that this article may contain affiliate links which means that – at zero cost to you – I might earn a commission if you sign up or buy through the affiliate link. That said, I never recommend anything I don't believe is valuable.
With Amazon, eBay, OfferUp, Craigslist and other resources, it's easier than ever to make money at home with a store. It's rare to learn not only the mechanics of the at-home business, but also the secrets to drive traffic to your new business. 
Many of us have full-time jobs, which is great, but there are some potential problems with that. Perhaps your full-time job doesn't quite pay all the bills each month. Or, have you ever considered what might happen if you got laid off? I know it's terrible to think about, but it happens every day, so you need to be prepared.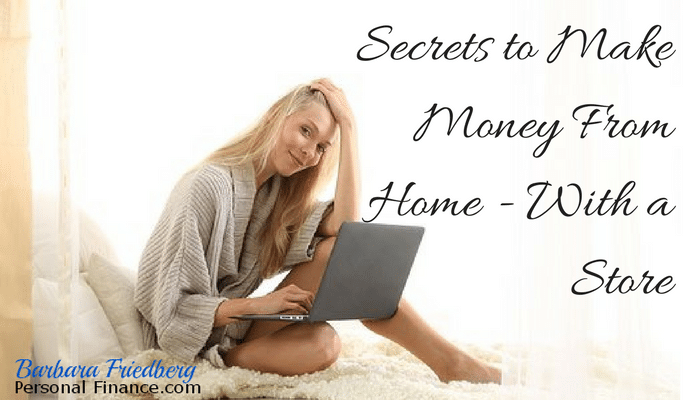 One of the best ways to prepare for the unknown is to diversify your income. 
In other words, don't just depend on your one job for survival (and if you're married, certainly don't depend on both of your incomes to keep your heads above water). For the couples with kids, these are nice part time gigs for the primary caregiver.
In fact, for several decades, my spouse and I have created various income streams and side-jobs. Some side hustles have earned us more than others, but these additional jobs offer both security and more money. A secret to your side job is doing something that you like. That way, it's more fun than actual work.
Bonus: Visit our Money Making Portal >>>
Is Making Money With a Store Another Job?
Some people are absolutely wiped out after 40 or 50 hours of work per week and just couldn't imagine working an extra job in the evenings or on the weekends. But, your extra income source doesn't necessarily have to be another job, it can be a home business or online store that you work on in your spare time.
The Online Store
With today's online store opportunities, you don't necessarily need to own inventory outright. There are several methods to sell online and make money at home, with a store.
1. Sell on Your Own Website or Ebay
Consider an online store with high margin products. The margin is the percent you keep after paying for costs. Use Ebay or your own website to sell your product.  For example, sell a $50 product and keep $25, and you have a 50% margin. This way you don't have to spend every waking moment packing and shipping products out of your garage. The ideal product will most likely cost your customer a couple hundred bucks and you'll only have to ship out 20-50 per week. If you earn just $50 on each item and you're selling 50 per week, that means that you'll be earning $2,500 each week, or $10,000 per month! Obviously, you need to find a product that meets these criteria and then set up your store.
Your own website can be a cornerstone for your online selling business. And it's cheap and easy to set up your own website. I recommend Blue Host and can offer you a special $3.95 per month hosting opportunity. (Just click on the link for the offer) The company is well respected and your monthly fee includes:
A free domain
A free site builder
A one click WordPress installation 
24/7 customer service
I'd be remiss if I suggested this is easy money. You face competition and it takes a bit of time to get up and running. Expect, as in any business, that there will be a learning curve and you will need to do some research. Expect 6 months to a year of set up and marketing activity before you see a significant return. Realistically, after the initial set up is done, and a marketing plan is implemented, there's an opportunity for a decent payoff for a part time gig.
2. Affiliate Selling on Your Website
I sell certain items on this website and then collect an affiliate commission. My Wealth Shop earns a few bucks every month when someone shops on Amazon after clicking on one of our wealth building products. In fact, you can sell anything from Amazon with your own affiliate sign up link and even if someone visits Amazon to look at the product you're selling, and ends up buying another item, you get a commission. The Amazon affiliate commissions are low, although there are folks that sell in volume and make a nice income. There are other affiliate programs that offer more generous commissions. CJ Affiliate, formerly called Commission Junction is one of the more popular affiliate sites on which to find products to sell.
In order to make money, you need to drive traffic to the website and the affiliate products. There are many ways to do this. One strategy is to write honest reviews or discuss certain products, include your own personal affiliate link and when someone buys, you get a percentage of the sales price.
3. Online Store Selling-The Easy Way
Tom Smale wrote about the Fulfillment by Amazon (FBA) program in a recent Entrepreneur Magazine article. In this online selling model, you sell the products and Amazon packs and ships them. Amazon will even provide the customer service for the products. And the products are eligible for Amazon Prime and free two-day shipping benefits. Amazon claims the fees are reasonable with their pay as you go model.
This way, you can build your own business without turning your garage or storage unit into a mini-warehouse and spend your spare time packaging and selling items. Amazon does all that for you. Another cool feature of this money making model is that you can brand the items to improve the value of your business. You'll seem like a big company, with a broad range of products. My spouse is a sports memorabilia collector and buys many items from individual online sellers through their Amazon programs.
To get started, you create an Amazon seller account and sign up as an individual or professional. The program is free for individuals and low cost, $39.99 plus selling fees for a professional. Of course, building your inventory will require start-up capital. Read more about the Amazon FBA program on their site.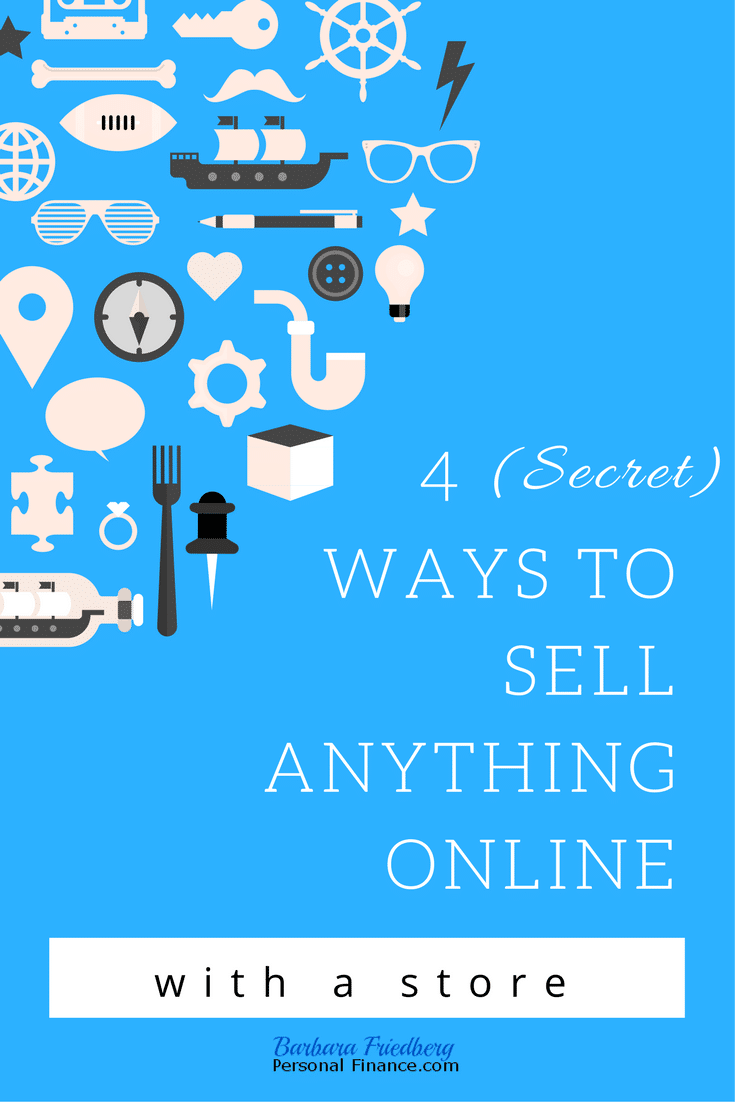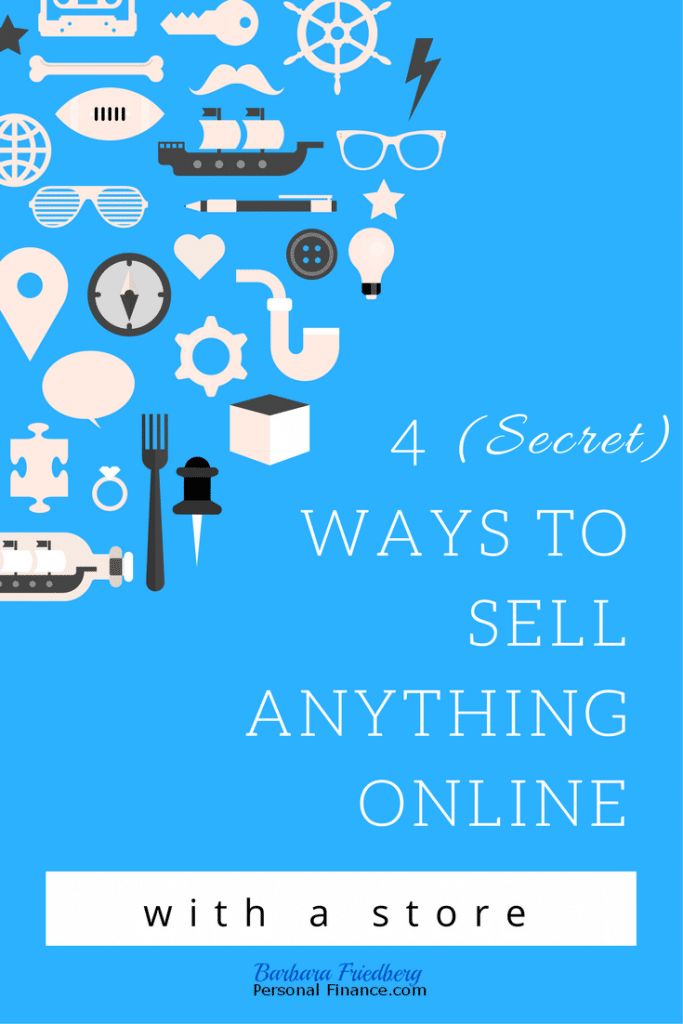 4. Make Money With Sales Arbitrage
Although not technically, a way to make money from home with a store, this lucrative opportunity just might be worth getting off the couch for. From scouring flea markets for treasures to spruce up and resell, to getting free stuff from Craigslist and selling it, there are many ways to make money with sales arbitrage. If you buy right, you can purchase something on eBay or Etsy and resell it on Amazon for a higher price, without doing any additional work.
Consider boosting your furniture refinishing skill to make a killing. This task takes skill, but with some practice, anyone can create a money-making side business by redoing furniture and other objects. And, the profit margins on this strategy are unbelievable.
Here's what you do. Peruse garage sales and keep your eye out for old furniture. For the most part, most people don't want to buy this stuff because it just looks outdated, so you can frequently get it for a steal. Then, refinish it with a darker color or paint it a bright hue to make it look more modern. The result is a good quality vintage piece of furniture. Scour Pinterest for DIY ideas and strategies.
You can turn a chair from drab to fab. To recover a seat cushion, all you need is some fabric and a staple gun. I did this with a chair I had from my youth, and the new fabric made the old chair look amazing. 
Then resell these items on Craigslist or with the OfferUp App and keep the profit.
The Inside Story of Ways to Make Money From Home With a Store
These aren't easy money strategies or ways to make a fortune overnight. Like anything worth doing, it's going to take some effort, study and practice to succeed. Unless you happen to be very lucky, you won't be raking in the dough immediately. 
Following are some secret tips and strategies to boost your learning curve.
Search for products that are popular, easy to sell, higher margins or from a specific niche. Use keyword research techniques to find ideas for less competitive items to sell. I just purchased a subscription to Keyword Finder and it's really easy to use. And if you want to try it out, they also have a free version. I read the tutorial and then came up with a keyword that wasn't too popular. That way people can come to an article, learn something important and buy with my affiliate link. It's important to find less popular keywords, so your store, article or site will rank higher on Google.
Use all of the free tools and information on the Amazon website. They want you to be successful, because if you make money, so do they.
Only sell items or affiliate products that you believe in. Be genuine with your reviews and descriptions. And always disclose when you're including an affiliate link, it's required by the FTC. 
Bonus; How to Make More Money With Your Own Business >>>
A version of this article was previously published.
What are your top side hustle money making articles?