How to Decide Whether to Hire a Financial Adviser or Manage Your Own Investments
When you see your financial statements do your eyes gloss over? Are you perplexed by the myriad of available investment choices? Are you really busy and don't want to spend any free time on investing? Are you interested in professionally managed funds?
If you answered yes to any of those questions, then you may need a financial advisor.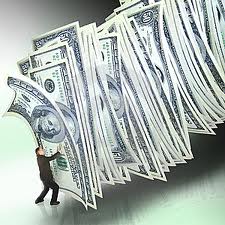 How to Manage Investments on Your Own
My personal bias is that most people who have a modicum of interest can read a book or two, learn index fund and asset allocation basics and manage their own investments. For those who want to give it a try, here's the bare bones method to painless money management.
1. If available, sign up to contribute as much as you can to your workplace retirement fund. If you don't have one, open an account at a discount broker such as Fidelity, Vanguard, Charles Schwab, or TD Ameritrade.
2. Choose a target date retirement fund and start contributing a set amount monthly. This is a fund which takes into consideration when you expect to retire and adjusts the percentages allocated between stocks and bonds so that the fund becomes less volatile, the closer you get to retirement.
3. Any cash you will need for short term purposes (1-5 years), invest in Government I (inflation) bonds.
4. If you want a bit more investing direction, check out The Elements of Investing (Malkiel and Ellis) or How to Invest and Outperform Most Investment Pros (free – sign up required).
Still not sure about going it alone of hiring an adviser? Read on and critically evaluate your choices.
What does a Financial Adviser do?
There are countless varieties of financial advisers with many types of designations. Retail brokers, not to be confused with a "fee only financial planner", sell investment products and are compensated by commission on the sales. They only get paid when you buy or sell a stock, bond, mutual fund, ETF, or other financial product. An investment broker has an inherent conflict of interest as he or she only gets paid when you make a transaction.
Independent, fee-only advisers manage investment funds and are legally required to act as fiduciaries to their clients, according to Dan Goldie, co-author of The Investment Answer. This adviser holds your funds in an account with a third-party custodian, with the advisor only having limited authority to manage the account. The adviser manages your account to grow and is usually paid a percent of assets under management. That way, your interests are aligned with those of the adviser.
How do I Choose a Financial Adviser?
Let's assume you decide you want to engage a financial adviser. Here are some general guidelines.
1. Check his or her credentials and make sure the adviser has a well know designation such as Certified Financial Planner or Personal Financial Specialist or Chartered Financial Analyst.
2. Ask friends for referrals.
3. Understand how the adviser is paid. Fee only usually means the adviser is paid a percent of the money he or she is managing. Thus, if you do well, the adviser does well. Some advisers may charge for a particular service, such as creating a financial plan. Be aware when advisers are paid by commission and only get paid when they sell you particular investment products. I believe this sets up a conflict of interest as the adviser may be more interested in selling high commission products (ie proprietary mutual funds and annuities) and less interested in low commission index funds. Do not be afraid to thoroughly question the adviser.
Bonus: Financial Planner v Robo-Advisor v DIY Investing – Which is the Right Choice?
4. Be clear on what assistance you are looking for. Ask the adviser about their services and make sure what they offer matches up with your needs. Some advisers are actually insurance salespeople or financial services sales people with their own agendas. Be critical.
5. Do not be impressed with returns and fancy charts. Look under the surface and always find out how the managers returns' compare with unmanaged benchmark indexes. For example if the S & P 500 stock index goes up 12% in one year and your adviser touts her one year 12% return, you need to know that the advisers return is in line with that of a low fee index mutual fund.
5. Interview at least three advisers before choosing one. Ask to see their credentials. Check out the adviser with the Better Business Bureau.
6. Be aware that hiring an adviser is not a set it and forget it proposition. You need to check in and monitor the advisers progress and know about the investments he is choosing and how their returns compare with those of comparable unmanaged benchmarks. You need to understand the adviser's strategy and make sure you are comfortable with the investments she is choosing.
Only you can decide whether you need a financial adviser. Personally, spending a few hours educating yourself about index fund investing and setting up an automatic transfer of your salary into a retirement account can lead to long term wealth. Investing isn't that complicated and simple is usually better.
What are your experiences with a financial adviser? Or, do you manage your investments on your own?
image credit_google images_exchange virtual currency.com