5 Life Insurance Mistakes Retirees Make (That Cost Them Thousands)
Life Insurance Mistakes in Retirement
By, Chris Huntley
Life insurance mistakes in retirement are common. And they are easy to fix. Learn how.
Don't let Alex Trebek be your insurance agent.
Don't avoid insurance if you're in ill health. 
Use a full-service insurance broker.
As you're dealing with life insurance in retirement, the wrong move can cost you thousands of dollars.
…and unless you have a massive pension or other retirement accounts, those are mistakes you simply can't afford.
To help you make the right choice with your life insurance needs, here's a list of the top life insurance mistakes retirees make and how to avoid them.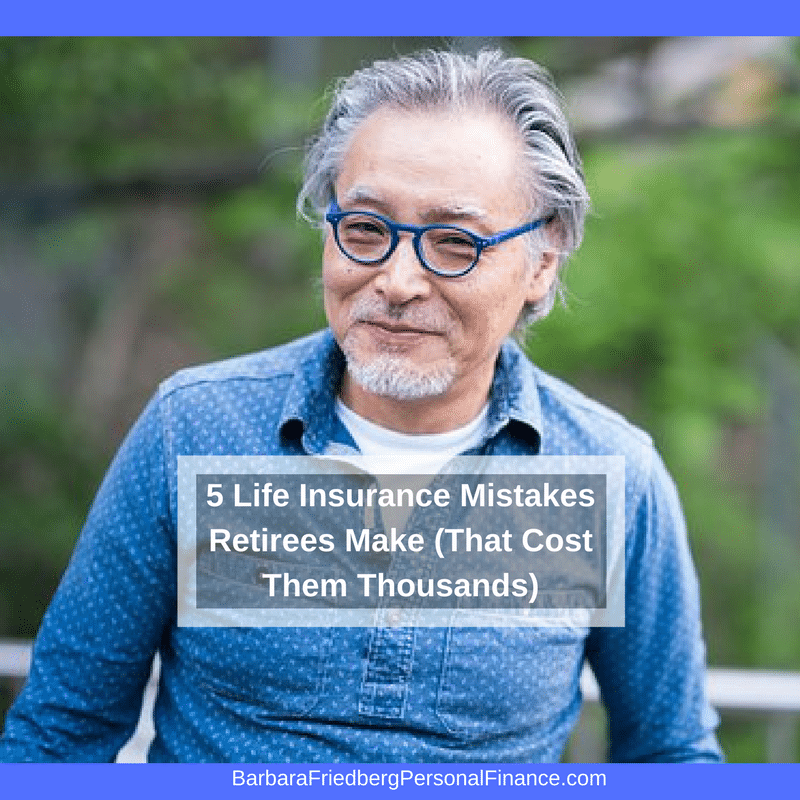 1. Retirees avoid life insurance entirely.
You might think you're too old to get life insurance or it's too expensive.
To be fair, I understand where you're coming from. For example, maybe you had a job where they had an age limit on their group life insurance policy.
Or maybe you had or have had a health condition that would have disqualified you 20 or 30 years ago.
…the good news is that you're likely wrong.
There are several insurance companies that specialize in insuring people with a variety of health conditions, from diabetes to stroke and even a history of heart disease. And some of these companies offer policies up to age 85 or older.  
As far as affordability, I've got even more good news.
Life insurance companies know that it's harder to maintain health when you're older. Because of that, they're a bit more lenient when deciding which health class you qualify for.
Working with an independent life insurance agent, you'll have greater access to a wide selection of insurance companies that offer these features.
2. Retirees buy whole life insurance.
If you've had a whole life insurance policy for a long time, it may be appropriate to keep it. But buying a whole life insurance policy if you're over age 55 isn't a good idea.
…that's because in a lot of cases, it takes 10 years just to break even on your premiums with the cash value.
And it takes 20 years or more for the cash value to actually start making real money.
Not worth it.
That said, you might still have a permanent life insurance need. For example, you might want to support a charity, or you have an estate tax problem that you want to have covered.
In these situations, check out a "guaranteed universal life insurance" policy instead. These types of policies offer permanent level coverage for the fraction of the cost of whole life.
In other words, it's a no-brainer.
For many seniors, a simple 10 or 20 year term life insurance policy will do the job fine if you're still working part-time, or need the insurance to fill the void left until your mortgage or other debts are paid off.
3. Retirees buy from their 'local insurance agent'.
Everyone has their insurance guy or gal that they've been working with for years, or even decades. These big property and casualty insurance companies also have a lot of insurance products so that you can keep everything under one roof.
When it comes to life insurance, though, these companies can't offer you the same kind of selection that you can get with an independent agent, because typically these home & auto agents are "captive" to sell only one company's policies.
That means two things:
You won't get the chance to compare prices to get the best deal.
You may not get a chance to find a company that offers specialty life insurance for your needs.
That's because there's only one company from which to choose. And when you have specialty needs, you need a specialist.
4. Retirees buy from Alex Trebek.
You may have seen the advertisement on TV: Colonial Penn spokesman Alex Trebek talks about a life insurance policy with a "rate lock."
…in other words, it's a whole life insurance policy, which isn't anything special.
According to the ad, coverage options "start at just $9.95 a month." Not bad huh?
Think again.
What the ad doesn't say is that's $9.95 per unit, and the value of a unit can vary depending on your age and gender.
For example, a unit for a 65-year old man is worth $932 in coverage. But a 65-year-old woman would get $1,333 in coverage for that same price of $9.95 a month. And if you're a 75-year-old man or woman, you'd get $560 or $792 worth of insurance for $9.95 a month, respectively.
If you're still relatively healthy, that's an extremely expensive policy.
The ad also promises guaranteed approval with no health questions. Again, sounds great, right?
But look deeper…
What this means is that it's a no-exam insurance policy. If you have major health problems that would bar you from getting insured elsewhere, a no-exam policy might be worth considering.
But since no-exam policies are always more expensive than policies that require an exam, you could be losing money from the start if you can qualify for a policy elsewhere.
Even if you're not healthy, this type of policy should be your last resort.
5. Retirees give up their 'unneeded' insurance policies too soon.
If you have an old permanent life insurance policy (whole life, universal life, etc.)  that you don't think you need anymore, don't give it up quite yet.
Maybe you've accumulated enough assets that you'd be fine without it. Or, your beneficiaries are well off enough that you don't think they need it.
…either way, there are a couple of options to think about first, and they both involve other people paying your premiums.
First, there are companies out there like AllFinancial Group that can help extend the life of your policy without any extra costs on your part.
Essentially, the company offers to make payments for you for a period of time in the form of a loan. In exchange, if you pass away during the loan period — say five or seven years — the death benefit on the policy pays back the loan with interest, and the remainder goes to your loved ones.
So, your beneficiaries still get some money, and you got rid of your monthly premiums.
If you don't die by the end of the loan period, you have to pay back the loan. You can do this by simply handing over the policy to the company. In this case, you were going to cancel the policy years ago anyway, and you got a few extra years out of it for free.
If your health isn't doing so hot, though, and you think you might need that policy now, you can consider refinancing the loan.
Then, your loved ones can use the death benefits to pay it off after you pass away. With this option, they still get some money, and you just had to make some loan payments.
The second option is to go to your family for help with your premiums.
…after all, they're the ones who are the beneficiaries of the policy.
So it may be worth it to them to make the payments and get the "return" from the death benefit. I know, it's a bit morbid to think about it. But again, your loved ones get the money, and you get rid of your monthly payment.
Life Insurance Mistakes Wrap Up
Life insurance can still be a big part of your financial plan when you're in retirement. But if you make the wrong decision, you could end up losing money without knowing it.
Your best bet is to work with a knowledgeable independent life insurance agent who works with multiple companies.  You'll get a better chance at getting a good deal for your needs, both now and later on down the road.
Chris Huntley is president of Huntley Wealth & Insurance Services in San Diego. He also owns eLifeTools, a site dedicated to online marketing for insurance agents. He can be reached on Twitter @mrchrishuntley