"Owning a home is a keystone of wealth.. both financial affluence and emotional security". –Suze Orman (from stjamescantor.com)
For as long as I can remember, real estate was a part of my life. On Sunday's we would pile in the car to look at real estate my parent's company owned or preview property for sale. One of my first jobs out of college was in real estate sales. I started investing in real estate in my 20's and to this day, work for a real estate holding company.
This past summer, El Carino and I relocated and purchased a "short sale" condo. Our home is 2 stories, 1,800 square feet, with 4 (tiny) bedrooms. Comparable homes to ours in New York City sell for $2,000,000.00 to $3,000,000.00. Our purchase price was nowhere near that amount.
My interest in real estate transcends real property and extends to home decorating. In order to meet my decorating "fix" HGTV is my television destination. One of my favorite shows is "House Hunters." The program tails buyers across the country as they look for their ideal property. I cannot get away from the reality that….
An identical property can sell from $200,000.00 to $2,000,000.00, depending upon its location!
We moved from a very low cost of living area to a more expensive one (not NYC). Consequently, the house we sold cost less and had more square feet than the new home we bought. And, as I boldly stated, a comparable home to ours would easily cost in the millions in New York City.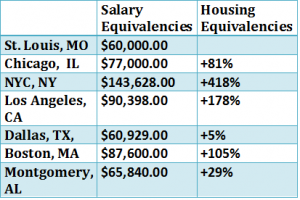 COST OF LIVING COMPARISONS
Real Estate Strategy
I've discussed this topic before; building wealth can be accelerated by living in a low cost of living area. Life is all about choices. Do you want the excitement of living in LA, Chicago, NYC, or San Fransisco? If so, be willing to pay 100% to 400% more for a home than in St. Louis, Missouri. When El Carino was job hunting, I was a regular visitor at a cost of living calculator. Every time he had an interview, I plugged in the numbers to determine what salary was appropriate for the job and location. In fact, in the early parts of our lives, we deliberately chose to live in lower cost of living areas to maximize our lifestyle and savings.  Those decisions paid off quite well. We fed our love of the arts and theatre with occasional visits to major cities and returned willingly to our less expensive abode. 
I encourage anyone who is younger, mobile, and interested in building up a nice nest egg to consider their geographic location and cost of living when considering their future. Tens of thousands of dollars can be saved each year by opting to live in a less expensive area. Live in middle America and you too can have a million dollar home (by New York City standards) for a fraction of the cost.
Would you sacrifice the excitement of the "big city" for thousands of dollars in long term wealth?