Funding For Your Home – From Traditional Tactics to Shared Equity and Alternative Home Financing 
Regardless of where you live, if you don't have a $50,000, $75,000 or more for a down payment, there are shared equity and other programs to help. And if you want to cash out equity in your home, there are a variety of solutions.
Living in the San Francisco area has its pros and cons. Buying a home – definitely a con. Building equity, if you already own your home is a definite pro.
In September 2017, the average Bay area home cost $729,000, up 11.6% over the previous year, according to a recent SFGate.com article. Move north to the city of San Francisco and $1.2 million buys you a studio condominium.
We were lucky when we moved to the region in 2011, in the trough of the mortgage meltdown. Housing prices were down. Relocating to the Bay area from the middle of the country, where we sold our 4-bedroom suburban home for $250,000, was a shock.
In the bay area, we bought a reasonably priced 4-bedroom condominium in a short sale. Although, the short sale home was priced significantly more than the sale price of our larger mid-Atlantic home.
Fortunately, our decision paid off, as the housing market rebounded, and our Bay-area home doubled in value.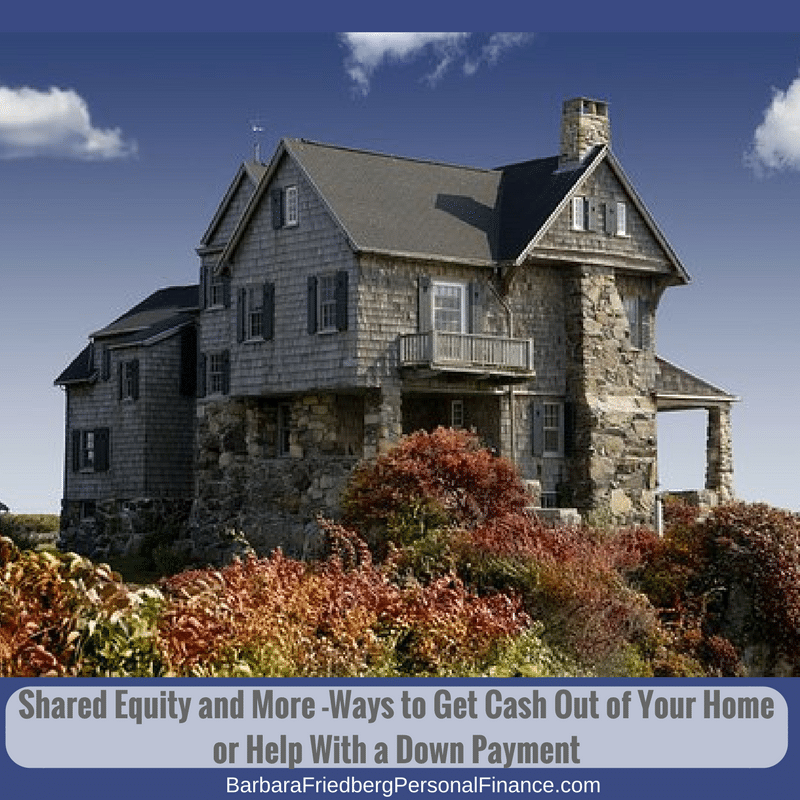 How to Get Help With a Home Down Payment
Shared Equity Programs – If you're not keen on paying mortgage insurance, or a large monthly sum, a shared equity program avoids mortgage insurance and huge mortgage payments. Unison and newer start ups will partner with you by contributing to your down payment. In exchange, you give them a percent of your home's appreciation. When you sell, the partner receives payment. No loan payments required and if you lose money, your partner shares in the loss.
Down Payment Assistance Grants – Yes, there are grants, that you don't need to pay back for help with your down payment. These are usually sponsored by your state. You don't necessarily need to be low income to qualify for these grants. An Orange County California resident can make $101,000 per year and qualify for up to a 5 percent grant.
No Interest Down Payment Assistance Loans – These programs might be structured as a second mortgage that is only paid off when the house is sold. Ask your lender about this option.
If you're lucky enough to have a home and a mortgage and you need extra cash, your home equity can help. There are several ways to tap your home equity, without selling.
Bonus; The Pros and Cons of REIT Investments How to Build Real Estate Wealth
Ways to Tap Your Home Equity – Without Selling
Shared Equity Home Owner Program – Similar to the shared home equity down payment programs, this alternative also avoids monthly payments or interest charges. You partner with a firm that invests in your home in exchange for repayment of the initial cash and a portion of the home's appreciation, due when you sell. This cash alternative is good for homeowners who are home-equity rich but cash poor.
Second Mortgage – Second mortgages are typically structured like a first mortgage with either variable or fixed interest rates. These are popular for homeowners considering a major home remodel. From banks to alternative funding companies there are many companies ready to lend, typically at higher interest rates than a first mortgage.
Home Equity Line of Credit or HELOC – Structured in a variety of ways, generally you can withdraw funds from the HELOC as needed. HELOC's often avoid closing costs and you only pay interest on the amount borrowed.
Cash out Refinance – Like it sounds, you refinance your home mortgage for an amount larger than the existing mortgage. Your original mortgage is paid off and you can use the additional cash as needed.
Cash For Current and Prospective Homeowners – Takeaway
So, if you're able to pay the mortgage in an expensive area, but lack the full down payment, there is help. Also, if you own your own home but need extra cash for a remodel or to pay Junior's college expenses there are ways to convert your home equity to cash. Just be prudent and don't borrow more than you need or can repay. Don't use the additional cash to fund luxuries that you could otherwise not afford. Finally, understand the costs involved in any type or borrowing or shared equity program.