Unison Review – How Can I Get Help with a Down Payment for a House?
Can your parents spare an extra $50,000 or more?
Did you win the lottery and have $100,000 sitting in your account?
Have you saved up mid-five figures outside of your retirement account?
If you answered no to those questions, yet want to buy a home, Unison can help you get into a new home.
How to Get a Down Payment for a House Fast – What is Unison?
Unison is the answer to "Where to get money for a home down payment?
Unison is a company that partners with you by giving you up to half of your home down payment. In exchange for the money, at the sale of your home, you pay Unison a proportion of the home's appreciation. And, if your home falls in value, Unison, shares in the loss.
It's like a loan, only there is no interest payment, no maturity date and no interest payment. And the repayment depends on how much the value of your home grows. Okay, so actually it isn't like a loan, but partnering with Unison can reduce the need for a home equity loan or larger mortgage loan.
Here's an example.
You want to buy a $300,000 home. And only have 10% or $30,000 for the down payment. You partner with Unison, who provides the other $30,000 for your home's down payment. Because the total down payment is 20% of the home's value, you don't need private mortgage insurance or PMI. (PMI is required if your down payment is less than 20% of the home purchase price.)
Your monthly mortgage payment is $1,518, when you put down $60,000. If you bought the home with a 10% down or $30,000, your monthly mortgage payment would be $1,836 or approximately $300 higher and you'd be required to pay PMI insurance.
Click here to go directly to the Unison Website
How Does Unison Get It's Money Back?
Unison isn't like your kindly grandparents who forgive their loan for your home down payment. Unison profits (or not) when you sell your home. If you live in your home for 30 years, Unison doesn't get its repayment for 30 years.
Here's how the Unison partnership works.
You buy a home for $500,000. Unison provides approximately $30,000 for your home down payment. Unison has a formula that determines their percent appreciation or loss. In this case, Unison shares in 21% of the appreciation. So, when you sell your home for $600,000, your home appreciated $100,000. Unison receives a 21% of that $100,000 or $21,000 profit plus its initial $30,000 down payment contribution.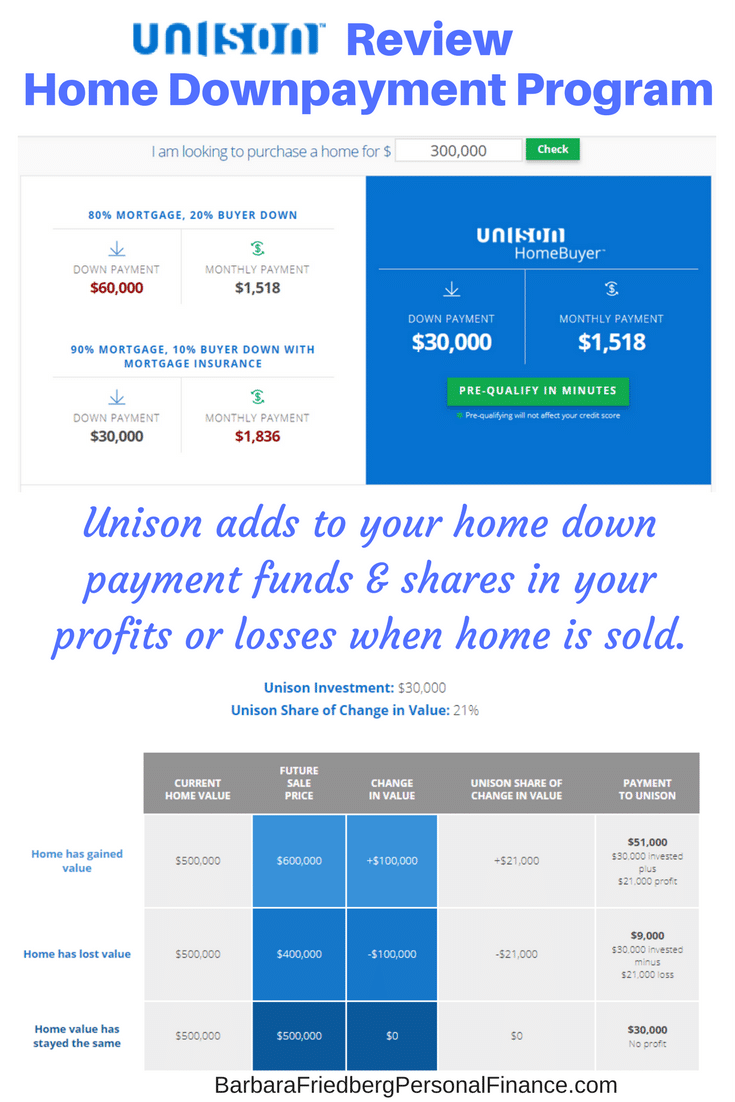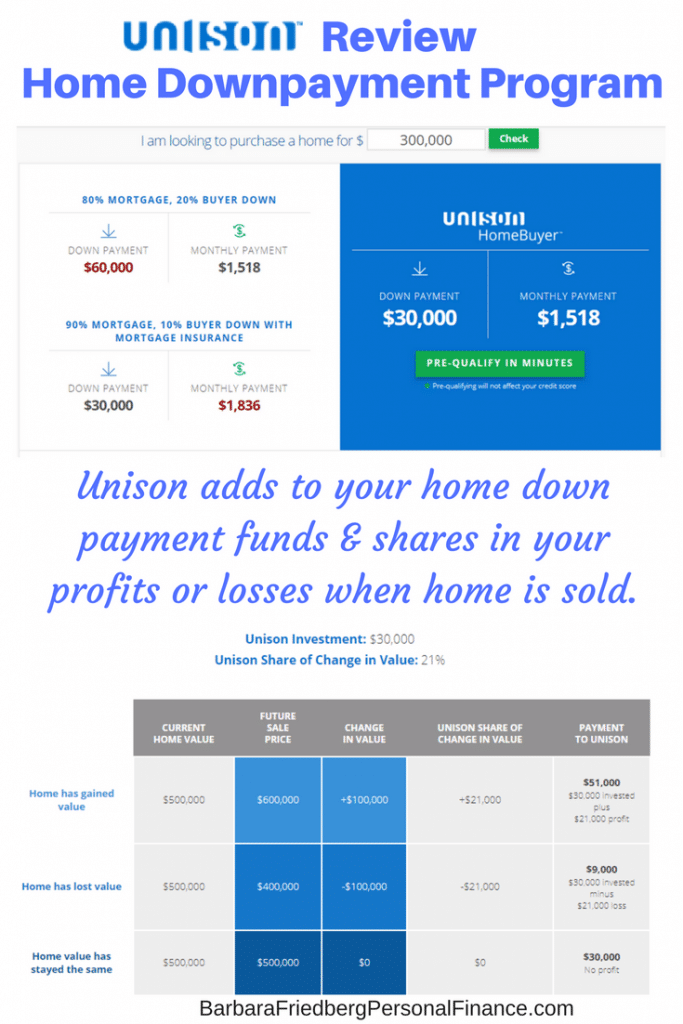 If the home declines in value, Unison also participates in the loss. In the same example, if your house dropped in value to $400,000, there is an $100,000 loss. Unison's loss is $21,000 and receives only $9,013 back from the $30,000 initial down payment contribution.
The equity sharing percentage is approximately 35% share of appreciation for a 10% investment in the property for home borrowers.  
Unison Review – Where Does Unison Get its Money?
Unison is funded by long term institutional investors such as pension funds. These investors welcome the opportunity to participate in the growth and appreciation of the single family housing market.
"We come from a background of managing large pools of assets for pension funds and endowments," stated Thomas Sponholtz, chairman and co-CEO of Unison. These institutional investors have generation-spanning investment time frames and seek diversification beyond stocks and bonds, which a U.S. housing investment provides, he adds.
Unison Review – How a Unison Down Payment Helped a Couple Live Near Family
Here's a true scenario where a Unison Home Down Payment Solved a couple's home ownership problem:
A couple, brought up in Newport Beach California relocated for work to Arizona. They grew their savings and had good jobs. Yet, when the couple returned to the Los Angeles area and wanted to buy a home near family in Newport Beach, they couldn't finance the full down payment.
After partnering with Unison, they were able to buy a home in pricey Newport Beach and live near family. Since purchase, the home appreciated in value and the couple was able to live an area they otherwise couldn't afford and be close to family.
Is This the Best Way to find Money for a Home Down Payment?
Unison Review Advantages
It depends upon your personal situation. If you have no other options to increase your down payment amount and live in a rapidly increasing real estate market, then this might be an optimal solution. It's difficult to determine in advance the benefit of the Unison home down payment because it's only upon the sale of your home, that you'll recognize the total financial impact of the down payment grant.
The Unison home down payment program is a good solution for someone who lives in an expensive real estate market and wouldn't be able to afford a home otherwise. Unison is also a solid alternative for the buyer who has other high return alternatives for his or her cash.
If you have some debt, a good income and want to buy a home, a Unison down payment is an excellent vehicle. You could use part of your cash to payoff debt. That way, you can buy a home and eliminate your consumer debt.
If your home depreciates in value, you won't need to repay the entire Unison down payment, as the company also takes a loss on its investment.
Unison Down Payment Program Disadvantages
You might be better off buying a home with 10% down, paying PMI and capturing all of your appreciation when you sell.
The Unison home buyer program charges a 2.5% origination fee. Yet, there are no application or processing fees. Although there might be third party expenses such as closing services or credit reporting charges.
When working with Unison, you must borrow from their pre-determined lenders, although there is a continually growing list of lenders.
Unison is on available in certain states.
At the outset, it is unknown what your financial costs for working with Unison will be. Yet, when you buy a home, you don't know whether or how much your home will appreciate in the future.
Other Unison Programs
In addition to the down payment program. Unison also offers a home owner program that allows you to access equity in your home without borrowing. There are distinct terms for this shared appreciation program. The Unison HomeOwner program is a financial alternative to a home equity loan or line of credit.  
Unison Review Wrap Up
Unison was founded in 2004 and is currently the most prominent company of it's type. With 14 years history, Unison has a proven strategy for home buyers and home owners to get into the housing market. The fact that the firm participates not only in your home's appreciation, but in its depreciation as well, is a major draw for potential and current home owners.
If you're interested in getting into the home market, but are short on cash for the down payment might consider the Unison platform. It could be the right solution for your family's home ownership problems.  
Learn more and find out if Unison is the right home down payment solution for you.
*Disclosure: Please note that this article may contain affiliate links which means that – at zero cost to you – I might earn a commission if you sign up or buy through the affiliate link. That said, I never recommend anything I don't believe is valuable.