Is Collaborative Consumption for You?
It wasn't long ago when communities pooled their resources for the good of the group. Neighbors worked together to build a barn. In fact, the Amish still practice that communal approach today. I've been a suburban dweller my entire life and was raised to abhor waste. In spite of my upbringing I certainly don't want to be perceived as a mooch. Here's the conundrum; when I go out to buy a hedge clipper I cringe knowing I'll only use it only once or twice per season. That same discomfort occured when I recently considered buying a 12 foot ladder to change a light bulb in our cathedral ceiling hallway. I decided to borrow a ladder from my generous neighbor, but am worried about what to do the next time a bulb burns out. (Although I did thank the neighbor with  box of treats.)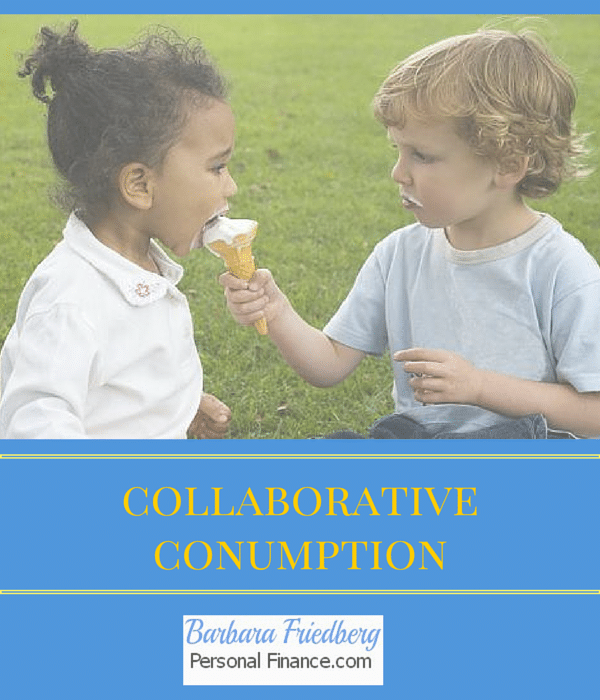 It seems that I am not alone. There are others out there with the same dilemmas. If it's for lack of funds, or interest in the  sustainability of the planet, there is a growing minority who prefer to share resources instead of adding to the glut of stuff in our ever crowded world.
Learn wealth building basics in a few hours here.
What is Collaborative Consumption?  
In a recent issue, Success magazine put out the revolutionary idea of sharing our resources. According to the article, the venerable Time magazine calls collaborative consumption one of the "10 Ideas That Will Change the World".
The concept posits that it is better to share or rent than to buy.
As I drive to work at the University, I pass several "zip cars" parked in the lot for community members to rent on an "as needed basis." If I was a university student and only needed a car on occasion, I wouldn't hesitate to participate in this transportation sharing plan. Underscoring the popularity of this concept, RelayRides.com has joined the car sharing craze, with a twist. RelayRides allows those who have a car a means to rent their car to others. Imagine this, you can make money off of your car when you don't need it.
Zimride.com is another take on the ride sharing concept. Need a ride from Virginia to Pennsylvania, but have no car? Check the Zimride site and see if anyone is making that trip. A guy driving from Richmond, Virginia to Harrisburg, PA is looking for passengers to share the cost of a trip and will take you along for a small fee. Going somewhere and want to defray the cost? Adverstise your trip and see if you can snare a paying passenger or two.
Like to travel, but hate the expense of hotels? Try out Airbnb.com, the world wide lodging sharing site. Find apartments, and homes across the world to rent or rent out your own space. Have an extra room and want to make some cash? List it on Airbnb. I first read about this concept when a guy was making extra money renting out everything, from his wife's blender (she wasn't too happy about it!) to a room in their home. It worked out quite profitably for him.
Skillshare.com is such an amazing concept that after visiting the site I want to jump in immediately and search for classes to take and teach. According to their site;
Learn Anything From Anyone. Our vision is to increase the global passion index by building a new world of education. Skillshare.com
 Swap.com is another opportunity to get what you want and get rid of your unwanted items. As in Skillshare.com, after visiting this site, I'm ready to dive in and give it a try. I need a new blender and wouldn't mind trying out a bread maker. Next, I'll have to look around the house for stuff to unload.
According to their website, The Swap.com Market is the world's largest swap marketplace. Simply list things you have and things you want. If there's something you want, you can use the stuff you have to swap for it. Don't want to swap? Feel free to offer another form of payment.
Here are a few more ideas for those interested in making the world a bit smaller; Swishing.com offers clothes swapping parties for the UK readers. Visit their site for a list of the upcoming events. Thredupup.com is great for moms and dads who don't want to add to the kids' clutter. This site caters to parents who want to trade "anything kids" from toys to clothes. Parents, this one's for you.
These opportunities are expanding quickly with several gaining venture capital to grow their models. Our world clearly is becoming smaller and smaller.
Click here for Free micro book-How to Invest and Outperform + Wealth Tips Newsletter
 Do any of these ideas resonate with you? Have you participated in collaborative consumption?