Debt Real Estate Crowdfunding Comparison
Real estate is often seen as a cash cow: just think of all the TV shows based on house flipping! However, real estate investment, as it's shown on TV, is also very expensive. From the up-front costs associated with purchasing property to the surprise funds needed to fix a burst pipe, it might seem like real estate investing is only for the already-wealthy. Yet, PeerStreet and Groundfloor offer the opportunity to earn the rewards that bank lenders garner on mortgage loans.
This article may contain affiliate links which means that – at zero cost to you – I might earn a commission if you sign up or buy through the affiliate link.
PeerStreet and Groundfloor crowdfunding platforms offer the benefits of investing in real estate without the hassle of owning properties directly. These platforms are also called Alternative Investing, In contrast with more traditional equity and fixed income investments.
What is Real Estate Debt Investing?
When you invest in real estate debt you're funding someone else's loan, similar to the way a bank funds a mortgage. That borrower then repays the loan, plus interest, over time, which is how you earn money on your investment.
Investing in real estate debt does not give you any rights to the funded property, so you don't need to worry about securing tenants for a rental or picking out paint colors for your fixer upper. Instead, someone else (the borrower) handles everything — you just provide the capital.
Real estate debt is a risky investment because the borrower needs to repay the loan in order for you to receive a return on your investment. Yet, the debt investment is secured by the real estate, the firm can foreclose on the property, if the debt is not repaid. Like all investments, you can lose money. However, many companies have a plan in place in case a borrower defaults on a loan.
What is Crowdfunding?
Crowdfunded real estate debt investing is a popular investment strategy for those who want the benefits of real estate investment but don't have a lot of capital. Through crowdfunding, real estate debt is easier than ever to fund.
You might own many real estate loans, that come due at various points in time. When the borrower repays the loan with interest, investors earn back their initial investment. Many platforms pay the interest received, monthly. Your money is tied up until the loan is repaid. Investing in shorter term debt enables you to receive your principal investment quicker.
Each platform has it's own take on this investor-friendly real estate debt crowdfunding approach.
Are There Any Downsides?
One downside to real estate crowdfunding is that many platforms are only available to accredited investors. Accredited investors have earned $200,000 or more yearly for at least the past two years ($300,000 for married investors) or investors with a net worth of at least $1 million. Accredited investors can also be individuals who work in the investment industry and understand the risks of crowdfunded deals.
Some real estate crowdfunding deals are only open to accredited investors due to the SEC's policies on investment funds. According to the SEC, accredited investors are often more knowledgeable and can thus make sound decisions about riskier investments; they can also sustain more considerable losses than non-accredited investors.
In the comparison between Groundfloor and PeerStreet, Groundfloor requires on $10 to invest and is available to all investors, non-accredited as well as wealthier accredited investors. While you must be and accredited investor to invest in PeerStreet debt.
Another risk is lack of diversification. It's best to own a portfolio of loans, so that should one default, you will own other loans that continue to pay.
PeerStreet vs. Groundfloor: At a Glance
| | | |
| --- | --- | --- |
| | Groundfloor | PeerStreet |
| Accredited Investors Only | No. | Yes. |
| Fees | Paid by the borrower, not the lenders. | 0.25%-1.00% average servicing fee. |
| Returns | Average 6-14% based on historical returns. | Average 6-9% based on historical returns. |
| Minimum Investment | $10 | $100 |
| Liquidity | Low-liquidity. However, Groundfloor offers very short loans (30 or 90 days) in addition to 12-month loans, so investors do not need to tie up their funds for long. | Low liquidity. Your capital will be inaccessible for the length of the loan unless the borrower pays off the loan early. |
| Automatic Investments | Yes. Clients can determine how much they would like to invest across all risk factors: Interest rate, Loan to Value and Loan Term. | Yes. Investors also have 24 hours to review the automatically chosen investments. |
PeerStreet vs Groundfloor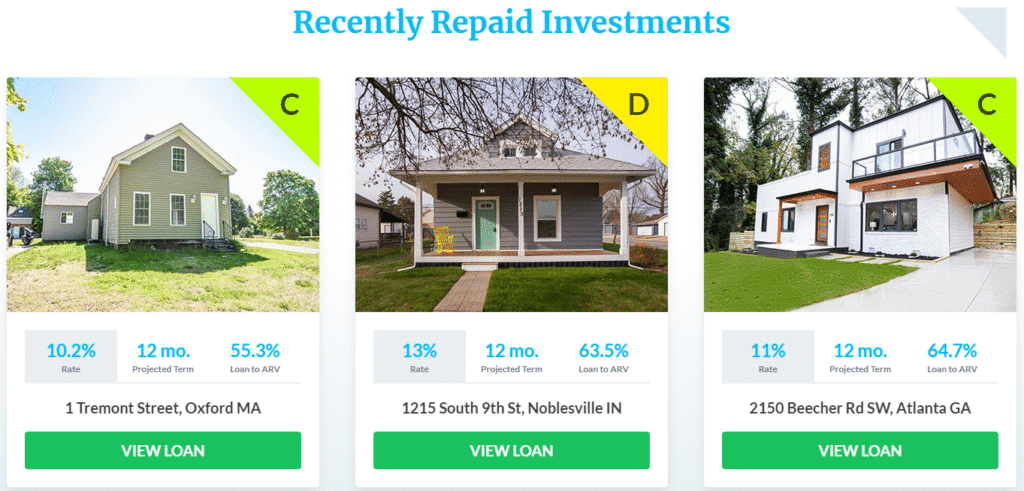 What is Groundfloor?
Groundfloor is a real estate debt crowdfunding platform specializing in high-yield, short-term debt investments. Unlike PeerStreet, Groundfloor is available to all investors and not limited to accredited investors. In fact, Groundfloor was the first platform to allow non-accredited investors to invest in real estate debt! Groundfloor is also the only real estate crowdfunding platform that we're aware of that is registered with the SEC.
Through crowdfunding, Groundfloor provides real estate investment opportunities for investors to fund short-term real estate debt. This debt might come in the form of home construction or renovation of real estate projects.
PeerStreet and Groundfloor make hard-money loans backed by the properties the borrowers purchase.
What makes Groundfloor reasonably unique in this market is its loan grading system. The company evaluates the riskiness of an investment, which is determined based on how likely the borrower can repay the loan. Groundfloor individually vets each borrower.
While investors can choose less risky loans, which can earn a maximum of 5% returns, they can diversify their portfolios by funding extremely risky loans, which can earn up to 20%. Rates are subject to change.
What Types of Loans does Groundfloor Offer?
Groundfloor loan products include:
Purchase and Renovation: These are short term loans for improvements and renovations. Common renovations may include cosmetic upgrades like flooring and painting or more extensive ones like adding rooms or plumbing and electrical systems advancements.
Refinance-Rehab: These loans are for individuals with existing loans who want to refinance and use the money to renovate the property. The project might have a longer repayment duration and lower interest rates.
Refinance-Cash Out: The investor refinances a current mortgage with a larger amount of money than the existing loan balance. The extra funds go to renovation financing, debt payoff, or other investments. Cash availability is the unique feature of this type of project.
New Construction: This loan is for an individual or investor to build new construction. It involves proper planning, designing, and construction. The project can be commercial or residential properties and may be single or multiple units.
Groundfloor Benefits
Extremely small minimum investments — you can start with only $10.
Loan grading: investors can choose which projects to fund based on calculated risk.
Open to non-accredited and accredited investors alike.
A lot of potential to create a diversified portfolio.
Loan grading: investors can choose which projects to fund based on calculated risk.
Automatic investments.
Groundfloor "Stairs" fully liquid high-yield cash account.
Groundfloor is registered with the SEC (Securities and Exchange Commission)
What Are the Risks of Investing in Groundfloor?
Default risk: Default is the greatest risk of this platform. It occurs when the borrower fails to repay the loan, and Groundfloor's property managers have to step in for further monitoring of the project.
Fortunately, the team tries its best to get the project back on track as you continue to receive interest until the principal is fully paid. Also, in some cases, the default interest is added to the loan and then returned to you. The risk of default for one loan is a reason to put small amounts of money in a portfolio of loans. That way, if one borrower defaults, you'll have many other good loans to offset the small loss.
When a project fails, Groundfloor can sell the property to recoup losses. This enables the firm to recover as much money as possible. You can then get your share back from the proceeds.
What Are the Key Features of Groundfloor?
Fees and Minimums
Of all the real estate debt investment platforms, Groundfloor is arguably the most affordable. The minimum investment is only $10, and fees are paid by the borrowers.
Investments
Groundfloor offers shorter term, hard money loans for investments such as residential real estate and real estate debt. They currently offer 30-day, 90-day, or 12-month notes. These sorts of notes are best for borrowers who plan to flip a home or those who are trying to make quick money off of a purchase, which means that there is a good deal of risk associated with these notes; however, the short maturity dates mean that investors won't need to wait long for a return of their principal investment.
Liquidity
Just like notes through PeerStreet, real estate notes at Groundfloor are illiquid. You can't withdraw your investment until the loan matures.
Historical returns
Groundfloor's interest rates — and thus the amount investors can earn on their investments — are based on the perceived riskiness of the loan. The least risky loans will pay up to 6%, whereas the riskiest can pay up to 14% interest.
Groundfloor estimates that their average return since inception is just over 10%. Currently, the platform also has Grade G loans with up to 25% projected returns. Just make sure to spread your money across loans of various credit qualities.
Groundfloor Pros
Non-accredited investors can participate.
A ranking system that makes it easy for investors to determine the potential risk and reward associated with any given investment.
Very low $10 minimum investment.
East-to-use tools usable by both starters and experienced investors.
Easy diversification across real estate projects due to the high deal volume.
A wide variety of products to choose from according to your risk tolerance.
Top-notch investment transparency, SEC oversight, and requirements compliance.
Low default rates.
Investors don't pay any fees.
Groundfloor Cons
Limited types of investments — loans are primarily made to property flippers, although occasional commercial real estate investment loans are available.
Lack of immediate liquidity.
Default rates are higher if you own fewer loans.
Who is Groundfloor Best for?
Small investors looking to diversify into real estate notes would appreciate the platform. Groundfloor is an affordable investment platform due to its low minimum investment requirement and no investor fees. It also offers a quick turnaround time on loans — as long as borrowers pay on time — which means investors won't wait long to see investment returns. However, their investment types are limited to quicker hard money loans.
Groundfloor is best for:
Non-accredited investors. While accredited investors are welcome to invest, Groundfloor is among the few platforms that welcome non-accredited investors.
Those who want to dip their toes into real estate debt investments but don't want to invest a lot of money, pay astronomical fees, or wait a long time to see returns.
Investors who like to diversify their level of risk within a niche investment type.
Those looking to add real estate debt to a diverse investment portfolio.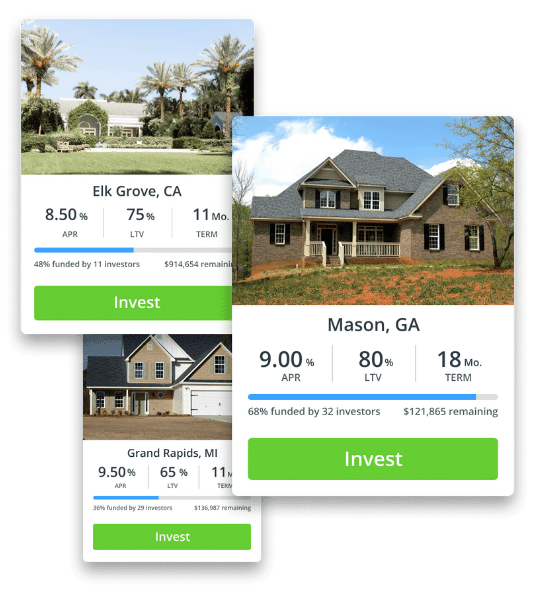 What is PeerStreet?
PeerStreet was the first two-sided real estate debt investment marketplace. This marketplace uses the crowdfunding model, which means that an investor's funds will be combined with funds from other investors to purchase a share of real estate debt. Though real estate debt can be a risky investment, crowdfunding can mitigate that risk by spreading the risk out across multiple investors.
Initial investments provide capital so that borrowers can purchase real estate. As these borrowers repay their loans, investors receive a portion of the payment. When the loan is paid off, investors will have made back their initial investment plus interest.
It's wise for investors should deploy their capital across several loans, to minimize the risk of loss that might be caused, should a borrower default.
What Type of Loans Does PeerStreet Offer
PeerStreet offers several types of loans.
Bridge Loans: These single and multifamily bridge loans are short term real estate financing. The term is typically 3 to 36 months and "bridges the gab" between between the initial financing and a sale, refinance or other event. These bridge loans are only for non-owner occupied properties and frequently used by real estate home flippers.
Cash Offer Loans: These loans provide ready cash to buy a home and close quickly. The loan is paid off when the home buyer receives a mortgage on the home.
30-Day Note: This is a very short term loan created for investors. It may be a portion of a longer term loan.
PeerStreet Benefits
Flexible terms
Varied product offerings
Fixed-income returns
Transparent investment opportunities
Customizable portfolios
Pocket – a high-yield cash account (not FDIC insured)
While this might sound appealing to all investors, there's a catch: only accredited investors are allowed to invest in PeerStreet's marketplace.
What Are the Risks of Investing in PeerStreet?
Default risk: The risk of loan non-repayment by borrowers is a possibility with nearly all debt investments, including PeerStreet. When that happens, the company may discontinue servicing the loan, which can lead to investors' loss of most, if not all, of their funds.
It's advisable to carefully read the PPM (Particular Risk Factors) before purchasing the PeerStreet Notes.
What Are the Key Features of PeerStreet?
Fees and Minimums
PeerStreet requires a minimum investment of $100. These initial funds can be spread across multiple investments, however.
A servicing fee may be applied to loans. This fee is usually 0.25%-1.00%, and PeerStreet is committed to transparency so investors always know what their fees will be.
Investments
Although PeerStreet offers customizable portfolios, investors won't find long-term mortgages on this real estate crowdfunding platform. PeerStreet specializes in bridge loans typically repaid in 6-24 months. These short-term real estate loans are ideal for borrowers looking to flip a home or quickly fix up a home to be turned into a rental property.
While most investments tend to be single-family residences, occasional commercial or multifamily properties are also available.
Liquidity
You cannot liquidate your investments at will with PeerStreet. Once you invest, your capital is unavailable until the loan is paid off. Also, capital may be inaccessible longer if the borrower defaults on the loan.
For ongoing cash flow, interest payments are available weekly.
Loss of liquidity is one of the risks of real estate investing! Yet, if a loan is paid off in 2 years, then your money is only tied up for two years, shorter than many longer lock-up periods for other real estate platforms.
Historical Returns
Historically, yields have been between 6-9% depending on the specific loan's risk grade. Moreover, PeerStreet's careful vetting of borrowers has paid off; the company claims that more than 5 billion loans are paid off on time (as of November 2022). Th level of market interest rates will influence the PeerStreet debt interest rates.
PeerStreet Pros
Transparency. Investors have a clear understanding of what fees to expect, for example.
Multiple investment opportunities.
Automated investing.
Promising historic returns.
Low initial investment requirement.
PeerStreet Cons
Illiquid investment. You need to wait out the lifetime of the loan before you get your money back; if a loan defaults, you may not receive anything.
Investors have complained that PeerStreet does not communicate enough when borrowers are defaulting on their payments.
Accredited investors only.
Who is PeerStreet Best for?
PeerStreet certainly has many benefits. While only accredited investors can participate in their investment platform, investors who like automated investments and can invest smaller amounts of money will benefit from using PeerStreet.
PeerStreet is best for:
Accredited investors who want to invest in real estate debt.
Investors who want low minimum investments.
Those who'd like the option for automatic investments. PeerStreet gives investors 24 hours to review automated investments, too, so you can opt out of any investments that don't fit your ideal portfolio.
Those who want a diversified real estate loan portfolio for a small amount of money.
PeerStreet vs Groundfloor | Which is Best for You?
Regarding risk and reward, PeerStreet and Groundfloor both have good historical returns. For instance — they average returns of 7-12% or 6-14%, respectively. That's relatively high in terms of return on investment or ROI.
Despite these good average returns, the real estate industry does have the potential for loss if a borrower defaults on their loan. Groundfloor helps clients evaluate risk based on their loan grading process, which assigns higher interest rates to riskier loans. Less risky loans may be more likely to be paid off on time, but they also pay less interest. PeerStreet, on the other hand, vets borrowers quite carefully and, as a result, has very few defaults.
Groundfloor is the more affordable of the two platforms, with no investor fees and a minimum investment of $10. You may not make much money on a $10 investment, but you won't lose much!
Even though PeerStreet does charge fees (0.25-1.00%) and has a $100 minimum investment, this is still reasonably affordable within the real estate debt investment industry. PeerStreet also lets clients split their $100 investment across multiple properties, which is a significant selling point. Also, returns are quoted net of fees (after fees are paid).
The two platforms do not allow clients to liquidate their real estate investments. On the plus side, both offer short-term loans that help offset this inconvenience.
Of course, one thing sets these two apart distinctly: PeerStreet is only open to accredited investors, whereas non-accredited investors can only invest through Groundfloor. While this distinction may not help accredited investors make their choice, it, unfortunately, means that non-accredited investors will choose Groundfloor over PeerStreet, out of necessity.
Ultimately, either platform would work well to round out an investment portfolio. While there is some level of diversity in terms of risk within each option, neither offer enough diversification for an entire portfolio. You'll also need stock and bond funds to diversify your investment.
When investing in Groundfloor or PeerStreet, consider how much risk you're willing to accept, whether you're looking for a 30-day investment or two-year commitment, and what sort of real estate notes you prefer to include in your portfolio.
FAQ
Do people make money on Groundfloor?
Yes, people make money on Groundfloor. The platform gives you access to short-term, high-yield investments yielding 6-14% returns, depending on the specific loan's risk grade. Additionally, Groundfloor has some Grade G loans with up to 25% projected returns.
Who are PeerStreet and Groundfloor competitors?
Top competitors include AlphaFlow, YieldStreet, and Kiavi. Others include Roofstock, Hometap, Fund That Flip, Reonomy, Kokomo, LendInvest, Fundrise, Unison and AssetAvenue.
Does Real Estate Crowdfunding Work?
Yes, real estate crowdfunding works. It's an excellent strategy for putting your money into real estate investments with little capital and a reasonable-risk level. Also, the plan allows you to diversify your portfolio and earn higher returns than many fixed income investments and some equities as well. However, the venture can be risky and there is potential for losses.
Is Groundfloor Credible? 
Yes, Groundfloor is credible. It's the first company to achieve real estate microlending SEC qualification and can provide investment offerings to accredited and non-accredited through Regulation A. Also, the company is 10 years old in the industry with many awards for its accomplishments, consistent results, and technology.
How Do I Get Started With Groundfloor?
Getting started with Groundfloor takes less than 3 minutes. Simply follow the steps below:
Create an account on their site Link your bank account to the Groundfloor account. Transfer the money you want to invest. Choose your first project and deposit your funds into it.
Related
Fundrise vs Diversyfund vs Groundfloor
Investing in Real Estate Notes Guide
Accredited Investor Opportunities
Learn About Real Estate Crowdfunding and Investing | Without the Hassle
EquityMultiple Real Estate Crowdfunding Review
Disclosure: Please note that this article may contain affiliate links which means that – at zero cost to you – I might earn a commission if you sign up or buy through the affiliate link. That said, I never recommend anything I don't personally believe is valuable.