A reader from the website, Fromthisseat.com writes in;

"Is purchasing foreclosed real estate a smart investment with so many renters and so few home buyers in the market?"

What is Foreclosed Real Estate?
Before we tackle this reader question, let's explain the term, 'foreclosed real estate'. The foreclosure process describes the legal situation which occurs when the homeowner can't afford to continue to make mortgage payments, and his or her rights of ownership are withdrawn. If  the property cannot be sold under normal conditions or through a short sale (pre-foreclosure sale, when the home is sold for less than the mortgage balance), then the real estate is auctioned off to the highest bidder through a foreclosure sale or auction.
Real Estate Market Prequel
In the aftermath of the 2008-2009 recession, there was an abundance of foreclosed properties just begging to be bought by the enterprising investor. The thinking was, buy a real estate at a discount, make a few repairs and either rent it out or sell it for a profit. At that time, it seemed like a win win proposition.
Six years later, the number of foreclosures has fallen, real estate prices have risen, and the foreclosure market has shifted. Let's break down this readers question and find out about the ins and outs of investing in real estate foreclosures.
There are actually two parts to this question:
Part 1: Should home ownership rates influence whether I buy foreclosed real estate?
Part 2: Given that home ownership rates have declined over recent years, should I buy foreclosed real estate now?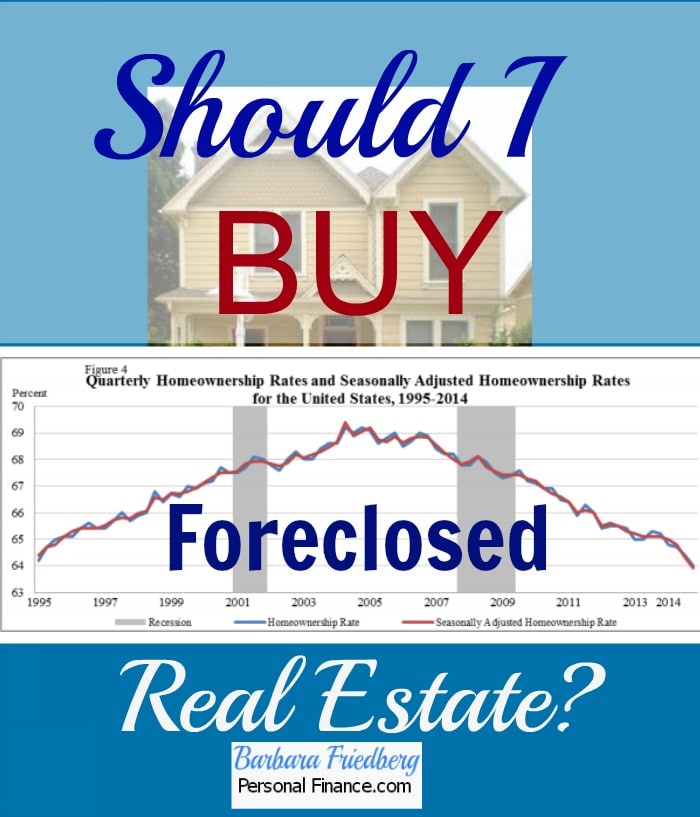 Real Estate Investing 101
Real estate is a great way to build wealth. But, as with any investment, the buy price must be right, and you must receive either capital appreciation, an income stream, or both. Otherwise, why risk your money?
The short answer to both those parts of this question is …. Perhaps.
Let's tackle the first question-Should home ownership rates influence whether I buy foreclosed real estate?
Home Ownership Rates
Take a look at home ownership rates from 1995 to the present. In 2004 they peaked at about 69%, and today, the nationwide home ownership rate hovers around 64%. All in all, people are still buying homes, just not as much as in 2005. And the ownership rate varies from region to region. For example, according to the U.S. Census Bureau News, on January 29, 2014, at the end of 2014 the U.S. regional home ownership rates were:
Northeast: 61.9%
Midwest: 68.3%
South: 65.5%
West: 58.6%
U.S. overall: 64.0%
So, if you are considering buying foreclosures in the Midwest, there is a higher home ownership rate than if you were looking to buy in the West. There's another factor to consider when getting into the foreclosure market which is the average cost of a home. According to NerdWallet.com cost of living calculator, the average home cost in Cincinnati, Ohio is just north of $200,000, and in San Jose, California it is approximately $800,000. That disparity in home prices may also explain why there are a greater percent of renters in the West than in the Midwest.
Home ownership rates shouldn't deter your decision to invest in foreclosed real estate.
If other factors work in your favor, I wouldn't be dissuaded from investing in foreclosures based upon home ownership rates. There are still many individuals looking for homes. And the millennial demographic is finally gaining employment, moving out of the folks' basement's and beginning to consider home ownership.
Should I Buy Foreclosed Real Estate?
Now on to the second question, should I buy foreclosed real estate now? We'll break down the factors to explore when considering whether to buy foreclosed real estate.
1. Do you have access to capital and decent credit?
Forget about 'no money down'. That approach is a quick road to bankruptcy. Real estate investing is a heavily capital intensive business. In contrast with stock market investing, where you can buy shares of a mutual fund for a little as a few hundred dollars, in real estate you need thousands of dollars in the bank.
How much capital you need, depends on the market you're in. If you're looking at foreclosures in Detroit, Michigan, where you can buy a house for $20,000, then you might get by with 5 to 10 thousand dollars. If you're looking to invest in San Jose, California with the median home price of $800,000 you probably need at least $200,000.
Why do you need so much capital to invest?
The simple answer is that everything costs more money than you anticipate. Additionally, if you're not paying cash outright for the property, you'll need to make a down payment and then borrow the remaining money to purchase the property. Also, you need the good credit, to secure a real estate loan. 
Real estate commissions and loan fees are expensive. These transaction costs add a lot to the bottom line.
If the house is a foreclosure, chances are you'll need to make repairs before you can either resell or rent out the house. That costs money as well.
If the house doesn't sell or rent right away, you'll need to cover the "carrying costs" or mortgage payments and expenses.
For those reasons, it's best to buy foreclosures in a lower cost of living area, (I talked about this issue on the Joe Fairless best ever real estate investing podcast). Your initial expenses are lower as is the risk.
2. Do you have the time to oversee the process?
Finding a foreclosure for the right price, bidding and finally purchasing the property can take months. You may look at and bid on scores of homes before finding one to purchase. And after the purchase, you still need to either make the repairs or contract someone to fix up the property. The final process is the sale or rental of the property. If you do end up renting the foreclosure, you need to be available for ongoing management.
3. Do you have the commitment to learn about real estate investing and carry out the entire process?
Investing in real estate is a pursuit for the committed. You need money, time, commitment and determination to invest in real estate foreclosures.
The Takeaway
If you decide to invest in real estate foreclosures, there is a large profit potential, if you do your homework. Before plunking down your cash, make sure there is enough profit in the deal after all expenses are deducted. You're best off starting small and building up more cash as you either rent our or resell your real estate.
Finally, if you still want exposure to real estate in your portfolio, consider investing in Real Estate Investment Trusts (REIT) which can be bought through your discount brokerage account. These investments offer exposure to the real estate sector along with dividend payments and potential capital appreciation.
(data source: http://www.census.gov/housing/hvs/files/currenthvspress.pdf)
Related