Make Money Watching Videos and Movies
By staff columnist, Alexandra Deluise
Movie lovers, rejoice: you can make make money watching videos and movies from home. Pajamas optional.
If ever there were a side hustle designed for me, this would be it. If only I knew about this option when I was on maternity leave in January! Websites and movie companies will actually pay you to watch videos, movies and movie trailers at home.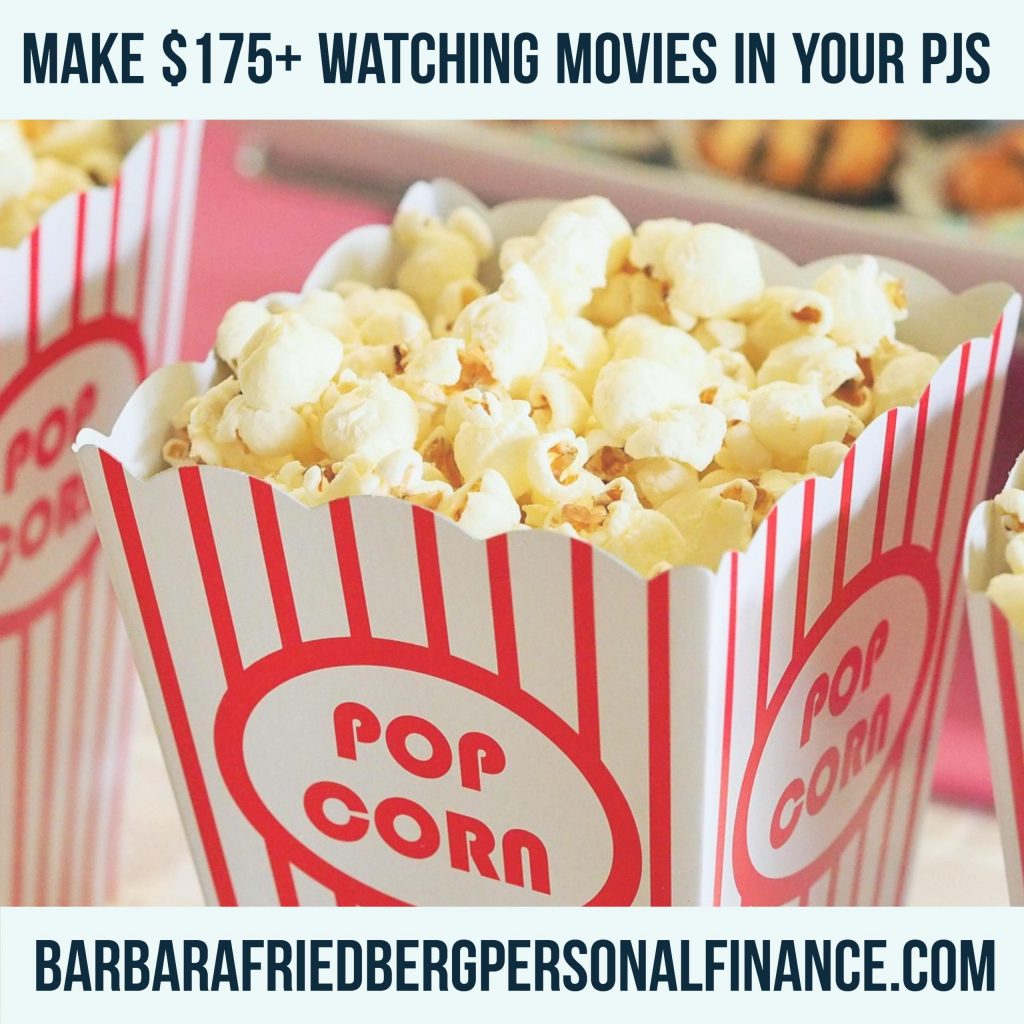 Get paid watching short videos – some delivered right to you!
Swagbucks is our first stop. While not full-length movies, there are plenty of videos you can watch on Swagbucks to make extra money. Swagbucks includes clusters of videos, and lets you know how many SB you will earn by watching each cluster. There are all sorts of videos, including recipes – something I end up watching on YouTube anyway!
One of the great things about Swagbucks is that these video clips are easy to fit into your normal daily routine. Do you have a few minutes while cooking dinner? Great – use that time to earn a few SB! Earnings will vary based on how many videos you can watch each week.
InboxDollars will send videos right to your email, although you will need to watch all of them in one sitting in order to get paid. However, you can earn up to $225 each month just by watching these videos! Since playlists vary in length, you can choose ones that fit the time you have available.
There may be $5 sign up bonuses for both Swagbucks and InboxDollars!
Netflix will pay you to categorize their shows.
Netflix will actually pay people to "tag" their movies and tv shows. In other words, decide what key words apply to each show after watching it. Forget Netflix and Chill – Netflix and Dollars is what I'm interested in.
The downside to these tagging jobs is only that there are so few of them. As of last year, there were only 40 part-time taggers employed at Netflix. With such a great job, though, we shouldn't be surprised that they go quickly. Taggers also make around $300 each week to watch up to 15 movies or shows, which makes this a great job. Find out about the jobs on the Netflix Careers page. 
Watching movies on Netflix would be a great way to pass the time as you earn money passively, you know.>>>
You can also go to the movies and get paid.
Mystery shopping is a great option for people who want to get paid to go to the movies, because there are a few different things you can do to make money. Of course, always take precautions: there are so many mystery shop scams out there! The general rule of thumb is that you should never have to pay upfront for any job.
In theatre check jobs could include:
Count the people entering the theater. Movie companies want to know about their viewers, including how many of them are attending each showing. Are certain times of day more popular for specific groups of people? Are there surprising trends in viewing times?
Check for cleanliness and customer service in the movie theater. This is more of your typical mystery shop. Are you offered .25 cent upgrade on your popcorn? Did the bathrooms meet your cleanliness standards? Did you sit on an old gum wrapper in the theater? These observations are important to companies.
What did you think of the previews? While most people saunter in to the theater late to avoid them, as a preview checker you will want to get to the theater early. Respond to the trailers, or make notes of which ones showed – either way, you can get paid to pay attention.
For these jobs you can expect to have your expenses – such as your ticket price and the cost of food if you are evaluating it – covered, and you could make around $15 per visit, or, for the jobs that pay hourly, up to $20 per hour. Payment varies by company, of course.
For the Certified Field Associate jobs, after you're accepted as an auditor check the online assignment list regularly so you can self-assign any projects of interest.
College grads should add this side hustle idea to their list of financial moves to make after graduating.>>>
Do you have the time to get paid to watch movies?
You do need to factor in time requirements when pursuing any of these options for make money watching videos and watching movies. These 6 options offer a wide range of time commitments, making it possible for you to set your own schedule. As an added bonus, most of these movie watching jobs don't even require you to get out of your pajamas. And hey – movie theaters are dark. I don't think anyone would even notice your duck slippers in the back row.
There may be $5 sign up bonuses for both Swagbucks and InboxDollars!
Staff columnist Alexandra DeLuise combines her banking experience with real-world financial advice to provide simple money tips to everyday people.