8 Financial Moves College Graduates Should Make Now
Guest Columnist, Andrea Woroch
The number of Americans receiving associate's degrees, bachelor's degrees or master's degrees in 2016 totals over 3.5 million, a collective achievement worth celebrating. However, the dark cloud of student debt looms above the festivities this year, with the average debt amounting to just over $37,000 — a record high — according to recent reports.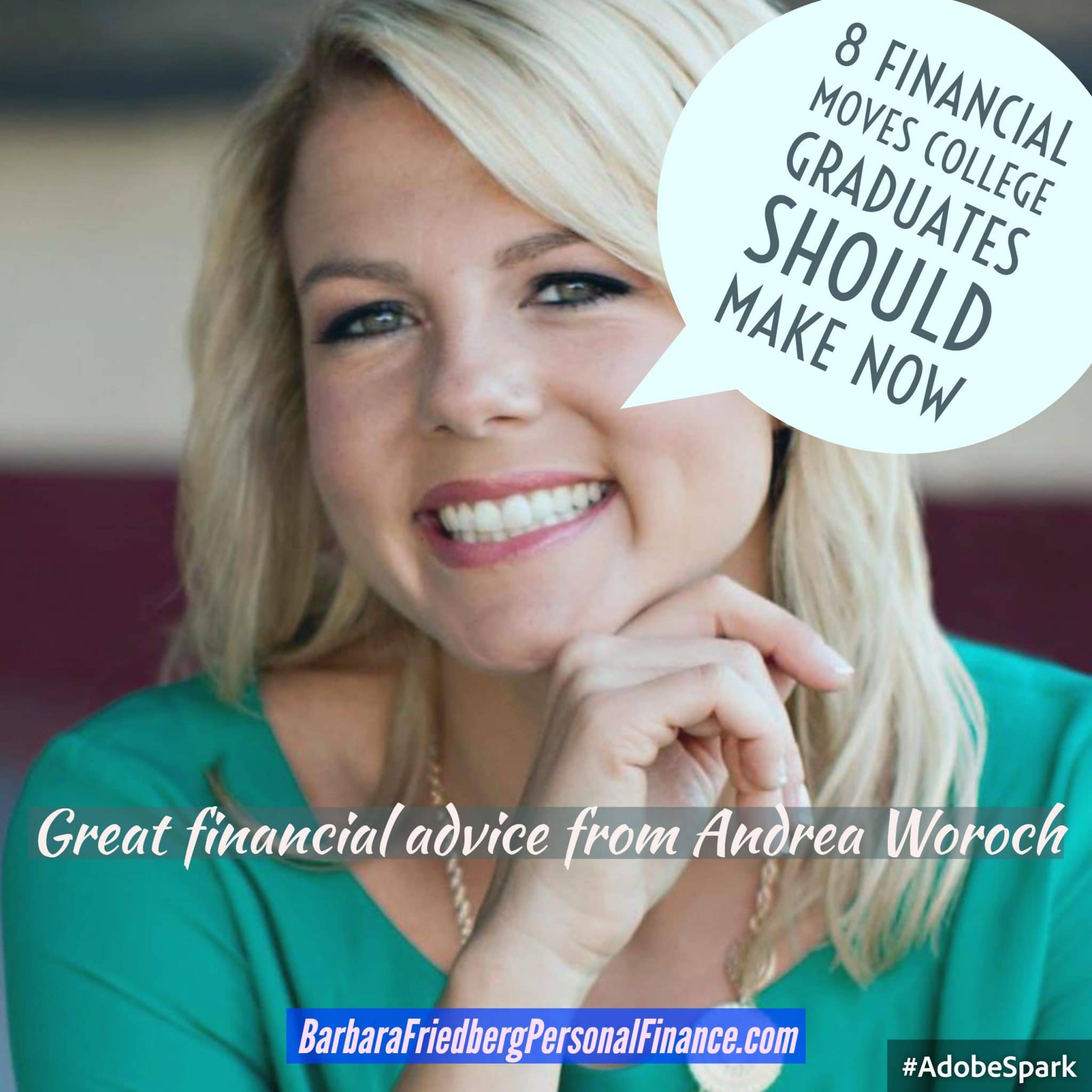 While the standard payback period for bachelor degree student loans is 10 years, the average person spends about two decades paying off their college debts due to lifestyle changes including marriage, children, home-ownership and more. To avoid becoming part of this statistic, make these eight financial tasks a priority after you graduate so that you'll pay off student debt and start your new chapter with a clean slate.
1. Acknowledge Your Debt
Burying your head in the sand after graduation ensures a decades-long battle with your student debt. Instead, confront your student debt head-on by researching your options. If you don't find a job right away or find yourself in a low-paying occupation, you may qualify for a financial hardship deferment of your federal loans. In extreme cases, a student loan forgiveness program may also be an option. The College Investor offers great information about your options, so educate yourself and create a repayment plan that works best for your situation.
2. Avoid Lifestyle Inflation
The days of surviving on Ramen noodles and student discounts are over, but that doesn't mean you should repeatedly treat yourself to filet mignon and premium travel accommodations. Lifestyle inflation occurs when a steady paycheck and influx of cash clouds your judgement and gives you a false sense of wealth. It's important to direct as much of your funds as possible toward your debts, so continue to be frugal with your money. Treat yourself occasionally but only within the parameters of your budget.
When paying down debt, every little bit helps. Make some extra cash surfing the net, watching videos, taking surveys and more with Swagbucks. Sign up in 43 seconds. There's even a $5.00 sign up bonus.
3. Start an Emergency Fund
Putting every penny toward your student debt may seem like the best plan towards financial freedom. However, it's important to have a cushion of funds for unexpected expenses, such as those associated with a car accident or sudden job loss. Avoid paying for life's curve balls with a credit card, and start squirreling away savings in an emergency fund. Depositing all that cash you received as graduation gifts is a great start! Aim to keep a balance of $1,000, and then build up to six months' worth of expenses after you pay down your other debts.
4. Cultivate Better Shopping Habits
Avoid budget burnout by cultivating smart shopping habits. You don't have to limit entertainment to your living room or survive on rice and beans during the first few years of your professional life; instead, you can find dining deals, enjoy free activities and reduce service costs with a few money-saving tools and strategies. Always compare prices on products using CamelCamelCamel.com or the ShopSavvy app; look up coupons instantly using the Coupon Sherpa app, which offers discounts on apparel, restaurants and local services; and buy second-hand as often as possible.
Bonus-lazy make money idea! Be surveyed. Marketers are clamoring for your opinion. You can make money in your free time with InboxDollars. There's even a $5.00 sign up bonus now. Sign up here and start earning while you're watching tv.
5. Seek Out Side Hustles
Controlling your spending is just one way toward rapid paydown of your student loans. Increasing your cashflow is key to paying off your balance sooner, and reduces the burdens associated with a strict budget. Seek out side hustles like freelancing, consulting or tutoring, or pick up odd jobs through sites like TaskRabbit.com or the "gigs" section of Craigslist. You can even pick up a part-time retail job or board dogs at your home through Rover.com. Whatever you choose, a side hustle can be a lifelong source of supplemental income!
6. Learn to Cook
Dining out is one of the biggest expenses faced by young professionals. Between morning coffee runs, office lunch outings and takeout after work, dining out can add up to thousands of dollars annually. In fact, a recent VISA survey found Americans can save over $2,700 annually just by bringing their lunch to work. That money is of far better use toward your student loan debt, so use your free time at home to learn to cook. There are several online resources to hone your cooking skills plus countless recipes for all kinds of dietary preferences. Your wallet (and your waistline) will thank you for this important skill!
7. Open a Retirement Account
Between student loan debt and saving money for an emergency fund, retirement may seem like the last priority. However, it should be one of your first financial tasks since the earlier you start saving, the better off your future self will be. Thanks to compound interest, someone in their 20s can invest the same amount as someone in their 30s and end up with hundreds of thousands more in savings. If your employer offers a 401 K, contribute at least as much as your employer is willing to match so you don't leave money on the table. Otherwise, open a standalone IRA and contribute as much as your budget will allow.
Bonus content; Should I Contribute to a Roth IRA or a 401k if I Can't Fund Both?>>>
8. Fend Off FOMO
The fear of missing out, or FOMO, is a major budget buster of young adults who are constantly inundated with filtered images of their friends' inflated lifestyles. Missing out on fun vacations, fancy dinners and other exciting events is the pits, but paying monthly premiums to a student loan balance that never ends is worse. Save these experiences until after your debts are gone and you can actually afford them. Until then, treat yourself strategically and consider reducing your time on social media; comparing yourself to the perfectly curated lives of your friends will never make you happy!
Andrea Woroch is a nationally-recognized consumer-finance expert who is passionate about helping Americans find simple ways to save more and spend less without sacrificing their lifestyles. Andrea's first-hand experience of overcoming debt on a limited income has inspired many others to change the way they think about money and she enjoys sharing her practical advice among popular media outlets. As a regular on-air contributor, Andrea has been interviewed by top shows such as NBC's Today, Good Morning America, Dr. OZ, CNN, MSNBC, FOX & Friends, ABC World News and Inside Edition. In print and online, her stories and tips have been featured in Forbes, Wall Street Journal, USA Today, AOL Daily Finance, Reader's Digest, Woman's Day, Yahoo!, Huffington Post and many more. A New York native, Andrea now lives in Bakersfield, CA with her husband and rambunctious, Goldendoole, and is eagerly awaiting the arrival of her first child this August. Read more about Andrea and watch recent TV clips at www.AndreaWoroch.com.