An Investing Story With a Big Lesson
Long Term Investing Advice-A Secret Investing Story Revealed
While performing the quarterly portfolio updates for our family's holdings, I compared the balances in El Carino and my Roth and Traditional IRA's. We started contributing to our Traditional IRA's in the 1980's and switched to Roth's when they were established by the Taxpayer Relief Act of 1997. Since we each contribute the maximum amount, I have a competition between our accounts.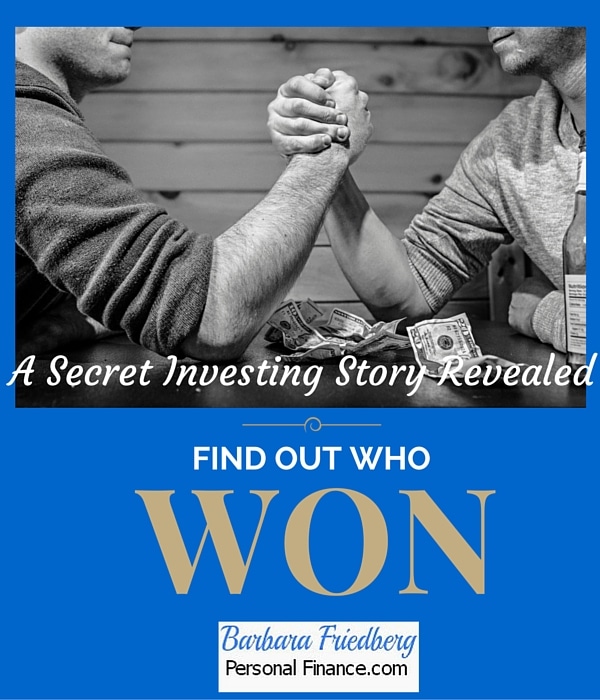 In fact, this little competition has been a secret until NOW! Hear about our secret investing story and learn about long-term investing.
I manage both accounts and purchase and sell all of the holdings in each account. I have no system to determine which asset or type of asset goes into each account. I view the family portfolio management as a whole. I decide upon an appropriate allocation of stock, bond, real estate, and cash holdings and then divide our assets across all of our accounts into the holdings which correspond with the predetermined asset allocation (for the most part, I place high dividend investments in tax advantaged accounts to save on taxes).
Bonus content; My Best Lazy Investment Portfolio>>>
In other words, I look at all our our investment assets as a whole and determine the asset allocation based upon the totality of investments. Whether an investment is held in an IRA or workplace retirement account or personal discount brokerage account is irrelevant to the total asset allocation.
Every quarter or so, I update the values and transactions in the accounts. And once or twice a year I rebalance to get the portfolio back to the original asset allocation.
An Investing Story-The Secret Competition
I compare the value of El Carino's Roth with that of my Roth IRA. Next, I compare the value of his traditional IRA with that of mine. In reality, this is a game which has no value outside of my own amusement, since it is the overall portfolio management and allocation which is important. After decades of marriage I consider all of our assets as "joint" regardless of how they are titled.
Start NOW investing in the stock market to build long term wealth. It's so much easier than you think!
The first couple of years investing in the Roth IRA's I was investing in a lot of individual stocks. Whenever you go that route, you will experience tremendous volatility. And all of the losses happened to be in my Roth IRA. Although our overall net worth continued to progress due to the diversified investments; the value of my individual Roth IRA had a sad trajectory downward for at least the first 5 years.
The Investing Story Progresses-Why Were My Investments Under-Performing My Spouses?
Several of the individual stocks that I chose for my Roth IRA tanked. So at the end of 5 years, El Carino's Roth IRA grew quite nicely, and mine grew in the wrong direction and ended up about 30-40% lower in value than his.
Don't forget, our overall portfolio of holdings was growing quite nicely even though my individual Roth  IRA performed poorly over the first few years.
In spring 2009, at the valley of the mortgage meltdown and stock market plunge, I invested most of the assets in my Roth IRA in the undervalued real estate sector through a REIT index mutual fund. By 2011, El Carino and my Roth IRA's are even in value. By 2013, the value of my Roth IRA surpassed the value of El Carino's. 
If you're curious, here's a peek at how our family's investment assets are allocated.
The Investing Story Winner Is…
After 12 years of my Roth IRA under-performing El Carino's IRA, the balances were equal. After more time passed, so did the value of my Roth IRA. At present my Roth IRA is valued 3.0% more than El Carino. Not enough to make much difference.
The Investing Story Takeaway-Pick a Sensible Investment Strategy
In investing, large gains and large losses go with the territory. Rarely do you know which investments will outperform and which ones will under perform.
So, don't judge your investing performance too frequently, either the good or the bad performers. Although it was fun to compare the returns on the 2 Roth IRA's, in reality, the results of the contest were immaterial. The investing story, was just that-a story. When investing, it's crucial to look at all of your investments in their entirety, not by account. In other words, what percent of your total investment pie is in stocks, bonds, and cash? 
Follow these investing rules and prosper:
Choose an asset allocation suitable for your age and investment tolerance.
Stick with the allocation for the long term. That means more than 5 years.
Continue to add to your investments regularly.
Don't judge your performance too frequently. Remember, the overall trend of stock and bond investments is up, although in the short term, volatility is the rule! (In fact, after several years of strong stock market gains, expect that there will be a downturn in your investments sometime in the future)
If you want to retire early, just bulk up the amount you are investing. The principles are the same.
Do not follow Dave Ramsey investing advice.
Action Steps:
If you have any interest in investing, you must read the free How to Invest and Outperform Most Active Fund Managers. Basic investing concepts are presented in a fun format.
Write down the "lessons learned" from your investment mistakes. Try not to repeat the same mistake again and again.
Do you invest in mutual funds or individual stocks and bonds? Haven't started investing yet? What is stopping you?
image credit: gratisography.com
A version of this article was previously published.