Should You Invest in a Robo-Advisor with the Best Performance?
Finally, there's unbiased data regarding the top performing robo-advisors. 
At the beginning of 2016, Condor Capital, a Registered Investment Advisor (RIA) in Martinsville, NJ, took on the challenge of funding 12 robo-advisors and investing in a conservative 60% stock v. 40% bond portfolio. Using results from December 31, 2015 through September 30, 2016, they calculated the best returns overall and by category: fixed and equities.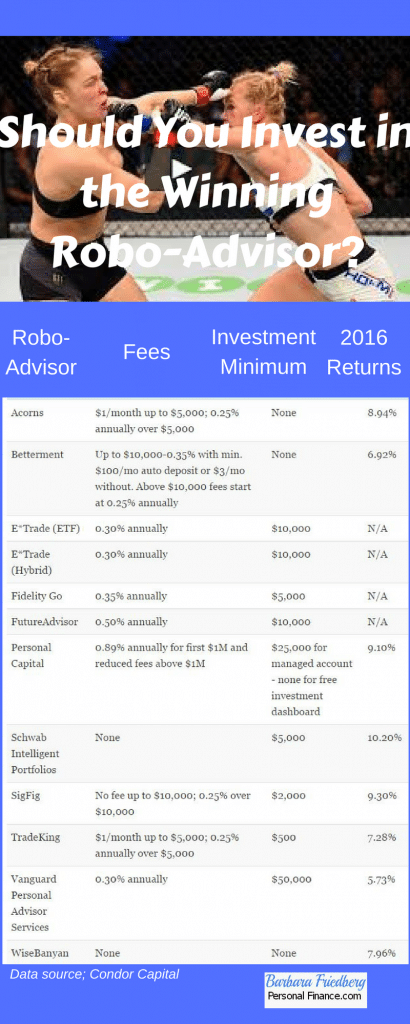 2016 Best Robo-Advisor Winners Overall
Winner: Schwab Intelligent Portfolios
2nd Place: SigFig
3rd Place: Personal Capital
2016 Best Robo-Advisor Stock Performers
Winner: Schwab Intelligent Portfolios
2nd Place: Acorns
3rd Place: Personal Capital
2016 Best Robo-Advisor Fixed Performers
Winner: SigFig
2nd Place: Schwab Intelligent Portfolios
3rd Place: Personal Capital
Bonus; 5 Reasons to Choose Index Funds for Your Investment Portfolio >>>
Should You Invest With the Best Robo-Advisor Performers?
Notice that the overall 2016, January through September returns for a 60% stock and 40% bond investment portfolio returns ranged from 5.73% for Vanguard Personal Advisor Services to 10.20% for Schwab intelligent portfolios. 
You might wonder why the same asset allocation between stock and bond investments varied so much. The reason is explained by the various fund choices within each of the stock and fixed income categories. 
Betterment includes 10 funds spanning U.S. and global markets as well as drilling down into large, medium and small-cap value funds. In the fixed category, Betterment includes international, corporate and municipal bonds.
The free WiseBanyan platform includes eight funds. This robo-advisor has five bond funds, three stock funds and a real estate fund.  
The Schwab Intelligent Portfolios takes a unique approach in selecting its 12 funds. In addition to a U.S. and international real estate funds, this major investment firm robo-advisor invests in smart beta fundamental index funds. For example, the Schwab fundamental U.S. Large Company Index ETF tracks a specifically selected and weighted group of companies from the Russell Index, based on sales, cash flow and dividends and buybacks. This is in contrast with most robo-advisors who offer market capitalization weighted index fund proxies such as a total U.S. stock market fund or an international index fund.
So, what does this mean? 
In plain terms, each robo-advisor selects different funds to include within their stock and bond categories. Specific funds perform better than others during certain time periods. For example, you might have a period when value stocks outperform growth stocks. There are periods where international markets outperform U.S. investment markets. At times, small cap stocks might best the returns of large-cap stocks.
Should You Invest in a Robo-Advisor with the Best Performance?
Performance is a historical measure, when what you really want is future performance.
So, you should invest in the fund with the best performance going forward.
But wait, you don't know which fund will be the best performer next quarter, next year, the next five years or ten. 
So how should you decide which robo-advisor to invest in?
To find out how whether you should select a robo-advisor with the best performance read…
Ultimately when choosing a mutual fund, a robo-advisor or a financial planner:
Do your homework
Look at fees
Check out the fund offerings 
Investigate the objective
Read about the risks
Certain investment styles go in and out of favor. Short term performance won't predict long-term returns. And, the only thing that's certain about investing is that a diversified portfolio is the best safeguard against too much investment volatility. 
For more depth on whether to chase last year's winning robo-advisor, read "2016 Best Robo-Advisor Returns – Who's the Winner?"