When I was 12 years old, my family trekked out west to see the sights and visit our relatives, the Miller's. The dad was a successful pediatrician and the mom was a nurse. It was so fun, the four kids were wild with the 2 year old jumping on the dining room table. (That never would have flown in my parent's house.) To top it off, they lived near the sea. Through my 12 year old eyes this family seemed to have it all. Money, fun, and the sea.
Click here for Free micro book-How to Invest and Outperform + Wealth Tips Newsletter
The Miller's are now retired and struggling financially. They're living with Veronica, their oldest daughter, as they lost their house to foreclosure.
What happened?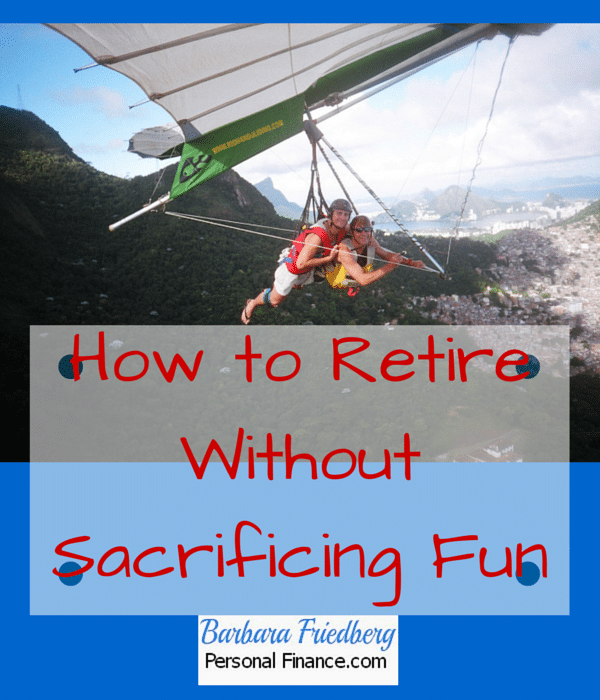 The Wrong Path to Retirement
The Miller's lived the American dream with great jobs, a house, a boat, and four kids. Now they are walking down the road to retirement in borrowed shoes and a paucity of resources. Here's where they went wrong.
Do Not Take This Road to Retirement
They didn't start saving until they were in their 40's. The Miller's viewpoint was, "Why save, we have good jobs and want to live for the present and enjoy life. When we're older there will be plenty of time to save."
In their 50's they decided to buy several small businesses to support their retirement. They bought a few billboards with the intention of leasing the space to advertisers. It seemed like easy money. They bought several car washes assuming this type of business could run itself.
The Millers had no business experience.
In their early 60's they decided to sell the home they had lived in for decades and buy a new one with a large mortgage.
Click now to get a low cost plan to cut investment fees to the bone and manage your own investments.
The recession of 2008 and 2009 ruined the Miller's.
They couldn't lease their billboards. Meanwhile the Miller's were paying off the bank loan for the purchase of the boards. More money went out than came in.
The recession slammed their car washes. When people are out of work and struggling financially, they cut back on nonessential spending. A car wash is a luxury easily performed at home or not at all. 
As their retirement income dried up, their mortgage payments continued. Their billboards' and car washes' were losing money.
The Miller's were unprepared for the ups and downs of business ownership and the cyclical nature of the economy. They lacked up front research and preparation as well as the knowledge required to be entrepreneurs.
By 2010, their businesses were failing and they were behind in their mortgage payments. Within several months the pediatrician and nurse lost their businesses and their home. They had little working life left to build their resources back up.
How To Retire Well Without Sacrificing Fun
Follow these simple strategies to avoid the Miller's retirement pitfalls.
In order to retire without sacrificing fun you need to follow these strategies:
1. Start saving for retirement as soon as you start working. I'm not joking. Even if you love your work and believe you'll be working forever, you won't. Life happens; illness and disability are common. Saving just a small amount when you're young can lead to great savings in the future. Three hundred dollars saved per month beginning in your 20's can yield a nest egg of close to $800,000.00 (assumption; invest in a diversified mix of stocks and bonds yielding an average 7% per year return) in your 60's. Can't afford $300.00 per month? Start with $50.00 and increase when you can!
Even if you're well past your 20's, it's never too late to start planning for retirement. Save and invest more aggressively and you can build up your assets for retirement. Even if you can't afford to save much, a small amount is better than zero savings. If your work offers a retirement fund, and especially if the employer matches your contributions, start investing now, and put in as much as you can immediately. Don't fall prey to the belief, "If I can't save a lot, why bother?" Even small amounts can grow to a nice savings.
2. Be deliberate in your fun. Life sucks if you don't relax and have some enjoyment. Dedicate yourself to planning fun and low cost activities every week. Depression and frustration set in really fast if you don't plan diversions. Picnics, hikes, community festivals, art galleries, board games, squirt gun fights are free and allow you to retire without sacrificing fun. Keep a list of fun on your refrigerator. You won't regret saving if you're still having fun. Make fun a priority!
3. Spend deliberately and consciously. Consider your expenditures and understand that every decision to spend is also a decision not to save or invest. Think before you spend and search for lower cost substitutes. Cut your expenses now and free yourself from a stressful retirement.
Do not fall prey to the lure of retail therapy or keeping up with the Jones. The Jones are in debt up to their ears and retail therapy leads to poverty!
Today is the day to start taking a positive step towards a successful retirement. You can have fun and simultaneously save for tomorrow. But if you don't start saving and investing now, I guarantee that you will not grow your wealth until you do.
  Interested in building long term wealth? Then click here and learn the smartest way to invest. 
 Can't Get Enough Retirement?
What are your thoughts about saving for retirement? Have you started yet or are you waiting?