HOW TO GET OUT OF DEBT; TAKE THE FIRST STEP
A version of this article was published in March, 2010
"A man in debt is so far a slave."
Ralph Waldo Emerson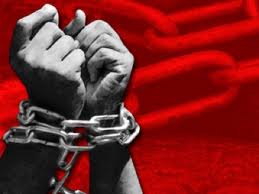 Debt, simply put, is buying something now, that you don't have the money for! If a man or a woman is in debt, as Emerson stated, he or she cannot be free! Those of you with lots of debt already know this! (I am not talking about mortgage debt or student loans here)
The Problem with Debt
If you buy something you can't pay for now, you are obligated to pay back the money you borrowed with interest. If you borrow $500.00 to buy an IPad, ( i.e. you pay for it with a credit card and don't pay the bill in full at the end of the month) you are borrowing the money for that player at 18%, 28% or even more interest. As long as you go carry a credit card balance and don't pay off the bill in full, you're adding to the cost of the IPad. That $500.00 tablet could end up costing you hundreds of dollars more depending how long you carry a balance.
OK, you're probably thinking, "Barb, you're an idiot! Tell me something I don't already know. I've hit every blog talking about debt reduction, and I have too much debt, there's too much stuff I want, and it's just too hard to get rid of it!!"
It Starts with Your Mind!
Begin by answering these 2 short questions:
1. Do you want some financial and money skills?
2. Do you want to reduce stress make your money life easier?
WHAT ARE YOU WILLING TO GIVE UP?
I was fortunate to receive excellent training and examples in money management from my family and relatives. Almost every one of my relatives started out poor; and most of them amassed a substantial amount of money throughout there lives. Their professions ranged from entrepreneurs, to real estate, to running a heating and air conditioning company, to working for the government, to teaching.
Although most of my family members went to college, and it certainly is preferable, it is not a requirement of financial control. Many trades; plumber, computer technician, HVAC technicians can gain a marketable skill from a training course and go on to amass wealth as well. Actually, in today's difficult economy, you may be better off with a short technical course in a field with available jobs.
If you're uncomfortable now, struggling to get out from a blanket of debt begins with the desire to live a better life.
Many of these ideas may seem simple, and that is because amassing money and living within your means is not complicated…..but, it requires DISCIPLINE. To gain financial skills and security, you have to give something up and take a small action.
Are you willing to give something up? I did not say: "What do you WANT to give up?" Obviously, most of us want it all and would prefer to get something for nothing. Unfortunately, that's not how life works. In order to get something of value, you have to be WILLING to give something up.
 The Secret to Wealth
Here is the secret, if you saw any of my relatives in the store or at a restaurant; you would not have any idea of their financial accomplishments. You wouldn't look at one of my relatives and say, "Oh, I know she's loaded." As a matter of fact, with few exceptions my immediate family and relatives look middle class. Their aspirations and mine are, "do not attempt to look rich to impress others." As Thomas J. Stanley, PhD  says in his newest book, Stop Acting Rich…, And Start Living Like a Real Millionaire, as well as in his other studies of real life millionaires, most wealthy individuals do not fit our outside expectation of how rich people should look. That is because they have saved, invested, and budgeted their money carefully, not spent it on things they could not afford.
In order to have financial control, you have to be willing to give up, "Dressing, living, and shopping to impress others!"
Be your own judge. Don't let TV, your neighbors, your friends' influence how you spend. Clearly, you don't need me to tell you this, but, you are in debt because you are spending more than you are earning!!! OK, so to get out of debt, you need to be WILLING to do something different. Take a moment or two and really think about what you are WILLING to give up.
 Action Steps:
Get a notebook and label it: "(your name) Personal Finance" and keep it by the computer. Use it to keep all of your personal finance goals, thoughts, activities, and plans.
 Change your mind!! Give up the idea that you need to impress others and overspend to look rich.
1. Make 2 columns on a paper in your personal finance notebook and write down the ADVANTAGES and DISADVANTAGES of overspending.
2. Write down 5 expenses that you can cut out or reduce immediately.
Do these 2 activities right now. It takes only 5 minutes and the results will be priceless. By writing them down, you are committed to improving your spending.
Writing and talking about goals increases the chance that you will accomplish them!
Can't Get Enough Debt Information?
Have a debt blog and want it included on the list, email me at barbfriedberg at gmail.
What do you give up in order to build wealth?
 image credit; google images listverse