Both Fundrise and REITs or real estate investment trusts enable small investors to capture the income and capital gains of investing in real property. Each of these investment choices are suitable for small investors, but are quite distinct.
Historically, real estate investments have been private and inaccessible to the ordinary investor. In 1960, congress established REITs so that the average individual could invest in real estate, indirectly. Publicly-traded REITs trade on major stock exchanges and enable investors to capture the income and capital appreciation of real estate investing across the U.S. and internationally.
Privately-traded REITs are typically available for accredited or wealthy investors and require locking up large amounts of capital for several years, to avoid investors pulling out capital before the project completes.
This article may contain affiliate links which means that – at zero cost to you – I might earn a commission if you sign up or buy through the affiliate link.
In between publicly traded and private REITs are the publicly-traded, non-listed REITs, typically available on crowdfunding platforms like Fundrise, Diversyfund and Groundfloor. These real estate offers include features of both public and private REITs.
Non-accredited investors, can trade listed REITs and also access many of the the new crowdfunded REITs.
The crowdfunded Fundrise aims to allow retail investors access to private REIT investing, which is less volatile and also less liquid than public REIT investing. In a way, Fundrise is a happy medium between purely private real estate investments and publicly traded REITs.
Top Features – Fundrise vs REITs
| | Fundrise | REITs |
| --- | --- | --- |
| Overview | Offers investment in a range of real estate deals spanning various property types though private eREITs | Publicly traded real estate funds that own various types of real estate and are traded on major financial exchanges |
| Minimum Investment | $10 | Either the cost of one share, or a fraction of a share, depending upon brokerage firm |
| Fees | 1% of assets managed (AUM), annually | Average management fee is 0.41% and ranges from 0.07% to roughly .70% AUM |
| LIquidity | Illiquid | Liquid |
| Account types | Individual, joint brokerage, IRA, trust | Any account type available at your brokerage firm |
Quick Overview
Fundrise is appropriate for long-term investors due to its limited liquidity relative to publicly-traded REITs.
REITs are available through your investment account and are bought and sold on the financial markets.
Non-accredited investors can directly invest in private real estate with Fundrise and publicly-traded REITs.
Investors are subject to a minimum 60-day waiting period to withdraw cash from Fundrise, while REIT investors can liquidate their holdings at any time.
Fundrise offers various investment strategies and the opportunity to choose which properties to invest in.
The dividends distributed by Fundrise and most publicly traded REITs are non-qualified and taxed at ordinary income rates instead of the qualified dividend tax rate.
What is Fundrise?
Fundrise is a relatively new real estate investment platform, launched in 2012. Fundrise strives to give investors direct access to privately traded real estate assets, which have historically been available only to accredited investors. Investors in Fundrise can access real estate debt, equity, commercial, residential and more through various Fundrise Strategies. The investments are parcelled into Fundrise's proprietary stable of eREIT funds.
Within the Fundrise portfolio are:
265 active projects
135 completed projects
$3.1 billion assets under management
Fundrise is a value driven investment firm and buys real estate assets for less than their intrinsic value and replacement cost. The team implements repairs, maintenance, and management improvements to the properties to increase their value. Fundrise keeps fees low to enable higher investor returns.
Investors who want access to the private real estate markets- especially those not meeting the criteria for the accredited investor designation – might appreciate the Fundrise model.
Fundrise is accessible with a $10 minimum initial investment requirement. Broader offerings and account types are available to larger investors.
fundrise charges an annual fee of 1% of your investment or AUM. This fee is in line, or lower than many managed investment offers. In contrast, fee-conscious investors might consider REITs like the Vanguard Real Estate ETF (VNQ) REIT which charges 0.12% AUM or other low fee REITs.
What is a REIT?
A real estate investment trust or REIT is a company that owns income-producing real estate equity or debt. A REIT can be either a private company or a publicly traded company on a major stock exchange. REITs come in multiple strategies from a broad-all-in-one REIT that owns shares in many real estate companies across sectors to sector REITs that focus on various real estate categories like commercial, industrial, storage, student housing, nursing homes, data centers, mortgages and more.
When you buy a publicly traded REIT, you are buying shares from another investor, through your online brokerage account. When you buy a privately traded REIT, you are skipping the intermediary and investing directly in the primary issuance of the real estate asset. In both cases, you are entitled to a portion of the income and capital gains that the real estate properties produce.
A REIT must meet the following requirements:
Invest at least 75% of total assets in real estate.
Earn at least 75% of its gross income from rents from real property, interest on mortgages financing real property, or from real estate sales.
Distribute at least 90% of taxable income as shareholder dividends each year.
Be a taxable corporation.
Be managed by a board of directors or trustees with a minimum of 100 shareholders.
Have no more than 50% of its shares held by five or fewer individuals.
Fundrise vs REIT – Who Benefits?
As we cannot predict the future returns of Fundrise or the REIT market, we can only judge these two platforms by their standing merits. Fundrise is charges a higher management fee than most REITs and is less liquid. However, the 1% annual fee can still be cheaper than private real estate equity alternatives, and thus Fundrise might make sense for an accredited investor looking to cut down on the costs of investing in private real estate.
Investors who need liquidity will choose REITs over Fundrise. You can buy and sell REITs quickly and easily through your investment account. With Fundrise, you'll have to wait at least two months before you can begin the liquidation process. Liquidation date is not guaranteed.
Those who want greater transparency to their real estate investments will opt for fundrise. Investors who want easy access to private real estate deals and a platform that is value-oriented will prefer Fundrise. We like that they seek out undervalued properties and strive to improve their worth.
Those seeking greater exposure to the broad real estate market will prefer REITs over Fundrise. The publicly traded REIT market is huge, offering a wide variety of choices. Fundrise naturally has less variety.
Fundrise vs REITs – Fees, Minimums and Risks, Returns
Fees
The average annual management fee is 1% for Fundrise and around 0.41% annually for REITs.
Minimum Required Investment
You can begin investing with $10 for Fundrise. Depending upon your initial Fundrise investment amount from $10 – $100,000 you'll be eligible for distinct account types and features.
The minimum REIT investment is the price of a single share, or less, for fractional share investing. Many platforms like SoFi, M1 Finance and Schwab enable fractional share investing.
Risks
A major risk at Fundrise is the lack of liquidity – the inability to cash out when you want. The lack of easy liquidity is a characteristic of private real estate and other private company investments.
REIT and Fundrise dividends are typically taxed as ordinary income, and thus more appropriate to own in tax advantaged retirement accounts.
REITs might be more volatile and subject to market risk. REITs pricing will be impacted by many factors, not necessarily related to the underlying value of the asset.
Fundrise Strategies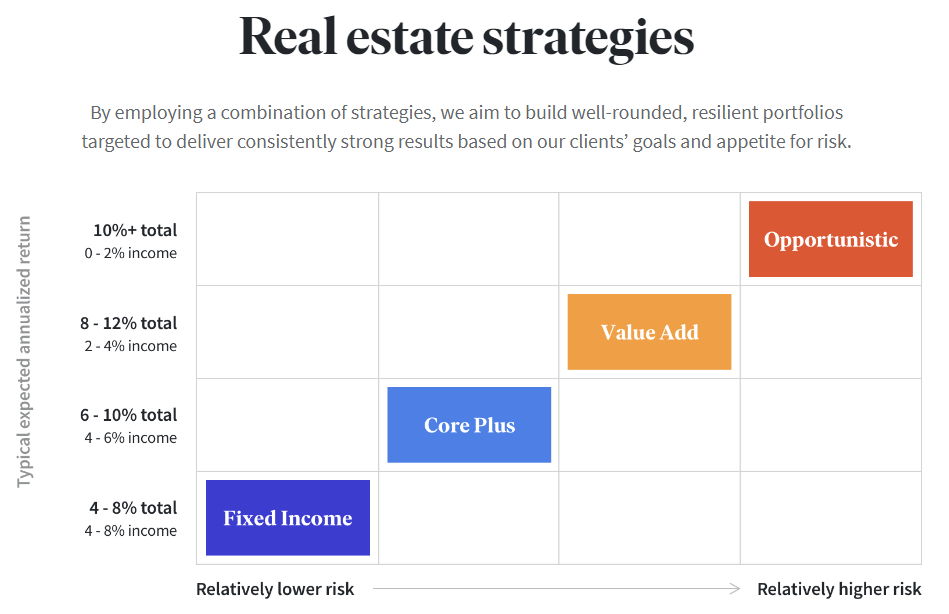 Fundrise vs REITs – Types of Investments
Fundrise
Following are the various Fundrise strategies. Each strategy includes various Fundrise eReits that own specific properties which meet the requirements of the strategy. You'll find distinct risk, income, and total return levels for each of the strategies: Fixed Income. Core Plus, Value Add and Opportunistic.
Within your strategy, your money will be diversified across various investment funds. Your strategies are driven by your return goals and comfort with risk. Each strategy will evolve as new properties are added and sold.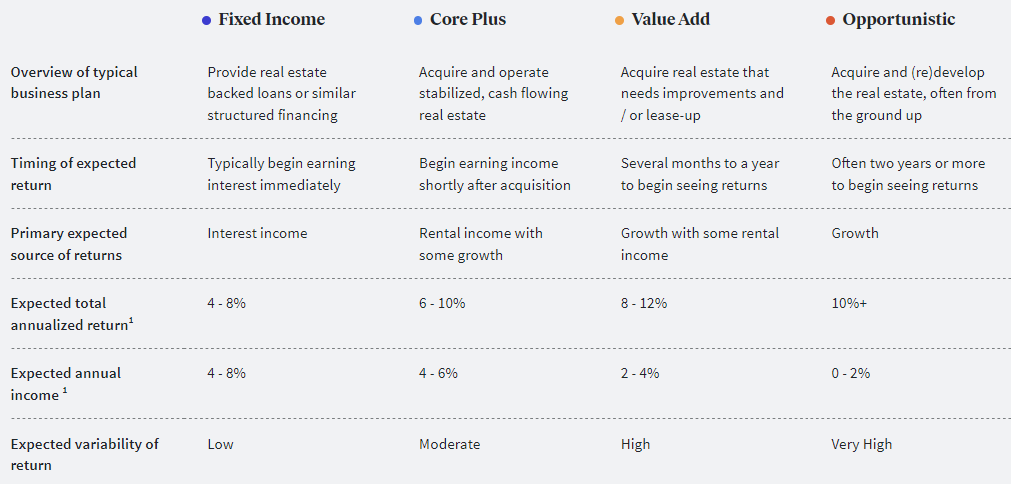 source: https://fundrise.com/real-estate-strategies
Depending upon your goals and risk level, you can choose from four diversified investment strategies.
Fixed Income
Projected Income: 6-8%
Projected Total Return: 6-8%
The fixed income portfolios are invested in the debt used to fund the real estate projects and provide regular cash flow.
Core Plus
Projected Income: 4-6%
Projected Total Return: 8-10%
Core Plus properties are stable residential and industrial properties, suitable for investors with a long term investment horizon. These properties are moderately leveraged and located in growing markets.
Value Add
Projected Income: 2-4%
Projected Total Return: 10-12%
The Value Add strategy seeks undervalued residential real estate in competitive rental markets. Capital improves increase the income and property values.
Opportunistic
Projected Income: 0-2%
Projected Total Return: 12-15%
The Opportunistic strategy is more aggressive. Fundrise acquires properties in good locations and growing markets. In partnership with other real estate experts, the Fundrise teams implement complex renovations or new builds.
Innovation fund (coming soon)
Will invest in a diversified portfolio of high-growth private technology companies.
How to Invest in Fundrise
Create an account and answer a few goal-based questions.
Choose your account level:
Fundrise Account Levels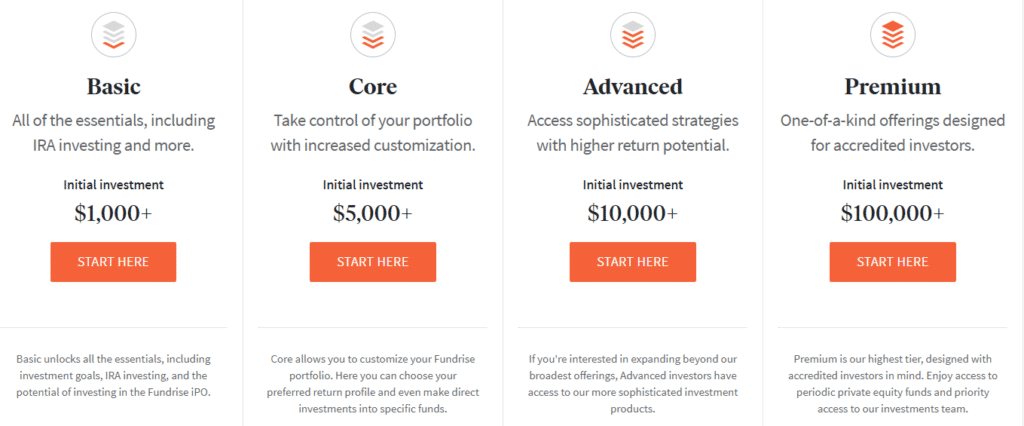 The account level is based on your initial investment amount. Higher initial investment amounts provide additional features.
Next, choose your portfolio strategy, as described above.
REITs
REITs come in many flavors. You can divide REITs up in a number of ways, actually. For example, some investors choose REITs based on the property type, such as hotels, residential, office buildings, data center or commercial real estate. Another way is to focus on the purpose of the REIT's business model. A few examples follow.
Growth: The goal is to buy investment properties that appreciate in value.
Regional: Some investors have the theory that certain regions will be the best for real estate investing due to phenomena such as increasing populations or burgeoning industry. Some REITs meet this need by investing specifically in certain regional areas.
Income: Some investors just want reliably income. Income REITs accommodate them by finding properties that produce stable, reliable rental income. Mortgage REITs are also good income sources.
REITs ultimately offer the real estate investor a variety of options. For those that prefer an all-in-one diversified fund might choose a broadly diversified REIT ETF like Schwab U.S. REIT ETF™ SCHH that covers various types of property. Or if you believe that international real estate is undervalued, choose Vanguard International ex-US Real Estate Index Fund VNQI which invests in real estate across the globe.
How to Invest in REITs
You'll need an investment brokerage account to invest in REITs. You might prefer an individual or joint taxable account or retirement IRA. After the account is open and funded, select the REIT you're interested in purchasing, and create a buy order. If you don't have an investment brokerage account both M1 Finance and SoFi Active Invest each offer REIT access, along with ETF and stock investing.
Some of our favorite investment brokerage accounts are M1 Finance, SoFi Active Investing, and of course the typical large financial firms like Schwab and Fidelity.
Process for investing in REITs is the same as investing in stocks or ETFs.
20-Year Bond, Stock and REIT Returns and Income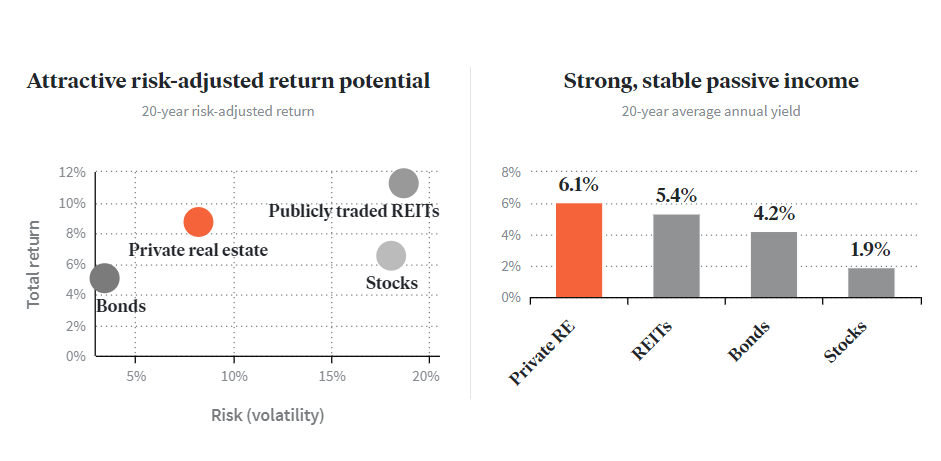 source: https://fundrise.com/strategy
Fundrise vs REITs – Which has Better Performance?
Investors frequently pick investments based upon historical returns. While historical performance doesn't equal future performance, investors still like to know how an investment has performed in the past, both for comparative purposes and to view returns under various economic and financial market scenarios like stock market crashes.
Both REITs and Fundrise offer cash flow. Fundrise claims that during the past 20 years private REITs averaged 6.1% yield annually in contrast with 5.4% yield for REITs.
The second part of return is capital appreciation, or how much your initial investment increases in value. The Fundrise chart above compares risk-adjusted return metrics between stocks, bonds and real estate. Your personal return will depend upon the specific investment including real estate sector, specific REIT, private investment strategy when you invest and how long you own that investment.
Consider that private real estate investment trusts might demonstrate lower historical performance due to high fees and conflicts of interest with the external management teams. Also, unlike REITs, which are priced daily on the financial market exchanges, the price of a private REIT can only be approximated until the property is sold. That said, Fundrise REITs actually perform quite well. And, because it is a private REIT, it has less correlation with the general market returns, leading to smaller swings when the market prices are volatile.
If you invested $1,000 in Fundrise and another $1000 in the vanguard Real Estate ETF (VNQ) five years ago , the graph below shows that your Fundrise investment performs better than VNQ, and without the volatility.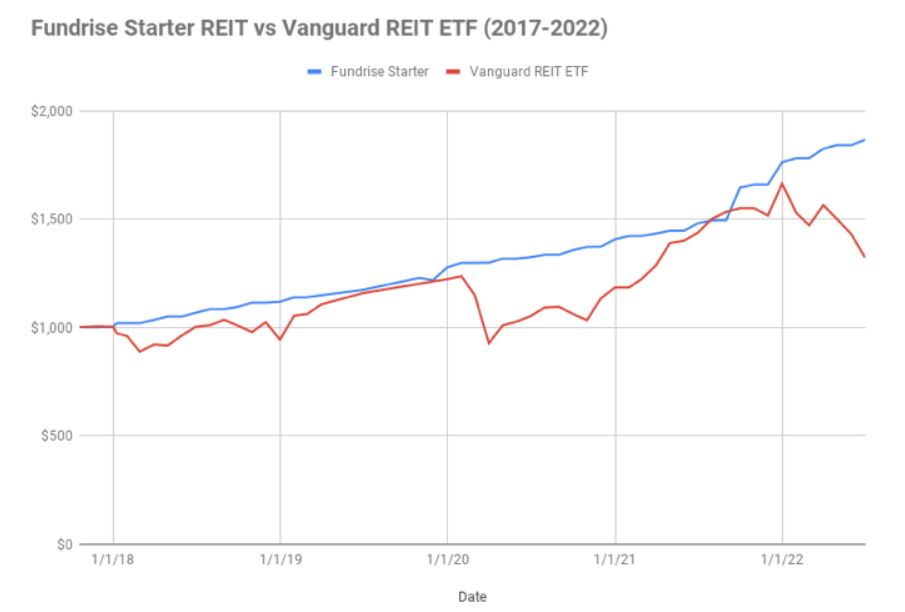 Notably, Fundrise did not dip during the 2020 and 2022 bear markets, while VNQ fell sharply. In sum, you might want to think of the higher annual expense ratio of Fundrise investments as the cost of investing in a product that offers less price volatility. When perusing the Fundrise website, you'll find performance data for the various investment strategies. When times are good, VNQ and Fundrise should both perform well.
In fact, during inflationary periods, real estate is known to offer capital appreciation.
Fundrise vs REITs – Which is Best? The Takeaway
Whether Fundrise or REITs are best for you depends upon when you will need the money, your investment goals and time horizon, along with your desire for access to private real estate. Those who desire access to private real estate investments with a transparent, value-oriented platform will appreciate Fundrise. Small investors who want to dip their toes into private real estate investing will also prefer Fundrise. For aggressive investors, Fundrise also provides an opportunity at potentially high returns, albeit with greater possible risk.
If you require liquidity and the opportunity to sell your shares immediately, then stick to publicly traded REITs. You can buy and sell your investments at any time. If you want exposure to most of the publicly available real estate in the U.S. or abroad, you'll prefer REITs.
Go with REITs if you want:
Flexibility and liquitiy
Variety of investment choices
Information, both in transparency and in written information about the company from analysts
Go with Fundrise if you want:
Private real estate investment assets without the accredited investor requirements
Protection against market risk
Private real estate access for a small amount of money
FAQ
What is Fundrise eREIT?
Electronic real estate investment trusts, or eREITs for short, are Fundrise's own real estate investment offerings, each with a distinct theme and comprised of a group of individual real estate projects. There are currently 11 eREITs with names such as Growth, East Coast and Heartland eREIT. The real estate assets in the eREITs are either originated from Fundrise or joint ventures with other companies.
Does Warren Buffett recommend REITs?
Similar to most investors, Warren Buffett's REIT holdings comprise a small percent of his total portfolio. Warren Buffett has owned several REITs over the years. REITs give easy access to real estate. that said, few individuals can invest like Warren Buffett, who analyzes and buys whole companies or large percentages of publicly traded stocks.
Is Fundrise.com legitimate?
Fundrise has been around since 2012 and has managed over $5B in real estate investment transactions. The company has a strong track record, and we consider Fundrise a legitimate company. Fundrise also offer bankruptcy protection to its investors. As with all investing, your Fundrise investment return is not guaranteed, and the company has proven it's worth over the past decade.
Is Fundrise better than a REIT?
This depends on what you need as an investor. It is always a personal choice to determine which investment is best for you, Fundrise or REITs. See the "Fundrise vs. REITs" section above for more info.
New to investing? Consider our suggested brokerage accounts for free ETF investing:
Related
Disclosure: Please note that this article may contain affiliate links which means that – at zero cost to you – I might earn a commission if you sign up or buy through the affiliate link. That said, I never recommend anything I don't personally believe is valuable.
Empower Personal Wealth, LLC ("EPW") compensates us for new leads. We are not an investment client of EPW.